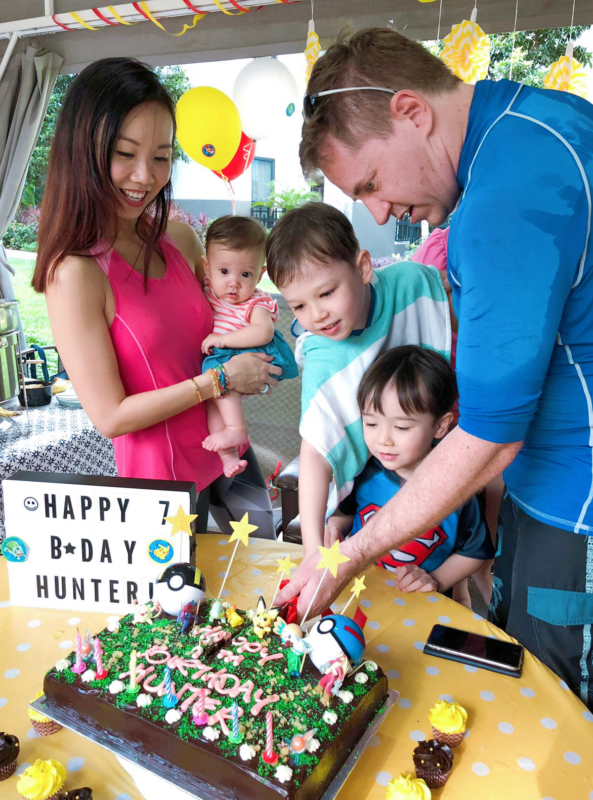 Our first born child turns SEVEN!
Now a Primary schooler, I feel like Hunter has really grown up. It's amazing to see your child grow from a baby into a schooling kid. And also pretty startling. I got used to him being a dependent baby.. looking to me to judge whether something was wrong or right, or seeking my opinion and approval before deciding on something, or just needing me – physically and emotionally – to feel safe. 
It's really changed in the past few months. 
He thoughtfully questions my opinions (and not in the toddler-questioning-an-adult kind of way), he has a logical thought process that is really evident now, and he basically is a mini adult.
I know every parent goes through this, but it still really hits home when it happens to YOU and YOUR OWN CHILD. 
I see his neediness of me slip away as the days go on, and I see him harbour thoughts and worries and desires.. all internally. He doesn't blab everything he thinks and feels to me anymore – he now decides whether he wants to keep it to himself, or to tell me.
It makes me sad to see my child growing up into his own emotionally, but also amazes me as I see him blossom into a boy. I've lost my little baby, and he will never come back, so I really treasure all the memories I have of him as he keeps growing and spreading his wings in this big, big world. 
And so… this was probably a small part of why I hadn't planned his party until the very last minute! 
And also partly because, with THREE separate kid schedules and a harrowing 6AM wake up time every day (Singaporean schools are a tad insane and think it entirely okay for kids to be up at this time), I simply didn't have the head space for party planning.
But then – ugh! – how could I not throw my precious first born a party… especially when I know he LOVES parties and seeing his friends?
So, 48 hours later, the party was planned.
The party was set up in 30 mins, because a certain demanding baby (not naming names here), decided it would be entirely appropriate to scream bloody murder for 1.5 hours when it was nap time. Thus my grand plan to set up the party properly was nixed, and I ran around like an absolute nutter for 30 mins as guests started arriving. 
Faint.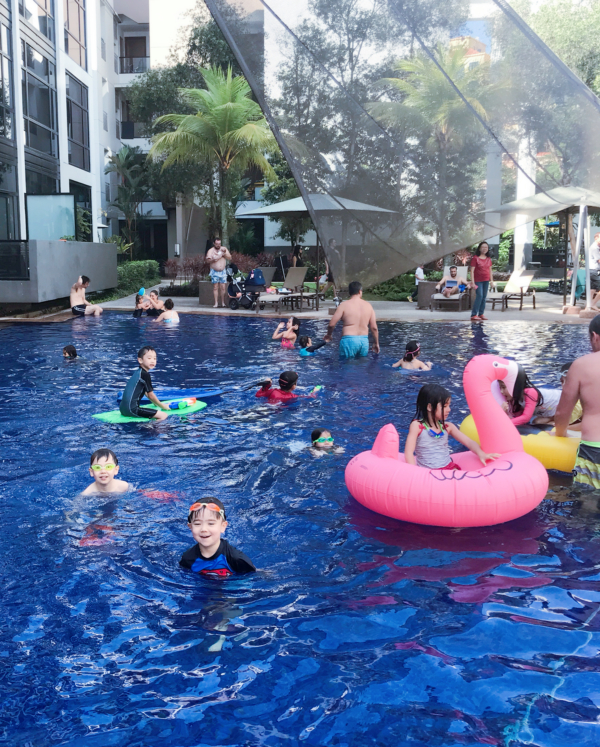 We had a simple pool party, since it was the only thing I could arrange at such short notice. We prayed for good weather (the weather report promised thunderstorms – eek!) and God was good… he brought the most PERFECT pool weather for us 🙂 
So about 55 people rocked up, and all the kids jumped in for a swim! 
It was so immensely satisfying…. seeing Hunter and all his kiddy friends, splashing away happily. I swear I channel my happiness through other people's happiness, because I went from super-manic over the party planning to just having the time of my life! I honestly had so much fun, chatting with friends, and seeing all the kids racing around. 
Totally worth all the effort.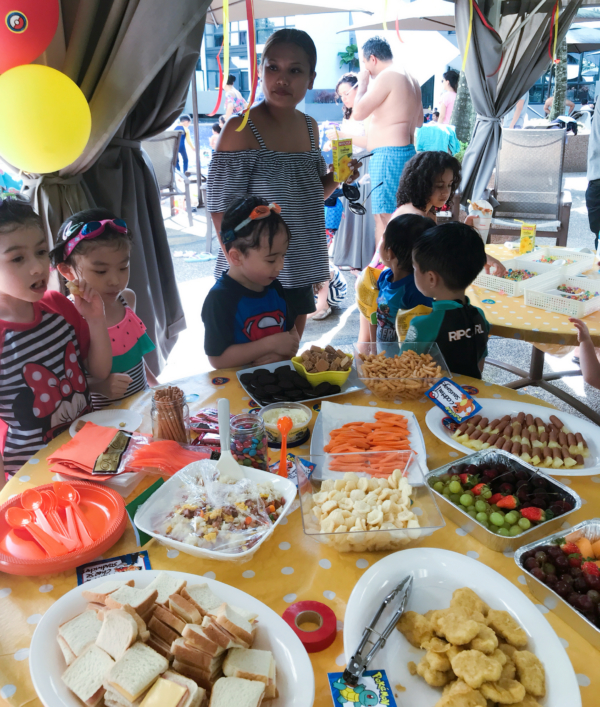 Food was all kid-focused, with the likes of cocktail sausages, homemade cookies, fruit platters, nuggets, fried rice, sandwiches, fairy bread, cookies, chips, etc etc. 
It was a pretty large spread, but was actually fairly straight forward to prepare. All thanks to the fact that the party was at 3PM, so we had quite a bit of time. In fact, we even managed to squeeze in a family brunch that morning!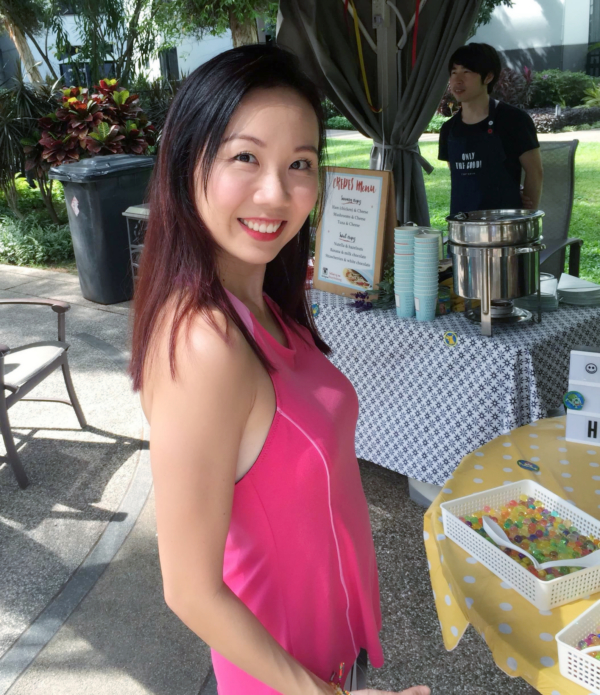 The 'bulk' of the party food came from Saybons Crepes, a creperie that my Aunt generously organised to set up a cooking station at our party!
So we got savoury crepes, and sweet dessert crepes, all made to order. And a big pot of mushroom soup! 
They're behind me in the photo above. I was so busy partying that I forgot to get a proper photo of the Saybons set up!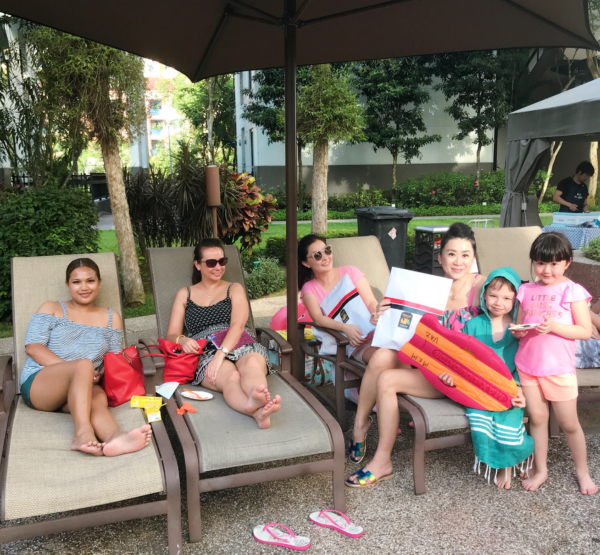 With a bunch of my very laid-back-looking school mums. We are all also practically neighbours. It's really nice being able to have a chat with them after school drop off almost every day.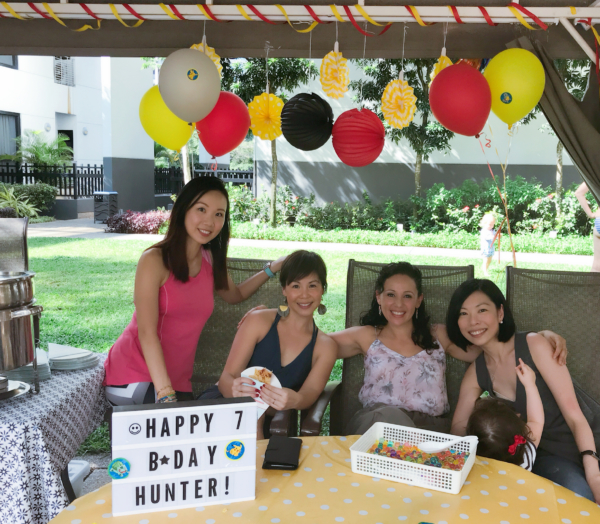 TEN (!) children later, here we are. My kids grew up with these girls' kids, and they're all about the same age. Love watching them hit all their milestones and grow up year after year!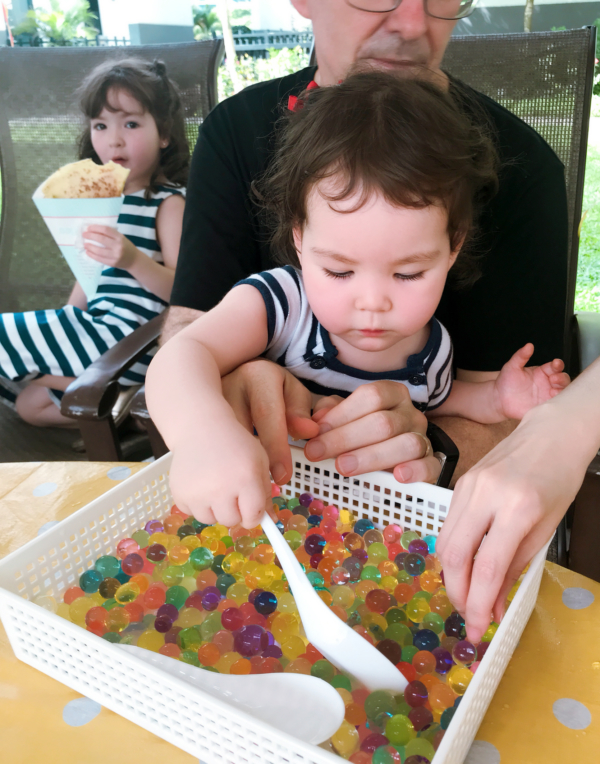 I got trays of these Water beads for kids to scoop and touch and play. They're from Amazon and are the best 'toy' ever. It's for sensory play and they are soooooo soothing to run your hand through and pick up and, well, fondle. 
At home, I often have a tray of these on the kids' bathroom floor. It's a great way to get kids to have a bath or shower!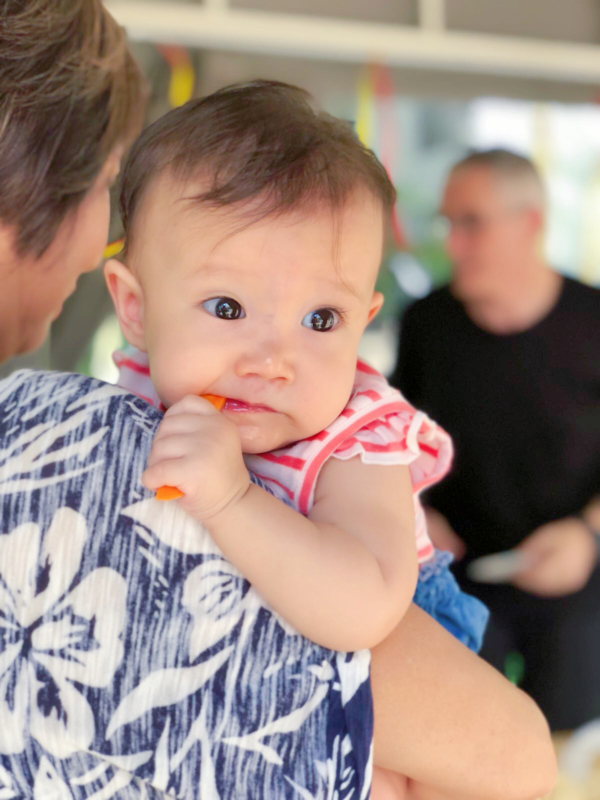 Chloe, the lil party animal, had a fab time. No fuss and she even skipped a nursing session and a nap. No time for eating and sleeping when there's socialising to be had, I suppose. 
She also had a raw carrot stick for the first time! 
1st child – after a load of research and deliberation, given a stick of organic carrot specially purchased for them.
3rd child – random carrot stick picked off plate that was left outdoors for ages, and whacked into her hand for her to hold and chew. 
Oh well. They all survive!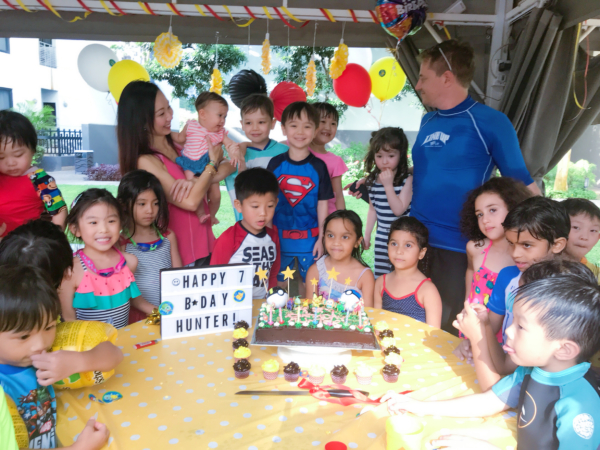 We ended up with 27 kids for the party.. so only a little over half made it into this photo. It was kind of chaotic! But a lot of fun. And Hunter was in glee over his Pokémon cake from my parents 🙂
Hunter made the (above) speech – entirely impromptu. I was proud he had the courage to do that.. impromptu public speaking is kind of tough when you're a (barely) 7 year old! 
And hearing all the kids sing Happy Birthday? Music to my ears 🙂 They were adorable and sang in English and Mandarin – with so much gusto!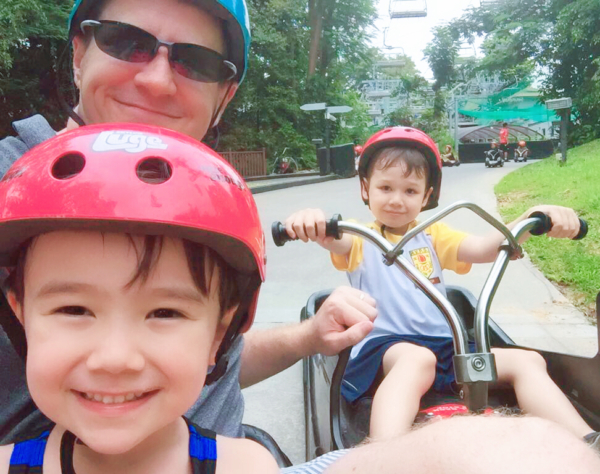 On Hunter's actual birthday, we took him to Sentosa, as per his request. The boys had such a good time on the Luge go karts, which they've been wanting to do for months now.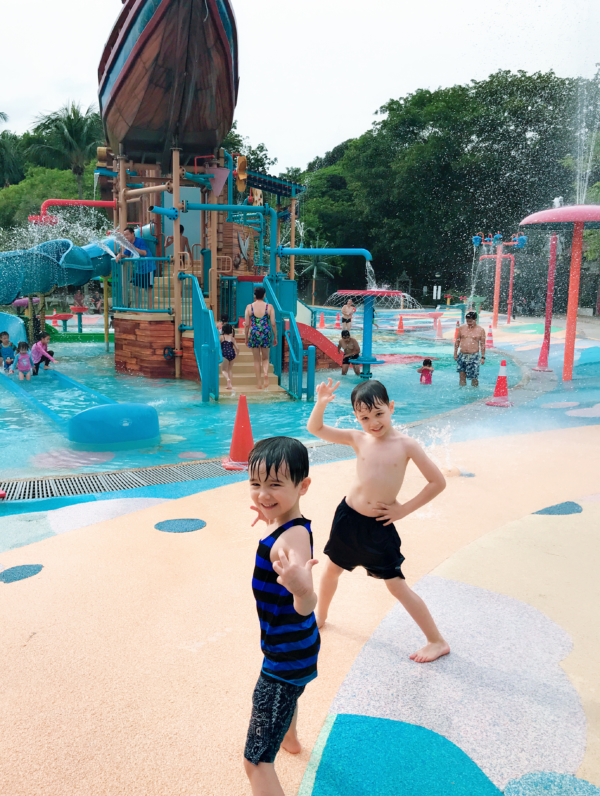 And they *squealed* when we brought them to the Palawan Pirate Ship water playground. It's free, which is kind of amazing. I imagine it'd be an absolute madhouse on weekends, but was pretty quiet since we were there mid-week.
Though, I wonder how often they change the water in there… and I cringe at the thought of how much pee and bugs are in that water. Ewwwww.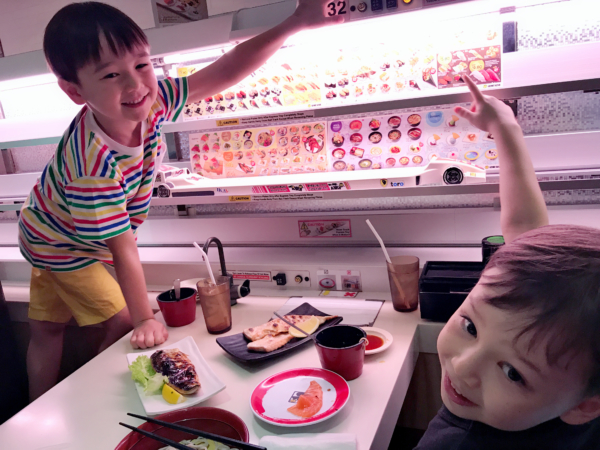 After the afternoon of fun in Sentosa, it was off to Genki Sushi for dinner – birthday boy's choice. My kids love this place because the sushi comes out on race cars or trains, and you press a button to send the vehicles back afterwards. Super cute and always a hit with kids. 
Japanese food + fast vehicles = Hunter's idea of heaven.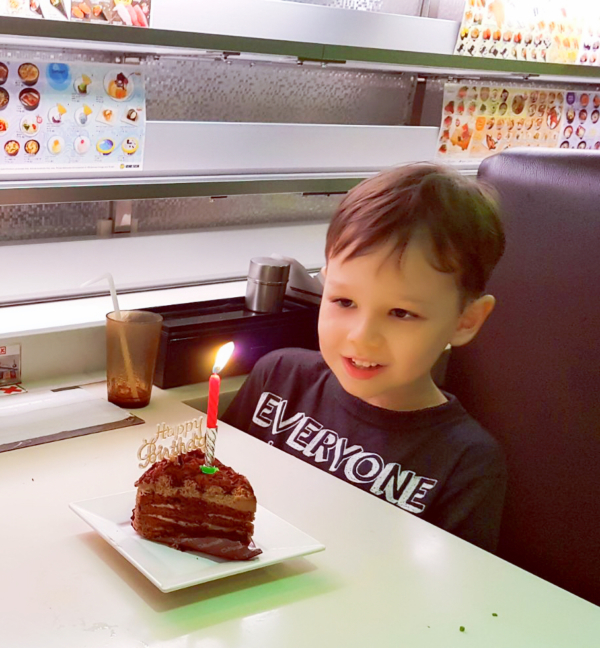 At bedtime, I asked Hunter "Did you enjoy your birthday party and birthday treat at Sentosa today?" 
He smiled at me and said, "Yes."
And that was all I needed to hear.
Let's Chat!