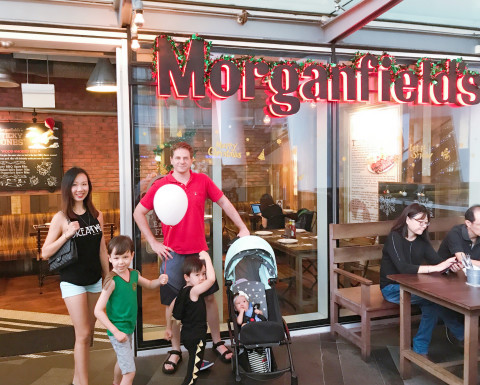 Morganfield's is our go-to place for good 'ol American style ribs. We've visited the Star Vista branch several times since it opened a few years back, and I really like how the quality of their 'sticky bones' ribs is always consistent.
This year, they are rolling out an EPIC Christmas feast!
The full review of all the food is below, but for now, here's a cool giveaway they've been kind enough to host 🙂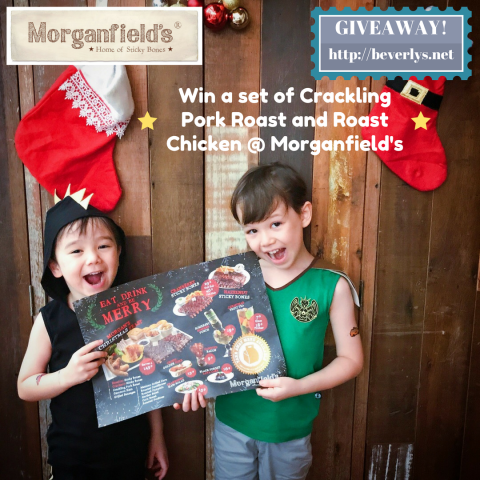 Morganfield's is giving away a Set of Crackling Pork Roast and Roast Chicken!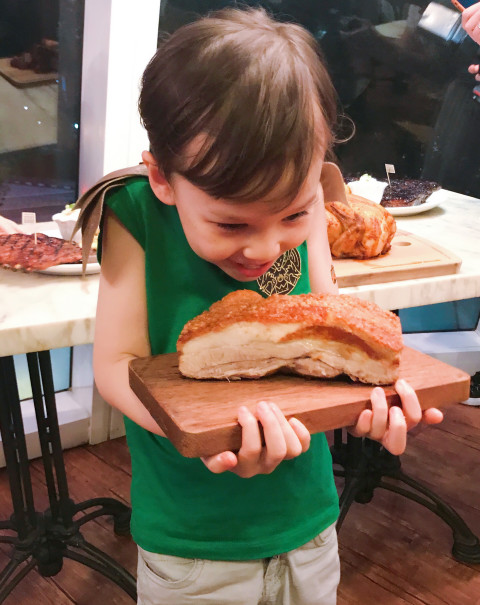 So this is what the giveaway will include! One big slab (1KG pre-cooked, to be exact) of Crackling Roast Pork takeaway, roasted & braised to deliver tender & juicy meat paired with crispy crackling skin. So good.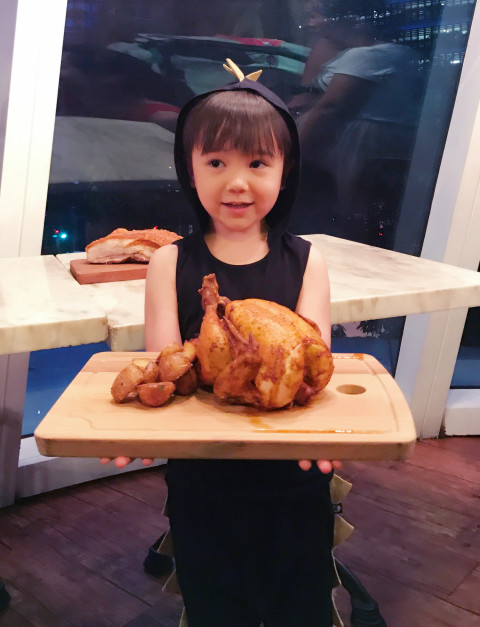 And this is also included in the prize, a juicy and plump Roast Chicken (1.4kg pre-cooked, to be exact), stuffed with rosemary, onions, celery and carrots. It comes served with Roasted Potatoes, and is seasoned beautifully.
Any left overs will be fantastic served on a salad, or chopped up and mixed into fried rice!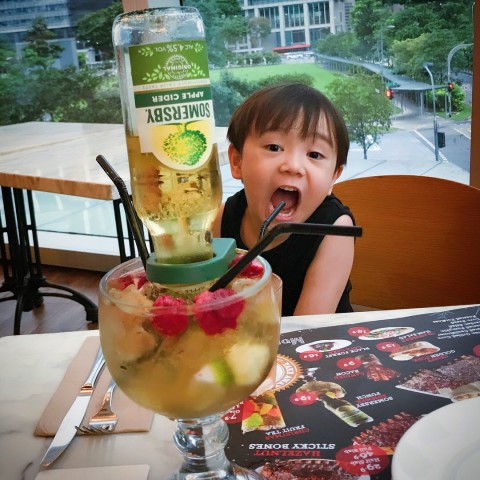 If you order an alcoholic drink at Morganfield's, make sure it's the Somersby Summer Punch. This cocktail is incredibly photo-friendly, and it tastes brilliant. It's a bottle of icy cold Somersby mixed with Vodka, and the cocktail is infused with floral notes and sweet fruit chunks. It's kind of like a fizzy cider sangria!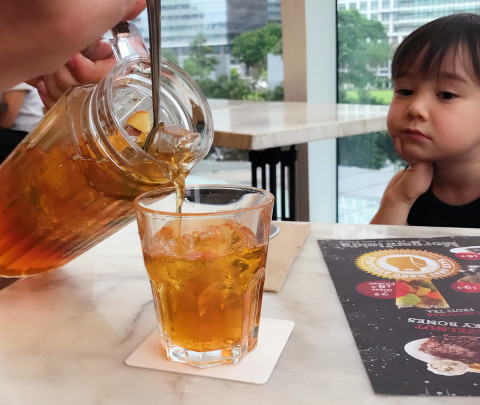 The Christmas Fruit Tea is kid friendly, if you don't mind your kids drinking sweet drinks. While it's not soda, the fruit-infused tea is super sweet, waaaay too sweet for me (I'm generally not a fan of sugary drinks).
That said, my kids drank the entire pitcher's worth of this fruit tea, so…..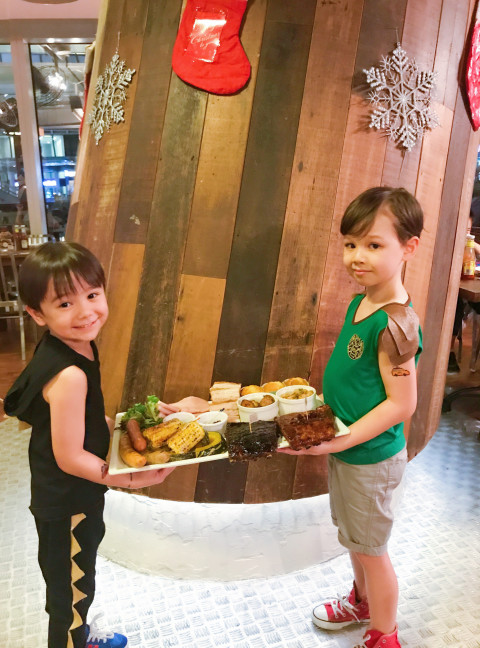 The star of the show is Morgan's Christmas Feast. It's supposed to feed "4 people" but only if all 4 are hungry guys or massive eaters. To be honest, this probably feeds 4-6 people..
The platter is huge and REALLY heavy! I asked my boys to carry it for the photo above, and here they are grimacing in pain as they said "Mummyyyyyy this is reaaalllyyy heavy!" through gritted teeth 😉
So you get this:
Hazelnut Sticky Bones (Half Slab)
Cranberry Sticky Bones (Half Slab)
Crackling Pork Roast (600g)
Gammon Ham (200g)
Sausages (3 pcs)
Garden Salad
Roasted Potatoes
Cornbread (3 pcs)
Mexican Grilled Corn (2 pcs)
Roasted Cauliflower
Roasted Pumpkin
ZOMG…. *food coma*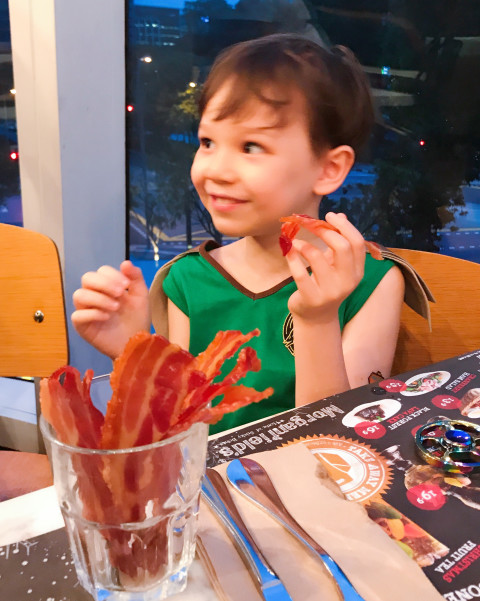 This Candied Bacon was the crowd favourite, despite coming out looking fairly non-descript. Sticks of sweet and smokey bacon in a glass jar… which turned out to be addictive. I actually don't eat bacon (I find the texture and flavour a bit weird) but ate 2 sticks of these. Delish.
My kids polished off the rest, which surprised me as I didn't think they'd like the chewy texture of bacon.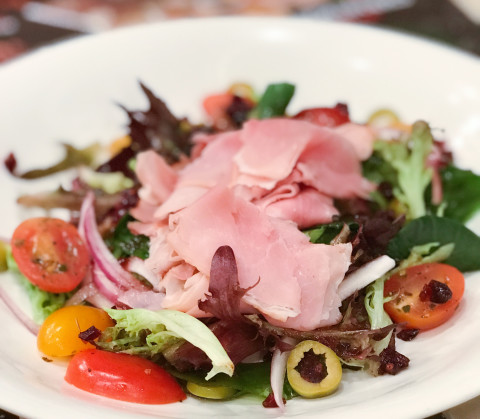 The Cranberry Ham Salad is a fairly normal garden salad…. but the lashings of shaved premium gammon ham – OMG. Not overly salty, so tasty, and good enough to eat on its own. I also really enjoyed the tangy cranberry dressing, as the sweetness contrasted nicely with the ham.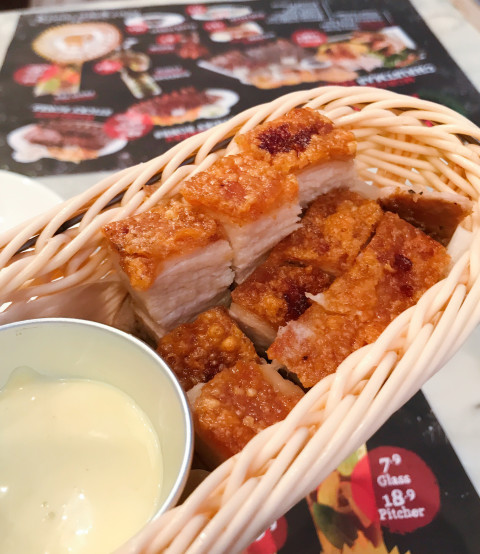 This Crispy Pork Roast comes part of the Morgan's Christmas Feast, and is the dine-in version of the big takeaway 1KG slab. Itw as a huge hit at the table, and was polished off in a few seconds. Oh that criiiiiispy pork skin!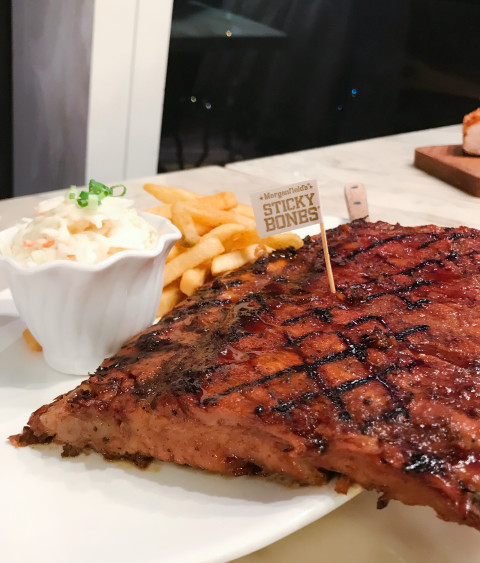 The star of the show, the Cranberry Sticky Bones. I'd thought this would be way too weird for my liking.. I mean…. sweet cranberry pork ribs? I was a tad dubious.
As it turns out, it (thankfully) isn't sickly sweet. In fact, it actually tastes like a slightly milder version of BBQ pork ribs. Very moist and tender, of course, true to Morganfield's style.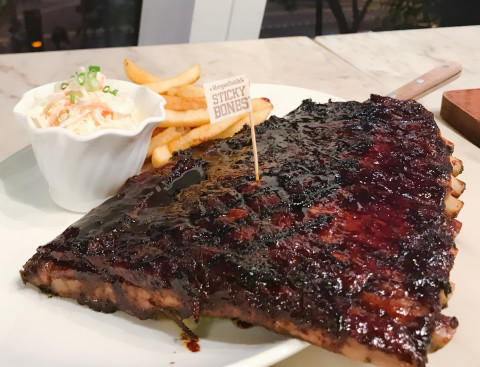 Likewise, the Hazelnut Sticky Bones does not have a strong hazelnut flavour.. which I was glad about. I'm a traditionalist so while I like the thought of festive-flavoured ribs, ultimately what I truly go for is Morganfield's signature ribs. And this version is pretty much the same, just with a very subtle smokey hazelnut glaze.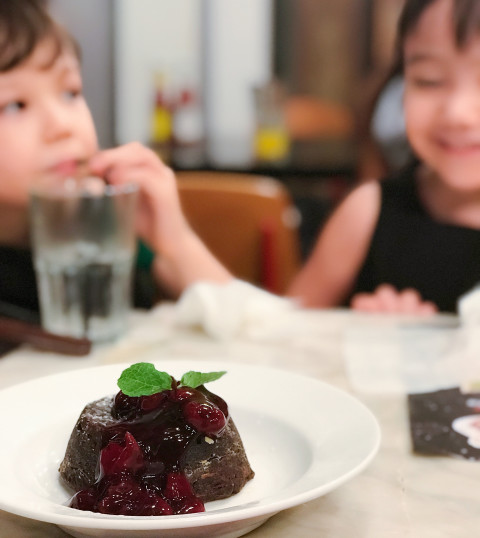 If there's one dessert I simply cannot resist, it's chocolate cake. This Black Forest Lava Cake has juicy, soft dark cherries tumbling down it, and the slight tang contrasts well against the sweet chocolate cake. It's moist, it's warm, and it's tasty. What's not to love?
This special Christmas feast is available at Morganfield's now until 31 December 2017. There's more selection if you dine in, but it's so handy to do takeaway and celebrate at home or in the office.
Early birds get a 10% discount off their takeaway order at http://www.morganfields.com.sg when they order before 9 December 2017 (Discount Code: MFXMAS)!
Outlets:
(1) Suntec City, 3 Temasek Boulevard, Tower 4, #01-645,
S 038983 (Next to Promenade MRT)
Tel: 6736 1136
(2) The Star Vista, 1 Vista Exchange Green, Unit #02-23,
S 138617 (Next to Buona Vista MRT)
Tel: 6694 3635
(3) VivoCity, 1 Harbourfront Walk, Unit #01-51A,
S 098585 (Next to Sentosa Boardwalk Exit)
Tel: 6225 0501
(4) Orchard Central, 181 Orchard Road,
Unit #11-03/04 S238896 (Next to Somerset MRT)
Tel: 6634 1828

Let's Chat!