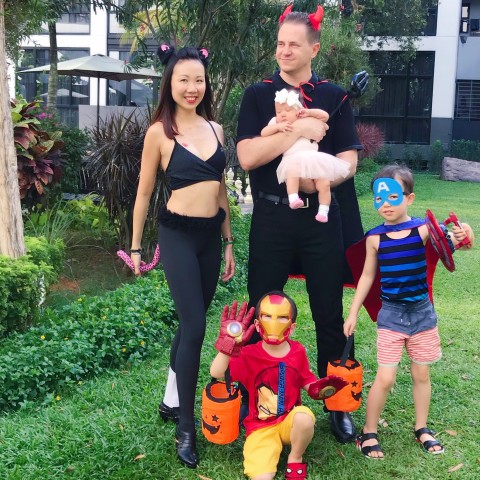 Our first Halloween – and also my birthday – as a family of FIVE!
Prior to our Halloween party, I had all these grand ideas to do some super duper, fancy schmancy, family themed costumes. I was totally going to be that over-achieving mum, showing off her whole family decked out in on-point costumes!
And then the actual day popped up and…. oops…. I had done nothing.
So, an hour before the party, I spent about $4 at Daiso (my favourite $2 store – I am there SO frequently that my kids refer to it as "Mummy's favourite shop") and threw together Halloween costumes for all 5 of us, using almost all existing stuff we have.
So while enviable Pinterest Mum I am not, 'Performs-well-under-pressure' Mum I SURE AM!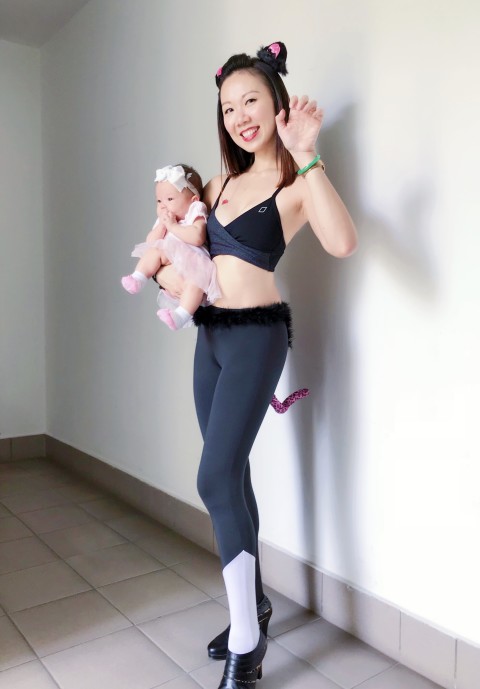 I was originally going to go as…. a yoga instructor. Hah. I would have all the gear 😉 But then a girl friend pointed out that it would be a bit sad, and very lazy.
So, okay then, cat woman it was! I just wore my yoga gear, and added kitty ears and a tail. I think cat woman has a black mask too.. but no time (also not crafty enough) to make one, so mask-less I was.
I was really pleased with my outfit, as since it was yoga clothes, I didn't overheat as we were walking around trick or treating.
Chloe was a ballerina. Only because I had zero Halloween-type outfits for her. I should have done something elaborate, since infant costumes are the cutest, but… meh.
So I simply pulled a pink onesie, a pink tutu, and pink ballet-shoes socks… and voila!
Sidenote: I was tempted to dress her up as a little demon, as I call her my Demonbaby (because she is). But, again, no costumes/no time/no effort.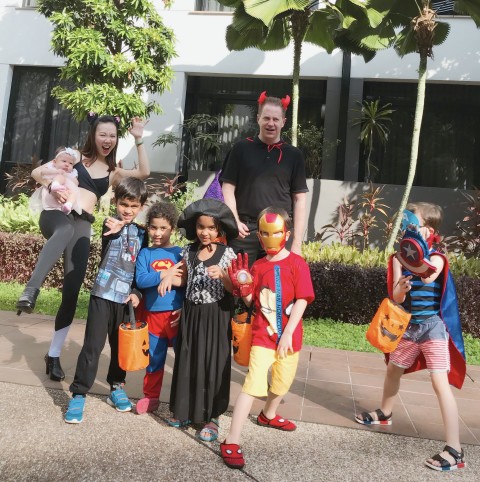 Every single person here had their outfit put together in 5 mins. Because my neighbour also forgot – LOL. Still, we look pretty legit!
Carter was Iron Man, and Hunter was Captain America. Not in the full outfit shebang, since it's too hot and humid in Singapore for that.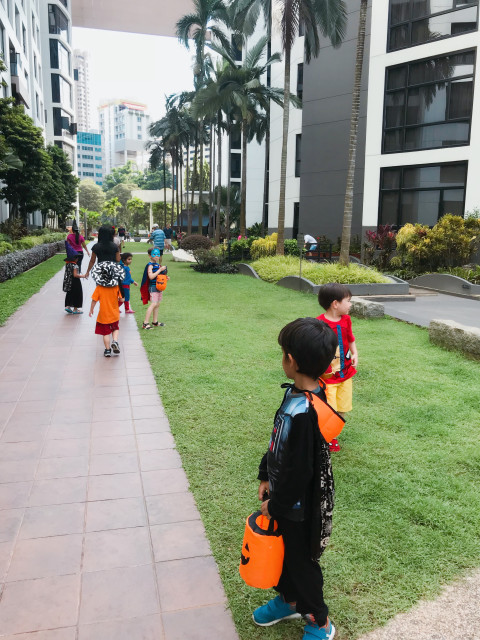 120 kids participated in the Halloween party, so it was an epic trick or treating rampage. All the kids were totally adorable!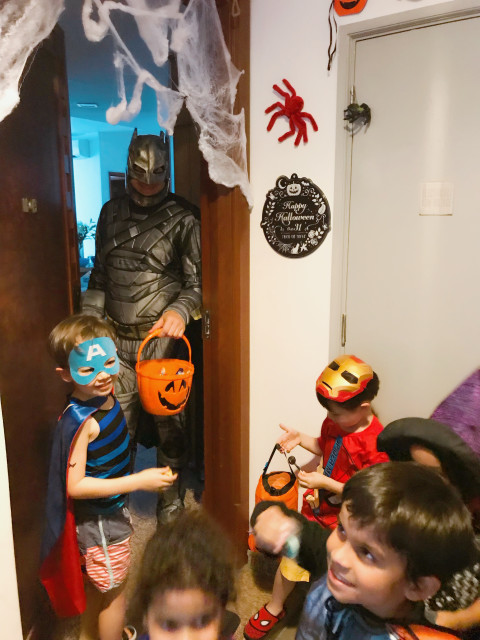 Some of the adults at the places we were trick or treating at were also all decked out Halloween style. Love it! The kids had so much fun. And collected loads and loads of lollies and chocolates.
I'm trying not to think about the amount of junk food that went into my kids that evening……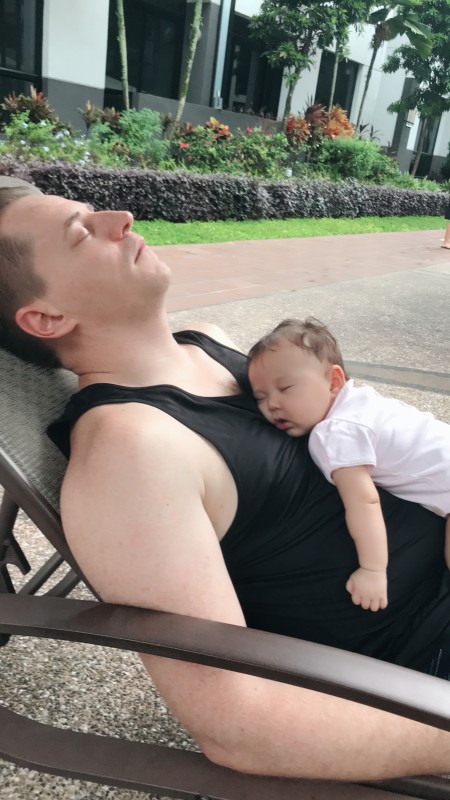 We had a mega pot luck dinner afterwards. Father and daughter had stripped off by then, and I found them like this at the poolside party! No stamina…
Let's Chat!