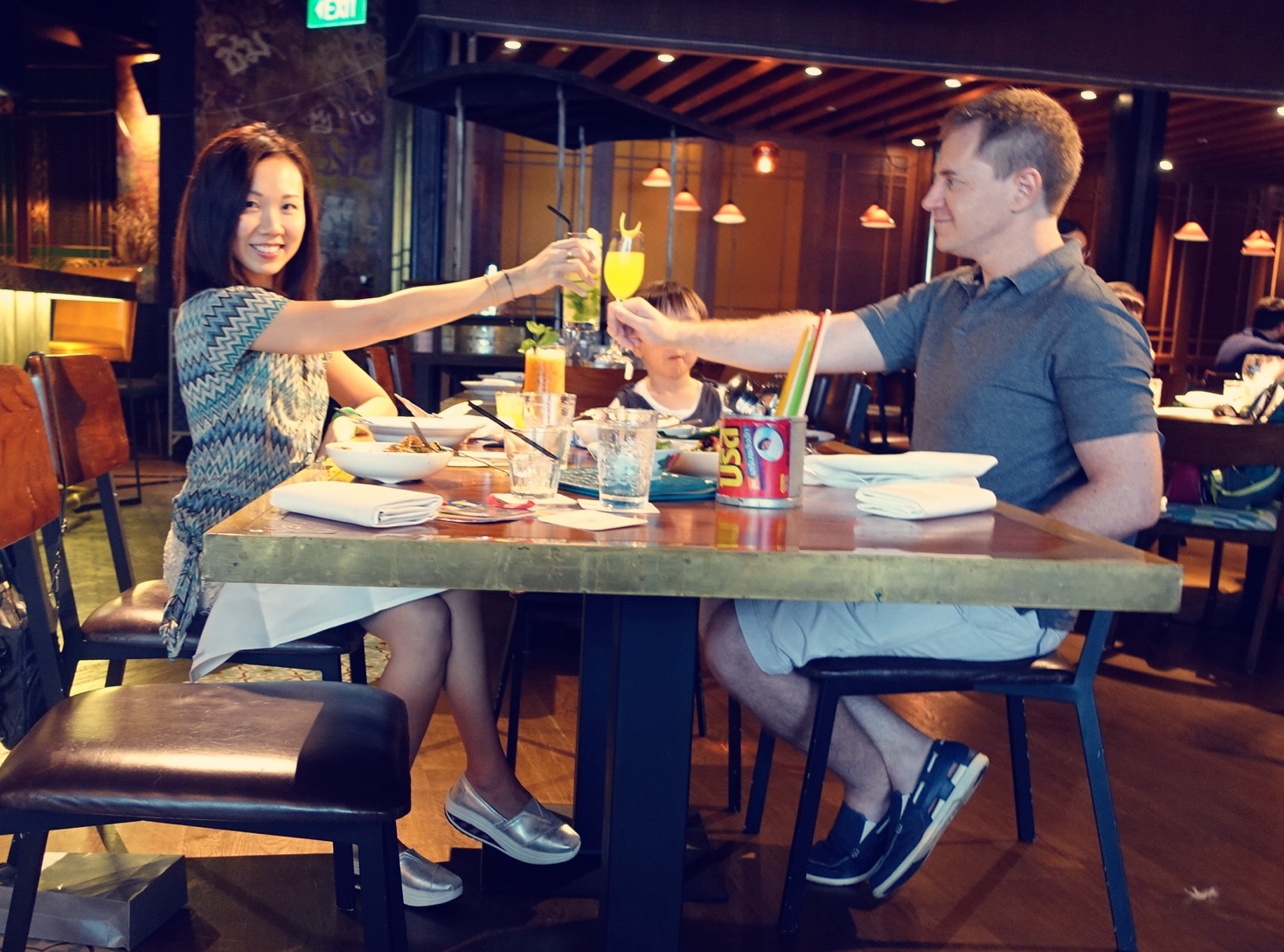 This photo makes me laugh.
Chris and I look like we're on a peaceful dinner date.. but – wait – I spot something… or someone, hiding behind Chris' hand..!
We were at Long Chim, checking out their newly launched Family Brunch, with a Kids Menu! I was particularly super interested because I've been to Long Chim many (many many many) times before with friends, and have loved the food and cocktails there. We've never taken the kids there though, because we generally don't go to Thai restaurants with them – hello spicy!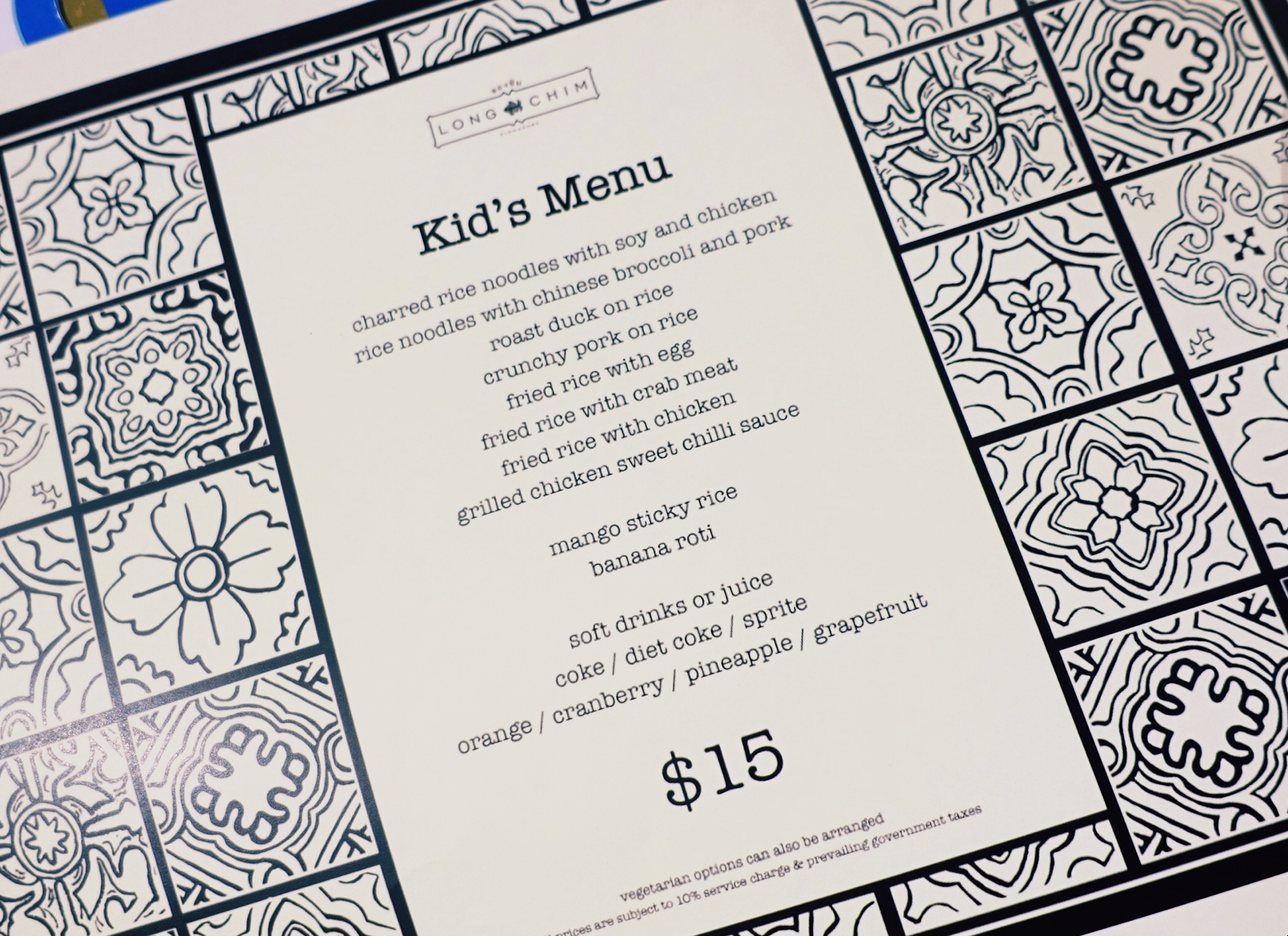 Long Chim's kids menu is really impressive. I very rarely (almost never?) see a kids menu that doesn't feature frozen nuggets or burgers or fries or any of that junk food. I get that it's the easiest and cheapest thing to throw at kids, but considering my kids don't really have a palate for junk food (so different to Chris and I – hah!), we normally never order from the kids menu.
But look at this one above! It looks like a REGULAR adults menu, right? Except all the dishes aren't spicy and are specifically catered for kids. Major win. Plus, it's also $15 for a Main, Dessert, and a Drink.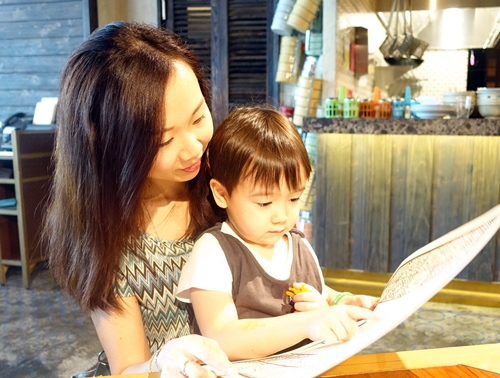 We actually had trouble figuring out what to get the kids because all the mains looked so good. So we ended up getting the kids to read their own Kids Menu and choose their own food. Nice way for kids to feel empowered and thus more motivated to polish off their food… we hope?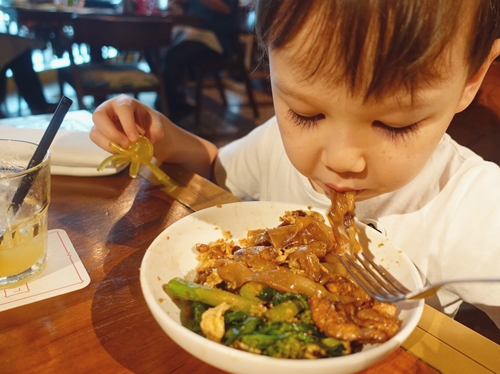 Hunter's Charred Rice Noodles with Soy and Chicken was a portion substantial enough for an adult. He destroyed it. I was anxious that it'd be too salty, as the noodles were pretty dark from the soy, but the flavour was mild. I did wish that the veggies were chopped finely and mixed into the noodles though, as I had to cut it all up myself with a knife, which was a pain.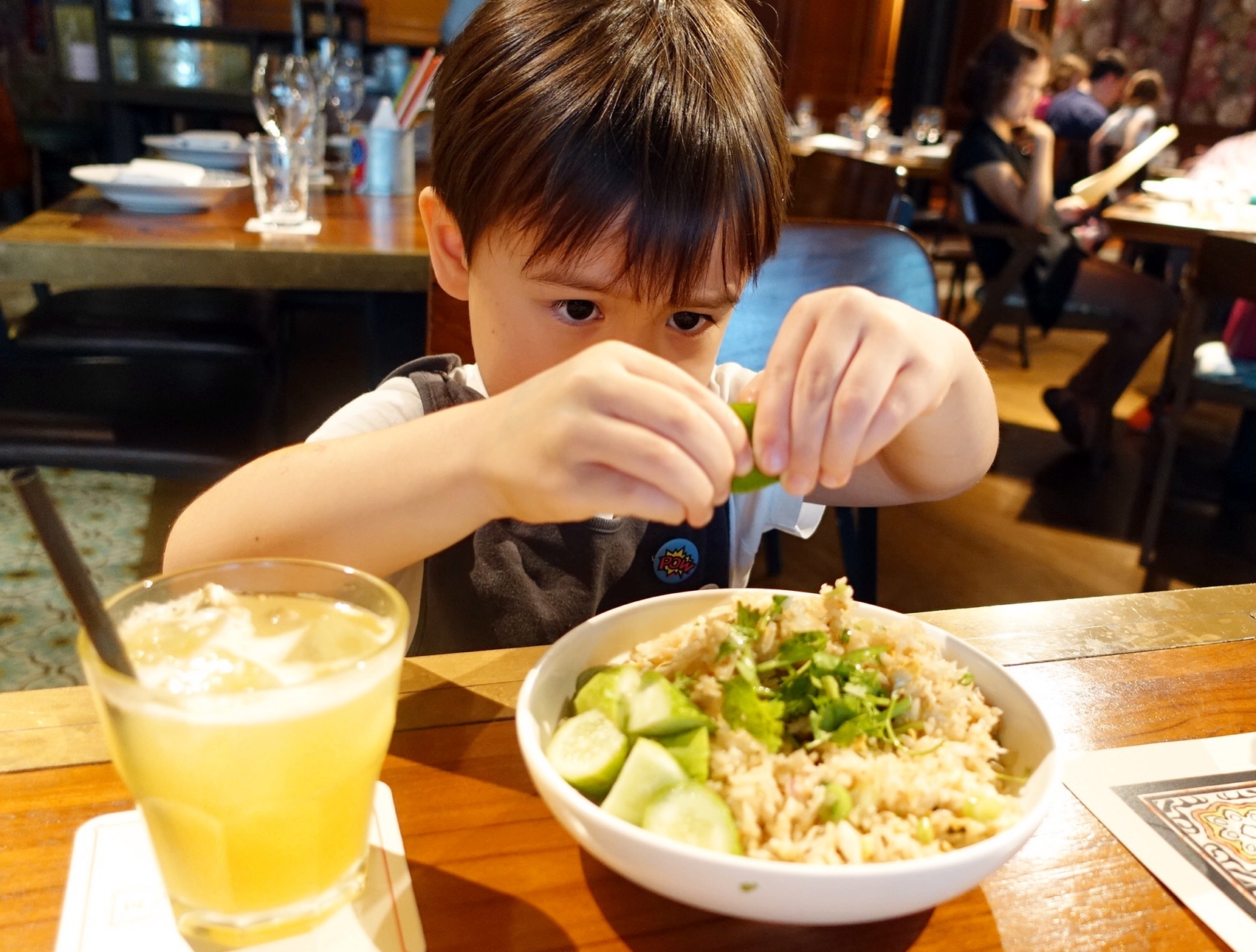 Carter opted for the Fried Rice with Crab Meat, and it was actually kind of massive. It had heaps of crab meat chunks studded through the dish, which gave a lovely sweet flavour to the smokiness of the fried rice.
It's served with condiments like an adult dish would have – chunks of cucumber, sprigs of coriander, and a slice of lime (which Carter insisted on squeezing all over his dish, the connoisseur that he is).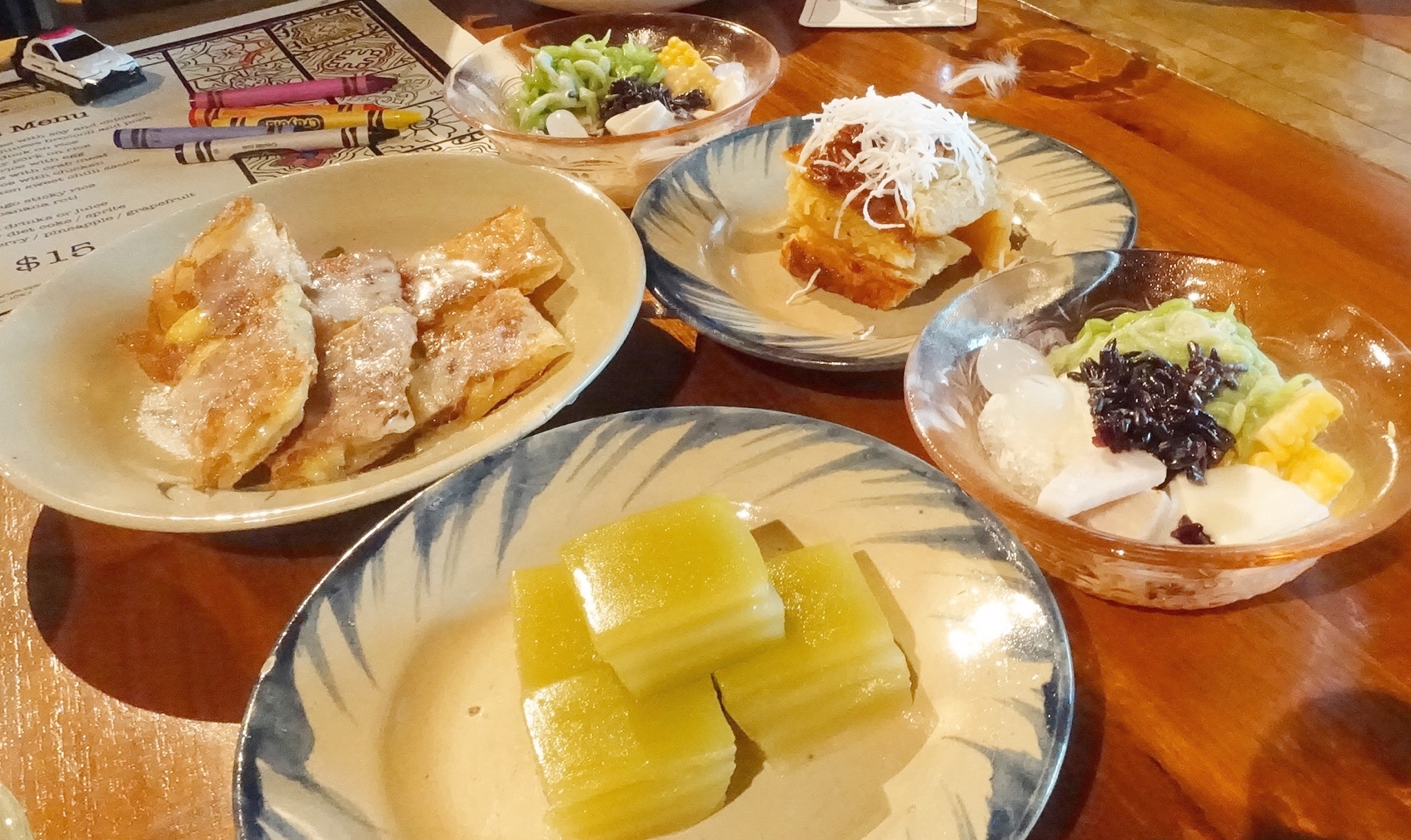 These were some desserts off the Kids Menu, and also off the Weekend Brunch Menu. I reckon Long Chim's desserts deserve a special mention because they were fantastic! especially that Banana Roti which was all cripsy, with soft gooey warm banana on the inside, and drizzled with condensed milk. Ahhhh…. calorie overload, but worth it.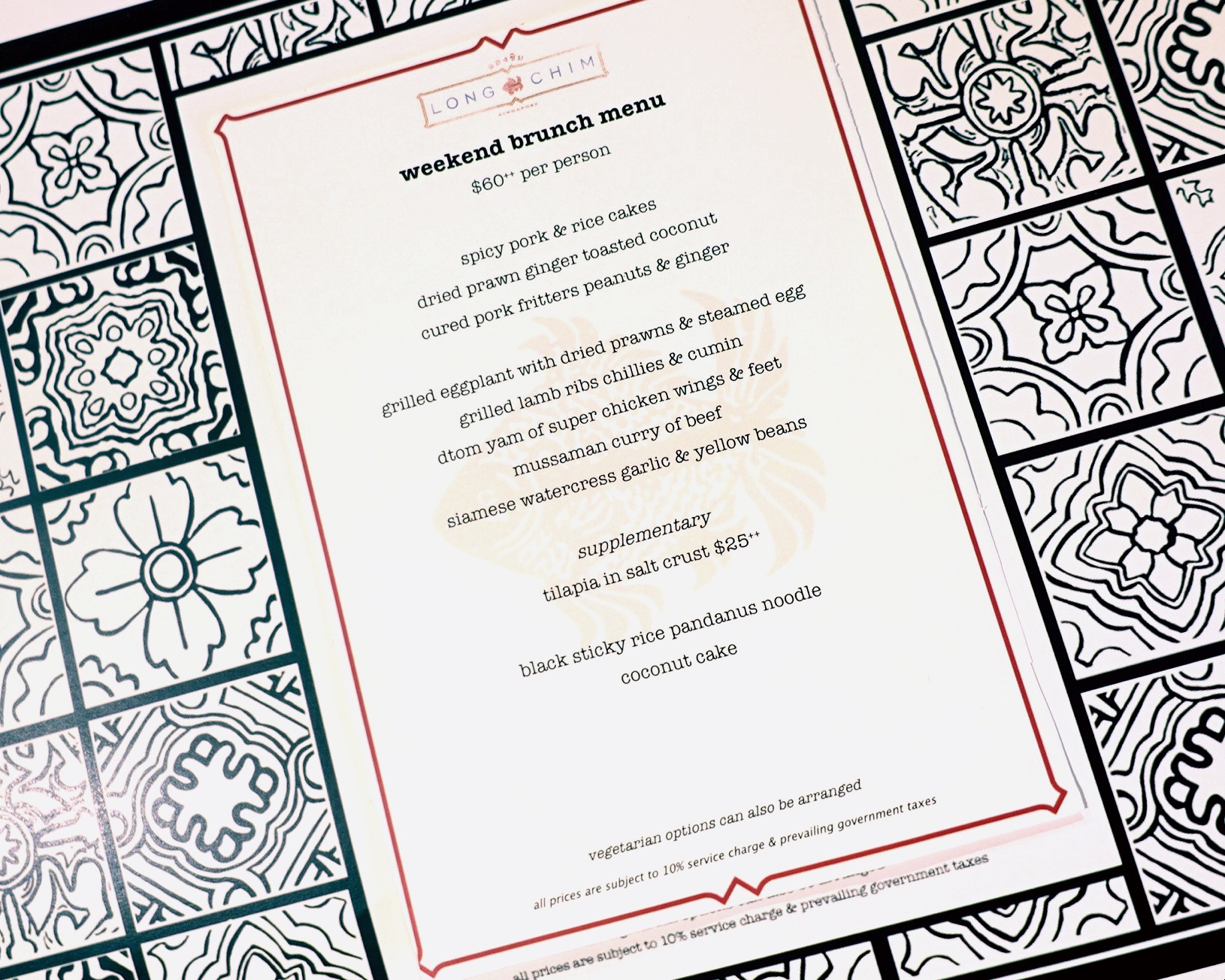 This is the ridiculous 10 course Weekend Brunch Menu…. for $60pp.
I don't think any other place has as good value as this? We were so full we had to doggy bag a whole bunch of food home. Personally, I reckon there's about 30% too much food served here 😛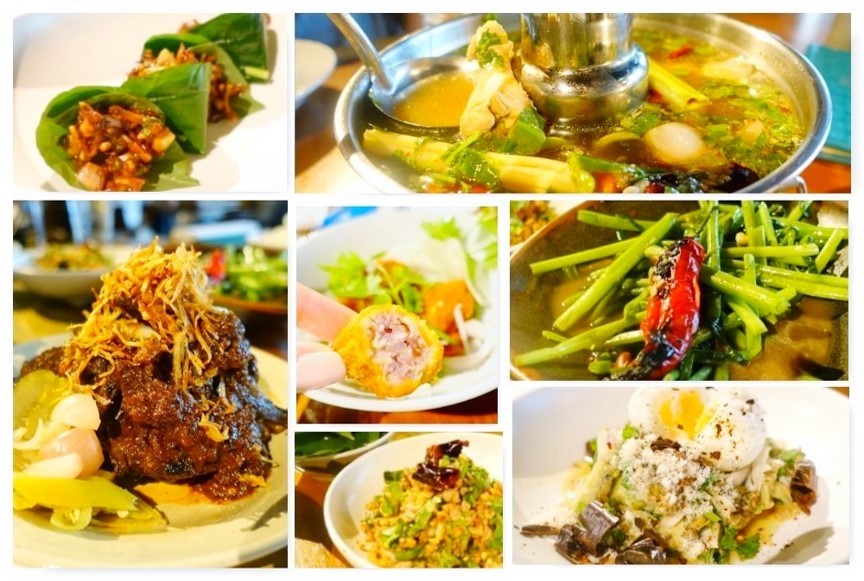 A storm of dishes came out until our table looked kind of ridiculous… like we were a family of fat pigs or half-starved people that hadn't eaten in ages. If you're into food comas, you'll love this 😉
There's dishes like dried prawns with ginger toasted coconut, spicy pork and rice cakes, grilled eggplant with dried prawns and steamed egg, mussamum beef curry, etc.
Special mention to the Grilled Lamb Ribs with Chillies and Cumin. I thought that was the best dish because the ribs were so tender the lamb just fell off the bone with a poke of my fork. They were juicy, soft, and the flavour explosion was crazy good.
Only caveat – despite the Kids Menu being all non-spicy and mild in flavour, this brunch menu is PACKED with flavour! So think sensory overload of herbs and spices. If you reckon it's a bit much for you, I'd request for "less salt, less spice" when you order.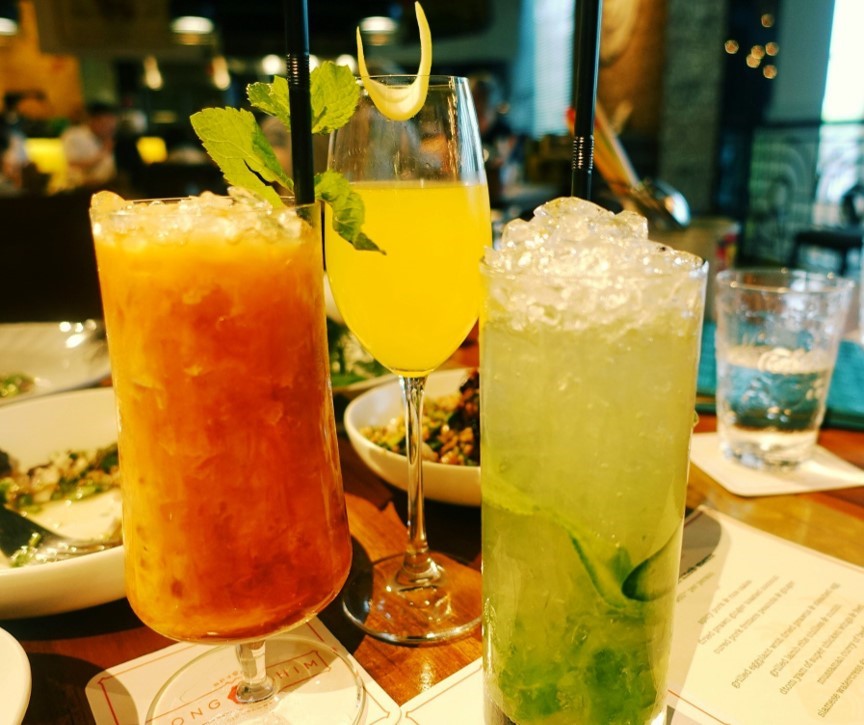 Thai Milk Tea and cocktails, because I reckon Long Chim do excellent (and unique) cocktails. And… the kids were so happy with their food they were feeding themselves, leaving Chris and I more time to kick back with a drink!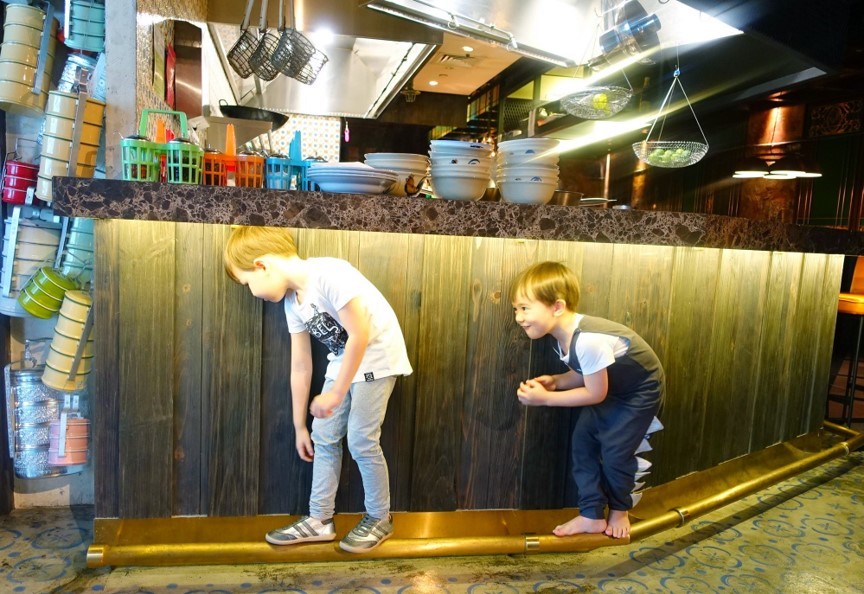 OK I'll come clean. Yes, the kids did feed themselves, but they also spent half the time running around – sometimes shoe-less – doing mad things like in the photo above. Oh well, whatever it takes to give Chris and I some time to down our cocktails!
Let's Chat!