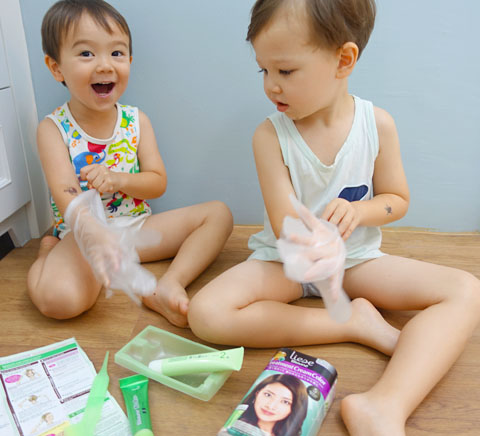 I never used to color my hair. It was a pretty decent shade with a bit of natural lighter bits, thanks to the Aussie sun. I was pretty happy with my situation – it meant I saved quite a bit of money!
But when I was pregnant with Hunter, I noticed one day that – HORRORS – I had a strand of white hair. Not just lurking underneath, but saying hello to the whole world from above my ear, framing my face. Worst place ever to have white hair? Yep. Nailed. It.
That one strand of hair turned into two… then three… then basically freaking 9350283 of them after I gave birth. I thought my hormones would reverse the situation and I'd be fine, but nope – the white hair stayed.
So today, I have a bunch of visible white hair above each ear. Wanna see?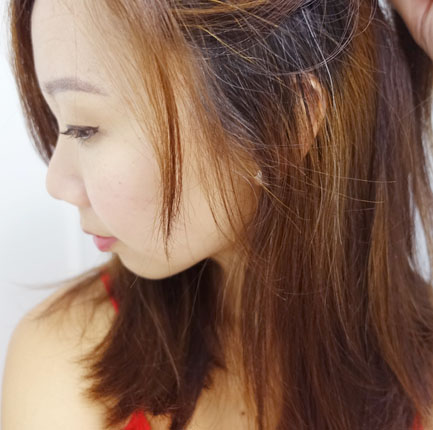 It's maddening, because it basically forces me to dye my hair. This means I need money AND time. But I go to the hairdressers to do it anyway, because honestly, I can't stand seeing the white strands and they drive me insane (yes I've tried plucking them out).
My only issue is, white hair regrowth is REALLY visible. It's a terrible look and it's obvious with just a few millimeters of regrowth. Yet, it's not practical to go back to get my roots touched up – who has that much money (and that much time) to go every month? Not to mention how damaging it would be to the hair.
So I've gone the DIY route with Liese Blauné Treatment Cream Color!
Ready to check it out with me?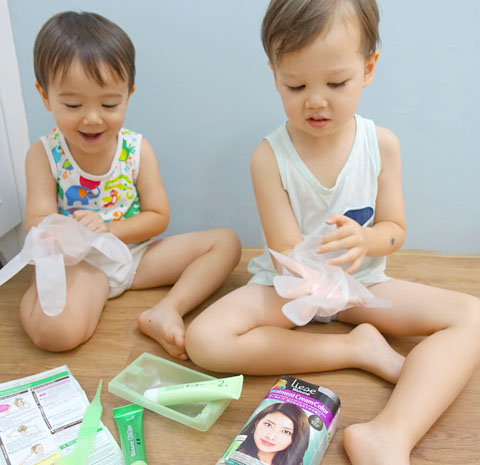 I'm using Liese Blauné Treatment Cream Color (SGD$15.90), which has 4 key things that really do it for me:
Made in Japan – because I pretty much fixate on anything Japanese, especially beauty products!
Nourishing for the hair – It has more than 60% treatment base, so it treats and colors your hair at the same time for smooth, manageable hair!
100% gray hair coverage – the rich color masks it super well.
Formulated for Asian hair – 'nuff said.
What I REALLY love about this is that it can be used multiple times – if you use it just for covering up gray hairs and/or touching up roots, you can simply save the tubes for the next time. It saves me HEAPS of money!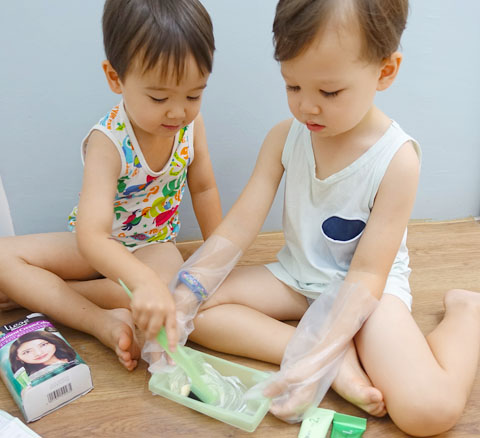 Everything is provided in the box, but I put a bit of lip balm (you can use Vaseline too) along my hairline to protect my skin from being dyed.
Step 1: Mix Cream #1 and #2 together. They provide a brush and tray, so just mix away like my kids are doing above!

Step 2: Apply the mixture to the hair with the brush until all the hair is well-covered. There's pretty much no smell, by the way.

Step 3: Apply more mixture to areas with more gray hair. This is so the color goes on stronger there.

Step 4: Rinse off after 15 mins. Shampoo.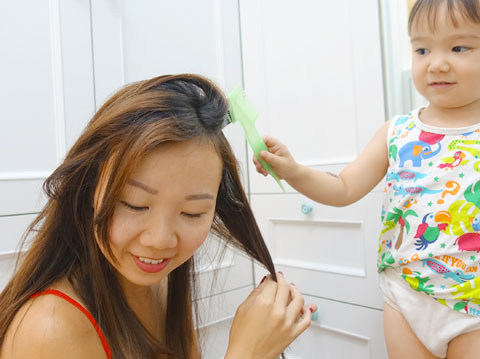 It's straightforward to use, and easy to wash any cream off our hands, so much so that my kids and I didn't bother with the gloves. They had a FANTASTIC time painting my hair – though Hunter admittedly expressed his disappointment that "the dye isn't rainbow. I thought it'd be rainbow. So boring" 😉
What I realized is that this Liese Blauné Treatment Cream Color is excellent for coloring all my hair. You see, I had a "too light" salon dye job (when the colorist forgot about me – argh) that left me with really brassy, light hair. I wanted to bring it back to my dark roots (pun intended), as I feel dark hair looks healthier.

So….. want to see how it went?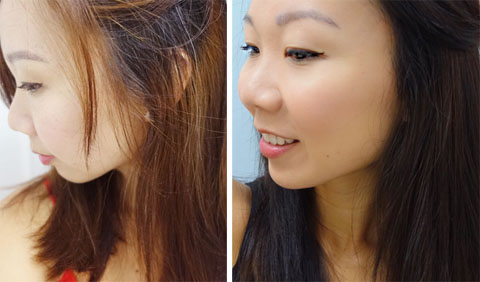 These are Before/After shots of a full dye job with all my white hair colored, as well as a natural, even wash of color over the whole head.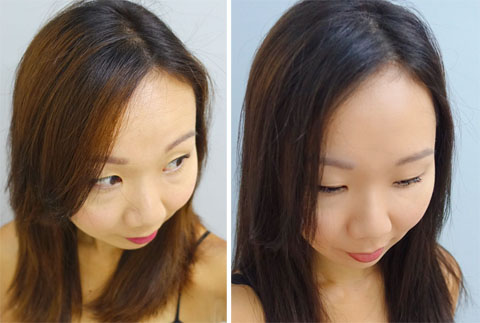 I'm so impressed with how well (and easy) this DIY job worked out to be. Never thought it'd be so straight forward to color my hair at home and have it turn out really well.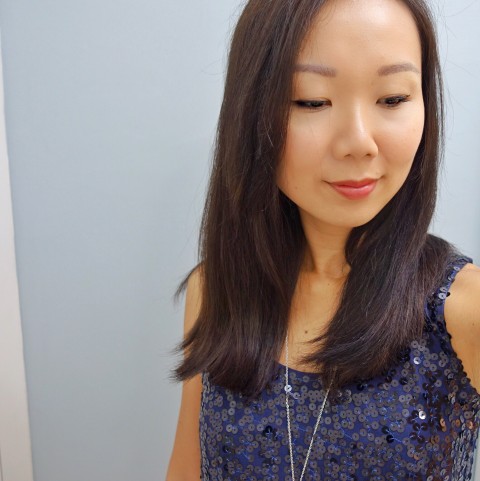 This is a picture of my hair immediately after my DIY hair dye with Liese Blauné Treatment Cream Color. My hair received ZERO heat styling (simply air dried), and ZERO styling product or serum.
My white strands are gone, and my hair is an even, dark brown shade. I'm delighted! I appreciate how the dye didn't sting my scalp (I've only tried one other DIY dye prior to Liese Blauné, and that one hurt!), and how my hair remains soft and smooth despite not conditioning after washing, thanks to the treatment and hair caring ingredients in the dye.
I figure, if I do my gray hair DIY touchup with Liese Blauné Treatment Cream Color, I can use one kit around 3 times (!) – HUGE cost savings and HUGE time savings. I did this DIY hair dye a few weeks ago and am impressed with the long-lasting results!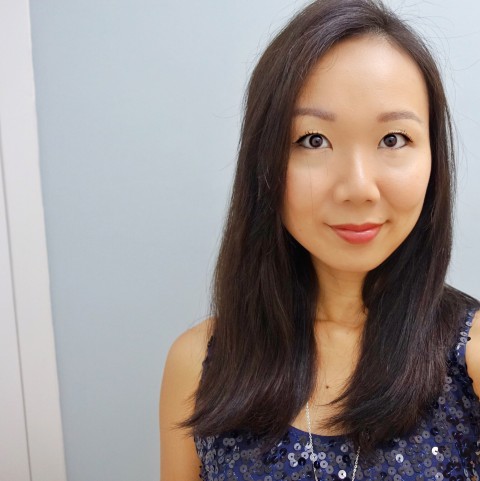 Liese Blauné Treatment Cream Color comes in 5 shades, and is available at leading pharmacies, personal care stores and supermarkets.
You may check them out at http://web.kao.com/sg/lieseblaune/lineup/creamcolor, Facebook – http://www.facebook.com/LieseSG and on Instagram – @Liesesg
You may also check out other reviews from 2 other mummy bloggers on the Liese Blauné Treatment Cream Color here:
Let's Chat!