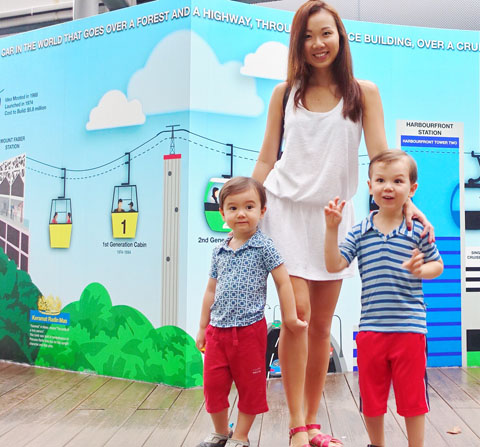 My lovely Aussie girl friend Christine and her family were in town over the weekend, so we decided to make a big tourist day out of it and enjoy Sentosa!
I don't think I've ever been on the cable car to Sentosa (or at least if I have, I've clean forgotten all about it), so I was actually pretty excited to go check it out.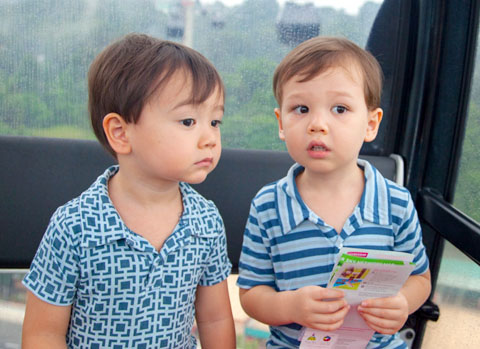 The boys – looking a tad dubious in the cable car 😉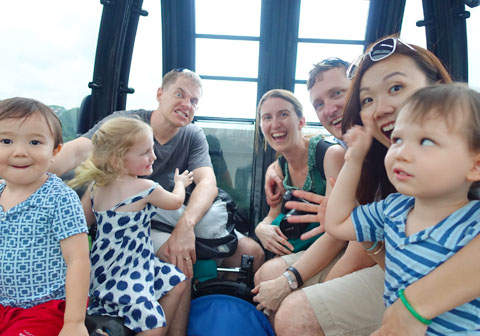 All of us crammed into the cable car! It was……. noisy.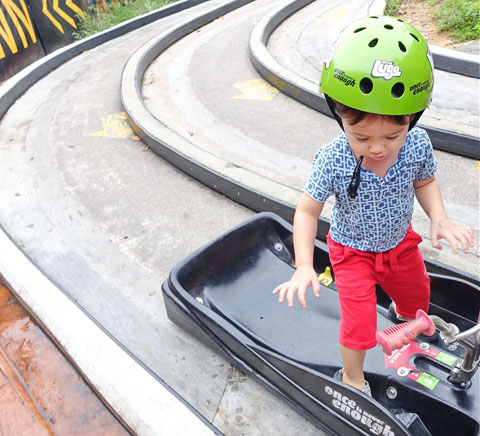 Guess what Carter's doing…?
He's getting in this toboggan thing, for the Skyline Luge! It's an AWESOME thrill ride for little kids and big kids – and is easily controllable so you can either putt-putt down at a snail's pace, or zoom down like a a maniac.
No prizes for guessing which way my kids wanted to go…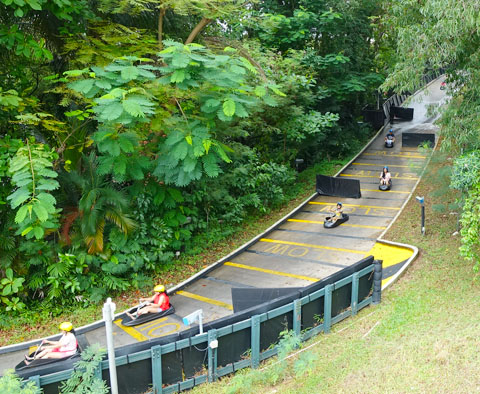 I'm a bit of a scaredy-cat, but I loved it!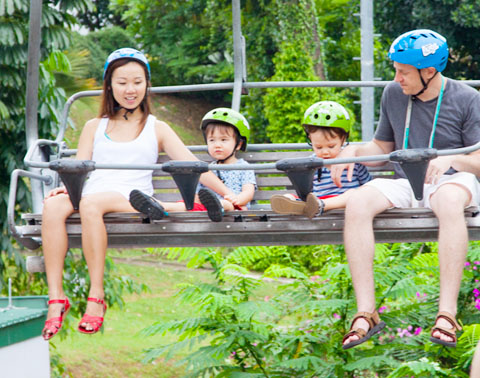 You take this skylift to get back up to the top after every ride. I found this bit way scarier than zooming down…. heights and I don't mix, and this is actually really scary because your feet is dangling in the air and there's nothing really holding you in, short of a bar in front! Gulp….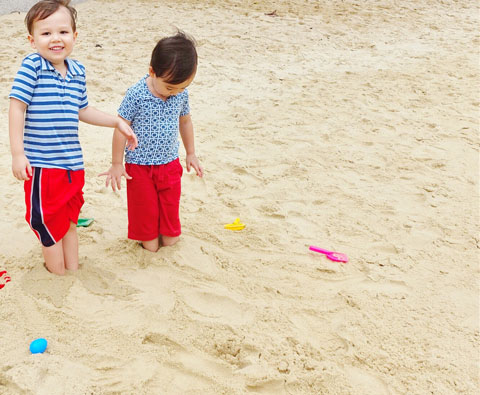 We hit the beach too! This is Palawan Beach, which I was told was the most family-friendly beach. It's crowded on weekends, which is a bummer. And don't even try to compare the sand and water here to Australia (or anywhere else), or you'll be feeling a bit miffed and meh.
That said, the kids still had fun scooping and playing with the sand!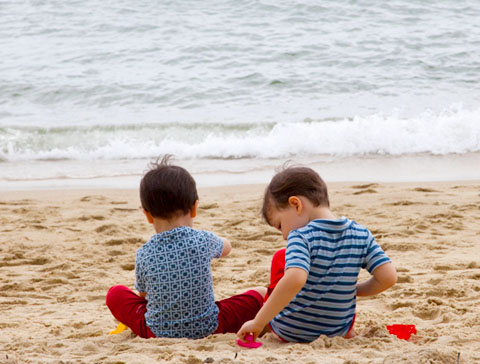 A quiet moment by themselves, playing on the beach. I love this shot (thanks Christine).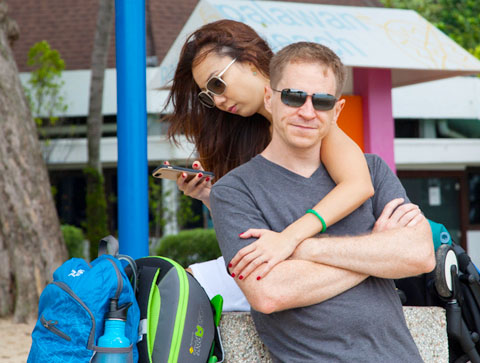 Candid shot of us. I like it because Chris looks pretty hot here.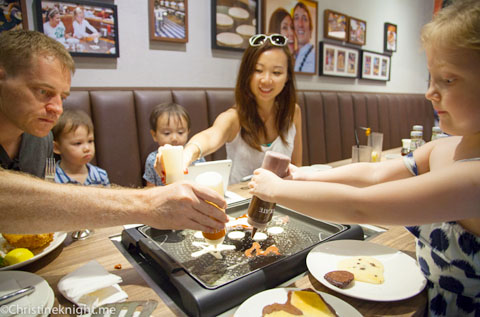 Back at the Resort World area, the kids feasted on DIY pancakes at Slappy Cakes! Such a simple concept, and oodles of fun. Mmmm.. pancakes…..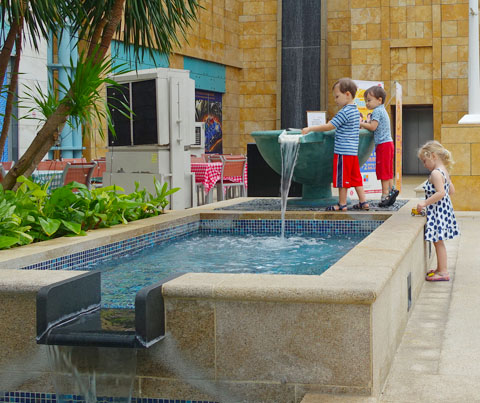 The kids found their own "water play" area at the water feature 😉  I'm surprised none of them fell in, with the amount of dashing around going on!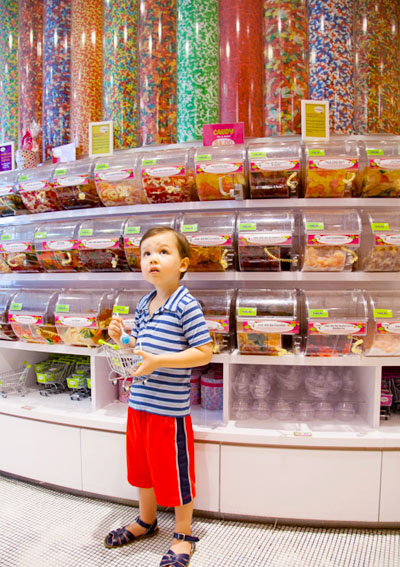 Hunter, completely overwhelmed at Candylicious. Oddly, all he wanted there was….. that mini shopping trolley he's holding.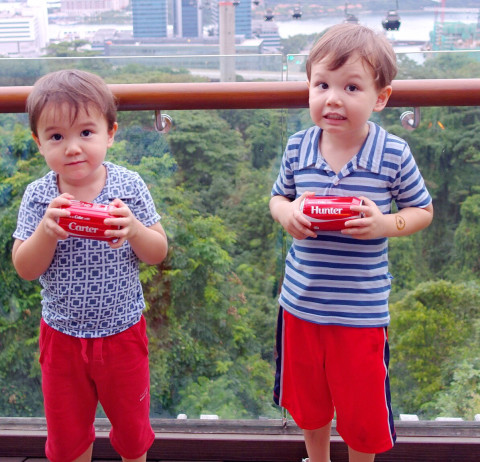 Our cable car ride entitled us a free personalised Coke can, each! Quite tickled about that.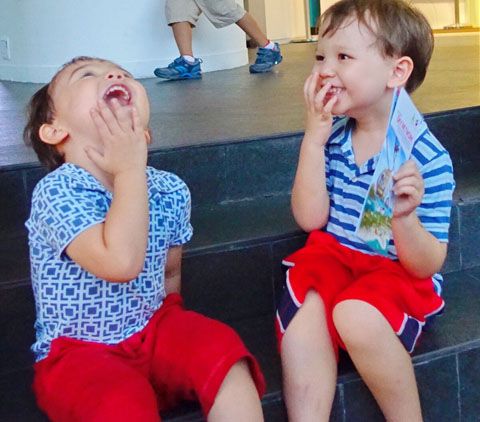 The kids, having a giggle, after an epic day. They were in the best of moods and totally on top of the world. It was a great day!
Let's Chat!