Pre-kids, I used to only wear heels. Anything to gain a few precious inches in height! But heels aren't practical when you're chasing after two toddlers, and so I've now embraced my height and gone the flat route.
Women's flats are all the rage nowadays. Not only have they evolved into various styles that make flats a legitimate form of footwear for formal occasions. From brogues to ballet flats, women's flats have drawn inspiration from even menswear. Just check out how popular those Chanel espadrille loafers are!
Even if you are a heels girl through and through, flats are undeniably comfier. Even celebrities are increasingly seen playing dress up in flats. Trendsetters like Alexa Chung and Olivia Palermo are frequently seen out and about in flats, and they totally nail that casual chic vibe!
Some of the popular styles are: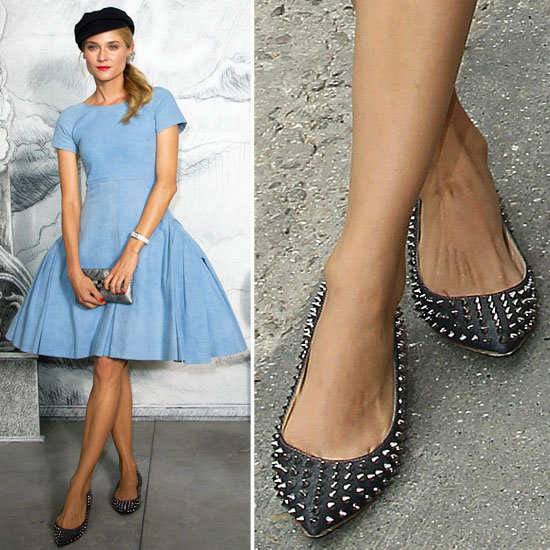 Who said studs aren't feminine? I reckon studded flats subtly edge up a feminine outfit. Toughen up a demure pastel blue tea dress with black studded flats a la Diane Kruger, then accessorise with more feminine details like a beret, a side pony, and a classic red lip. Girly with a twist!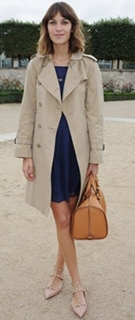 British presenter, trendsetter, and lover of flats Alexa Chung goes for a polished look with pointed (and studded) pastel pink flats, teaming it up with a classic trench coat over a blue dress, as well as a tan structured handbag.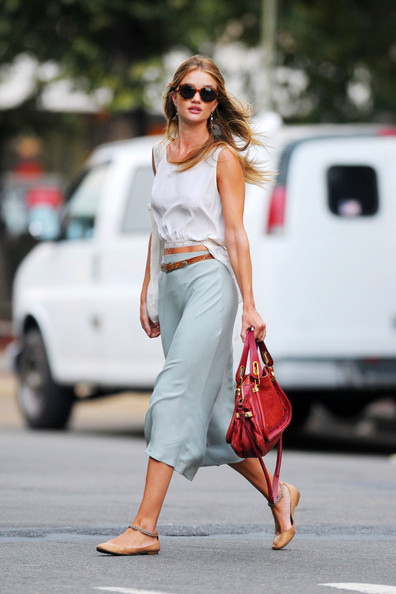 My personal favourite style! British supermodel Rosie Huntington-Whiteley stopped traffic in this effortless stunning and breezy outfit while on her way to lunch with a friend in New York City. Her nude leather Chloe ballerina flats come with braided straps that highlight her slim ankles, while her red Chloe leather bag pops against the sleeveless white top and mint green skirt. All she needed for accessories are a pair of cute bohemian feather earrings, Elizabeth and James Figueroa sunglasses, and a brown belt. Super chic.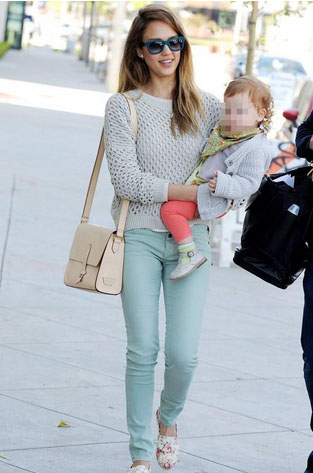 Jessica Alba shows us how florals are done subtly and tastefully. No garish prints for her, but just a pair of floral loafers. Notice how her shoes fit in with her outfit's soft, pastel colour palette: cream crocheted pullover and satchel, and pastel blue skinny jeans. Plus, her daughter complements her look too with candy-pink pants! SO CUTE!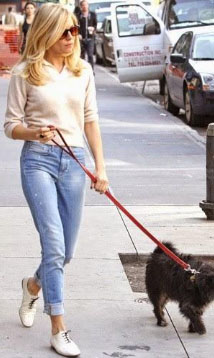 The key to taking on the menswear trend isn't to dress like a man, but to include menswear pieces yet retain some femininity. Take brogues for instance. They may be men's shoes, but you can wear them like a woman by revealing a slice of ankle, or pairing them with skinny jeans to showcase the female silhouette.
Look how effortlessly cool Sienna Miller looks walking her her dog in those Rupert Sanderson brogues! To mimic the English actress's daytime look, pair lace-up shoes with rolled-up jeans and a breezy top.

Are you a flats girl or a heels girl? What are your go-to flats? How do YOU wear your flats? Share your thoughts and style tips!
Let's Chat!