I will admit I'm being such a FOLLOWER here.. but I got swayed by all these Fjallraven Kanken backpacks that are carried by…. well, people from all walks of life. I see fashionistas proudly toting theirs, students lugging theirs around filled with text books, and guys using them as the ultimate man bag.
Originally, I wanted to get the kids one each, for them to use as backpacks.
Why?
Kanken are known for their extremely lightweight, yet sturdy backpacks. I reckon the Kanken Mini is excellent for kids, because of the smaller size, no loose straps (can wrap them up and button down), and usability (easy open-wide zipper). They're washable too, so I figured the kids could get years of use out of them.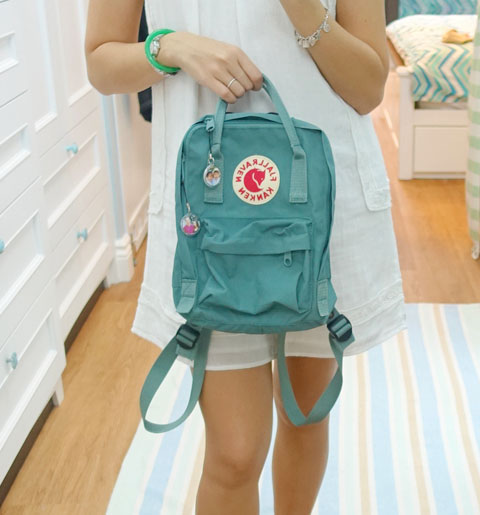 So I bought one to try out first, in Frost Green. I wanted to see if it was truly lightweight AND durable! Turns out it is. And it's so awesome I've now stolen it and the kids BOTH don't have a Kanken backpack…. muahahahha.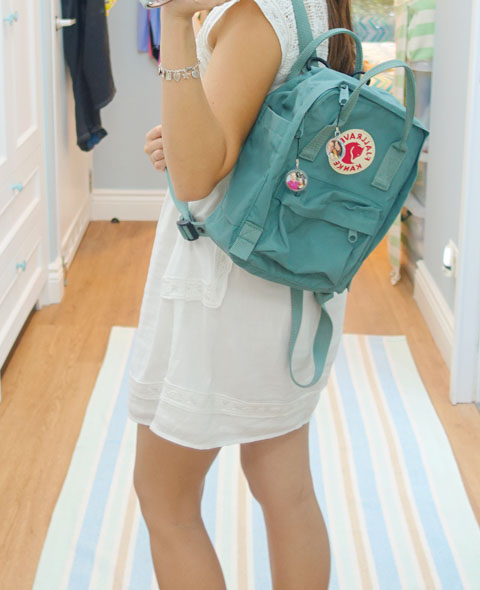 I'm using it as my handbag, but also as a diaper bag (it fits in all the essentials two little kids need). Better yet, the bag is pretty unisex, so Chris can carry it around without looking too silly!
The two handles on the top makes it super practical, because it's easy to pick up and carry around in my hand (if I don't feel like slinging it like a backpack). The zippers also open down wide, so the interior is very accessible.
Oh, and in Singapore, they retail for over SG$110….. staggering!! I couldn't seem to find any local store, online or offline, that sold them any cheaper.
But then I went online and found out their official store ships internationally anyway. And not only that, I found mine right here for 70 bucks or so. Heh! They range about SG$60-90 online, which I think is still very expensive to use as a backpack for kids (though I suppose it's justified since they're sturdy and can be used for years), but it's a big cost savings to get it online at least.
I'm very pleased with mine! Will definitely get more for my boys to use as backpacks…. errmm.. once I get up the nerve to pay that much ($70 is still a LOT imho) for kids bags 😉
Let's Chat!