At the ripe old age of 33 (it always gives me a shock to actually say my age, I seriously feel like I'm a decade younger! Ahem..), I'm finally finally finally using sunblock DAILY.
Yes, I'm late by about, well, 33 years. And considering I spent half my life in Australia, you'd think that like a good 'ol Aussie, I would know to slip slop slap daily.
But I never have. For the simple reason that I find sunblock WAY too greasy, too slimy, and too white cast-y on me. The furthest I'll go is to use BB cream, but not actual sunblock.
I was a tad dubious when Clarins announced that they're launching their new 4th generation Clarins UV Plus Anti-Pollution SPF 50/PA++++ (phew what a mouthful!), considering my history (or lack thereof) of sunblock usage. But I said I'd be willing to try it out and see how I go.
And, yep, I'm using their sunblock daily, without fail.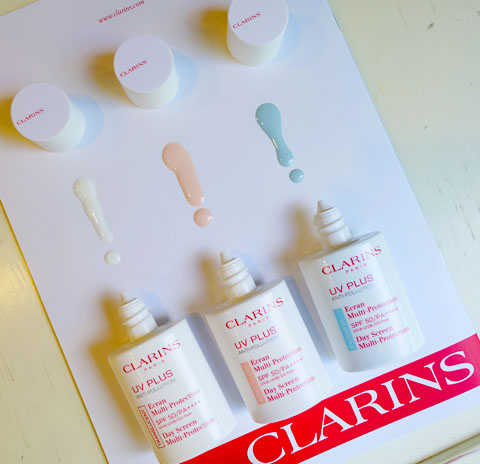 Here's what I LIKE  about the new Clarins UV Plus Anti-Pollution SPF 50/PA++++:
It's available in 3 shades. Chris uses the Translucent version which applies with zero white cast. It doesn't make his skin break out and, like me, it's also his first time he's using sunblock. We are terrible! I use the Rosy Glow shade which looks peach-pink, and blends into my skin to make it really glowy and dewy. And Mum is using the Fairness shade which is a cool blue, and minimises the look of redness, dark spots and small imperfections.
The sunblock is absolutely non-greasy. It'd be a major deal breaker for me otherwise. I apply moisturizer, then this Clarins UV Plus, then BB cream. Normally my face would be an oil slick if I use regular sunblocks, but I haven't noticed any increased greasiness with this one because it's 100% oil free. And that's saying a lot, because I run to/from school each day (my kids ride bikes), so I do sweat quite a bit!
The applicator nozzle is precise. I can squeeze out the exact amount I want with no wastage. And if I'm travelling, it doesn't leak.
What I DON'T LIKE about it?
Well, I wish it also came in a larger size bottle (ie. buy a larger version and save some $) to keep at home. This 30ml size is perfect for travel, but since I use this daily, I envision my bottle running out quickly.. especially since I slather this on my neck and decolletage too!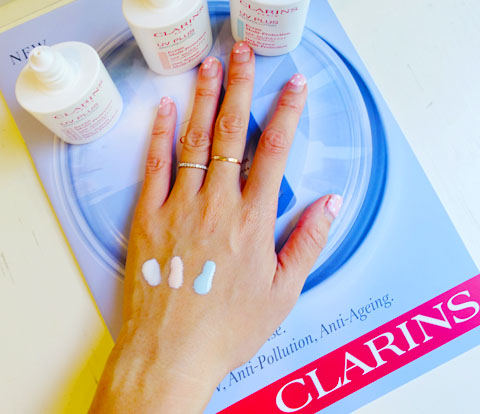 Here are the 3 shades, squeezed straight out of the bottle. You'll notice that they have the signature watery texture that oil-free sunblocks have. It also spreads very easily on the skin.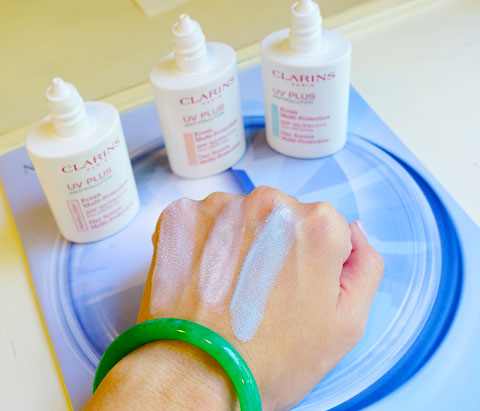 What the sunblock looks like with one swipe of the finger. The colour is noticeable so it's pretty easy to apply and spread out before it settles (very quickly) into your skin.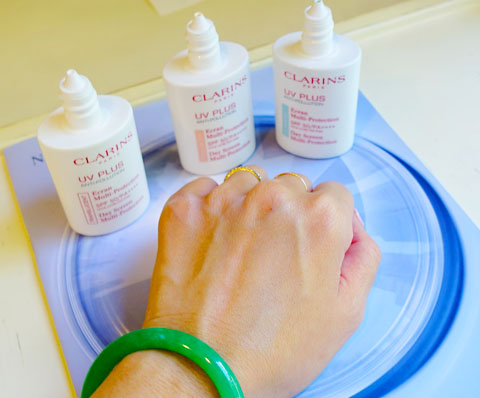 All blended in. See, no light reflects off it because it isn't greasy at all. My skin feels really plumped and supple afterwards. And if I'm feeling REALLY brave, I don't put any BB cream on top of this on some days 😉
If you want to try it out for yourself, you can score a free trial size here!
Let's Chat!