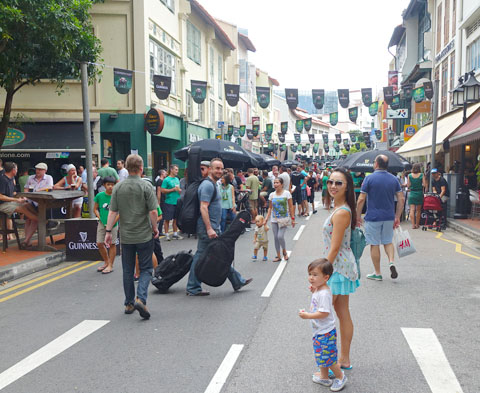 The really cool thing about living in the middle of Singapore is that we now get access to all sorts of fun events and carnivals! We'd previously lived about 30 mins drive away from the city (gulp), so a lot of events were out for us, as I just found it too much hassle to load/unload the kids especially when it came to nap times.
This year, we got a chance to check out the St Patricks Day 2015 street festival because it was in our area. Yay!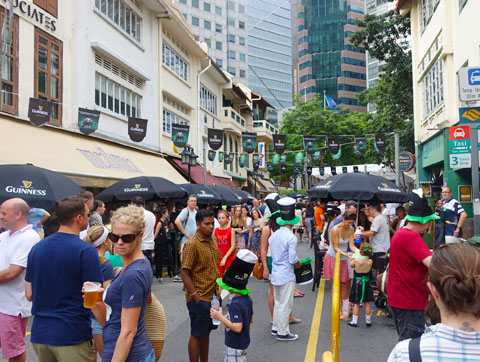 I've never seen so many Irish in one place, ever 😉 I didn't even realise Singapore had so many Irish people living in it! The mood was brimming with good cheer, everyone was out enjoying themselves, and there was food and drinks galore.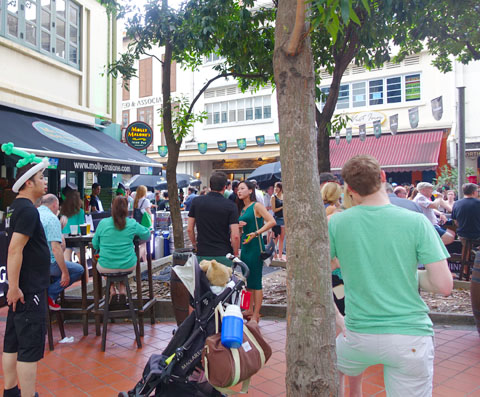 With the Inner Circular Road closed off for the event, everyone spilled out onto the roadside. There was Irish dancing and people just having a good time outside. It was a lot of fun! Love the festival vibe!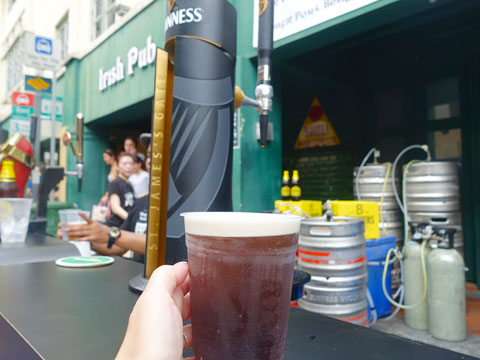 Obviously, traditional Irish stout and ales were aplenty. The agency that invited me gave us a bunch of cash vouchers so we drank… and drank…. and drank! Thanks guys! 🙂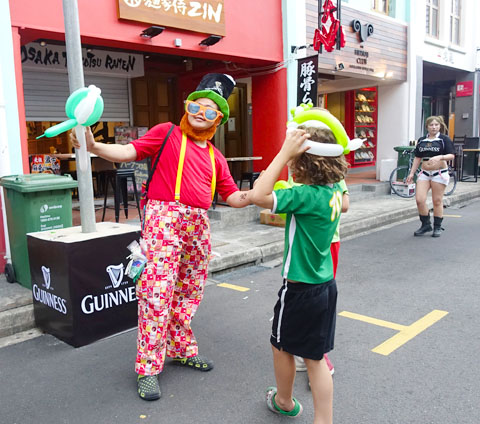 The festival was incredibly kid-friendly, despite so much alcohol being around. Pretty much everyone there had kids (it was only until after sunset when it was mostly adults only), and all the kids were running around, dancing, munching on food, and having a great time with friends!
The event organisers also had face painters and balloon sculptors for kid entertainment.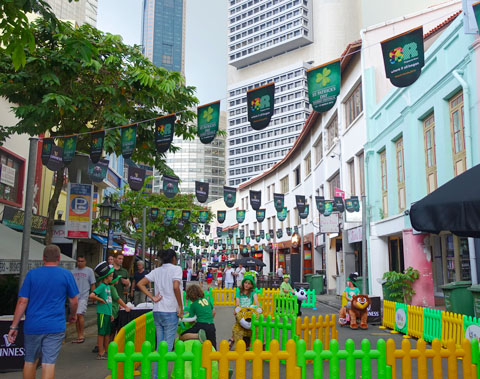 And they had those awesome electronic ride-on animals! Such a hit, and I reckon every festival should have this.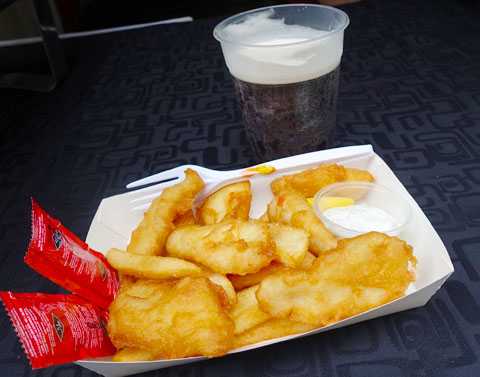 We just had to have O'Malley's fish and chips. They didn't disappoint. These were FREAKING AMAZING. I'm making a mental note to go back to the pub and get fish & chips there again. The fish was sweet and juicy, and the beer batter so crisp. Both my kids went NUTS over these!! And Hunter is not even a fan of deep fried!!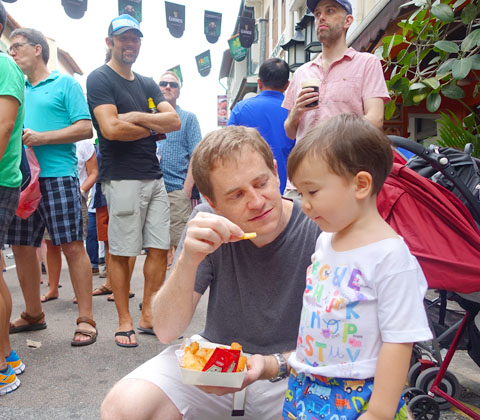 Despite Carter looking nervously at the chip here, he destroyed the fish & chips..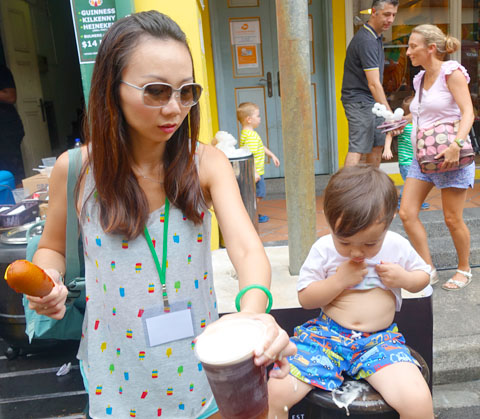 We had a bit of a beer accident, when Carter WHACKED my beer-holding hand as Chris was trying to take a nice picture of us. Beer went everywhere! It poured on Carter, who was sitting on a high bar stool, and Chris smirked, remarking "Funny how you quickly save your beer, and not your child who could've fallen off the stool."
Well. I really wanted my beer!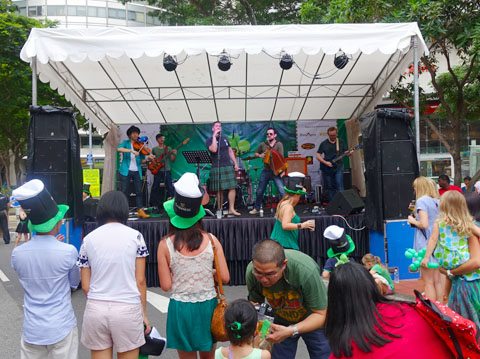 There were performances all day long, with bands like The Disclaimers, The Seisiúnistas and The Rock Rosettes. They were all actually really fab, with engaging stage presence and awesome music. Seeing people drunk and dancing away on the street was actually most UN-Singaporean 😉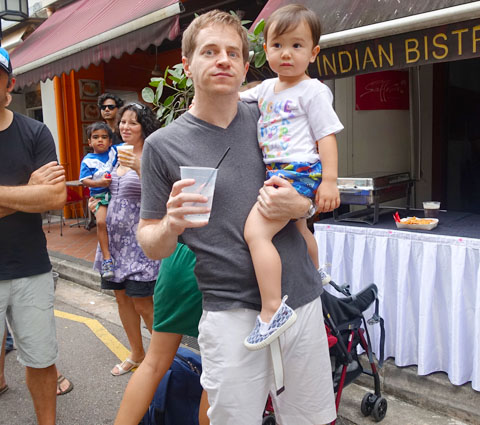 Boys captivated with the band. It was just so fun to be out and about and soaking in the festival fun!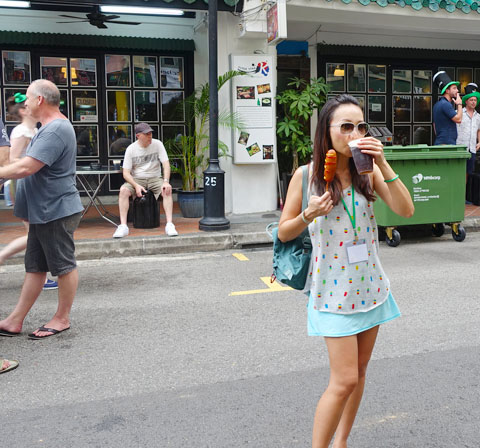 TOTALLY enjoying my fabulous corndog and beer. Perfect comfort festival food.
Why can't every day in Singapore be like this?
Let's Chat!