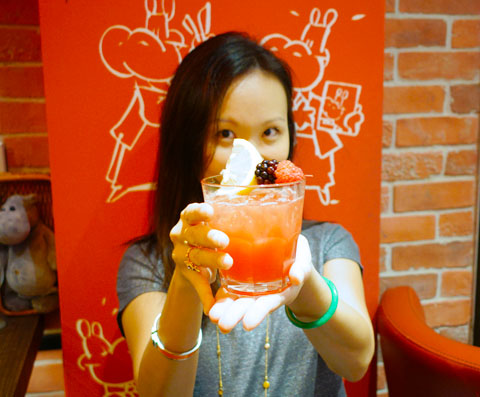 French restaurant Hippopotamus Restaurant Grill has launched a series of specialty cocktails!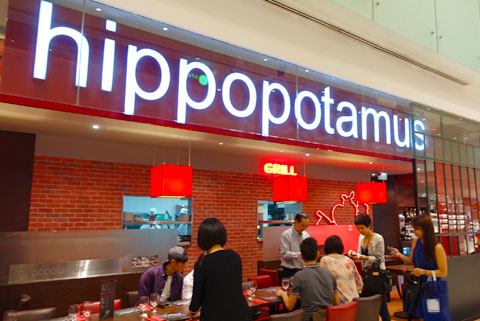 Located on the ground level of Marina Square (right where the kiddy rides are – woohoo!), Hippopotamus serves up a killer steak or twenty. Their selection of steak cuts is really impressive! I've been there a couple of times for the steak, and can vouch that they're pretty top notch.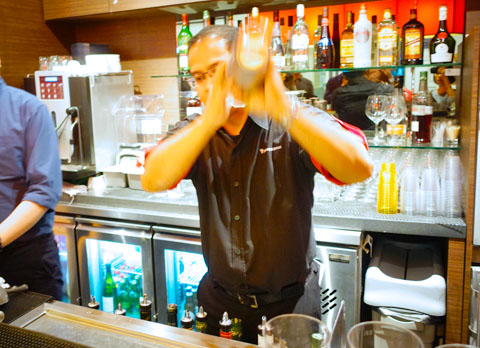 But it's THIS that I was interested in. Erm, not the bartender shake-shake-shaking away, but rather the drink being mixed up 😛 The cocktails are made a la minute and are served all dainty and pretty and icy cold. Delish!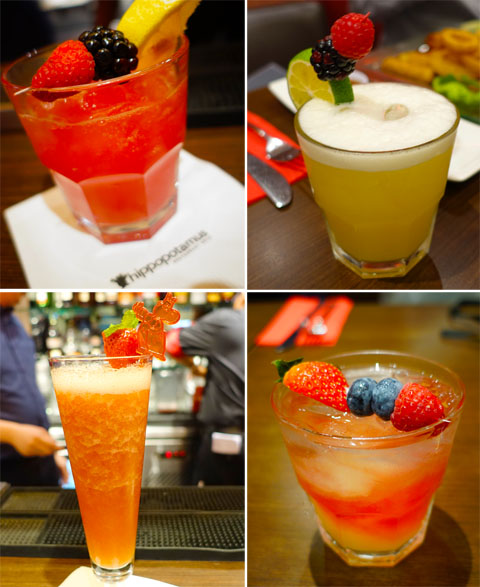 Top-left: Luigi – A complex cocktail created with Gin, Vermouth, Grenadine, Triple Sec, a dash of orange juice with an underlying juniper berry finish.
Top-right: Poker Face – Looking for a hit of tropical flavor? Poker Face is a mix of Tequila, Triple Sec and pineapple juice with hints of orange for an excellent punch of citrus aftertaste.
Bottom-left: Strawberry Daiquiri – For those who like their cocktails a touch sweeter without the sugar rush, the Strawberry Daiquiri is a fresh concoction of Rum, strawberries, strawberry puree, lime juice, and sugar syrup that will hit all the right notes.
Bottom-right: Bay Breeze – This new refreshing addition is a mix of Vodka, cranberry juice and pineapple juice, boasting on-the-nose aromas of tropical fruit with a burst of sweet yet tart citrus flavors.
 *hic*, *hic*, *hic* and *hic*! 😉
The cocktails are normally $14.90, but are $10.90 during cocktail hour. SUPER BARGAIN. I personally like how they aren't too sweet, and really pack a punch. They were really tasty paired with the food items!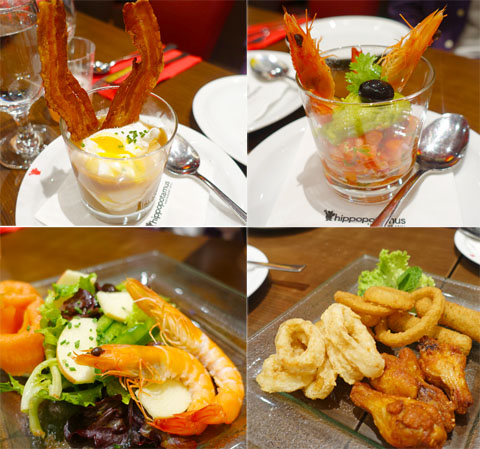 The selection of appetizers. That poached egg in red wine sauce (top-left) was AWESOME!! I would recommend not filling up on appetizers though, because it's really their steak dishes that KICK ASS.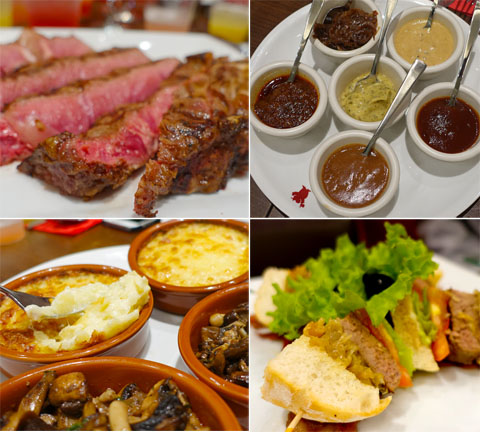 That Prime Rib? Stellar. At 500g, it's good for two people to share, and comes with a selection of delicious sauces. I loved the Bearnaise sauce the most!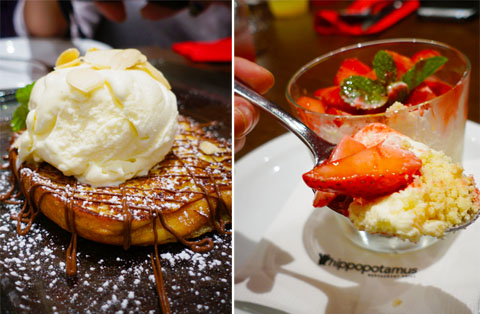 Dessert time! I thought I'd go bonkers with pleasure over the French Toast Nutella, which sounded so good. But it didn't excite me that much in reality – I thought the French Toast could've been thicker (a brioche would've been fab!) and the drizzle of Nutella was so little that all we tasted was plain bread with ice cream.
But, I was surprised I loved the Strawberry Cheesecake! I normally prefer chocolate-based desserts but this deconstructed cheesecake had me well pleased. The cheese was light but creamy, and the biscuit base was nicely sweetened and crunchy. Delish. Impressively, the real thing really did look like what was pictured on the menu!
At Hippopotamus, happy hour is from 6pm to 8pm, with all cocktails going at S$10.90++ across the menu, and beers going at S$8++.
[ Follow me on Facebook for real-time updates 🙂 ]
Let's Chat!