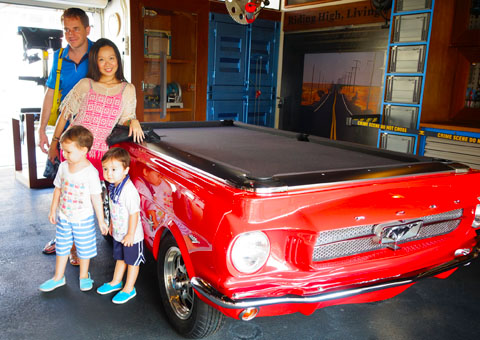 So for my birthday, I got a flash new sportscar!
Nah just kidding. 
Mum and Dad took us to a cute place at the very very very top of Singapore, looking directly at Malaysia right across the water!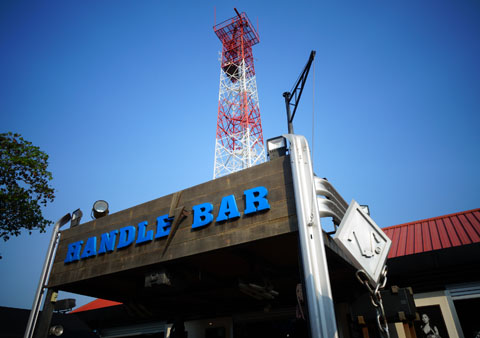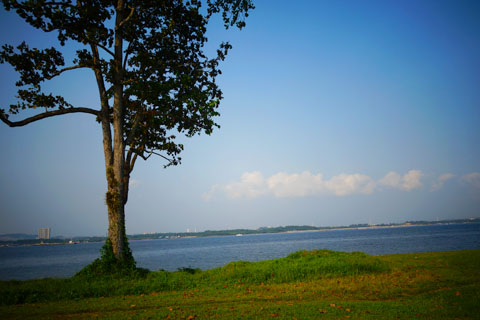 Yep, that's the view from Handlebar Original. Think of it as a biker cafe that's a vehicle-lover's DREAM. Seriously, if you have a kid that is really really into vehicles, you just gotta go.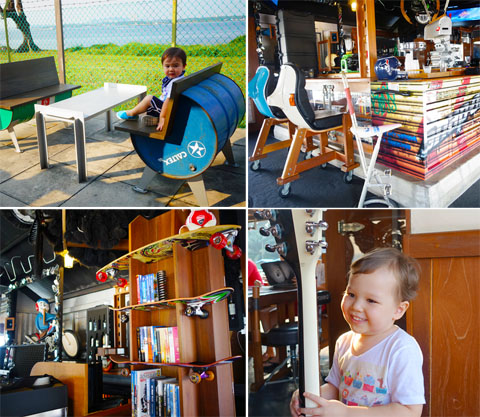 It's vehicle-themed…… everything! From the functional chairs and tables to their decor, everything is a bit of a treat for the eyes. I really liked the laid back vibe and the colourful out there decor. The kids were kept occupied for ages (through the whole dinner, actually), checking out every nook and cranny. I was pleased that we got there at 5PM, which left them ample time to roam around and explore the whole area before we settled down for our dinner.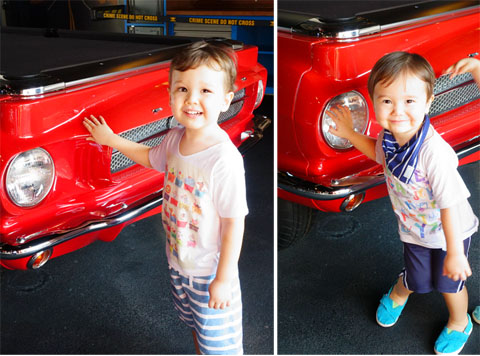 The kids were pretty chuffed with the red sports car which is actually a pool table. Carter, though, kept insisting it was a real car and wanted to sit in it for a ride!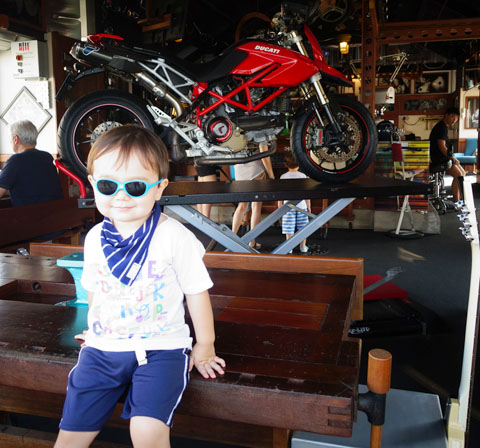 Most baby-faced biker dude ever, posing in front of a Ducati bike that struck his fancy. See the table he's sitting on? That's where we had our dinner. It's a big bench that is right in the middle, overlooking all the cool vehicles. A good spot if it's still sunny outside and you want to sit in the shade (note: the entire restaurant has no air conditioning).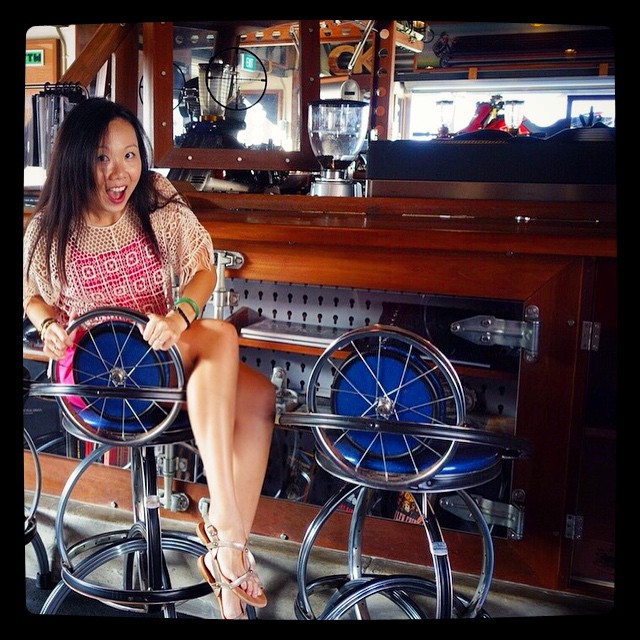 Bar stools made from tires! And you'll also see in the pic above their cocktail mixer, which is powered by a real motorcycle engine (damn it's loud). Worth getting a drink just to see this in action…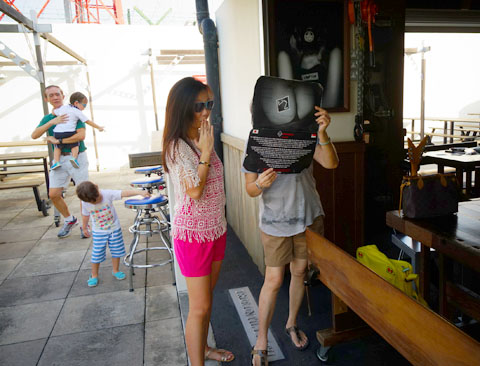 They have a giant ass on their menu. For real. I don't know who's, but it's a really perky one. Not the kind of thing you want to see when you're about to PIG OUT….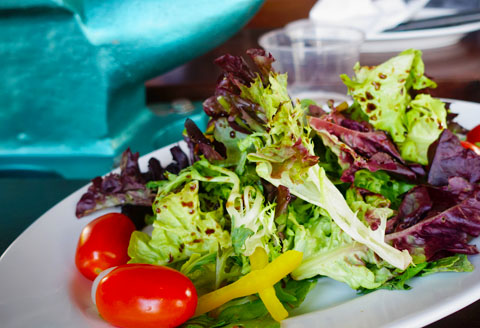 We did try to go the healthy option with a House Salad ($10). I suppose I'll tell you right now – DO NOT ORDER THE SALAD. You'll regret it. All we got for $10 was a scattering of leaves with balsamic, and 4 cherry tomatoes. That's it. It actually looked just like a free side salad, so I'd initially thought it was just that – a free side salad – with one of our meals. Then I found out it was the salad we ordered.
*facepalm*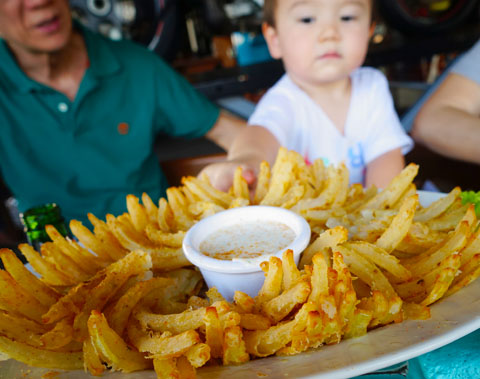 I perked right up when the Blossom Onion ($12) arrived, though. Doesn't it look AWESOME! It's an absolutely gigantic onion that's cut so it 'flowers' open, and deep fried. I'd have loved it with a thicker coating of batter, but this was still delicious. The kids ate this, which surprised me as I didn't think they'd be able to handle eating onion.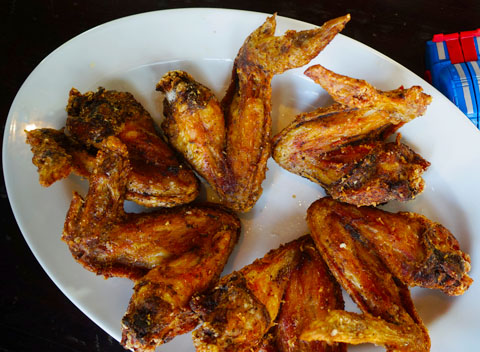 These are their famous Cocaine Wings ($12). We got ours with zero chilli, sot he kids could eat them. They did enjoy the wings, though I found them nice-but-nothing-spectacular. They were not as juicy as I'd imagined them to be, and were a bit on the skinny side. Still, a nice little nibbly snack to go with a cold glass of beer.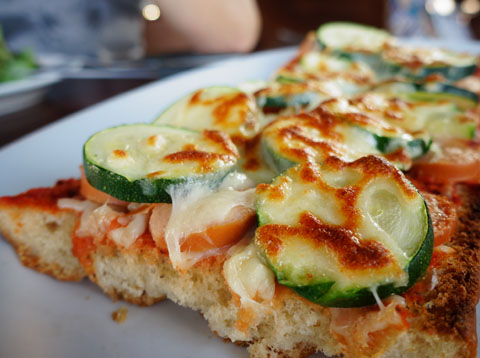 The Focaccia Bread Pizza with sausage, zucchini, cheese and onions ($14) was a large serving and pretty tasty, boasting fat chunks of fresh zucchini (this was an add-on).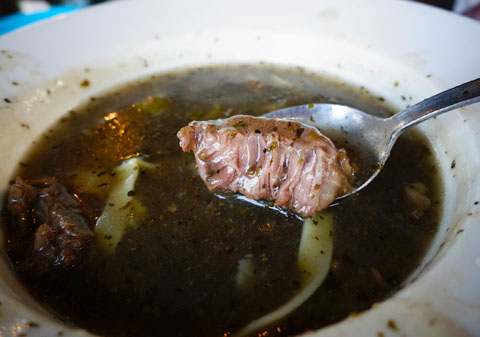 I thought the Horsepower Beef Stew ($16) was a really really odd dish. Firstly, the stew was more of a watery soup. Secondly, there were only 3 small chunks of beef in there, despite being labelled as "hearty enough to carry you a thousand miles". It's nowhere near enough to be considered a main meal, and the egg pasta that's in it was perhaps 5 strands and that was it.
That said, the beef was incredibly tender and well cooked.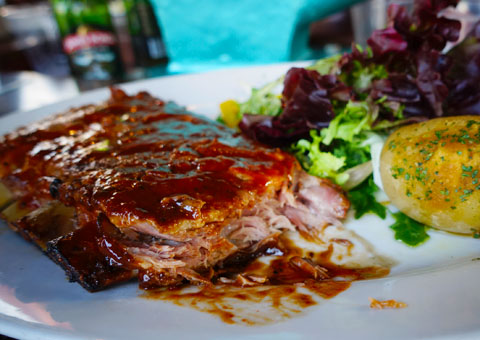 The Righteous Ribs ($28) was, by far, the BEST dish on the menu!!! It was so good we promptly ordered another one! I think I recall the rack having 6 or so ribs, with meat so incredibly tender they fall off the bone with a mere poke of the fork. The meat was juicy, silky, and utterly DELICIOUS. It's simply fabulous, and I'd consider this their must-order dish.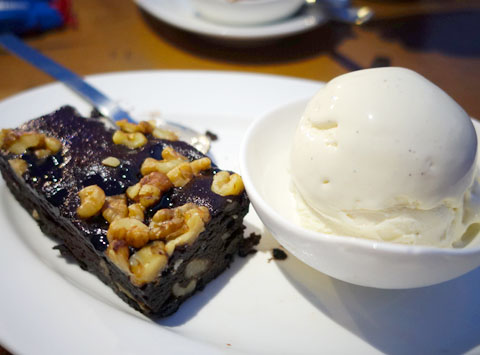 I was also in love with their Chocolate walnut brownie with vanilla ice cream. The brownie was served warm, and was deliciously gooey and moist. The vanilla ice cream was also creamy, and served in a generous portion size. I also liked how it was served separately in a little bowl – nice and neat!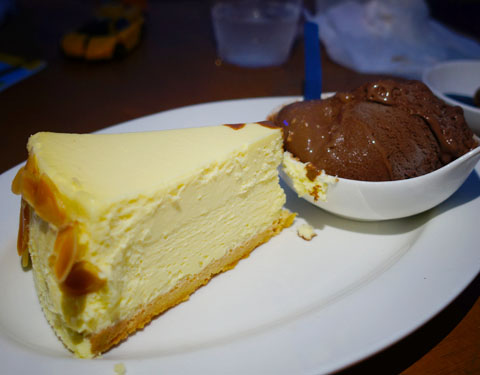 The Cheesecake also came with a scoop of ice cream (the kids chose chocolate), and was light yet packed with flavour.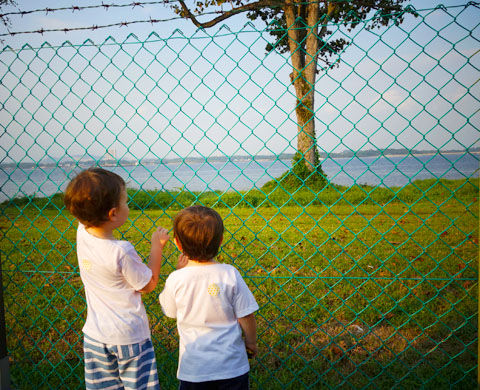 I really like this photo of the boys. They were just chilling out there, looking at Malaysia, and watching the boats go by. You get to see some pretty huge oil tankers in the distance, which really excited Hunter.
Handlebar Original is a lovely place for young kids, thanks to the wide open spaces, peaceful surroundings, and cool decor. Plus, you get to see real bikers come in and drive their motorbikes all the way up and park right in front of you! The kids' eyes nearly popped out of their heads…
Let's Chat!