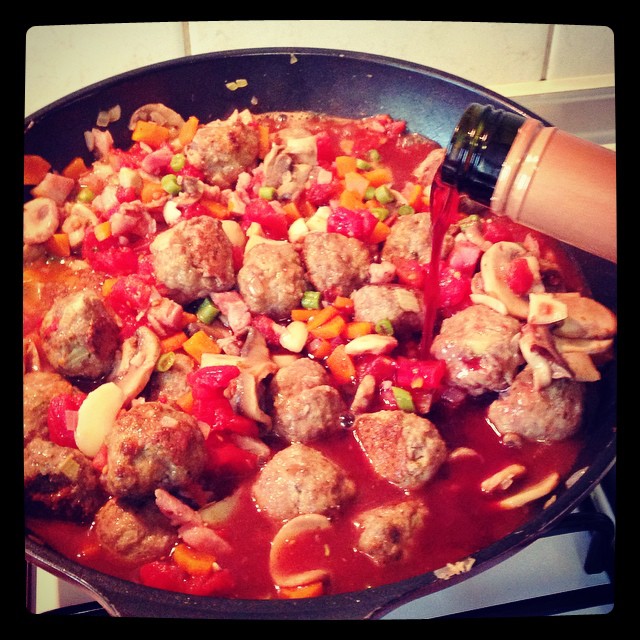 Hunter is HUUUUGE on pasta. Or noodles. He simply loves squiggly food, I guess!
And Chris was also complaining that it'd been ages since I'd last cooked pasta for dinner. And so, pasta it was that night 🙂
I had some beef mince and pork mince in the freezer, so voila, MEATBALLS! I'm always a fan of using up whatever's in your fridge (or freezer), before running out to buy more groceries.
After the meatballs were cooked in the oven, I popped together a tomato-based sauce and just threw in all the ingredients and veggies I found lurking around – carrots, long beans, mushrooms, frozen bacon, onion, etc… and a can of diced tomatoes that became the main part of the sauce!
For added taste, I added in a splash (otherwise known as 2 glasses) of red wine.
Because the smell of red wine cooking in a pasta sauce is divine. 
And it also means I get a swig or two whilst I'm slaving over the stove and all. Win-win.
It turned out pretty well! The sauce was flavourful without being salty, and I REALLY liked the meatballs – they were soooo tender. I would probably add salt in future to the meatball mixture though, just to give it a bit more of a kick. I didn't in this case because I tend to make no-salt homecooked food because of the kids. I always believe that a good dose of herbs and a big sprinkle of freshly cracked pepper is enough to bring out beautiful flavours in the ingredients, without resorting to adding salt into my cooking!
Recipe: Meatballs
Mix 250g mince beef, 250g mince pork, 1/2 cup bread crumbs, 1 egg, 1/2 onion (diced), 1/4 cup milk. Add salt/pepper to taste. Form into round balls onto baking tray.
Bake at 180 celcius for approx 20 mins (or until they are brown on the outside and cooked through).
Recipe: Pasta sauce with meatballs
Fry diced onion and crushed garlic in olive oil until softened.
Add in chopped bacon and fry until browned.
Add vegetables (eg. diced carrots, beans, mushrooms) – you can steam the carrots and beans first if you like them soft.
Add 1 can of diced tomatoes and simmer uncovered for 10 mins.
Add red wine (I used 2 cups) and simmer uncovered for 10 mins.
Add 1 small tub of cooking cream and turn off heat (this is optional and I didn't do it, but I'd do this in future because it makes a tomato-cream sauce which I think is even more appetising!).
The meatballs in particular are delicious. The kids loved them! Next time I'd make a couple extra and serve them plain to the kids the next day as an afternoon snack – perhaps with an avocado salsa dip or something. Yummy!
Let's Chat!