If you're just about done sucking your belly in with snug body-con, form-fitting silhouettes, you're probably glad for the return of the maxi dress. Designers have brought it back to give us a chic way of covering up with swathes of billowy fabric. Forgiving and comfortable, the maxi dress offers tons of coverage while still remaining sexy and feminine.
The maxi dress has been a mainstay in the wardrobes of ladies who are into the hippie chic look. You know the usual suspects: Nicole Richie, Alessandra Ambrosio, Vanessa Hudgens, Rachel Zoe…
But then there are other celebs now getting on board the maxi trend, and they're experimenting with different ways to wear the maxi dress.
A style tip: be sure not to let hem of the dress go beyond than half an inch off the ground. Any longer and it drags, or worse, makes you do a Jennifer Lawrence on the red carpet; any shorter and it's no longer a true maxi.
So keep that in mind if you're thinking of going bohemian chic with a maxi dress, and try shaking things up the way these celebrities do: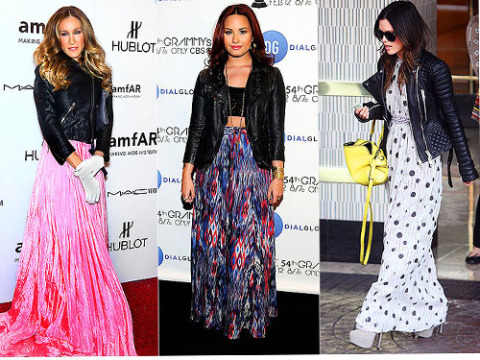 With a leather jacket – The easiest way to toughen up a girly maxi dress is by throwing on a leather motorcycle jacket. Sarah Jessica Parker, Demi Lovato and Rachel Bilson are totally rocking this combo. In fact, the leather jacket is so bad-ass you can wear fuchsia like SJP, a crop top like Demi and whimsical polka dots like Rachel and still look cool.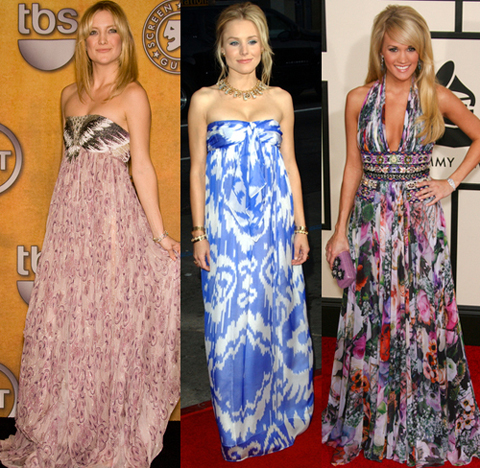 With an alluring neckline – These blondes above are bringing their maxis to a new low. Low neckline, that is. Be it V-neck or halter, a plunging neckline shows off the always seductive collarbone. Plus, you can choose to have fun with statement necklaces like Kristen Bell did, or let the busy prints do the talking like Kate Hudson and Carrie Underwood chose to.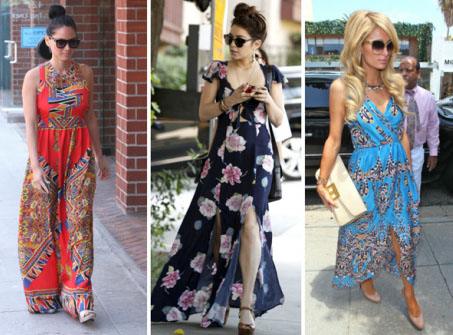 With heels – While maxi dresses are more commonly paired with more casual footwear like sandals, wedges, espadrilles, maxi dresses in more luxurious fabrics like silk can be transformed into something more elegant when paired with heels. The key is to match the formality of the shoe with the formality of the dress.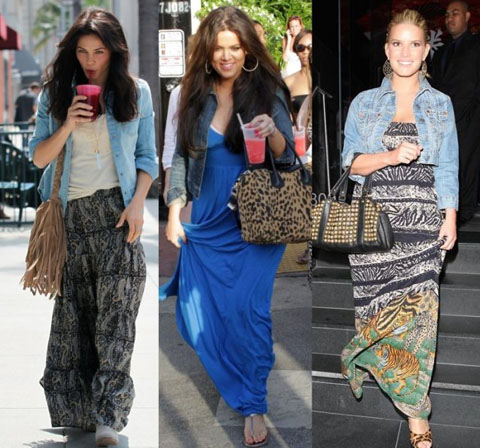 With a denim jacket – There's nothing more casual than a denim jacket with a maxi dress. Quintessentially American, the denim jacket is arguably the most complementary add-on to a maxi. With modern accessories like a studded handbag like Jessica Simpson's or a relaxed chambray shirt like Jenna Dewan's, you're bringing 21st century casual chic to the classic maxi.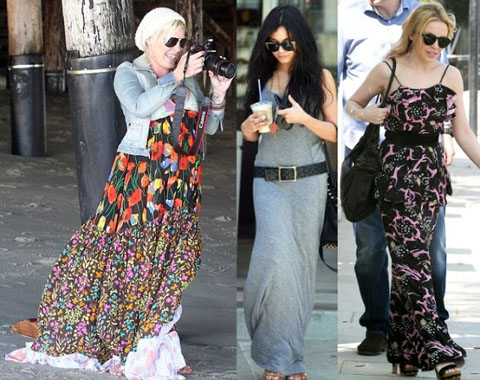 With a waist-whittling belt – Whether you do it low-slung like Vanessa Hudgens or cinch it in at the waist like Kylie Minogue, you can easily play up your silhouette with a thick belt.
So, maxi dresses – yay or nay? And what are YOU experimenting with in a maxi dress? Share your style tips in the Comments section below!
Let's Chat!