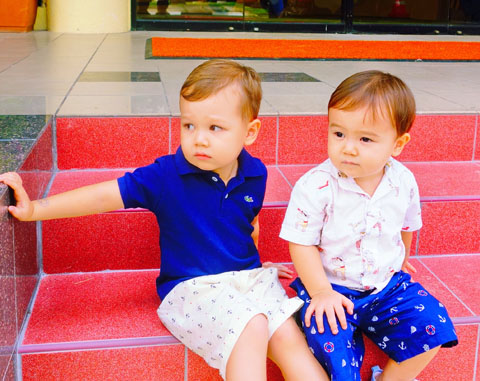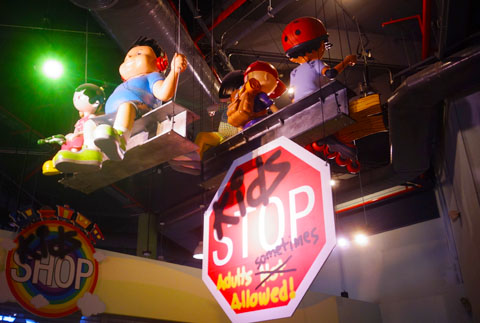 We were invited to preview the new KidsSTOP™ several weeks ago, and it is newly opened this week. Owned by the Science Centre, this stand-alone building is catered for the younger crowd – aged 18 months to 8 years old.
To put it succinctly, in my opinion KidsSTOP is a fantastic hands-on play area and learning centre for young kids… however at astronomically high prices (and, IMHO, slightly deceiving 'membership').
Let me elaborate: the regular Science Centre has a membership card, where once purchased, allows you free entry as many times as you wish during that period.
KidsSTOP is owned by the Science Centre, also calls it a 'membership', but charges entry rates ON TOP OF the membership fee.
This was not made clear very early on, though now the additional entry fees are listed clearly on their website and at the venue itself. Thus, many people I know signed up months ago, only to be "caught out" by the additional entry fees (they understandably thought 'membership' meant the same thing as in the Science Centre and most other attractions around Singapore).
If you factor in the membership fee, AND the additional per-entry fees for the kids, AND additional per-entry fees for the adults (I actually cannot understand why adults are also charged – no play gym in the country has ever done this to my knowledge), AND an even higher price on weekends. This makes the price to enjoy KidsSTOP is actually prohibitively high for most families.
Every single parent I've spoken to has expressed disdain or annoyance about both the misleading 'membership', as well as the sky high additional entry fees.
That said, the interior of KidsSTOP is fantastic and a lot of fun – excellent for young children. My kids adored it!
This is what you're greeted with once you enter – a bonafide kids wonderland.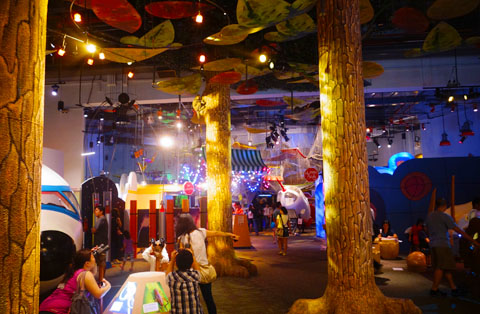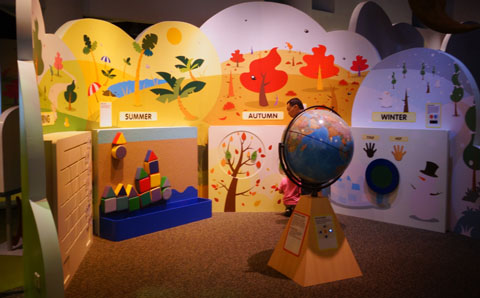 Unsurprisingly, my two boys were stuck in the Construction Zone. Even when cajoled to go out and check out other things, they would run back to this area after a couple of minutes!
Filled with balls, toy machines, and lots of moving parts to inspect and play with.. it's any mechanical-minded kids' dream.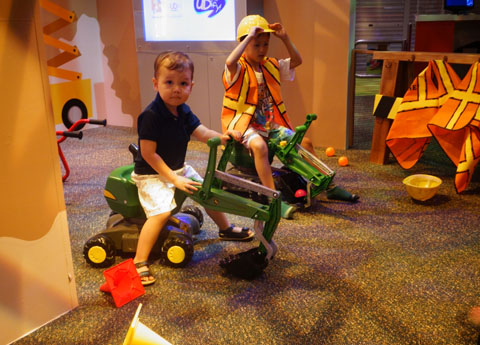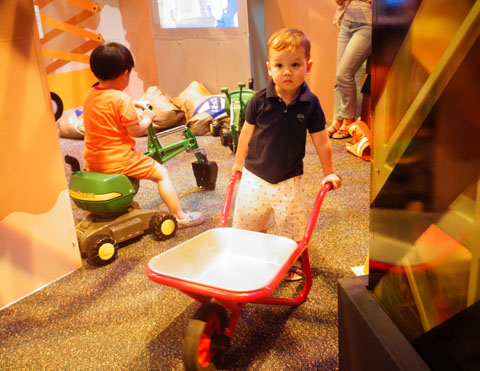 There is an area that's all about aeroplanes and flight machines. The 'flight simulator' was one of the most popular attractions for all the kids there – especially the boys!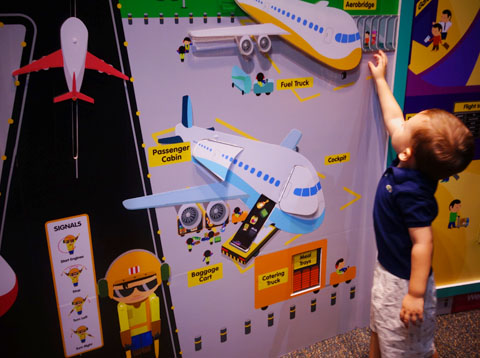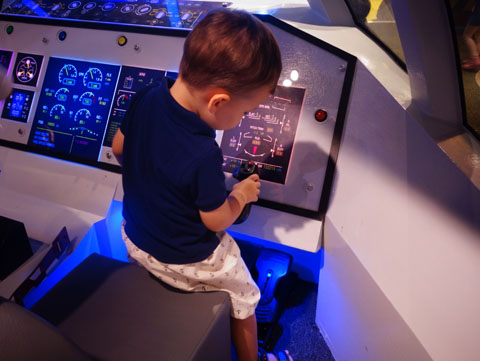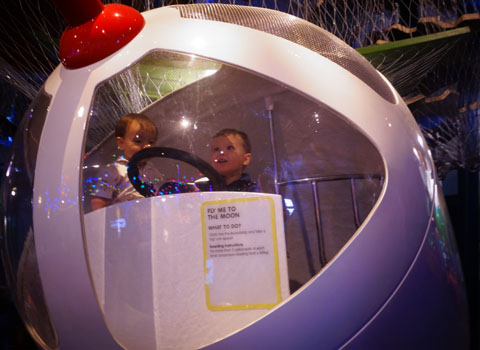 Get ready to be super impressed with their Supermarket area. There is a HUGE selection of 'food'! The attention staff are super switched on and jump in to help out the kids, or tidy up the area.
Though, please ask your kids to put everything back once they pull the stuff off the shelves. We saw SO many parents just not bothering when leaving the area with their kid – simply leaving all the food toys strewn all over the place! Kids learn from your example – a parent that has a can't-be-arsed and self-entitled attitude simply brings up their kid to be that same type of poorly mannered adult.
(sorry for sounding like a total nag there! But it really does irk me when I see behaviour like this!)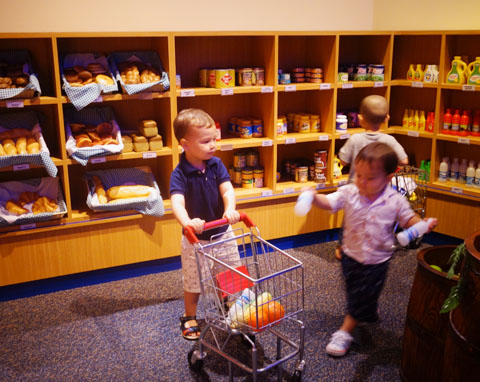 There were loads of other activities and sections to check out. We didn't manage to check out the whole place, nor did I manage to photograph a lot of the area, because I was too busy chasing after the kids!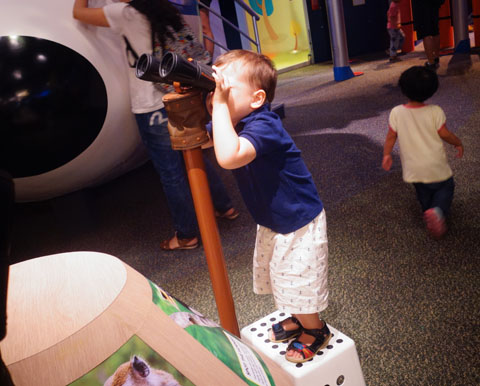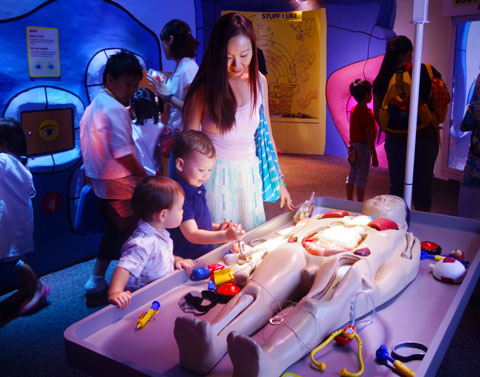 In the entrance area, look up and you'll see a moving train going round and round the ceiling. Hunter was entranced by this… to the point that he was so busy looking upwards that he tripped down a flight of stairs! Fortunately it was only 3 steps, but it did give him a nasty shock…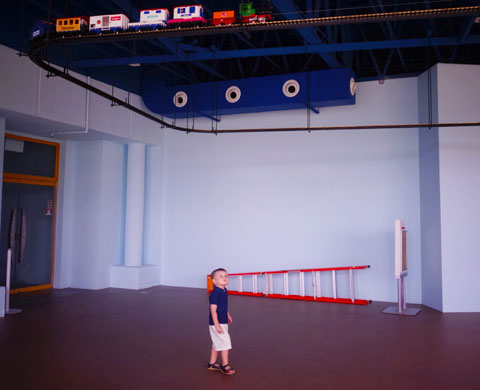 There is also a playground in the entrance area. It's just a small slide and only accommodates about 4 kids, tops. But, it provides good entertainment for the little ones.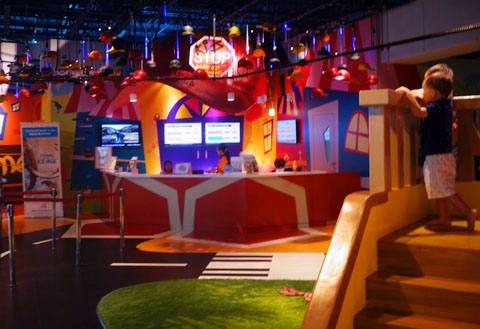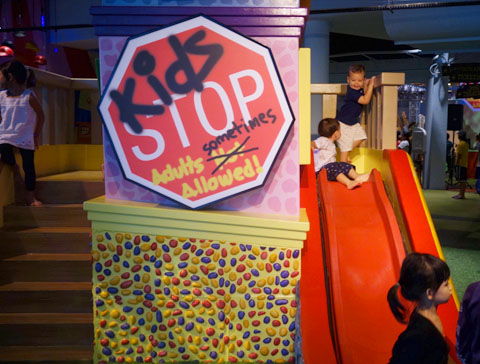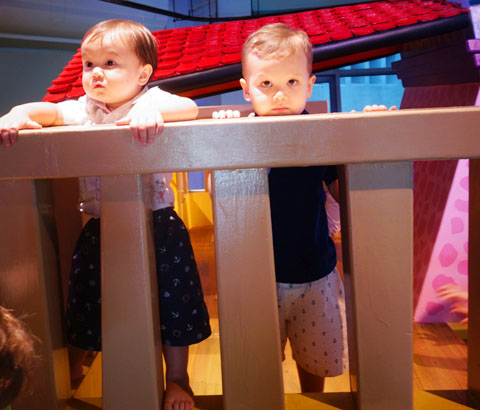 There is some serious fun to be had at KidsSTOP. We were impressed with the place, but wish KidsSTOP would revisit their 'membership' and additional entry fees, so the majority of people in Singapore can afford to go more frequently.
Let's Chat!