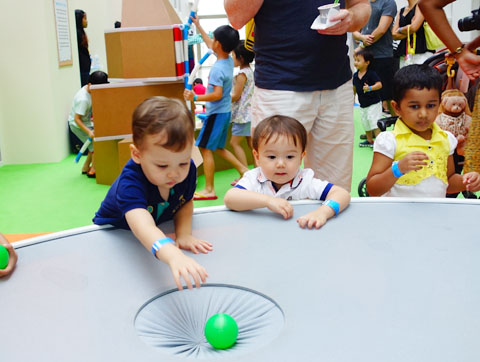 Look at the concentration!
It's Children's Season 2014 across Singapore's museum! I am SO impressed with the government bodies for this event – catered for all local residents (Singaporeans and PRs get in free). In short, the various museums are all decked out with kid-friendly activities and events for ONE GLORIOUS MONTH. The dates coincide with Singaporean local school holidays, so it's a win-win for all.
We personally love the Children's Season @ National Museum most, and have been there twice so far. The lofty ceilings and white-washed decor makes the whole place seem so spacious and clean. It also has tons of activities for children – three floors worth!
The First (ground) floor is themed Masak Masak: My Childhood. It features games of back when we were kids, all enlarged larger-than-life. It's colourful and adorable! Most of the kids there zero in on the Marbles game, which is transformed into plastic bowls that they try to roll into a hole in the middle. It's addictive and my kids can (and did) stay there for an hour…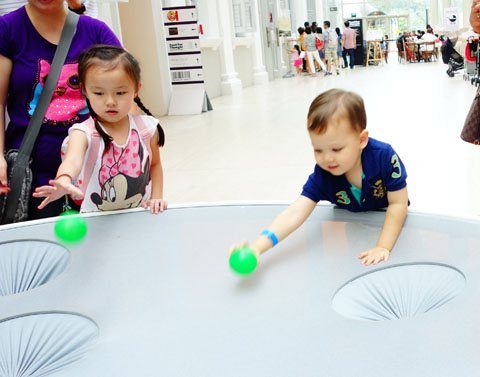 I have no idea what this game is below. Is it Pick up sticks?? It's basically these soft sticks with velcro on the ends. We had no idea what to do with them but because we are so ingenious, we discovered we could make a skipping rope 😉 Hunter had fun being our piggy in the middle!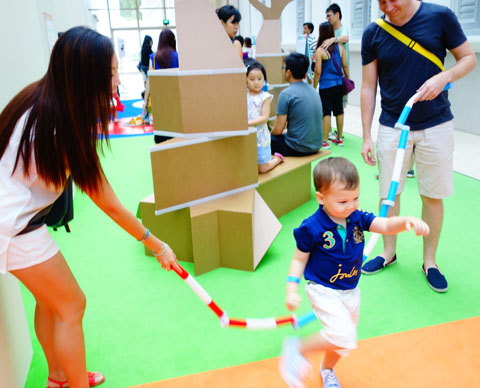 There's this giant screen on the First floor, that you can appear on. The kids were pretty amused with that, though in the picture below, *I* look like the most delighted one.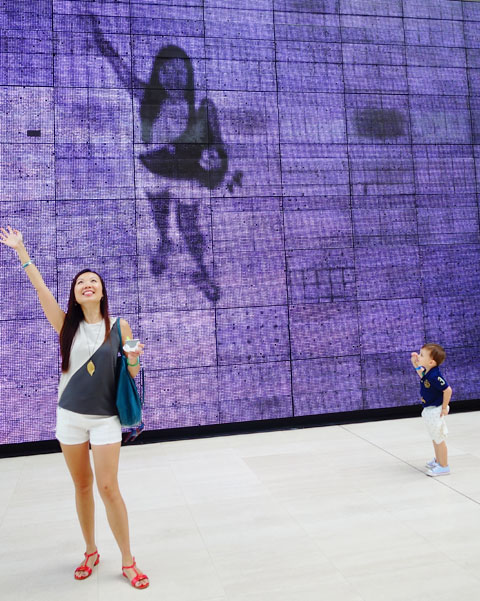 Going up to the Second floor, there's a whole series of toilet rolls to peep through. There must be something about kids and peeping into holes, because this is such a HIT!
And, no, they're not just peeping through toilet rolls for fun. What's inside them is INCREDIBLE. They're wonderful tiny worlds that have been carefully crafted inside. It's seriously pretty stuff, though it did make me wonder if the artist had an incredibly sore neck, arm and eyes after doing them!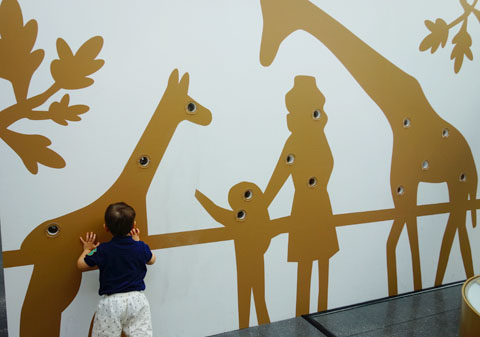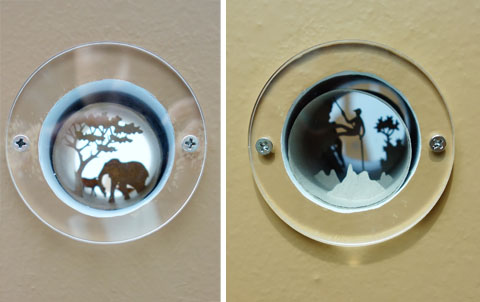 Also on the Second floor is the Physics section. If your kids are like mine and LOVE moving parts, they'll be allllll over this! There are a whole load of exhibits to touch, see and feel. All of them are moving, and most of them involve balls. There are lots of staff around to assist the kids and explain the games, but it's safe to say that much older kids (think almost teenager level) will 'get' it best. The stuff's pretty tough to do!
For the young kids, however, they just delight in playing with all the moving bits and bobs.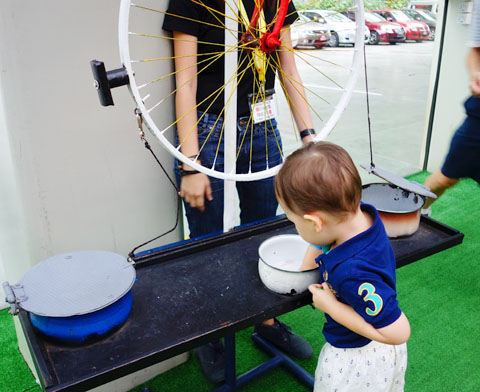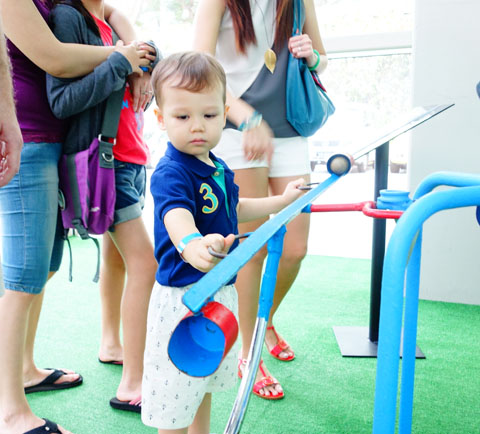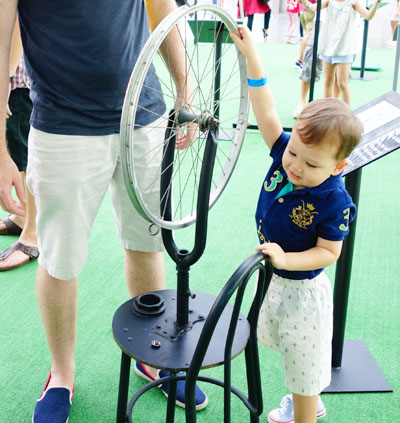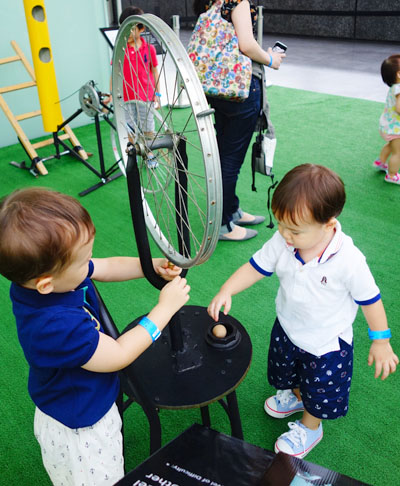 On the top floor, the Third floor, we have PLAY! It's a whiz bang themed out play room that is brand new and now part of the existing museum (so it's available year round).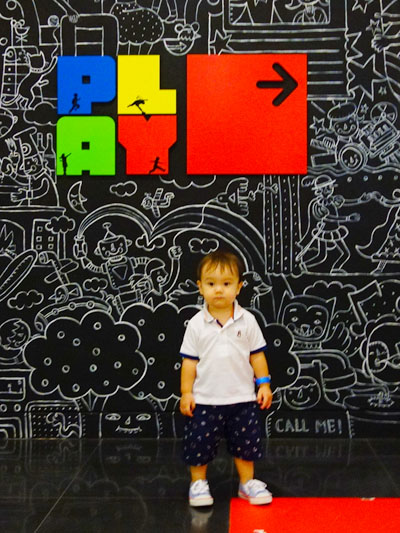 Created with the themes Explore, Create and Perform, there are various areas within the room that are meant to mimic a home. Here's the Living Room! 
With two super stars!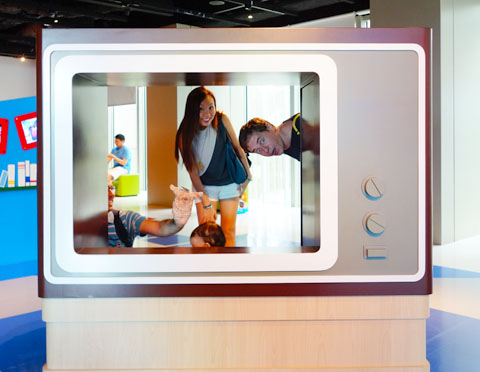 The Kitchen area, which Hunter has ZERO interest is, but Carter likes, if only to collect and hog all the eggs there.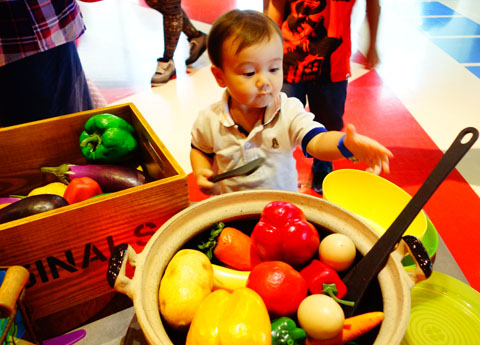 There's the Movie tent, which has short clips screened on the tent's ceiling. It's a cute way for kids to kick off their shoes, lie back and relax for a bit.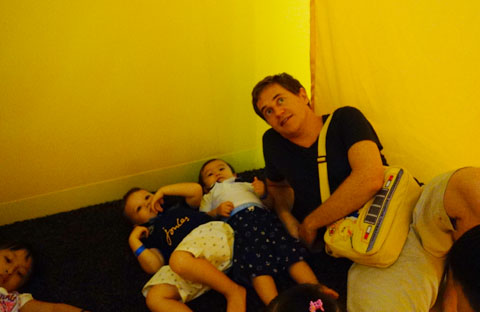 On weekends, they have Storytelling! I was actually pretty amazed my two kids (the youngest two kids there), could sit through and listen attentively. I've never brought them to a story time before so I thought they would be jumping all over the place. I was very grateful they sat properly!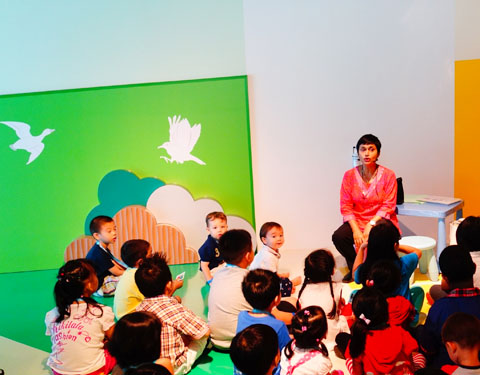 Only two weeks left of Children's Season! Hurry on down!
National Museum of Singapore
93 Stamford Rd, SG 178897
Let's Chat!