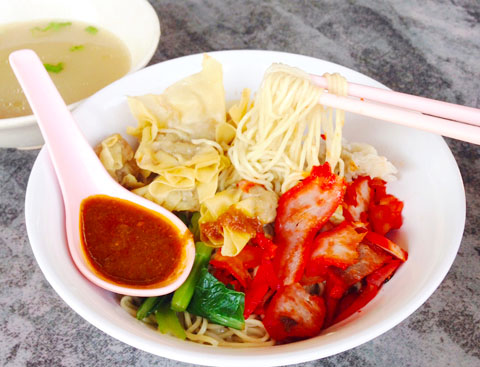 I was in the Joo Chiat area one day, and was super excited because I am rarely/never there… it's super far from where we live!
I excitedly did a Google search on yummy food in the Joo Chiat area. Specifically, good 'ol LOCAL FOOD. And it turned up Fei Fei Wanton Mee King (62 Joo Chiat Place), an old school joint that has been around since 1949 and is (amazingly) open 24/7. It's hot, humid, doesn't exactly look sanitary… but these joints are always the ones that churn out the best food!
My bowl arrived looking positively divine. It made my heart skip a beat. It was like looking at a work of art!!
The noodles (what they are famous for) is, yes, AMAZING. With a full flavour and a rich bite, they were silky and smooth and went down a real treat. I'm no noodle expert, but I personally thought it was terrific.
The wontons were tiny, and I mean tiny! They were lovely so I wish there were more (from memory I had two or three pieces).
The char siew (BBQ pork) slices were bright red and sliced soooo thinly. They were average, nothing to shout about.
But it was the chilli sauce that gets the good reviews, and I can see why. Stirred into the dish, it gives an amazing kick of flavour and spice that completely changes the taste of it – for the better.
The portion size was very small (I'd need about two bowls to fill myself up for lunch), and I was charged $4 for my bowl… but when I went online, the most expensive I see listed is $3.20 and most have paid between $2-3. So I'm not sure what's going on there ;( Did I get charged tourist prices or something??
Nevertheless, it was a really good bowl of noodles and if I'm ever in the area, I'll get another bowl!
Let's Chat!