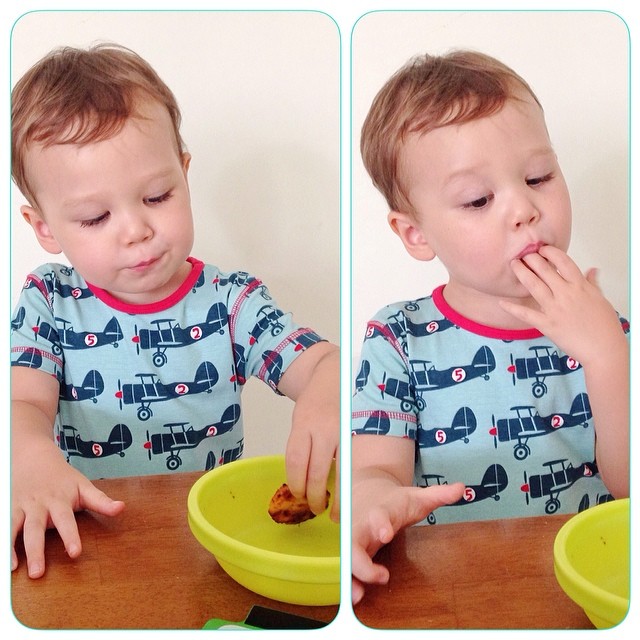 I love watching my kids nom their food with delight.
Correction: I love watching Hunter nom his food with delight. Carter is a sure-win on the food front, no matter what's in front of him. That kid gets super excited over PLAIN RAW VEGGIES – no joke.
I was aimlessly surfing the internet and saw a recipe for these Cheddar+Carrot+Apple bites.. and committed it to memory to make for the kids. Except I forgot (pun intended) that my memory super-sucks, so all I remembered was… errrr… the 3 ingredients in the title!
SUPER FAIL.
I did, however, manage to cough something up that my kids were very pleased with. And it's dead easy to make. So here's the recipe!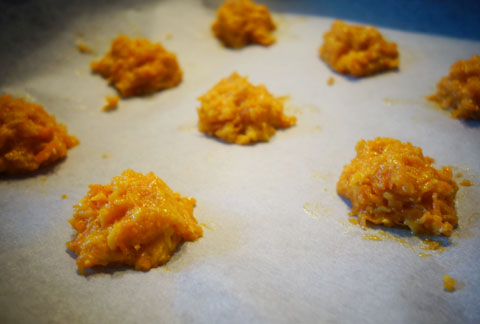 Cheddar+Carrot+Apple bites
Handful of shredded cheddar cheese
1 carrot, shredded
1 apple, shredded
small handful of baby cereal
3-4 egg yolks, beaten 
Place all ingredients in a bowl and stir til combined
Place in balls on a baking tray, then bake at 180 celcius for 15 mins or until cooked/brown.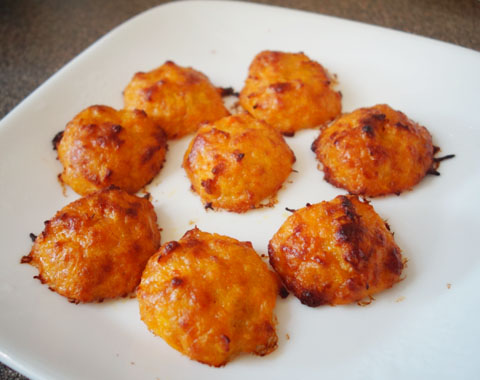 I made little round bites (pictured above) so it's cute, and I also made star-shaped bites (not pictured) which I personally thought were even cuter but my kids preferred the round ones – go figure.
They're VERY easy to make, and freeze well if you want to store them.
And what do they taste like? 
Sweet and salty!! The apple and carrot gives it a lovely sweet flavour, but the cheddar cuts through with a bit of saltiness. All of us gave them the verdict is: surprisingly yummy.
Needless to say – it's a fab way to stuff some veggies and fruit into your kids. And, feel free to lessen the amount of cheddar each time you make a batch, if you want to give more veg/fruit oomph to the bites 😉
Let's Chat!