Common Man Coffee Roasters
22 Martin Road
Singapore
PRICE: $$$$
RATING: ????-
Born from a partnership between 40 Hands cafe, Australia's Five Senses Coffee and the Spa Spirit Group, Common Man Coffee Roasters recently opened their doors and, if you surf a lot of food blogs, you'd have noticed them popping up left right and center.
But first. The cafe itself.
If you bring a kid in a stroller, like I did, you'll be utterly stumped when you arrive. The cafe doors are at the top of a flight of stairs, with no other way in. I stood there, in the drizzling rain, cursing under my breath at child-unfriendly locations… when a waiter spotted me and immediately dashed down the stairs with a big smile on his face. He quickly helped us up the stairs and helped me put away the stroller, fussing over us and giving us lots of attention. I was pretty surprised and impressed.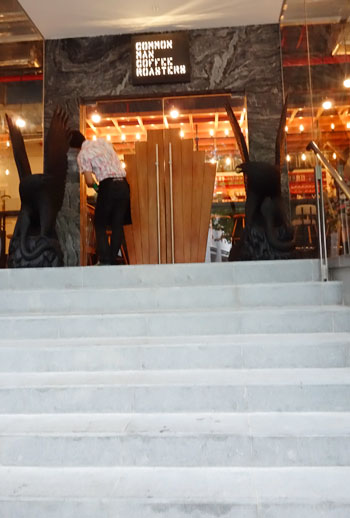 The coffee/bar area looks like Broadway! I was rather dazzled by all the lights. The cafe is spacious, the ambience relaxed and inviting.
My girl friend and I really disliked their chairs, however. They are 3-legged stairs and perhaps we are klutzy or something, but we found it hard to… errrmmmm… keep our bums on the chairs! Especially me, as I had to keep leaning over to feed and talk to Hunter. I kept tipping over the chair and nearly fell onto the ground in an unglam heap. Numerous times.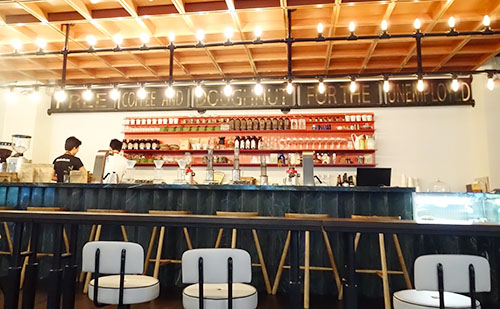 And what of their coffee, their pride and joy?
I am no coffee connoisseur, but I thoroughly enjoyed my latte and wished it came in a much larger cup (though their glass cups are so pretty). It was robust but not overbearing, very smooth and had a lovely flavour.
And, I thought my coffee art was sooo impressive!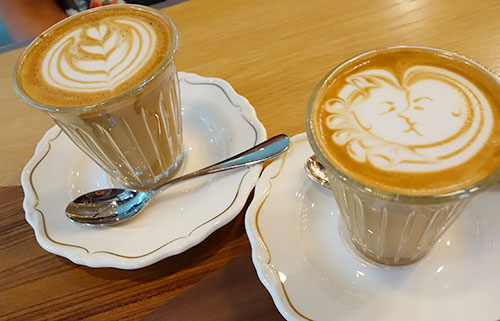 My Organic eggs benedict with braised ox cheeks and chive hollandaise, on sourdough toast was WOW. Simply, WOW. It blew my mind and has me determined to come back here to order it again.
To put it simply – Hunter, my reluctant eater that almost never eats meat, wolfed down a good chunk of this dish. I was amazed!
The sourdough toast was spongey and gave great but subtle flavour, and the eggs were so perfectly poached. They oozed creamy and rich, and the yolk was so brilliantly coloured.
But it was the braised ox cheeks that got me. It was all melty and tender and so full of robust flavour that I was surprised by how well it paired with 'regular' eggs benedict. What an unusual combination, but Common Man did it perfectly.
This dish was perfection IMHO and I am not interested in trying any other dish at this cafe, because I'd always get this one.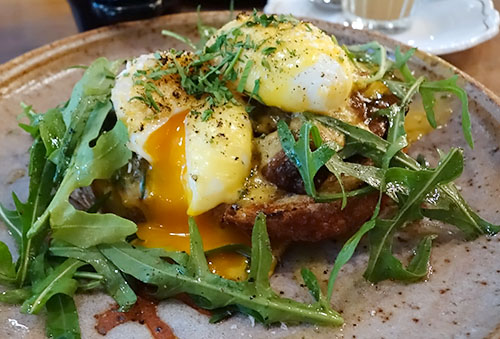 Here's where things got kinda….. WEIRD…..
I ordered half an avocado for Hunter, because I figured he could eat that if he rejected my dish above. For $5, I was expecting a SPECTACULAR avocado.
Instead, what I got was a quarter (not half, as the menu promised) of an avocado, with chilli flakes all over it!!!!!! This wasn't mentioned on the menu, was an utterly odd pairing, and of course Hunter can't eat chilli flakes. So I had to very carefully dissect it and clean of all the chilli. Not to mention, the avocado was not ripe enough and was kind of crunchy/hard, not the beautifully creamy rich avocado that I was expecting. Still rather horrified I was charged $5 for this.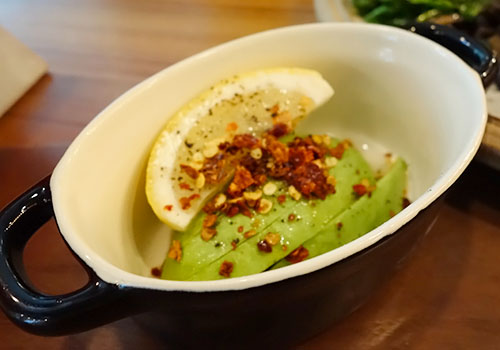 My girl friend ordered the Common Man full veggie breakfast with organic eggs, halloumi, spinach, grilled tomatoes, chestnut mushrooms, avocado, lemon and chilli, sourdough toast and we wondered why the halloumi cheese looked so… odd. Nor did it taste anything remotely like halloumi. Also, why does a vegetarian breakfast have sausage and bacon????
I was really confused, but my girl friend ate it anyway. It was a very decent portion so I think it's pretty good value for money, but personally I never order big breakfasts because they bore me.
Anyway, now that I'm looking it up online, I realise they got her order wrong and presented her with the regular Big Breakfast instead (hence all the meat), and not the vegetarian one!! And the halloumi cheese was actually a hash brown.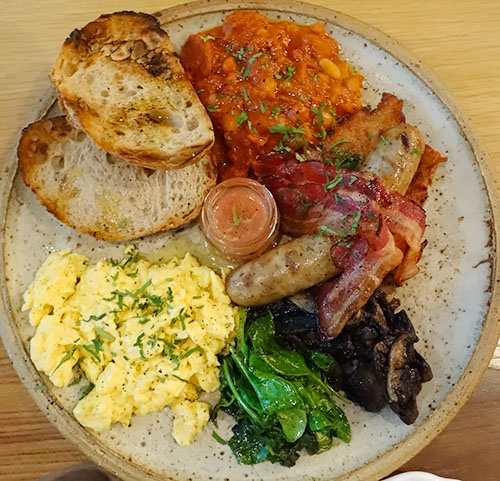 Things significantly picked up with the Chocolate and peppermint slice, which I ordered on a whim. I don't even like peppermint, but I LOVED LOVED LOVED this. The chocolate base was almost like the base of a cheesecake in terms of texture – it was sublime. The peppermint on top was luscious and creamy, not too overpowering, and worked really well with the chocolate.
I hope this is a menu staple because I'm intent on getting it again!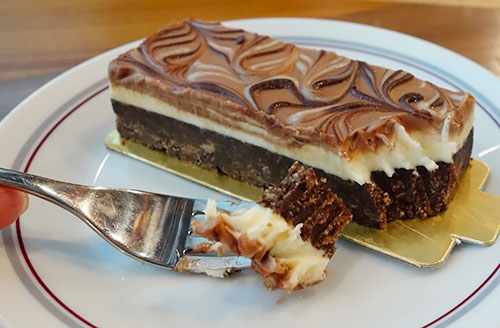 The prices at Common Man Coffee Roasters sure ain't cheap, but I do find it justified given the nice ambience and awesome food (by this, I specifically refer to my Eggs benedict and Chocolate and peppermint slice).  I'm also a big fan of the coffee.
I'll be back for sure!
Let's Chat!