Little Diner
789 Bukit Timah Road
Singapore 269763
PRICE: $$$$
RATING: ????-
They say good service goes a long way, and it's very true in the case of Little Diner. The concept of the place is to welcome you into their home for a meal, and they accompish this very well with their stellar service. Our hostess Nellie has some super memory (remembered all our names) and was very attentive and friendly. It's the little things that count, y'know?
Little Diner is a hip little joint, decorated with a nod towards edgy NYC cafes. It seats roughly 50 people and was packed out both times I've been there, so I'd make a reservation if I were you.
They have a very alluring Brunch menu, so I'd always thought they were a daytime place. However, both times that I've visited was at dinnertime, and I was thoroughly impressed with the food and menu.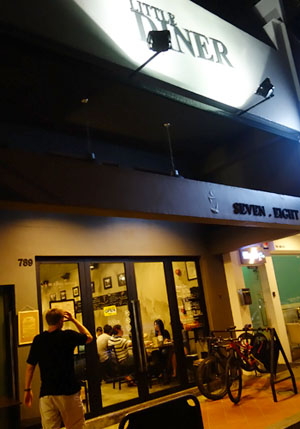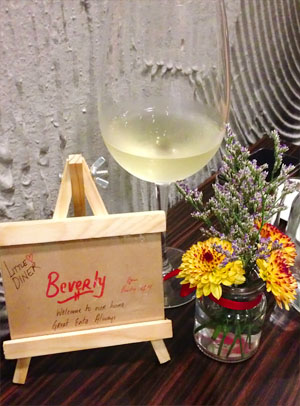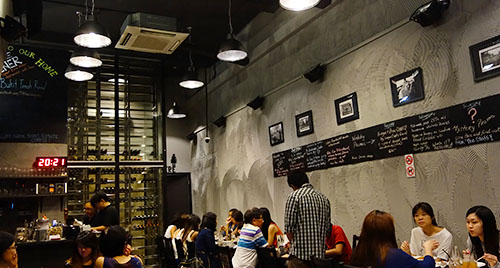 Their Appetizer Sampler is a must order. I've forgotten the price but it's a little on the steep side, however the food was excellent. The Rosario's Fried Risotto Balls with Tomato Coulis, Basil Pesto was the clear winner – lovely and crisp with soft moist risotto and melted cheese on the inside. The tomato colis on top is a very miserable and small portion, so be sure to ask for extra – we did and it came in a big pot which we gobbled right up! The second best item was the L.E.S. Chicken Drumlets. They were marinated to perfection in a tangy BBQ sauce, and were juicy and tender. I'd have loved them with a ranch dip on the side though. The Lafayette Crabcakes were good in their own right, but paled in comparison to the other two, possibly because of the more delicate taste.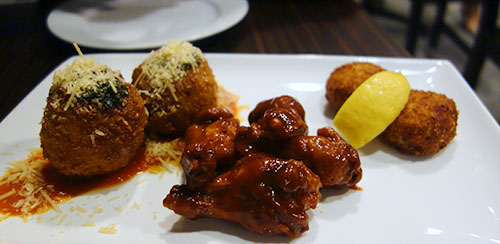 And see this baby below. The Brooklyn Fish & Chips. Oh my!! Don't let appearances deceive you – it looked over-cooked and dark, but it was actually done perfectly. There were 2 large chunks of fish, encased in a light and crispy beer batter. The fish was chunky and moist inside – I couldn't find a single thing wrong with this dish.
And the Handcut fries? They are made fresh daily, free from preservatives and never frozen. You really can taste the difference.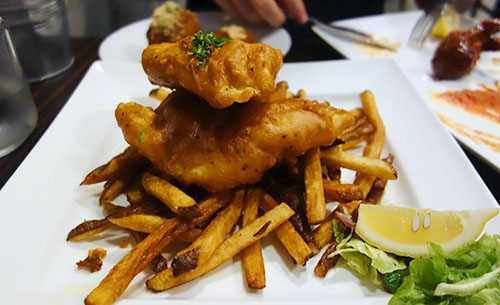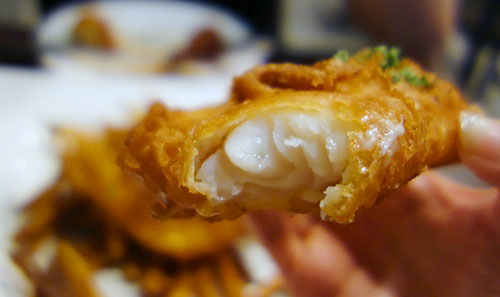 I actually didn't try any of the Pan Seared Filet of Sea Bass, Couscous Cake, Roasted Vegetables, Tangy Red Pepper Vinaigrette, because I generally don't go for this type of dish in a restaurant – it's too bland and healthy for me 😛 It didn't look like a sizeable portion IMHO, so I'm really glad I didn't get this for myself, or I'd surely still be hungry afterwards.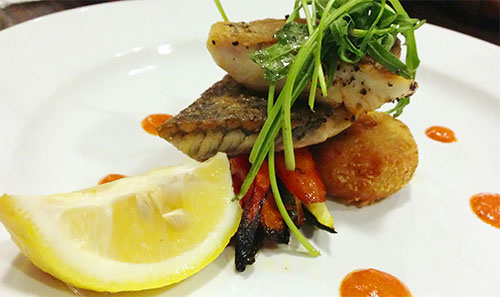 My 'Shrooms & Truf?e Burger, Cabernet Braised Mushrooms & Truf?e Aioli came looking deceptively small because of the small bun. However, it actually filled me because of the super thick patty. The patty was very moist and full of truffle flavour, and the bun was fluffy. I would have preferred a flatter patty and larger bun, however, as I prefer my burgers to fit into my mouth 😉
And again, superb Handcut fries.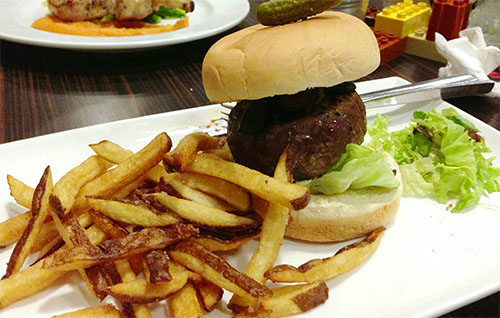 We all *gasped* when the 3 Day Brined Pork Chop, Sweet Potato Puree, Wilted Asian Kale and Fresh Apple Cider Sauce arrived. IT WAS GIGANTIC. even the photo below doesn't truly capture the size. Now THIS is a good meal for someone with a healthy appetite! The pork was very very tender and moist, which was a delight as I usually steer clear of pork chops for fear of them being dry and tough. This was perfectly cooked. My cousin, however, felt it was a little too heavy on the spices (star anais?) which took away from the full flavour of the pork. It suited me just fine though, and I gobbled my way through whatever she couldn't finish 😛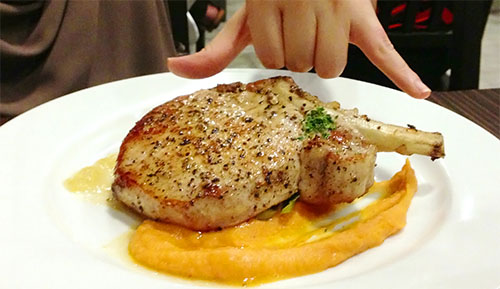 I enjoyed their Tiramisu because there was a lot of cake to it. It wasn't ooey gooey and wet (the way I like it) but still quite lovely.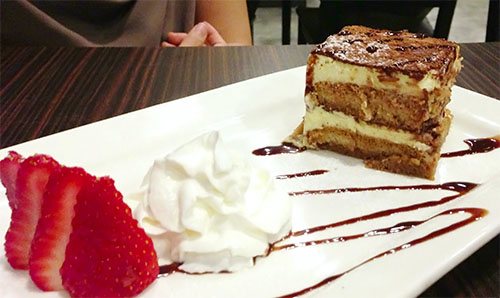 I was so full by now I couldn't really enjoy the Warm Bread Pudding with Vanilla Ice-Cream. What a shame! Still, it was nice and soft, but not too soggy. It was a smallish portion size but it suited me just fine since I was already up to my eyeballs in food. The whipped cream was nothing much to shout about (from a can, I believe, not freshly whipped) and the vanilla ice cream was standard but went well with the pudding.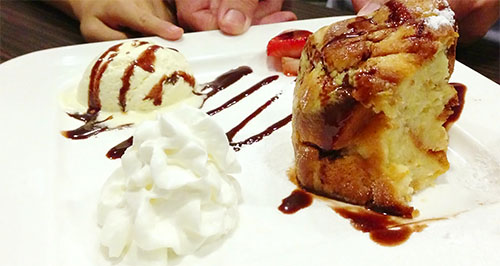 This place is well worth a visit and gets a big thumbs up from me. It's top notch comfort food and you feel thoroughly welcome in the diner. Next up? I want to go there for brunch!
Let's Chat!