So when we were in New York, I squeezed in a bit of shopping here and there 😉 Hellooooo we are in the shopping capital in the world, what else do you expect??
I popped into the Proenza Schouler boutique.. one of my favourite brands. I adore my PS1 satchel, but I just don't use it anymore because it only worked for me when I was working. It was chic enough to be an office 'briefcase', but soft and slouchy enough to still be cool and casual. Since then, I prefer small bags and preferably cross-body, because I often need to throw a bag on over my shoulder in a split second to pick up a kid, or collapse a stroller, or whatever. So, the PS1 satchel is completely impractical for me (probably going to sell it off) and this one caught my eye…..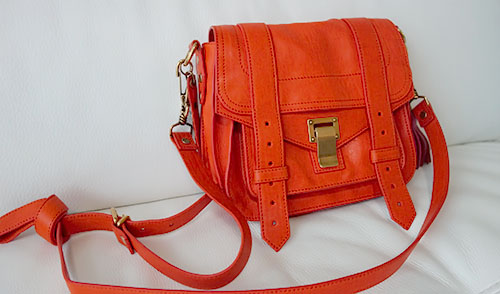 I absolutely LOVED the colour once I spotted it on the shelf in the boutique! Tried it on, and decided the colour was absolutely "me" – I adore vibrant, bright colours.. and despite being an 'out there' colour, I use it as an every day bag. Figure it's a statement colour so I don't bother matching it up.
The pouch is a lovely soft leather, and the colour is really rich and saturated. It's practical and……… HAVE YOU SEEN THE INSIDE??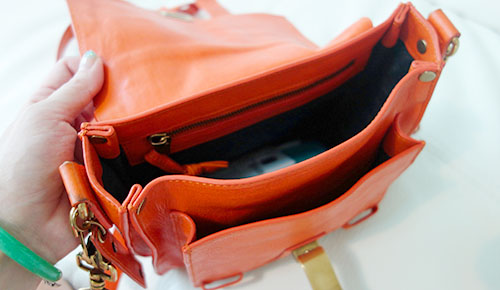 For a small bag, it sure has a lot of compartments and zippered pockets! Super duper practical. When I get frazzled, I can easily reach in and grab the item I want, without having to rummage around for a minute to locate it. And, well, it looks cute 😛
I liked it so much that I ended up getting the matching wallet a few weeks later online 😛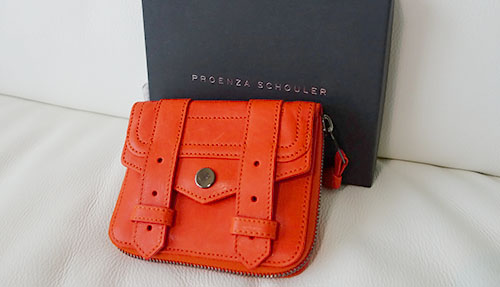 It's in the exact size I like. What is it with all these gigantic long wallets these days?? They aren't wallets, they're full on bags!! So big, so long, than you need a giant bag to carry it in… Not to mention, they're always super heavy. And then if you want a small wallet, you end up with this tiny coin pouch thing which is impractical too.
And for some odd reason, it's hard to find a medium sized wallet? So I was really pleased to discover this one suited my needs.. plus it went all matchy-match with my bag 😉 Excellent.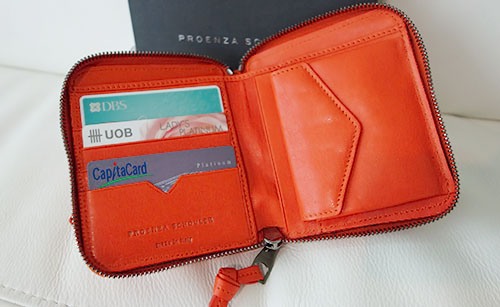 Let's Chat!