Poulet
Bugis+ #04-12
201 Victoria Street
Singapore 188067
PRICE: $$$
RATING: ????-
A couple of girl friends and I decided to hit up Bugis for lunch.. and coincidentally Mum and Dad were there recently and recommended we check out Poulet in Bugis+ (formerly known as Illuma). I'm glad they did!
Poulet is an open-concept cafe that's casual dining, but with really attentive service. We were poured water without having to ask, and our glasses were  promptly refilled every time they were half-full. So impressed and for that reason, I was already feeling pretty good about the place.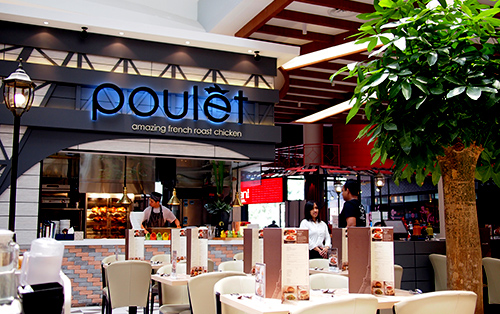 It's pretty hilarious to look around the cafe. Every single table orders the roast chicken!! Called Poulet Roti, it's $15.80 for a half chicken, and their STAR DISH.
But, you see, I never order roast chicken. It's just this thing I have – partly because it's so uninteresting ordering roast chicken, and also because it never turns out well. It was also the consensus among my girl friends, who were all a bit "Eh? Roast chicken??"
So we took a leap of faith and ALL of us ordered the Poulet Roti. Pretty brave, eh? 😉
Oh man, it is GOOD. The meat is so succulent, moist, juicy… I'm running out of words to describe it here. The mushroom chardonnay sauce it sits in really makes the dish. It's creamy, tasty, and beautiful with the chicken. The only downside for me was that the skin wasn't crispy, wish it was!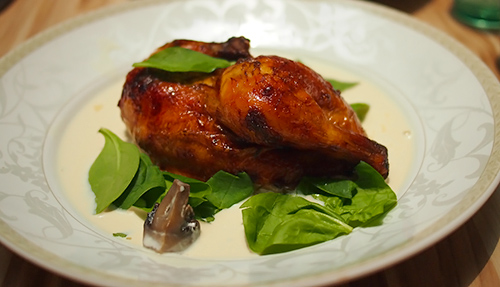 The odd thing is, the Poulet Roti (above) doesn't come with a side dish. You have to order it separately. Now, I personally don't like it when cafes do this, since a carb side dish is not that expensive to serve alongside the dish. It should have come with a mashed potato or fries, IMHO. Actually, perhaps a buttered rice!!
However, we asked if we could buy some fries and eat it at the table, and they obliged. Thought this was pretty decent of them 🙂 So we got in some fries from Ireland's Potato just next to Poulet, and munched away with our roast chicken. The fries were just so-so. We got it with cheese sauce and bacon bits, and the cheese was incredibly fake-tasting, and the bacon bits seemed like the fake bacon bits from a bottle (?). The fries themselves were not bad.. probably would've have been better plain!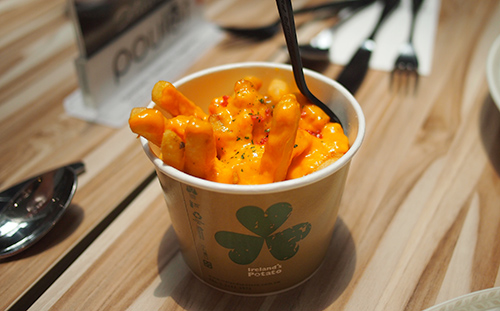 Their Tiramisu was recommended by Dad and it didn't disappoint. It came in a large glass jar (cute!) and was deliciously creamy with lots of cake bits. Very satisfying and a good portion to share between two people.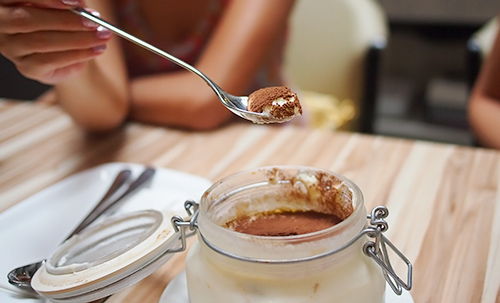 I'll definitely be back. Never thought I'd find a fabulous roast chook, but Poulet does a great job of it!
Let's Chat!