Ginger & Spice
240 Military Rd
Neutral Bay, NSW 2089
$$$$-

Met up with some friends at noon on a sunny weekend and one of them was very thoughtful and surprised all of us with a reservation for lunch at Ginger & Spice Singaporea Restaurant! Soooo sweet 😀 Could hardly contain my excitement because I've heard a lot about the place, but annoyingly had never had the chance to check it out. Was super keen to see if they served authentic Singaporean food. The cosy restaurant is family-run and we were delighted with the friendly, efficient service. The ambiance is definitely a few (ok, tons of) notches up to a Hawker center in Singapore, but the food is, thankfully, still the same. It's very close to the original.. at least close enough for all of us to be satisfied 😛
Highlights were definitely the Singapore Hokkien Mee, which I have not found anywhere in Sydney. It was spot-on, with the right mix of the right noodles and the right ingredients. I wish they had added more gravy though, I like mine sloppy 😛 Other highlight was the Oyster Omelette ("or luak") – I absolutely loved it!! Piled high with juicy little oysters cooked with egg and starch. It's a lovely blend of textures and a jumble of delicious, unique flavours. Delightful. My only regret is that I TOTALLY FORGOT ABOUT DESSERT!!!!!!! *cries* Very very disappointed that we didn't get a chance to try any. But that just means I have to plan a trip back there – next time, I'll get their Hainanese Chicken Rice (heard it's fantabulous) and the desserts… mmmmm….


Ginger & Spice

Cosy interior

Ice lemon tea, Soy bean milk, Young coconut juice, Tiger beer

Looking scarily fat and flabby. Blah.

Awwww

Us girls!

Chicken Satay – loved the chargrilled flavour

Roti Prata with Curry – yummy!

Char Kway Teow – surprisingly authentic. I'd say it's as good as Alice's

Hokkien Mee – this was awesome. My favourite

Seafood Hor Fun – beautiful flavours and this dish was massive!

Assam Prawns – spicy

Oyster Omelette – the most impressive looking. It tasted brilliant!

After lunch, the plan was to head to the beach to chill out, but the weather went from hot and sunny to crap and rainy….. much to our dismay 🙁 So despite already wearing our swimmers, all beach plans were cancelled 🙁 Instead, we went to this little cafe next door for some coffees. It was such an adorable place – really tiny and with comfy sofas around. We sat in the corner and someone exclaimed "Hey, this is just like 'Friends'!" and OMG IT WAS TRUE – partly due to the fact that there were 3 boys/3 girls in our group and partly because of the sofas. Anyhow, in true 'Friends' tv style, we sat there for ages drinking and chatting.. all the way 'til 5pm!


Take your pick

We squished in the corner spot

I have no idea why, but we all look totally random and weird LOL

A picture says a thousand words

ROFL

Smile!

Coffee. Yum.

Went straight to 's place afterwards for dinner.. where she whipped up the most divine Steak with Blue Cheese/Onion Sauce!! OMG!! It's the nicest sauce I've had on steak. Ever. Must get the recipe and re-create it at home… loved it 🙂 Went brilliantly with our assorted drinks of red wine, coke, whiskey and port. Not all mixed together, obviously! But I've discovered that Port is one of my favourite drinks, so I'm going to get a bottle to have at home. Anyway, I don't have any pics of the steak but I did find pics of the Chocolate Fondants that we also had! They were soooo rich and chocolately – totally divine but boy we felt ill after all that decadent food 😉



Homemade Chocolate Fondants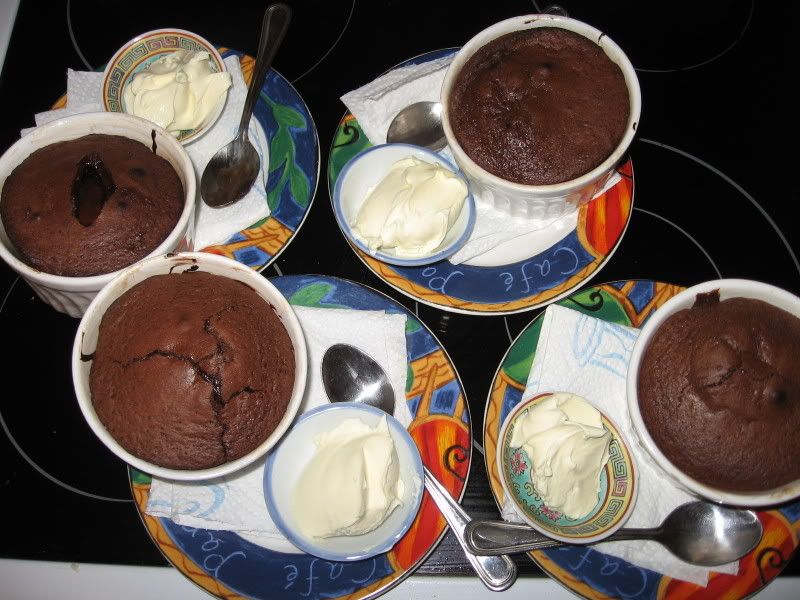 Got home late and then realised I'd COMPLETELY FORGOT to go to a friend's night bbq/pool party. Arghhhhh..! I'm useless. So went straight to bed instead with a very very full belly *burps*
Let's Chat!