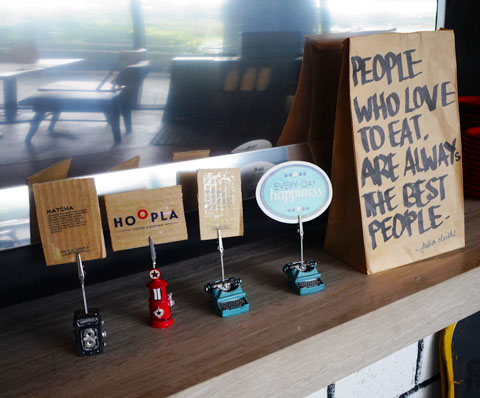 Tucked away into the most impossibly random location (I say this because it's in nowhereland IMHO, and appears to be there to cater for the office workers that are directly in that building), is a new(ish) cafe called Hoopla, at Infinite Studios. It's located right next to Revolution Coffee, by the way.
It's a pretty and spacious sunlit cafe, with lots of little nooks and crannies and memorabilia to poke around in. The service is friendly, and the food arrives briskly. It's a nice, simple little place to have brunch with the family on weekends, as it's not crowded and gives a bit of quiet reprieve from the madness of the City.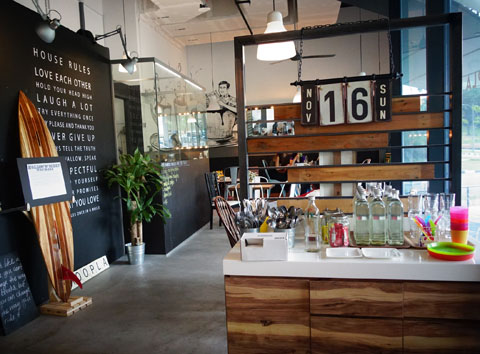 Water, cutlery, kids cutlery and serviettes are all take-your-own style. I can't remember if they impose a service charge here, but I'd assume not (and hope not). Big thumbs up for the complimentary glass bottles of water, though!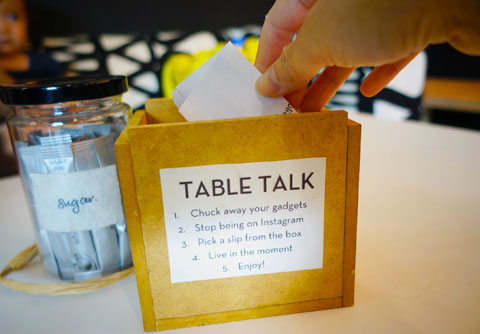 A cute, if not gimicky, little game for diners. I didn't see a single person heed this though, so….
We zero'd in on the comfortable couch corner. It's perfect for families – the kids get to spread out and get comfy, just like home! And it also gives you a birds eye view of the cafe, as the area is on a slightly raised platform.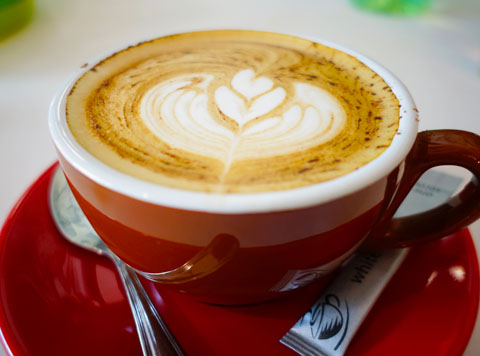 A delicious cappuccino. That's all I need to make my whole morning.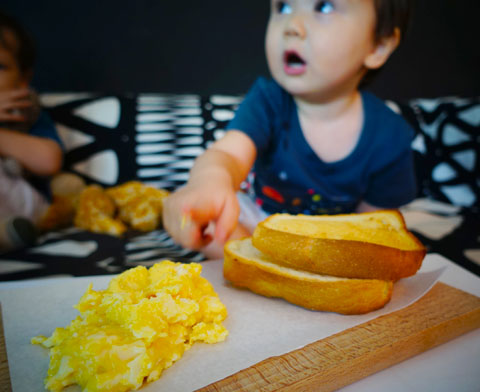 LOOK, EGGS!!!!!!
Yep, this is the Eggs on Toast ($6). It's mystifying that Carter got excited over it (well, he does love eggs), as it was really….. basic. A scoop of scrambled eggs, with not even a sprig of herbs or cheese cooked into it… paired with two slices of plain bread. It looked pretty sad, like they couldn't be bothered to even try to dress it up a little. That said, it was immediately wolfed down by the kids – guess kids do like their food plain and unfussy.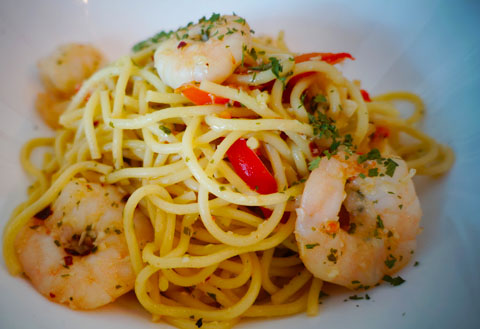 My Garlic butter prawn aglio olio ($15) was a decent portion, served with 4 or 5 prawns that could have been chargrilled so they blackened a bit (providing a more robust flavour). The pasta was cooked well, and it arrived looking rather festive with bits of red and green peeking out.
Only problem? It was incredibly, INCREDIBLY, spicy. 
I'd already asked for "no chili flakes", yet this dish was SO spicy it blew my head off. It should have been labelled as a shockingly spicy dish on the menu, since I'd imagine kids or non chili lovers would order this one, like I did. And frankly, it'd have been much better without the spice, because the flavour of the prawns and olive oil would have come through.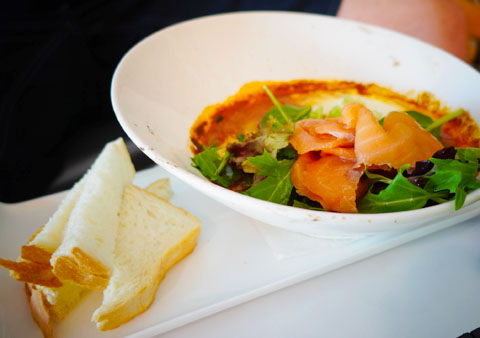 Lovers of soft eggs will love their Sally's Baked Eggs ($15.50). The eggs are baked in a tomato-based sauce, and laced with smoked salmon and greens. It was very tasty, but was served with just 1 slice of white bread. It should have been brioche, and 2-3 slices worth. We were left eating the dish as-is with no carbs, as the bread disappeared with the first 1/4 of the dish.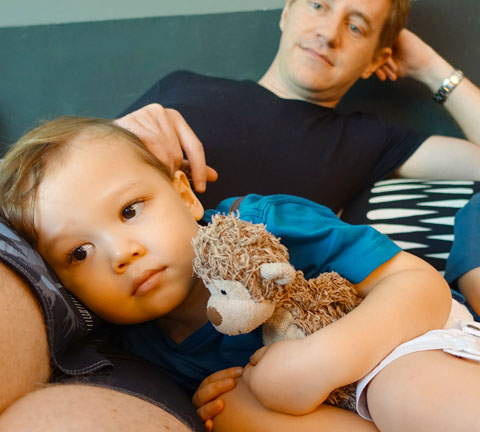 The really good thing about Hoopla is that you don't feel rushed – something rare and wonderful on weekends when cafes are so crowded and people are rushing to and fro. We stayed, we chilled, we nibbled on food. It was a very nice and relaxing brunch.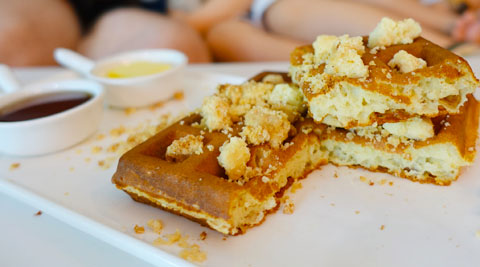 We gave the Buttermilk Waffles with maple syrup and cinnamon crumble ($4) a shot and was very happy with it! The waffles are a bit flat (we much prefer fluffy Belgian waffles), but that incredible cinnamon crumble made up for it. It was tasty, affordable, and a nice way to wrap up our brunch.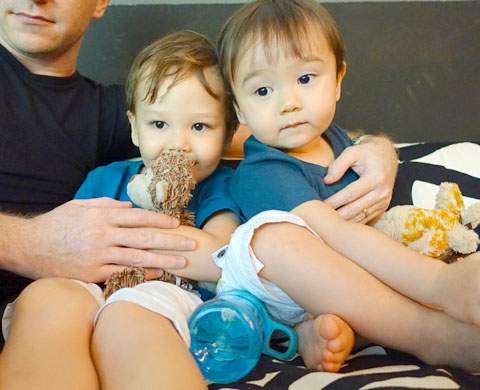 My two babies. Though I'm not sure if they can pass off as babies anymore. Or even toddlers. Are they considered bona fide boys now? *sentimental tear*