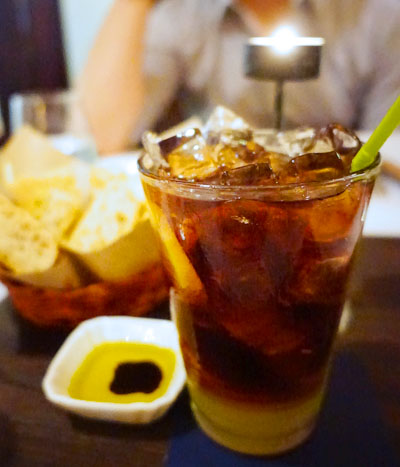 This is a Coke and Limoncello cocktail. It is absolutely DIVINE (think Coke spiked with a squeeze of alcoholic lemon!) and a must-order at Casa Tartufo.
If you have refined taste buds and a nose for truffles, Casa Tartufo will be right up your alley. They are all about truffle, truffle, and more truffle! It's cozy, authentic Italian dining, but in a very elegant setting. It works as both a romantic dinner date location, as well as a chill out place with some friends, mulling over a bottle of wine or three.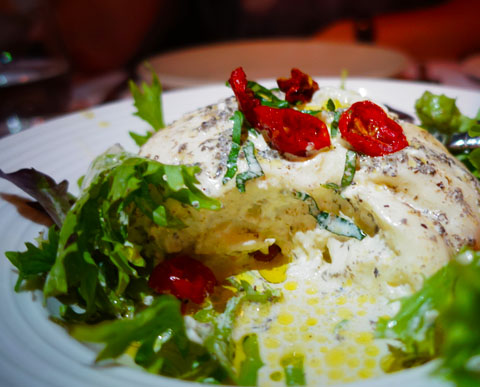 I've had this dish twice before at Casa Tartufo, and can't seem to deviate from it. It's the Burrata cheese with a truffle heart ($43) and is incredible. The burrata cheese is fresh and light, dressed with a splash of olive oil and salad greens. But what I love most is the musky truffle flavour. It's gorgeous eaten on its own, but also good with their warm focaccia bread.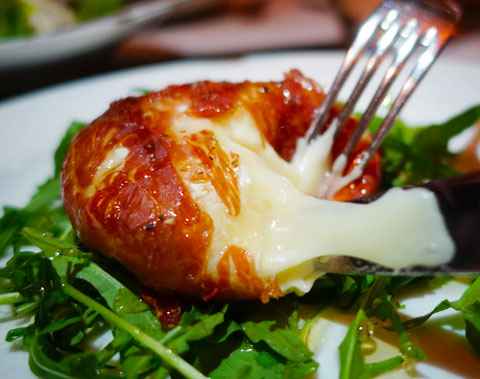 Not to be outdone is the Warm tomino cheese wrapped in parma ham, truffle honey ($23). If you're a fan of ooey gooey warm cheese, you'll have a bit of a heart attack (in a good way). The warm cheese, paired with the saltiness of the parma ham and delicate flavour of the truffle honey, is pretty incredible. I'd recommend you order this one just for yourself – it's pretty petite and you don't want to have to stab your dinner date with your fork to get his grubby fingers off it.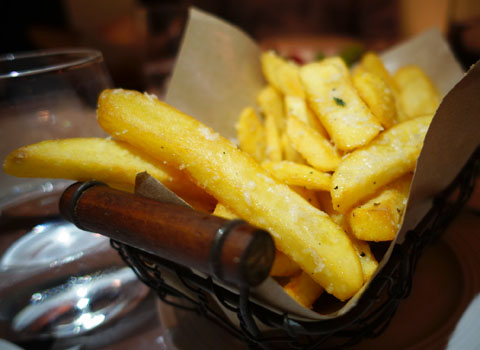 Who can say no to Truffle fries ($13)? NOT ME! Would like this in a large portion because it is too good. Love the thick cut fries with the sprinkle of sea salt flakes and the lovely scent of truffles. Mmmm. Incidentally, these fries were the first time Hunter tried fries – and he loved them 😉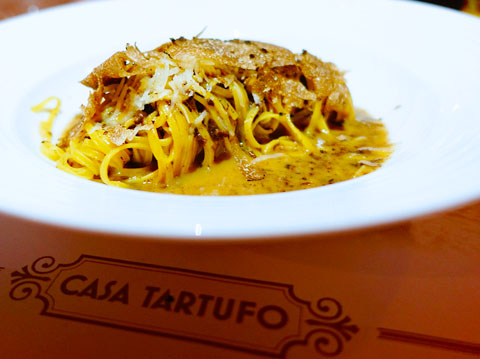 The famous Tajarin – piedmont thin egg-noodles with fresh black truffles ($38), a signature dish here. It's a must-order if you haven't had this before at Casta Tartufo, and you'll see why once you take a bite. It's not a cream sauce per se, but perhaps more like a… mushroom bisque in terms of flavour and texture? The thin pasta is delicate and has just enough of the gravy sticking to it to give it an awesome flavour. Let's also not forget the lashings of shaved fresh truffles laying on top. Divine!!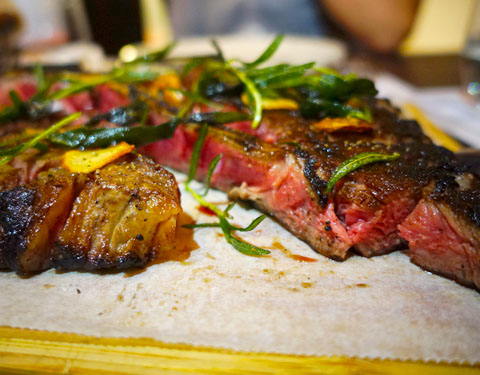 Ahhhh… I left the most famous for the last. The stunning Fiorentina – 1kg of char-grilled t-bone steak with fried garlic and sage ($180). If you blinked and re-read the price tag, I wouldn't blame you. Yes, it's a killer on the wallet, but it's pretty huge. It will easily fill up two diners, and makes a great sharing plate for four diners.
The steak? I'd never tasted steak like this before. Tender, yet with bite. Cooked to such perfection, through and through, it required ZERO sauce (heaven forbid you ask for mushroom sauce with this!). It was absolutely delicious as-is, served simply with a crack of fresh salt and pepper, and decorated with crispy fried garlic slivers and fragrant sage. Maaaaaaaan… if price is not an option for a special occasion, GET THIS!
I really want to bring Dad here to try this steak, since he loves his meat. Perhaps for his birthday or something, as I need to wait for a special occasion to warrant this dish!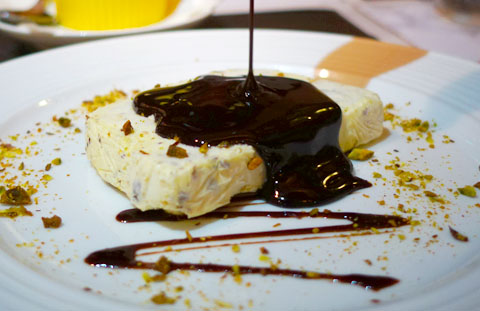 A slice of their Pistachio Semifreddo for dessert, draped in a rich chocolate fudge. This is a great choice if you feel like a frozen dessert, but don't want the richness and creaminess of ice cream. The texture is that of a frozen mousse, and I enjoyed the crunch of pistachios.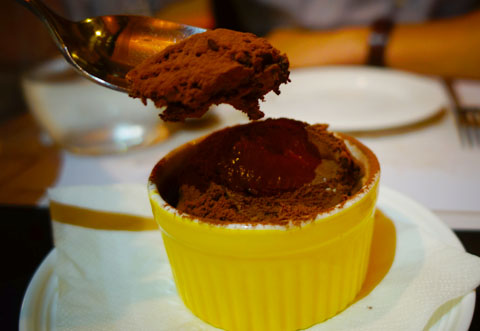 A little pot of Chocolate Mousse. This is super rich, but fluffy in texture. A dessert that is best shared between two people IMHO.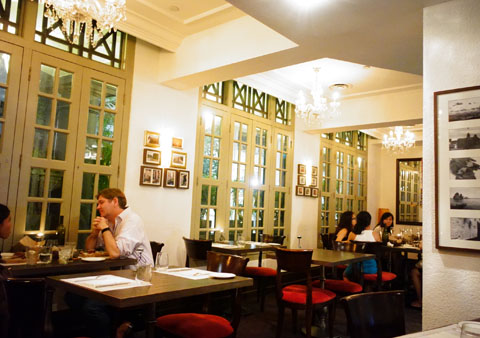 The cozy interior of Casta Tartufo. Very happy that they are so close to our new place! They also do lunch sets (which are a super deal), and I'd recommend those if you want to try the place out for the first time.
Let's Chat!