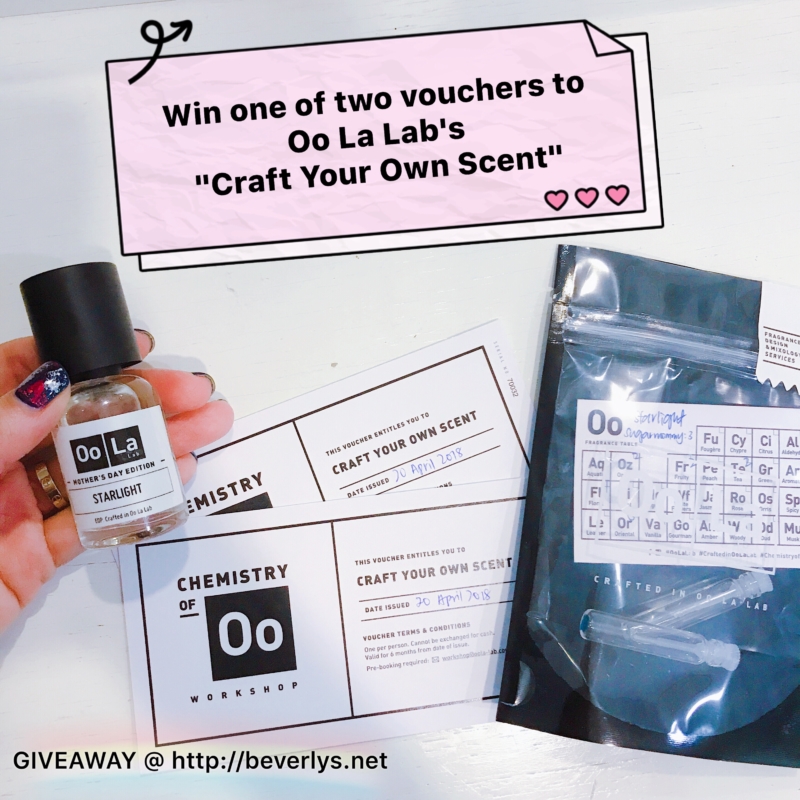 I have 2 vouchers, each worth $100, for a "Craft Your Own Scent" perfume-making experience at Oo La Lab's headquarters! Read on for a run down of what happens during a session.. it's a lot of fun and SUPER kid-friendly too, not to mention it makes a really fun team-bonding experience or for an afternoon with girl friends.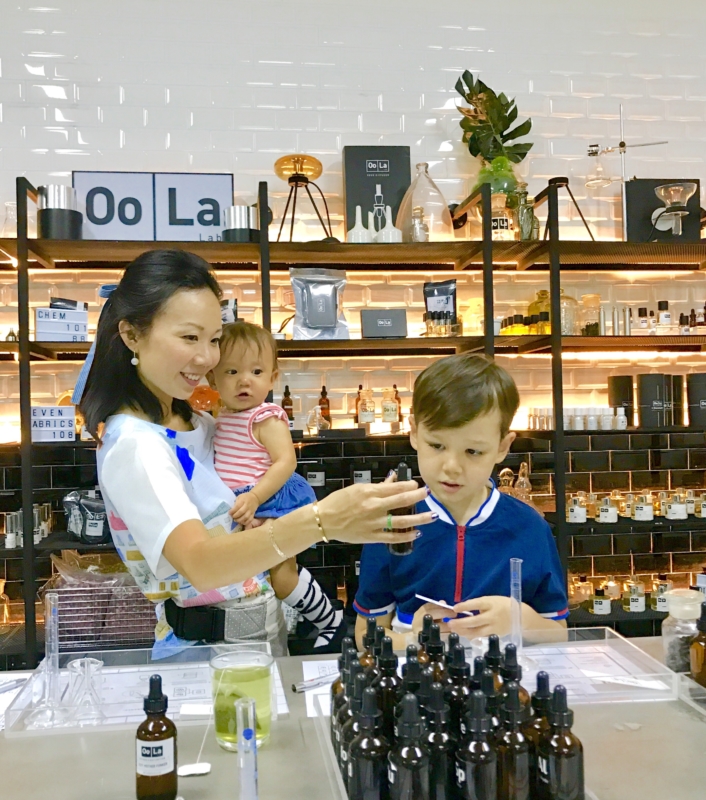 Have you ever walked into ION mall, or Changi Airport, and gone "Oooooh, this places smells DIVINE!"?
I have – many times! A signature fragrance can really inspire, or leave a lasting impression.
Guess who created those signature fragrances? Oo La Lab did! And they offer one-on-one (or group, if you want to go with family and friends) experiences at their lab, so you can do the same.
I was really excited to try out the Mother's Day "Mom I'd Like To Fragrance" experience at Oo La Lab, in particular because I could bring Hunter along to join in on the fun.
He was even more excited than I was, because he couldn't believe that he would be "in a real science lab.. for adults!" and was brimming with excitement when we arrived.
He spent the first ten mins taking it all in – the apparatus, the lab set up, and asking a million and one questions.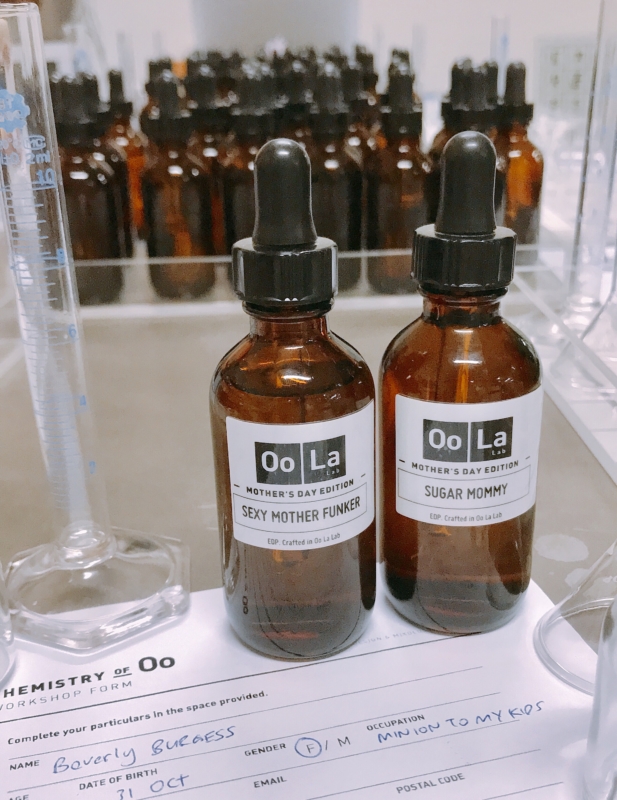 Since Mother's Day is coming up in a couple of weeks, Oo La Lab have released 2 limited edition notes for their Mom I'd Like To Fragrance class –
Sexy Mother Funker
Sugar Mommy
There are about 20+ more fragrance notes to select from, so you actually need to set aside at least 1 hour for the workshop to truly nail your signature scent.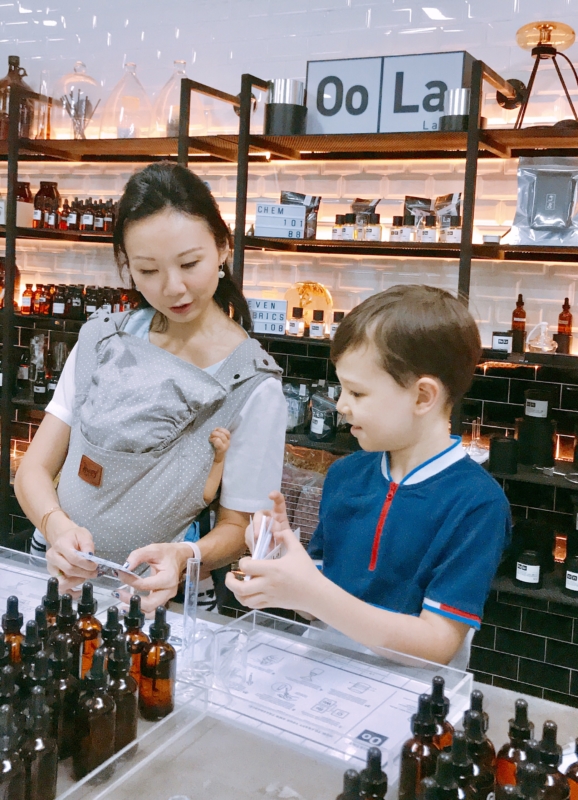 So the perfect scent is composed of 3 notes:
Base
Heart
Top
The Base notes consist of half the finished fragrance, and Heart + Top notes consist of the other half.
Hunter and I sniffed each of the individual fragrances to narrow down our top few. It's not easy as you do need to concentrate on the scent, note down the ones that appeal to you… and there are so many to get through!
One thing to note, Oo La Lab use eau de parfum, not eau de toilette. What does this mean? Well, eau de parfum lasts twice as long as the cheaper eau de toilette.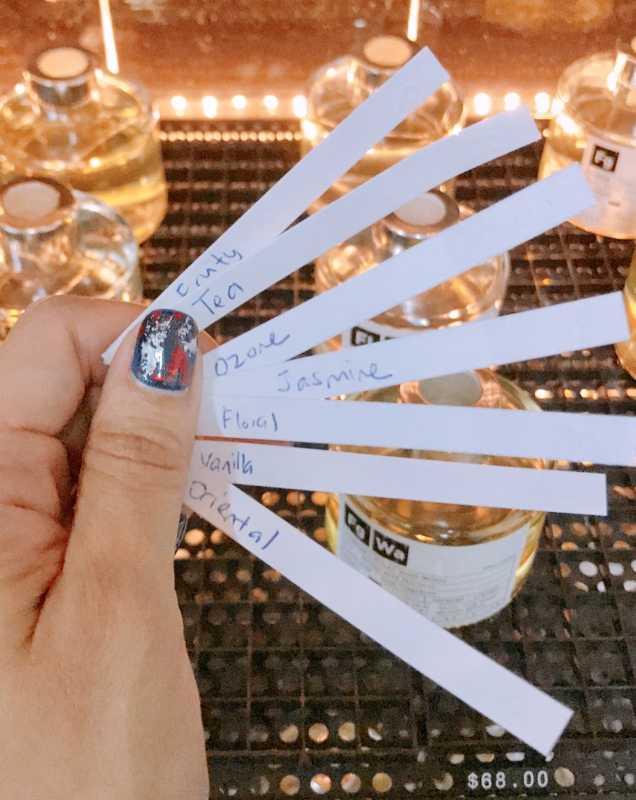 I had 2 Top, 3 Heart, and 2 Base notes in my final selections. The fragrance, to me, is warm and fresh, and not too flowery or girly.
I absolutely loved it.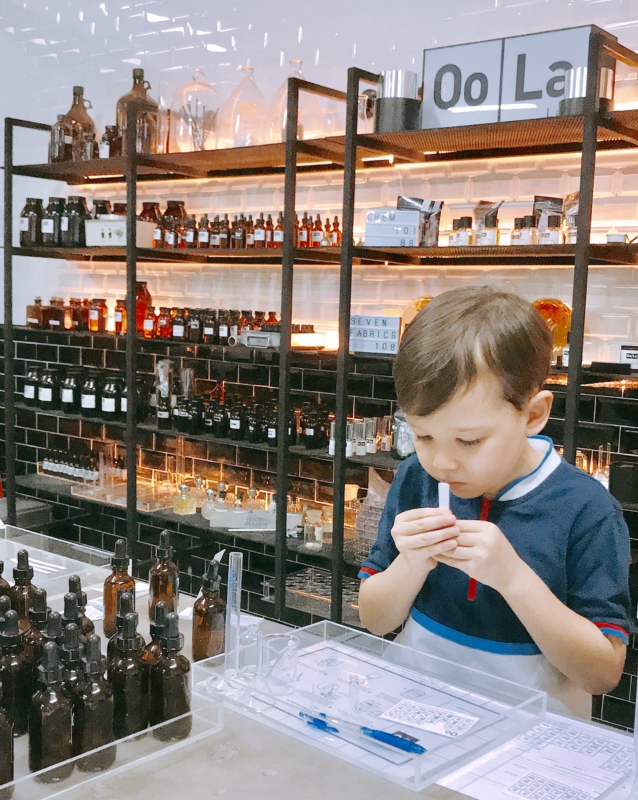 I was actually quite impressed that Hunter focused so well and diligently went through all the scents to carefully select his favourites. It's actually a wonderfully educational activity for kids, and they're treated like mini adults, so the session is not "dumbed down" for them.
However, I would recommend the session for kids at least 6 years old and up, depending on their maturity.
Here's Hunter (very seriously!) studying each fragrance.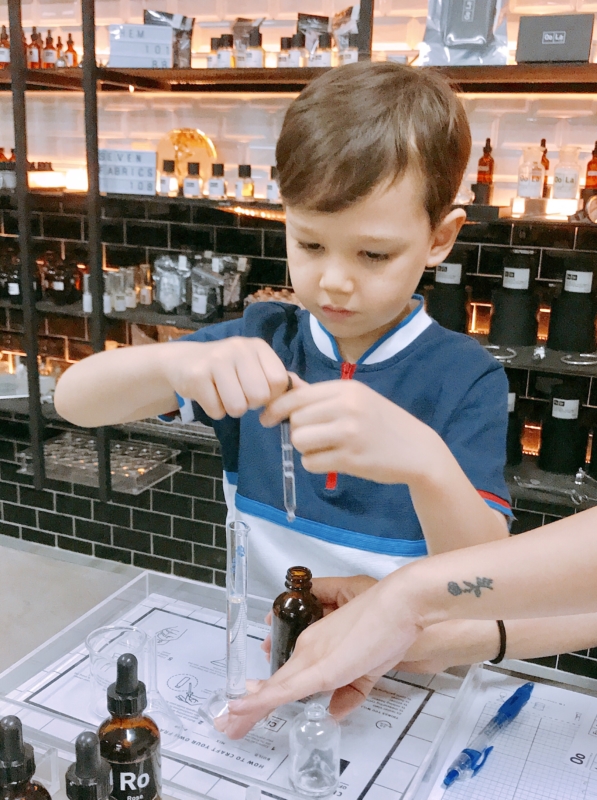 We could make two shortlisted fragrances, of which you select your winning formula, then create your fragrance, drop by drop, into the test tube.
Hunter was in awe, declaring himself "a real scientist", which incidentally is his dream job. To be fair, it was also really fun for me – an adult – as I hadn't 'played' with lab equipment in years!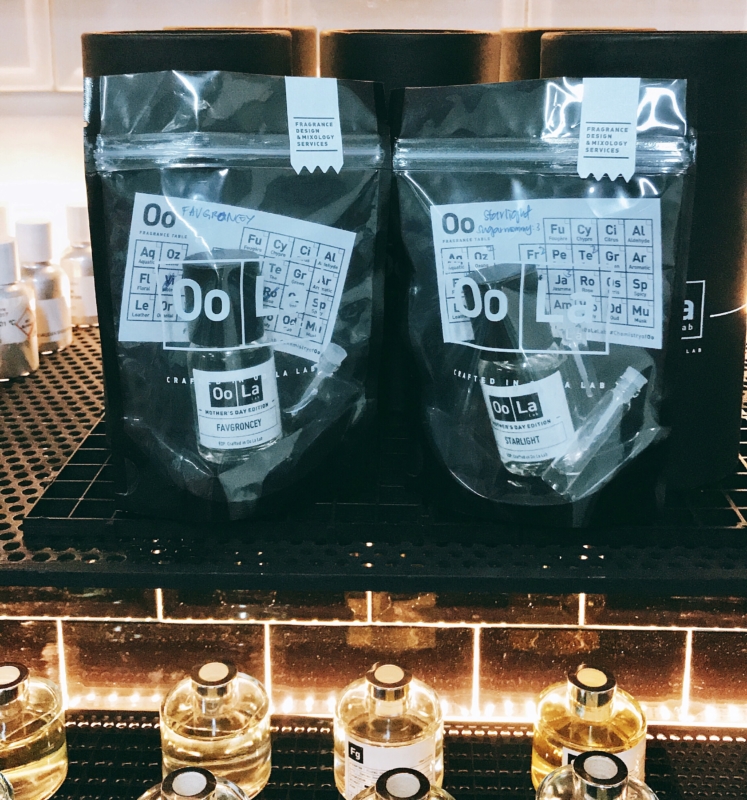 Our fragrances were hand poured into a glass bottle, and you can use their special clamping machines (which I'm sure have very grand-sounding names, that I don't know!) to seal the bottles.
Your bottle is then popped into a chic bag, with the fragrance profile card, as well as the 2 small sample fragrances you made earlier.
Hunter named his perfume Favgrancey – a play on the words "favourite" and "fragrance".
And he named my perfume Starlight – because he said I like stars.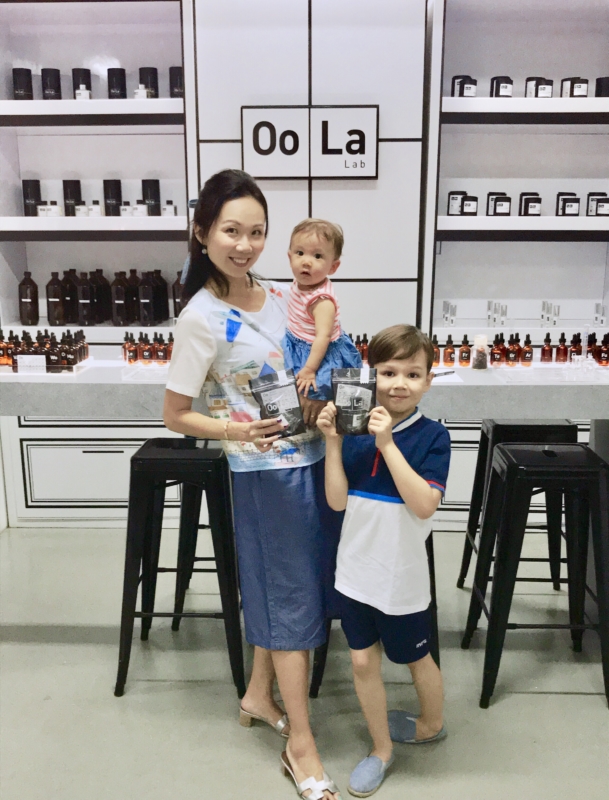 The gorgeous Oo La Lab premises. Me? I adore the fact that I have my own signature fragrance, which I customised myself. I also learned hell of a lot about perfume making.
And Hunter? He really thrived on the educational aspect of it, and how many 7 year olds can say they know all the components of perfume making?! It was so much fun doing Mummy and me bonding as we did the activity together.. and I love how we have a memento each to remember our time there.
I reckon Oo La Lab is great for:
A Mummy and me activity for bonding with your kid – super unique and educational!
A Mummy and me activity for bonding with your mum – awesome idea since mums are often so hard to buy stuff for.
Corporate event team bonding
Hens night
Girls day out
People that want their own signature (personal or corporate) scent
Their current Mother's Day Mom I'd Like To Fragrance promo is on for a limited time and is $100 (for you and your mum).
Session Details:
15th April – 20th May 2018 @ Oo La Lab
2 Alexandra Road, #02-04 Delta House, Singapore 159919.
1 Hour Fragrance Design Workshop with your Mom and get a 50ml EDP for SGD$100.00.
Get an additional 8ml atomiser from Oo La's Chemistry 101 collection
OR
1 Hour Fragrance Design Workshop with your Mom and get a 250g soy-beeswax candle for SGD$120.00.
Get an additional 100g soy-beeswax candle from Oo La's ready-to-buy collection
Take-home:
Each participant will be able to craft a 50ml Eau de Parfum of your own unique fragrance with a complimentary 8ml atomiser or a 250g soy-beeswax candle with a complimentary 100g soy-beeswax candle.
Each participant will receive a complimentary SGD$50.00 dining voucher at Lawry's Prime Rib Steakhouse.
In addition, 1st 10 mother-child pair will also stand a chance to get a $50.00 shopping voucher at WAREHOUSE (*while vouchers last).
Let's Chat!