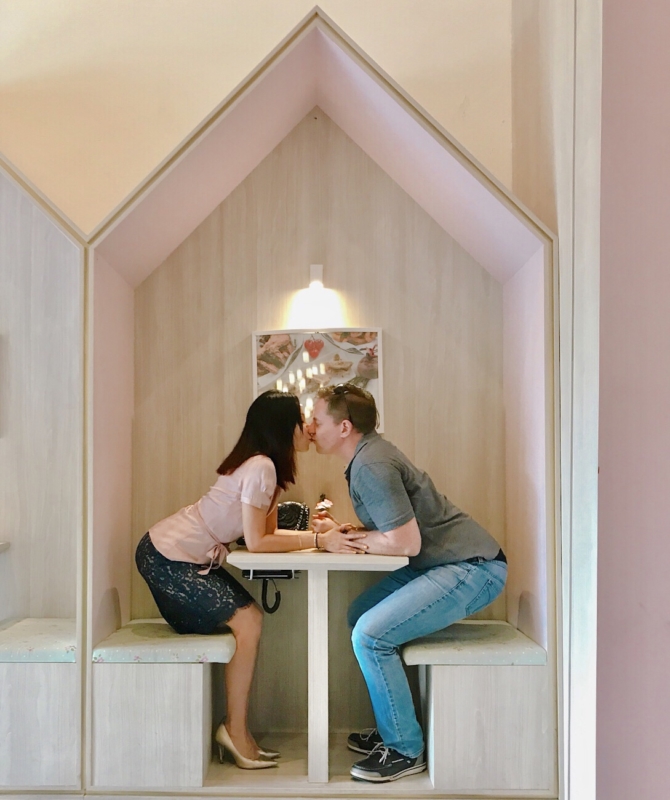 Have I ever talked about how Chris and I first met…… 18 years ago, on his birthday?
I still clearly remember the night I first met him.
We were both staying in college and he was a year my senior. I had a question on a programming assignment (we both studied Computer Science) and someone directed me to his room. Keep in mind this was in March, so I'd already been partying – I mean – studying, in College for 2 months.. and yet had not seen this hermit of a guy before.
I opened his door after knocking, and found myself staring into a dark room, with a topless guy in pj pants and headphones on his head, hunched over his computer.
"OMG what a weirdo" I thought to myself ?
I asked him my question….. and either he gave me some epiphany on how to finish my assignment, or his help was really crap, because I left pretty swiftly.. with not much of an impression of him.
After midnight, I was surfing on my computer in my room when, suddenly, a head stuck itself into my window (my window faced the college internal courtyard).
It was Chris!
"How's your work going?" he asked.
I thought, HOW SWEET! So sweet of him to find out what room I was in, and come round to check up on me. And – ooh – he has super nice green eyes. And….. why does he look so disheveled and with marker pen drawn all over his face??
He then announced "It's my birthday!" and I remember I thought two things:
He'd obviously been out with friends. Oh thank God he has friends and is not a weirdo hermit.
So flattering that he remembered me and came round to find me, when he was celebrating his birthday!
And…. I guess the rest is history 🙂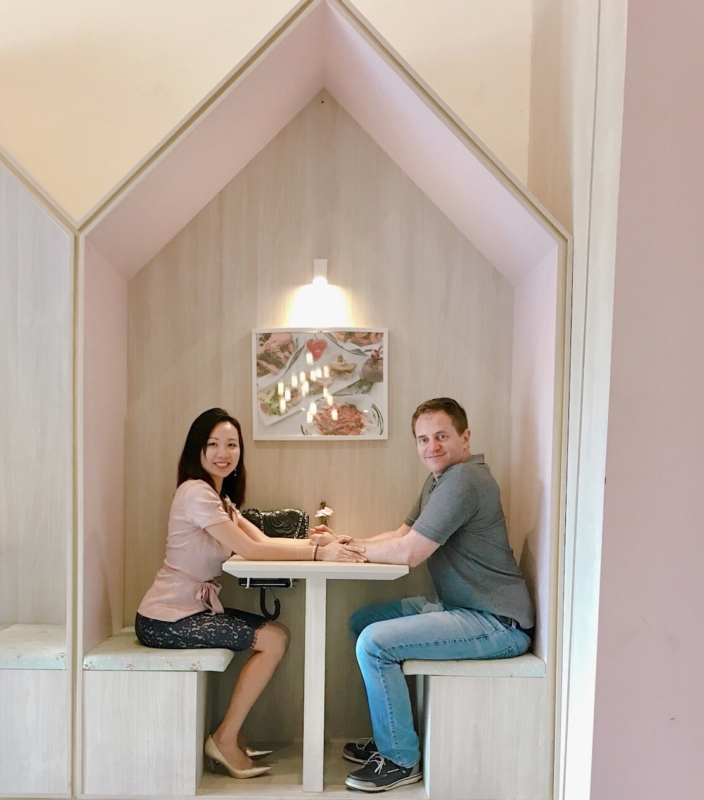 So here we are, 18 years later… looking a whole lot older, but I am still madly in love with this guy.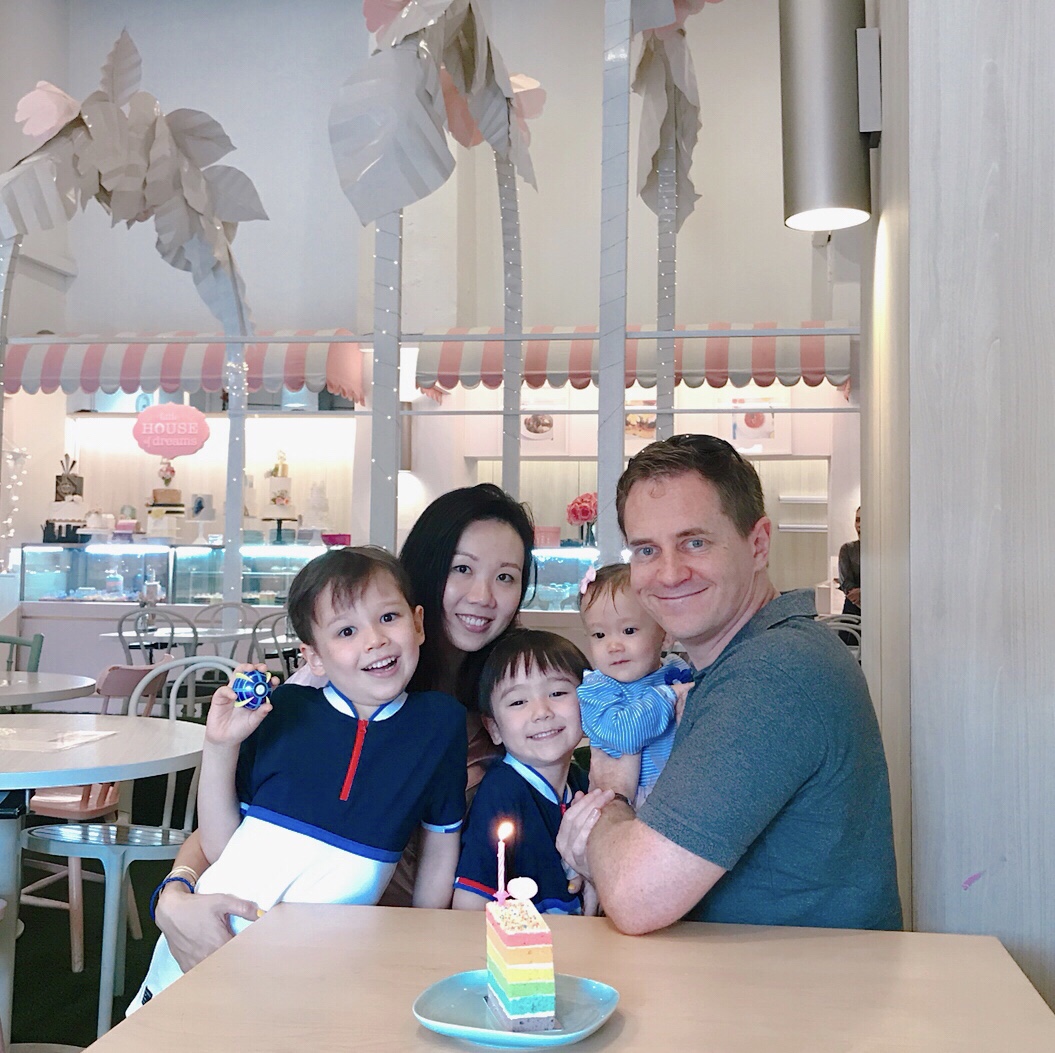 And now with our THREE mini-mes! Chris' first birthday celebration with a little princess ? to boot 🙂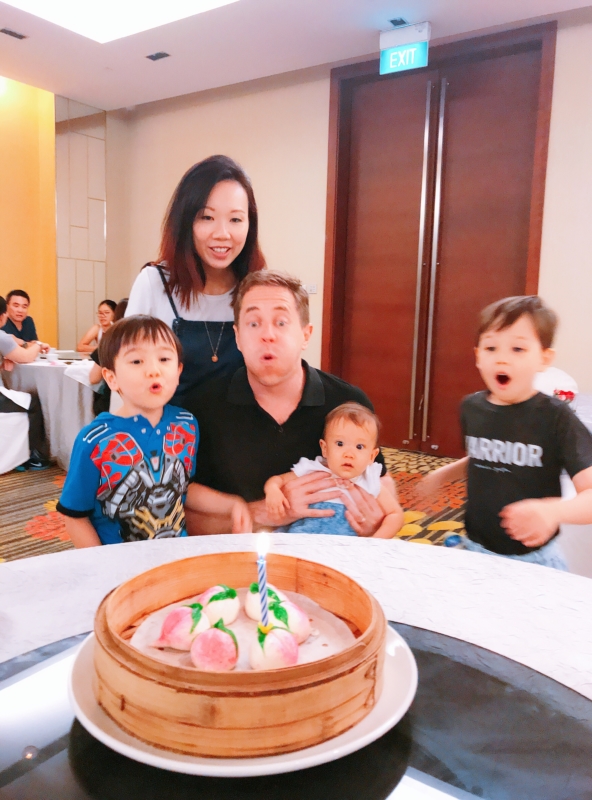 Celebration last night with my parents, who took all of us out for dinner. It's really rare (read: never) for us to go out for dinner because of all 3 kids' bedtimes at 7:30PM, but they all handled it like champions.
I chose this photo to post because I love the candid-ness of it. Very disappointed we didn't take a complete one with my parents in it too though.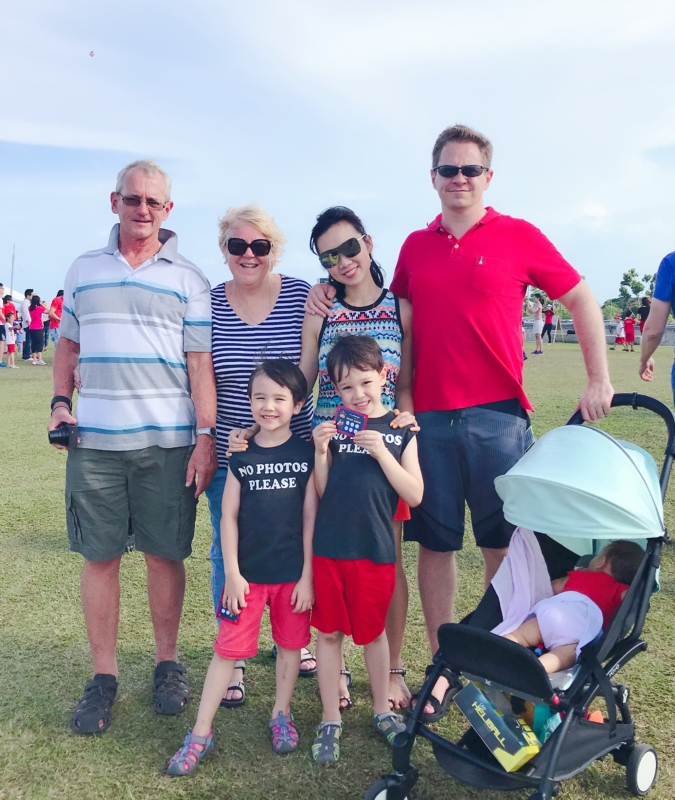 And.. Chris' parents also popped into town to celebrate. We had such a lovely day out together with the kids. My heart felt so happy!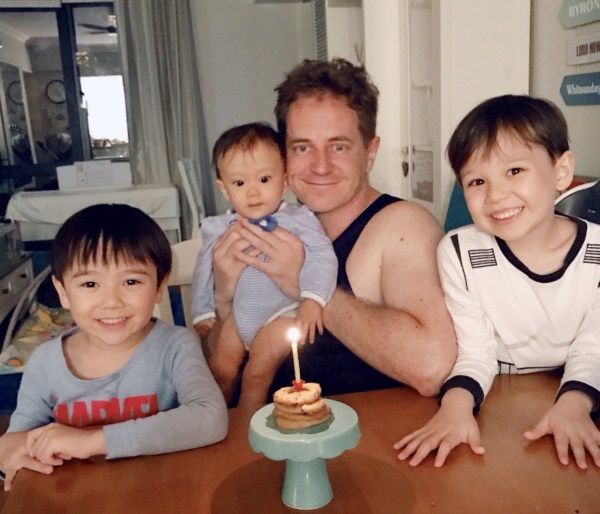 And this is actually
my favourite photo
 of the lot. It's all my loves, messy haired in the evening, ready for bed. 
We piled some freshly-baked cookies on a little cupcake stand, and it because our lil birthday cake to Chris. 
Don't mind Chloe never looking at the camera all these photos. She's either mesmerised by candles, or by food. Or both. 
HAPPY BIRTHDAY my greatest love. You make my heart sing!
Let's Chat!