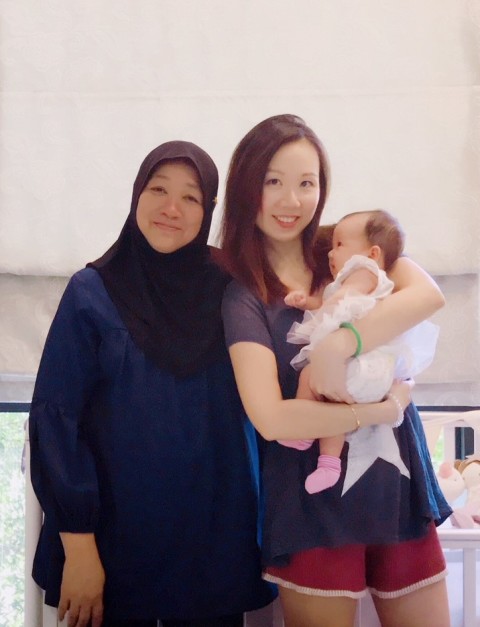 This is me… looking remarkably well-rested and pleased with myself! Or rather, pleased with Madam Mila at Postnatal Massage Singapore 😉
I'm a big fan of massages, after being spoiled by them when we lived in Shanghai for a couple of years before we moved to Singapore. And when I've just given birth and am feeling some serious aches and pains? Heaven sent!
Postnatal Massage Singapore is highly ranked, and I can see why. They're really professional, friendly, and go the extra mile with customer service. They've specialised in the confinement trade for more than 24 years, so it gave me peace of mind that I was in good hands. Plus, all their therapists are WSQ certified, which means they are trained and skilled in attending to you regardless of whether you had a regular or cesarean birth.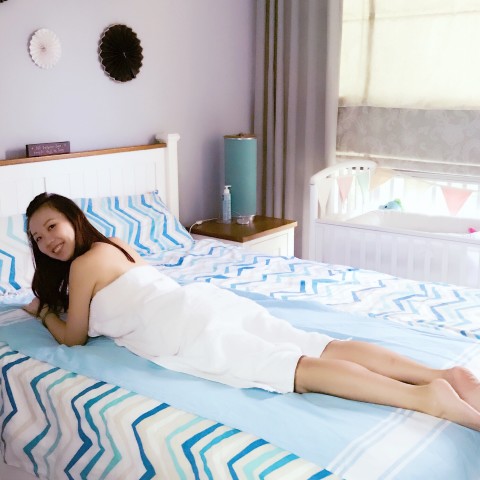 Madam Mila was assigned to me for 7 sessions in my home (SO convenient). She was prompt and quiet but friendly. I appreciated this as I don't want my ears yakked off by a chatty therapist… I really want peace and quiet during my massage!
So I prepared the following for each session:
2 large towels
1 small towel
That's it. She brought along an oil and cream blend, and I chose Lemongrass scent (my favourite). And then………………… one hour of luxury!!
My only issue? I dozed off during most of the sessions, and woke up afterwards wondering if I snored or drooled 😉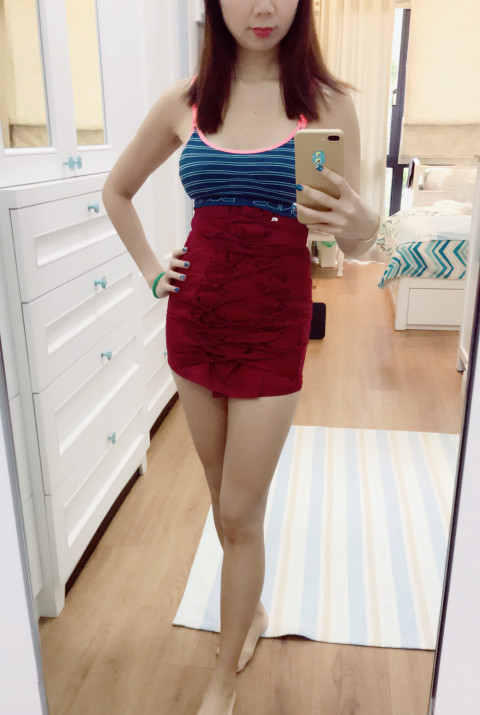 This looks like a chic mini skirt, but it's the complimentary binder everyone is given. She taught me how to bind myself in after a shower.
Why binding?
It gives awesome support to the belly area.. which I appreciated as I honestly felt like my insides were about to spill out when I was post-partum. Ugh. So this binder cinched me in nicely and helped my stomach go flat a lot faster.
You also have the option of adding Jamu herbs for no extra charge!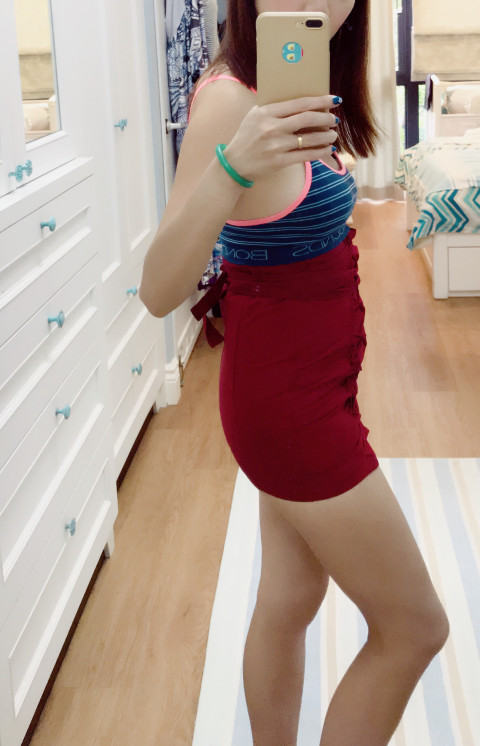 Side profile shot of the binder, which wasn't pulled very tight as it was the first time I did it myself. Still, you'll see it's done wonders to my post-partum belly already!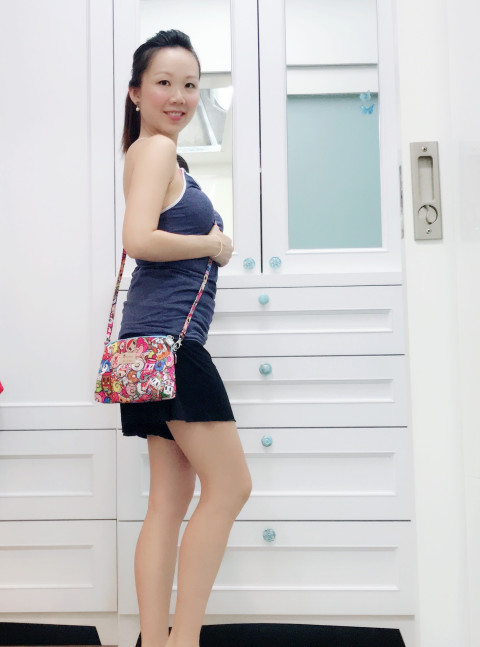 After all 7 sessions with binding 🙂 I really missed Madam Mila when all the sessions were completed! I felt comfortable around her (kind of a must, considering the therapist sees you stark naked), and my muscles felt sooooo gooooood after each session. The ache I get from carrying a newborn and breastfeeding is tremendous, and post natal massage is a wonderful treat to ease all that.
So how did I feel about Postnatal Massage Singapore?
PROS:
Super convenient as it's in the comfort of my own home.
No oily mess afterwards, thanks to their lovely oil/cream blend. I didn't need a shower and just popped on my clothes afterwards, and went about my day!
Experienced therapist, with a good memory of my specific aches and needs, because she zero'd in on them the next time without being asked.
CONS:
Because you're lying face-down on your own bed, you need to turn your head to the side, so it's not as ideal as a 'proper' massage table where your head fits into the hole.
Need to make sure a trusted person is around to look after your newborn during the session. It's worth it, though, a post-partum mama really deserves a bit of alone time now and then!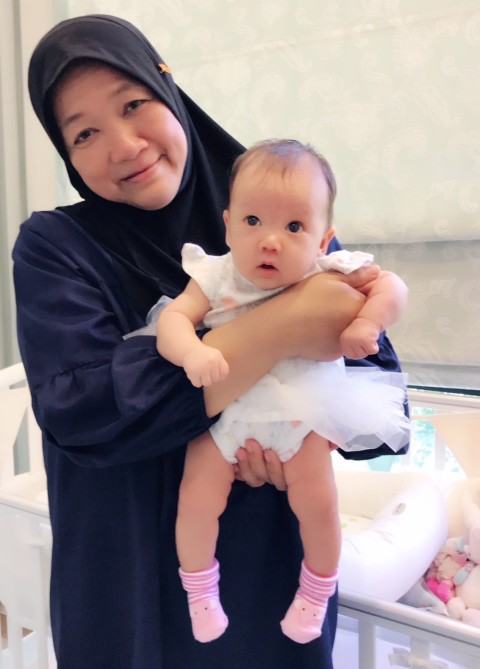 Chloe, my grouchy baby, was always happy being carried by Madam Mila.. much to my surprise! She has 11 (!) grandchildren herself.. so she knew exactly how to carry and comfort Chloe.
Speaking of which, Postnatal Massage Singapore also offer FREE baby massages to help mummies ease baby's crankiness. I need that on speed dial – LOL.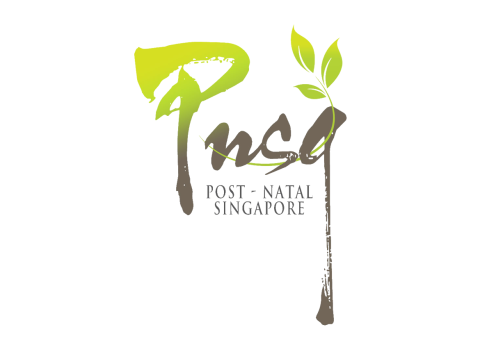 So FYI, here's their prices:
Pre Natal Massage
3 Sessions of Pre-Natal Massage Sessions: $270
5 Sessions of Pre-Natal Massage Sessions: $400
Post-Natal Massage
5 Sessions of Post-Natal Massage Sessions: $518
7 Sessions of Post-Natal Massage Sessions: $668
10 Sessions of Post-Natal Massage Sessions: $888

Website: http://www.pnsingapore.com
Facebook: https://www.facebook.com/postnatalmassagesingapore

Let's Chat!