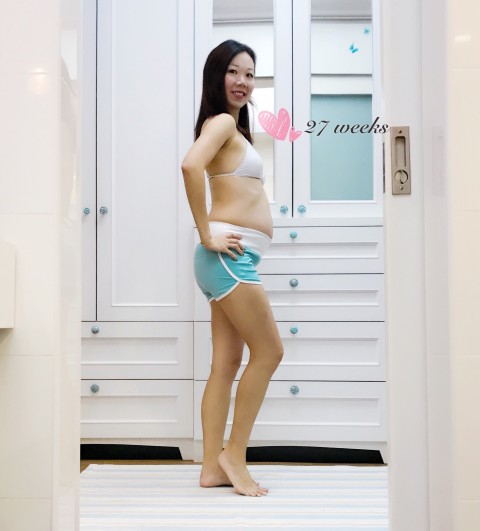 Helloooooo 3rd trimester… We're on the last leg here! (Photo should say 28 weeks, typo, oops)
It's been pretty smooth-sailing in the past few weeks, with no more feeling ill or getting ill. Just as well, as it was filled with looking after the kids, cleaning the house, laundry, and cooking.
And Chris is away on business almost every week now 🙁 Right up to the week I pop 🙁
On the upside, my fitness is still powering on. Daily exercise is keeping me feeling physically good – and fit!
Also on the upside is that my weight gain has been steady and slow – about 5.5KG total so far. Compare this with the 10KG (????!!!!) total I put on at the same number of weeks when I was pregnant with Hunter and Carter!!!! Amazing how daily exercise and eating your fruits and veggies (I didn't eat any during my previous two pregnancies because I hated healthy food) makes a tremendous difference to not putting on weight like a monster.
On the downside, THE BABY IS MASSIVE.
She's clocking in at around 10-20% heavier AND longer than the average full Caucasian baby. My doc doesn't want to use Asian baby growth charts with me, as she doesn't want me to feel bad 😛 She reckons there's nothing I can do to… ermmm… slow down the baby's growth, so her only advice was to try to cut down on all the sugar and junk food I eat.
Still aiming for another (my second!) VBAC so I'm praying I go into labour a few weeks early – my only hope, as my babies are so large that it won't be considered safe to do a VBAC otherwise. Please pray for me!
Otherwise, everything is going smoothly. I'm loving life right now, and loving feeling her kick around all day long. We are so looking forward to meeting her in early July!
Let's Chat!