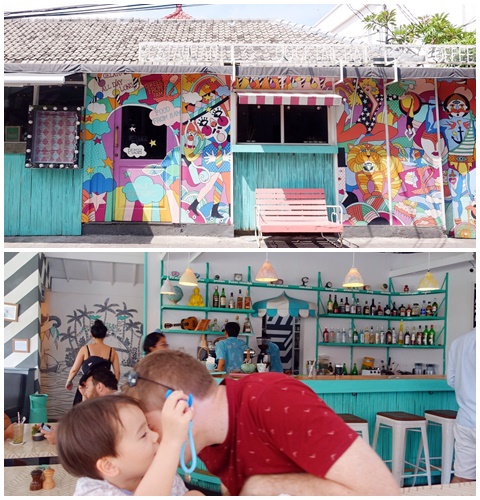 Oh that natural light! I reckon the cafes in Seminyak, Bali, were specifically planned to be social media friendly. And normally, Chris and I steer clear from the touristy areas of a country and go more for the local experience.. since that's kind of the entire point of checking out a new place, right? But it seems like in Seminyak, there's pretty much only these pretty little foreigner-friendly cafes around.
So this was Sea Circus, a sun-lit cafe with such reasonably priced (compared to Singapore standards) and delicious food that Chris wanted to go back the next day 😉 And, admittedly, the cafe is very specifically geared for foreigners and not local Indonesians. So we didn't get any authentic local food, but the food was still excellent!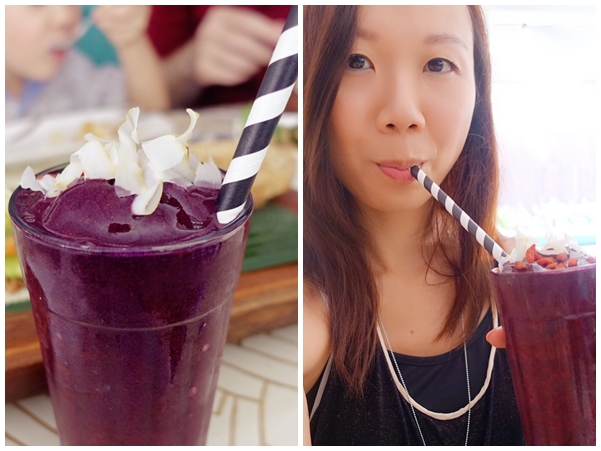 An icy cold and creamy protein shake with acai, topped with wolfberries and shaved coconut. Perfect for the Balinese heat.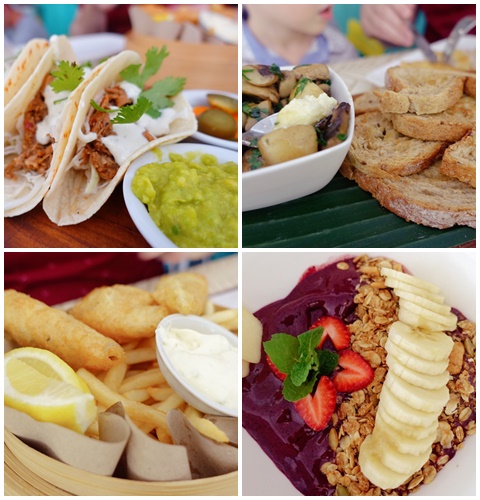 All 4 dishes  at Sea Circus were excellent – from the pulled pork tacos, grilled bread with parmesan and mushroom dip, beer battered fish & chips, and acai bowl. YUM!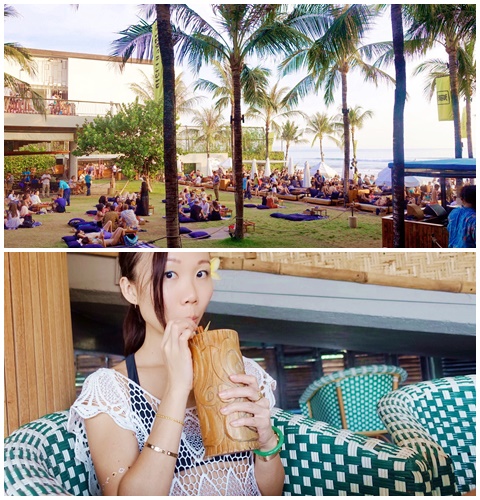 On our must-do list (gathered from friends) was Potato Head Beach Club which was right next to our hotel, so we could walk along the beach to access it. My kids loved this place the most, because they could play on the beach, jump into the pool and roll around outdoors while we waited for our meals.
The laid back outdoorsy vibe was riiiiight up my alley. So divine to lounge around in our swimmers and sip icy cold cocktails!
The food at Potato Head was awesome. I thought it would be sub par since it was really touristy, but the ingredients were fresh and it didn't feel overpriced considering the location and ambiance. I'd definitely go back next time we're in Seminyak.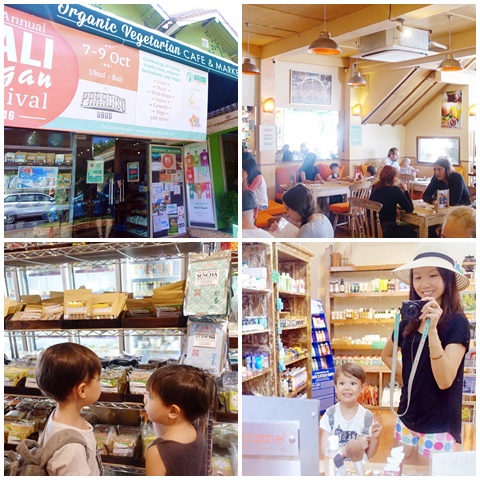 As part of my whole trying-to-be-vegetarian thing, I dragged everyone to Earth Cafe & Market.  I bought a bunch of vegan cookies and chocolate from their mini supermarket there, as well as some lip balm. I would've bought heaps more if I could! The prices were so reasonable, especially compared to Singapore.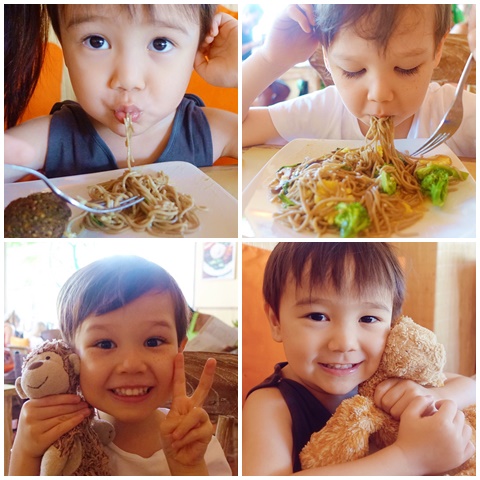 My vegan kids (lol) LOVED the food. They gobbled up all the stir-fried soba with veggies, and the vegan felafels. Win!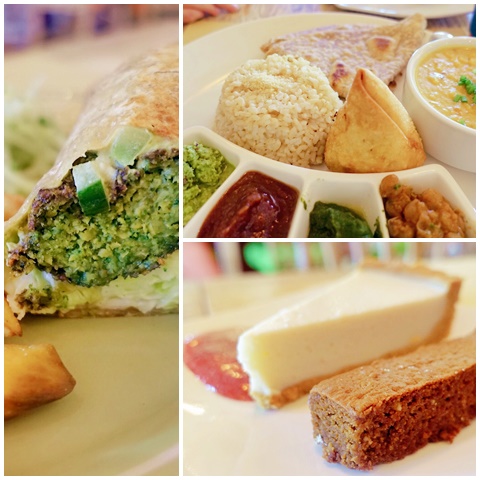 Chris had the felafel wrap (he gave it the thumbs up) and I had the vegan Indian platter (so so so good). Topped off with vegan cheesecake and brownie. I didn't even miss meat!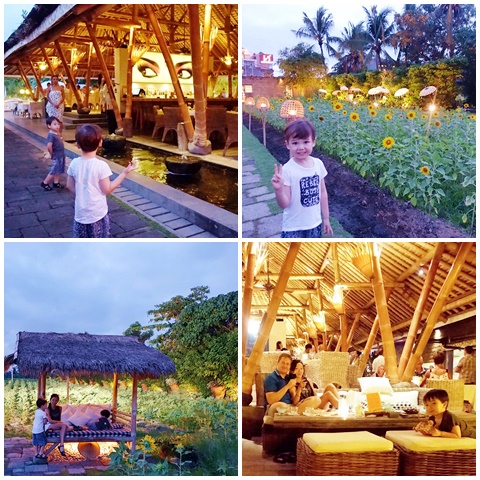 Sardine ranks as one of the highest rated restaurants in Bali, and I can see why. Situated in a quiet field, it was absolutely gorgeous at dusk when we dined. The kids saw sunflowers up-close-and-personal (first time in their lives!) and we pottered around the field until we were ready for dinner.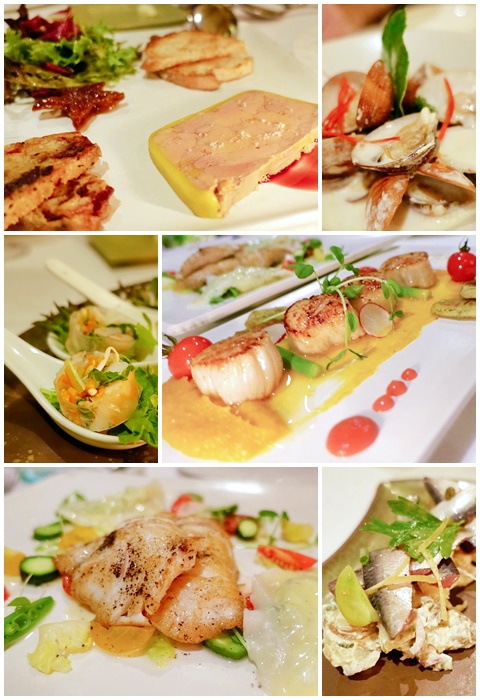 Dinner at Sardine was almost exclusively seafood-based for us, since that's what they specialise in. I simply adored those fat scallops – so succulent and perfectly charred.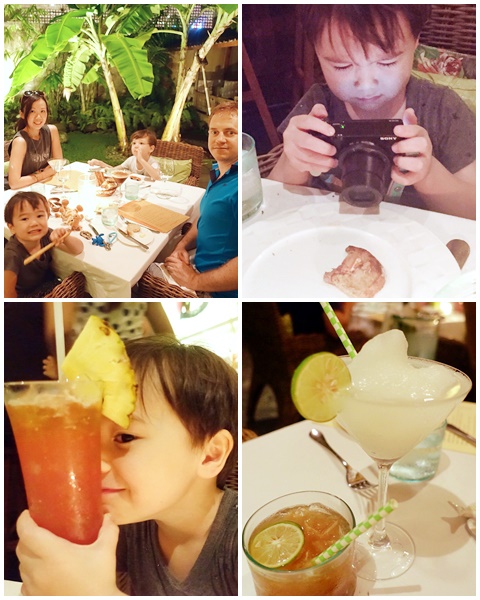 Carter took a photo of his foie gras – first time he had it and he gave it the thumbs up. Cocktails are also significantly cheaper in Bali, even when dining at a fancy restaurant like Sardine. So I'm not ashamed to say we drank cocktails at breakfast, lunch and dinner…… every day 😛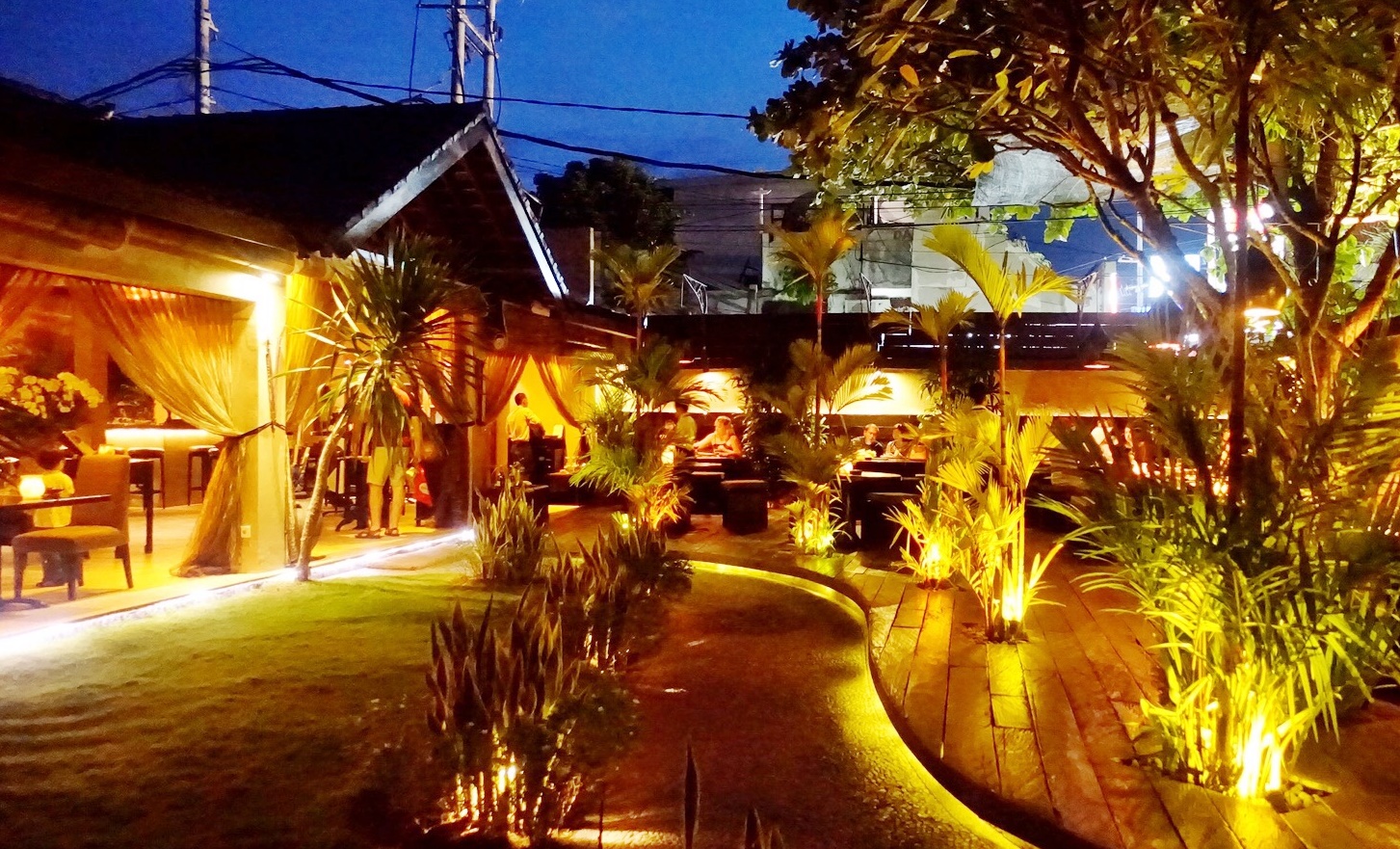 The other highly rated fine-dining restaurant we visited was Sarong, which is oddly situated on a busy road. But step in through the gates and it's like you're transported into a quiet garden. The place is huge! It's lit up so magically at sunset and service is so attentive you really feel like you're dining like royalty.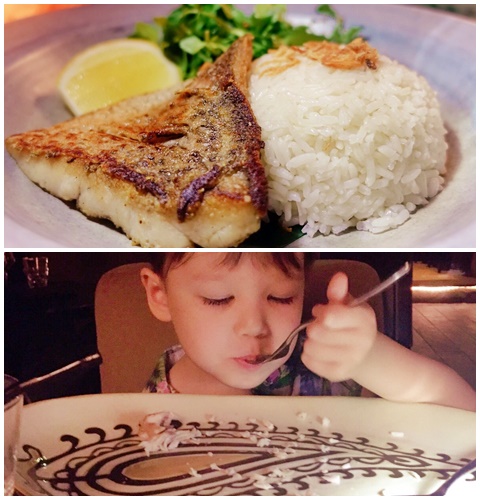 Of special mention is Sarong's kids meal. This was a big piece of oh-so-tender fish. As you can see, Hunter polished his off!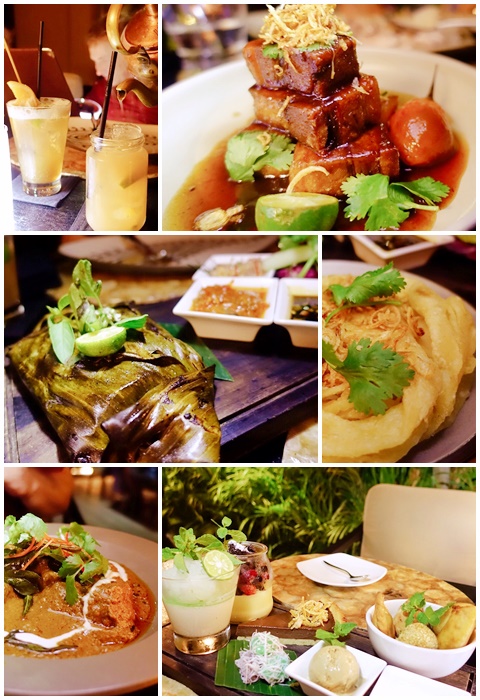 Chris and I ordered way more than we should have for two, but hey, you only live once right? We could probably have just had rice and cocktails and been filled, so all these dishes on top really added up.
Not to mention we went for the dessert platter which had 5 (?!) full sized desserts on it. Can you say sugar rush? 😉
I didn't photograph all the places we went to, so this is just a snapshot. But I was surprised at how much of a food paradise Seminyak, Bali is. You can see how we had a variety of cuisines, and all were top notch and worth a second visit.
I just absolutely adored Bali and can't believe it's my first time there! Perfect weather, perfect beach, perfect little boutiques, perfect dining. I think I could live there and be quite happy 😉
Let's Chat!