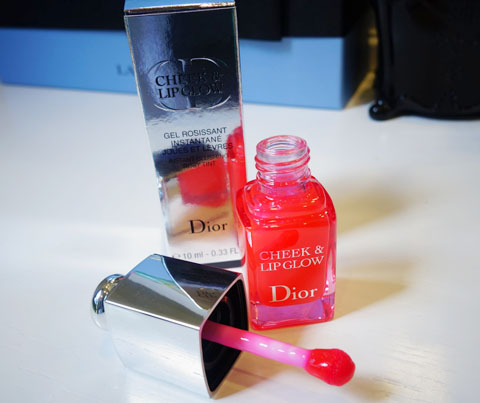 I can't seem to quell my irrational love for lip and cheek stains. Creme or powder blushes just don't last on me in SIngapore's humidity, and I will never be bothered to do touchups during the day. So it's stains all the way for me!
I LOVE the packaging of the new Dior Cheek & Lip Glow, which is released in their new Spring 2015 collection. It's shaped just like their nail polish bottles – a sleek, solid-feeling glass bottle with a screw cap.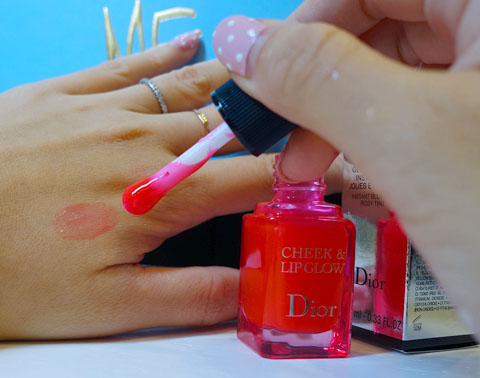 Dior's Cheek & Lip Glow comes in only one colour, which suits me just fine because it's a very versatile and soft tint that will suit most complexions IMHO. It looks like fluro pink (!) in the bottle, but softens to a sweetheart pink on the skin.
The texture, which you can see above, is a gel that's not too watery. This means it's easy to glide and smooth into the skin, but doesn't drip or shift before you rub it in.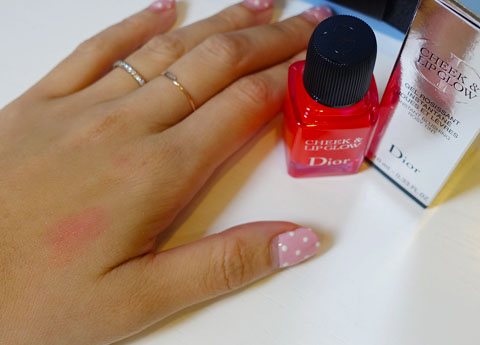 You only need a small dot on each cheek, then blend in quickly. You must have moisturized your skin prior, or have foundation on. Applying this on plain skin will mean the stain sets WAY too quickly and you'll end up with a strange patch of colour. But if you're applying to moisturized skin or on top of foundation, then it will blend in beautifully.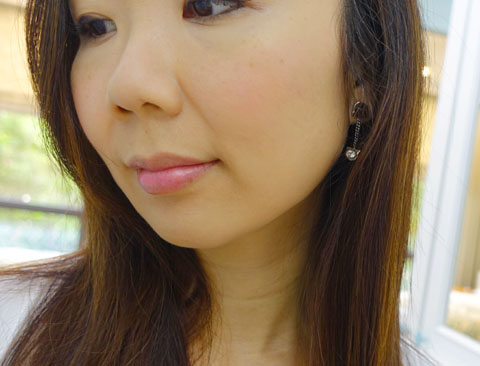 This is me with Clarin's new sunblock on (more about that another day!) and Dior's Cheek & Lip Glow on my CHEEKS and LIPS.
You'll see it's a very pretty babydoll pink, but not too out there and clownish. I reckon it's a nice natural glow that pretties you up enough to step out of the house with no other makeup on.
Longevity wise? This stain on the cheeks LASTS THE WHOLE DAY. In fact, I see the colour on my cotton pad when I remove it with makeup remover late at night.
The stain on the lips will lasts for a few hours, but not as long as when it's used on the cheeks. Understandable, considering food and drink touches our lips and it gets a lot more movement than our cheeks. It's very natural looking, though, and I like that just-bitten vibe. It's not drying on the lips, but I do use clear lipbalm on top because I'm a balm addict.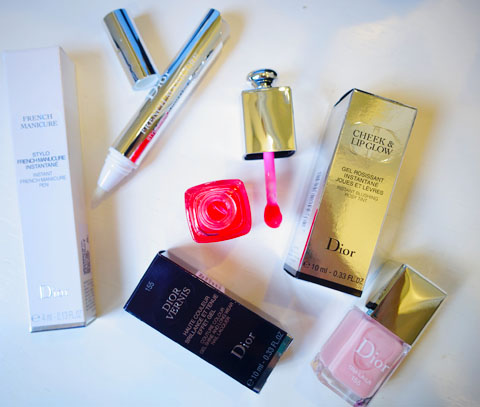 I'm also testing out a GORGEOUS shade of Dior nailpolish in Ooh La La, their Gel Topcoat (not pictured), as well as the Dior Instant French Manicure Pen.
I used the trio for a self-pedicure and it lasted for about 2 weeks with no chips – pretty impressive considering French mani/pedis are infamous for chipping easily! The pen makes it super easy to 'draw' on the white line on my tips. I'm going to do a French manicure on myself next! Will take pics then!
Let's Chat!