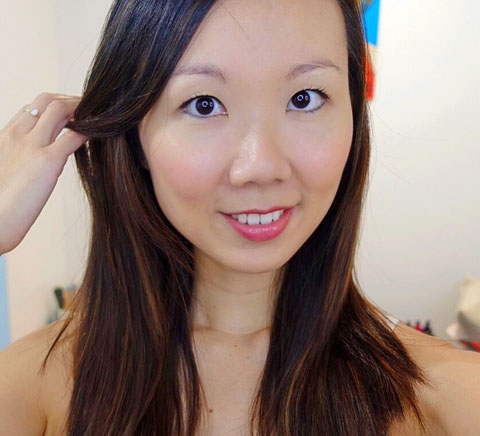 This is me and my au naturale eyebrows. I have fairly light eyebrows, but rarely draw them (too lazy). They say lovely eyebrows can really frame your face and elevate your look – with or without makeup. If you've ever drawn your eyebrows and seen the difference, you'll probably agree.
I recently did 4D Eyebrow Cloning at Private Room. It's also known as eyebrow embroidery, eyebrow tattoo, etc. In short, two hours of your time enables you to wake up with perfect eyebrows, 24/7, for around two years. For busy working folk or mums 'on the job' 24/7, this is a really practical solution to looking groomed with zero daily effort.
I'm really pleased with Private Room (more on the final result later!) because:
They're professional and legit. A lot of beauty parlors do this procedure, but I'm a bit dubious about them. It's permanent, at least for a few years, so I have zero tolerance for errors and a crappy job. Private Room were careful, precise, and were totally hygienic.
I was comfortable and calm. It was neither too hot nor too cold, I was regularly asked if I was comfy, and their calm demeanor is really helpful for people with first-time jitters!
They are a one-stop-shop. I was so happy to be able to get my nails done whilst lying flat on my back doing my eyebrows. Talk about killing two birds with one stone and not wasting time!
For this festive period of Chinese New Year, they are offering a fab discount!
Quote BEVERLY for $50 off 4D Eyebrow Cloning
(u.p $680, inclusive of free 1-time touchup worth $400 )
I also decided to do a Step By Step Pictorial Guide to 4D Eyebrow Cloning below, since both family, friends and strangers on the street have been peppering me with questions! Hope you like it and it helps!
Entering the premises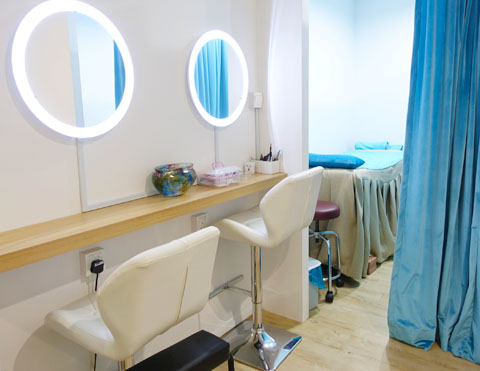 The area is cozy, comfortable, and clean. Albeit boring – they totally should show Before/After photos of all their clients! The vain part in me swooned with those ring-light mirrors. They're perfect for selfies! this is where you sit to plan your brows, and where they do their makeup services.
Behind you'll see one of the beds for doing face and body waxing, as well as eyelash and eyebrow services.
Planning your new eyebrows (15 mins)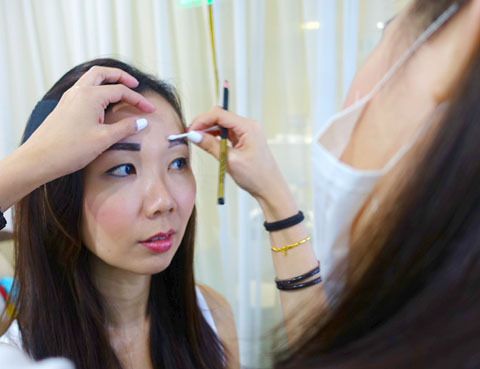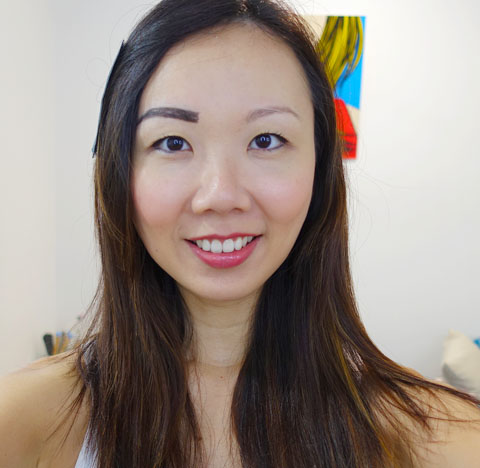 Their eyebrow expert uses dark pencil and draws on your new eyebrows for you, deciding on the final shape, length and arch together. I kept mine in-line with my natural eyebrows, so I don't have to pluck furiously in future. I wanted it thicker and darker, and the ends extended a little bit.
You'll see that the drawn-on eyebrows are extra dark. It's because it's filled in solid with the pencil, so is not indicative of the final result – since the final one mimics real hair! I thought the difference (see above photo) was HUUUUGE!
Application of numbing cream (10-20 mins)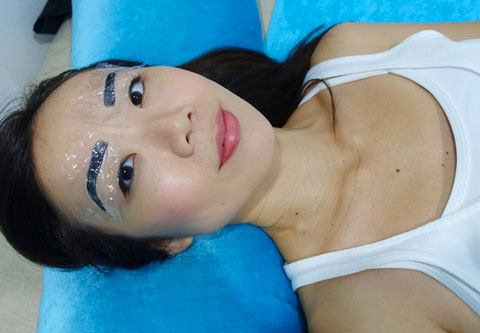 Firstly, the outline is of your eyebrows is marked (to make sure the result is still perfect, even if the numbing cream smudges the pencil). This just takes a handful of minutes and feels like someone plucking the perimeter of your eyebrows.
A smear of numbing cream is applied onto both eyebrows, and a piece of clingwrap placed on top. You lay back and relax for 10-20mins for it to work its magic. The amount of time depends on how fast your skin absorbs it. Mine was 10 mins and we were good to go!
The procedure (60 mins)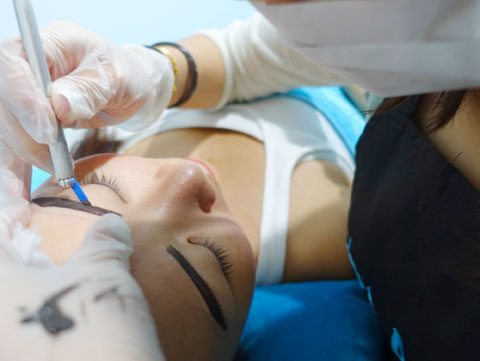 Down to the crunch! Here's a closeup of how it works. A very tiny and thin blade (sealed in packet for you only) is used to apply the ink into the skin. Private Room specialise in mimicking real hair, so it's a pretty laborious process for their eyebrow expect – can you imagine manually drawing on hairs?? This is why it takes awhile.
So, first, individual 'hairs' are drawn to create the shape you agreed on. This is what takes the longest time. After that, the base is filled in, with a slightly lighter colour. The purpose of the base is to give your brows more realistic depth, and extend longevity of your new brows.
The feeling is very similar to someone plucking your eyebrow hairs. It's not more painful than that (thanks to the numbing cream that really works, and can be reapplied mid-way if you're scared). However, it IS very…. annoying! Just imagine someone using their fingernail to do light scratches/strokes on your inner arm. It's OK the first few times, but it gets very annoying and a bit tender after they do it non stop for an hour. That's how I felt. I got really bored lying flat on my back the whole time (thank goodness you can keep your eyes open, so I could surf the internet on my iPhone!), and had an indescribable desire to swat her hand away from my face 😉
The result!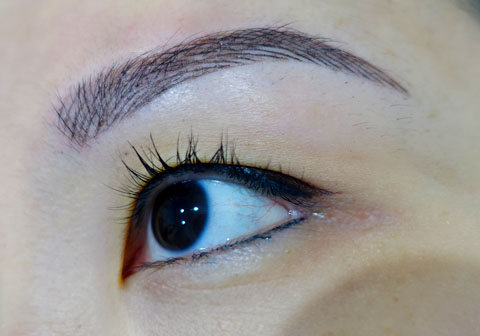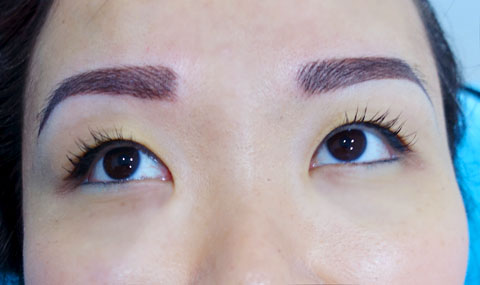 After the boring task of lying down for so long, it's DONE!! Peer closely and you'll see the tiny strokes of 'hairs' created in my new brows. It looks very realistic in real life! Note that it has a flushed tinge cos of the irritation of my brows being fussed with for an hour.. it vanished within about an hour.
The end result when you go home is incredibly dark and thick eyebrows. Chris called me a "grumpy Italian grandma" 😉 Like with getting any tattoo, it takes 3-7 days for everything to set, and the dark colour to wear off, revealing your final look. You apply vaseline twice a day to your brows in the meantime, to keep the skin rich and hydrated.
What to do to kill time during the procedure?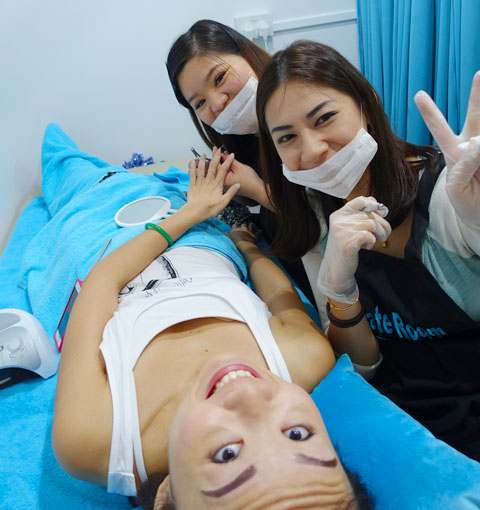 THIS! I did my gel nails (SG$40 for a full set) at the same time as I was doing my eyebrows. An awesome idea and I'd highly recommend it because A) you get another nice thing done in the same amount of time, and B) it takes your mind off all the fuss going on at your eyebrows. Especially recommend if you're the nervous kind and want a distraction from your eyebrows being worked on 😉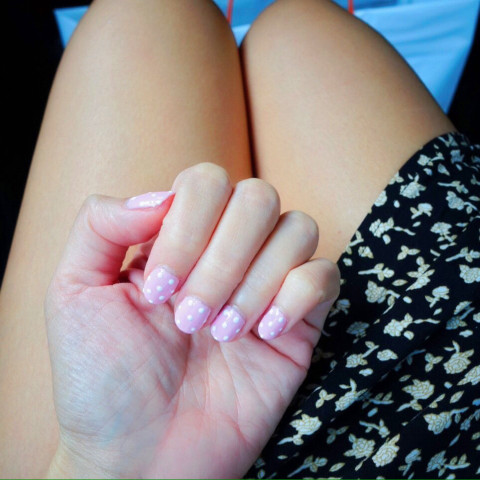 My gel nails! With adorable little white dots. My first time I've done nail art on gel nails, and I'm a total convert. It's worth it because gel lasts for ages!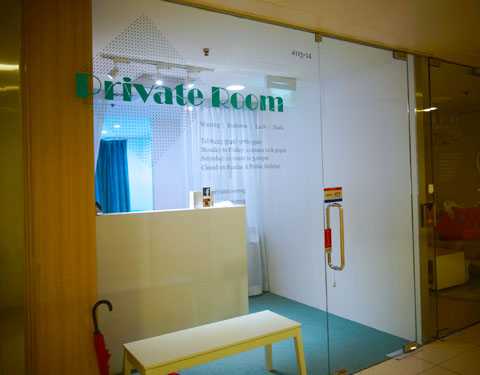 So here's the entrance of Private Room – where magic happens – haha. I'm very pleased and really excited to go back in a month or two for my touch-up. Then after that I might post up Before and After photos showing the difference! Squee!!!
They also offer other one-stop services like face and body waxing, eyelash extension, eyelash perming, eyebrow shaping, manicures/pedicures, and makeup and hair.
And for the particular, here's the official blurb: "Private Room Signature 4D Eyebrow Cloning is the combination of techniques to create a natural-looking pair of brows. The Eyebrow Embroidery creates the background and fills the parts of the brows that look empty so that a fuller look is created."
4D Eyebrow Cloning costs flat rate of SG$680, and this includes a free touch-up up to three months later (worth $400). This is significantly less expensive than another brow place here (that I was considering going to!), so I think it's a fab deal.
Plus, of course, with a neat little discount!
Quote BEVERLY for $50 off 4D Eyebrow Cloning
(u.p $680, inclusive of free 1-time touchup worth $400 )
Come check me out in one or two months time for the final result 😛
Let's Chat!