How cheerful is the entrance at Drury Lane? Such a stunning pop of colour among the shophoses along Tanjong Pagar Road. It's fairly simple inside, with (mostly) high countertops to sit at whilst nursing your cup of coffee. Needless to say, this place is about as un-kid-friendly as you can get! Sharp corners, high tables, and zero toys to play with or stuff to do. But they're not positioned as a mummy-and-me cafe, they're positioned as a hipster cafe, and that they do well.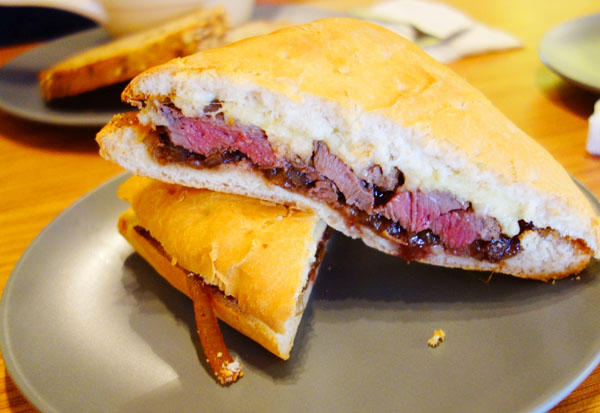 They've done something amazing to their Steak and Cheese sandwich ($8). And I mean, AMAZING. It looked a little woeful and plain (not even the decency of a side salad!), but was one of the best steak sandwiches I've had. Warm soft bread was stuffed chockers with big fat chunks of steak. And look at the steak! It was perfectly pink, and insanely tender. It was so tender it required little chewing and with zero stringy bits (OMG I hate it when steak has all the tendons running through it!). The onions were caramelised and so deliciously soft and sweet, and the melted cheese was tops.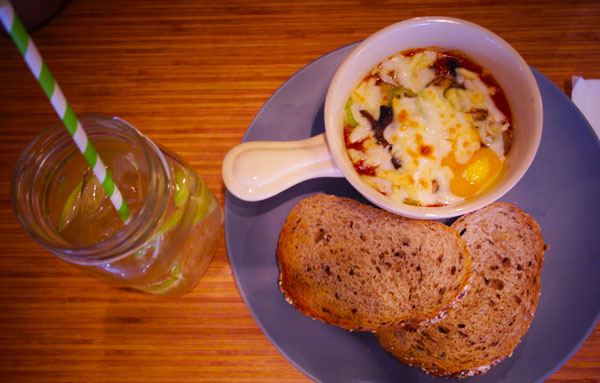 My girl friend had the Potato and Leek Baked Eggs ($10) which I thought was pretty good value for a cafe. The eggs were baked gooey, and could be slopped on the two slices of sourdough bread.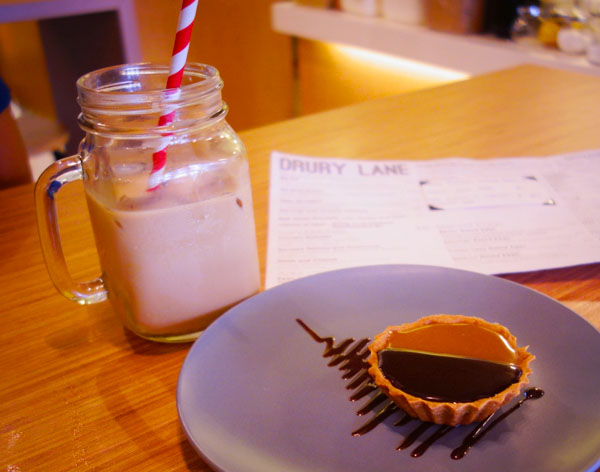 My adorable Iced Latte, served in a mason jug and topped with a colourful straw (nice touch!).
And…. their Salted Caramel Chocolate Tart ($4). I never say no to this when I see it on a menu – despite me being at Drury Lane early in the morning for breakfast. Hey, who says one can't have dessert at breakfast time? 😉
The pastry was rich and buttery, and the salted caramel paired so well with the dark chocolate. The filling was a bit runny, spilling all over the plate so we had to frantically scoop with our dessert forks, trying to collect all the goodness and stuff it into our mouths. Perhaps it's designed for you just to stuff the whole thing into your gob, and not divide it with a fork 😉
I thought Drury Lane was good value for money, and had really good food. I'd definitely be back for that incredible steak sandwich!
Let's Chat!