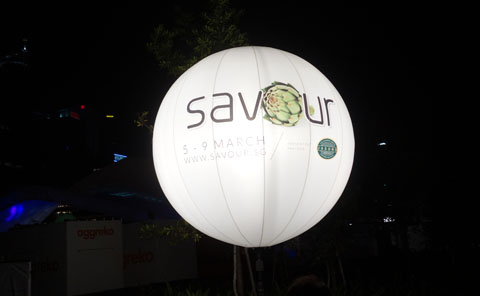 My girl friends and I, on a whim, decided to hit Savour, the yearly fine food festival in Singapore. We went without kids or husbands, so it was a purely girls night out. Very novel and very rare for us, so it was much appreciated!!
The event was split into two sections – one was the gourmet supermarket area, owned by Jasons, and the other was the dining area, which featured dishes from the top restaurants in Singapore.
We hit the gourmet supermarket area first, and were STOKED! There was so much food there, and tons and tons of sampling. To be honest, we were almost filled up just from nibbling on samples alone….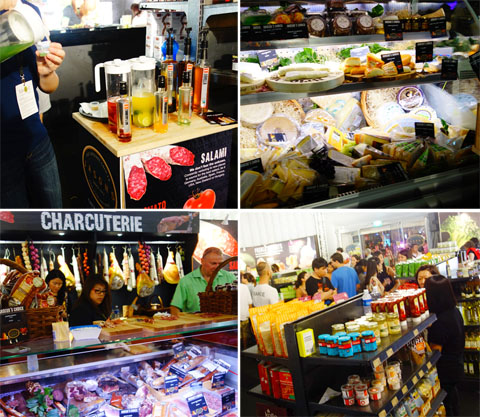 There was also much wine sampling to be had. Hurray!!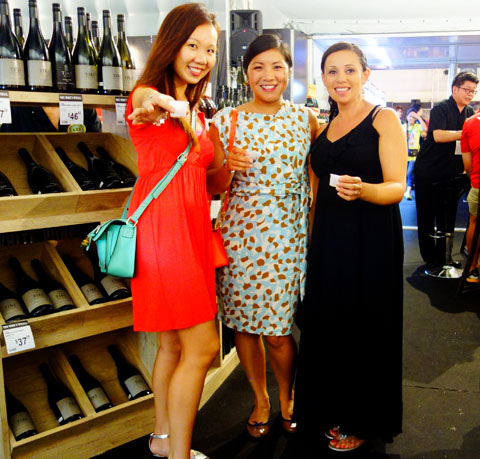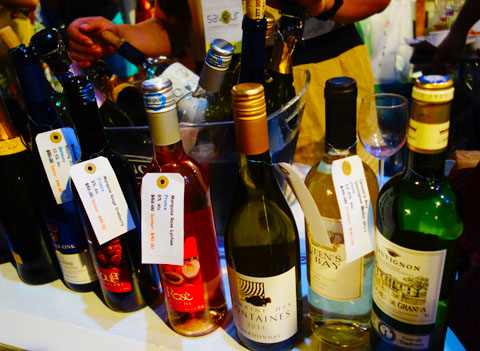 The dining area was outside, and it was a lovely and breezy evening, so we really enjoyed ourselves. The event had people there, but it wasn't so crowded that we had to queue for anything (I abhor queuing and get really stroppy if I have to queue for more than 5-10 mins tops). It was actually quite chill there, so we had lots of time to wander around.
Check out this kinda freaky lamb-on-a-spit! It looks fairly normal in the photo, but is actually a bit scary to see a full animal being carved up in real life… I totally see why vegetarians would recoil at the scene, and why they swear off eating meat. For me, though, I'm far too greedy and love food (including meat), so suffice to say I'll never be a vegetarian or I'll likely starve to death.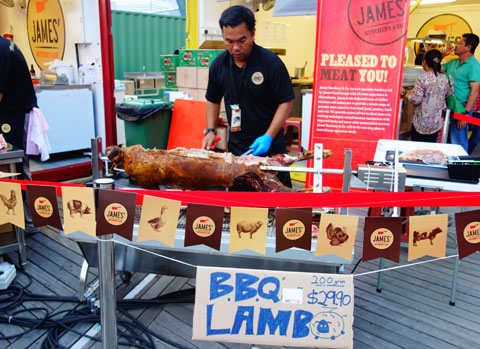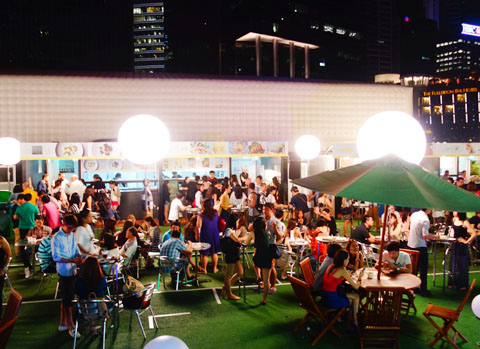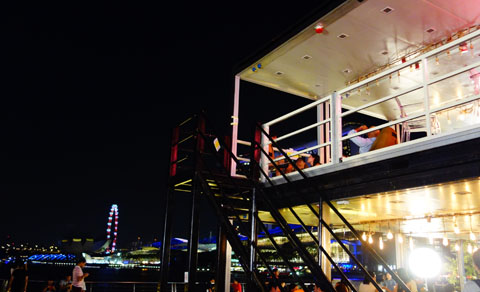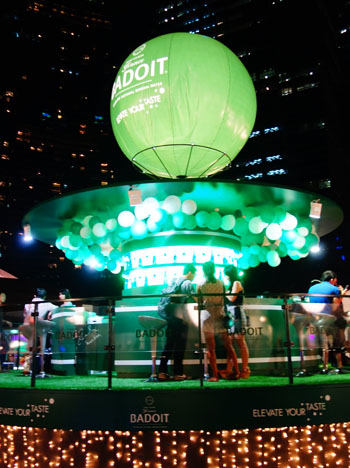 The chefs from all the top restaurants were out in full force. Each stall had their own fully equipped kitchen, which had me so impressed and amazed – can you imagine the effort and cost to set up the whole event?!
Each stall were showcasing and selling their signature dishes, which was around 4-5 dishes per stall. It was actually pretty hard deciding what to get – everything looked awesome.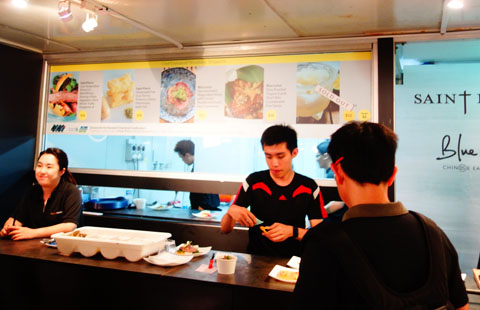 The &SONS Linguine, crab and nduja was AWESOME. The linguini was milky and smooth, and there was copious amounts of crab meat – impressive. The dish was packed with flavour, with the sweet crabmeat balanced out with the saltiness of the nduja (sausage).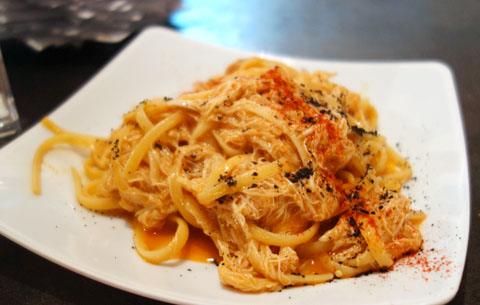 We also had &SONS Roast Cod & Salsa Rubra. Silky cod, finished with a smokey grilled flavour. I would have liked the cod sliced a little thicker, but overall this was lovely.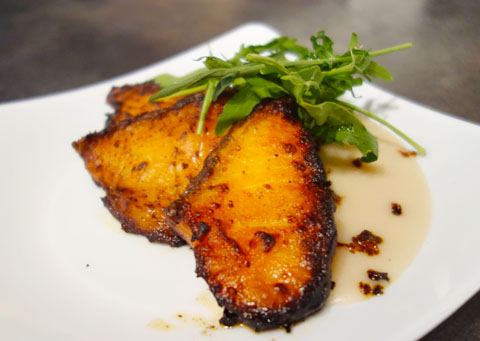 Saint Pierre's Homemade Foie Gras Terrine Tempura, Lobster Mayonnaise, Apple Salt was, by far, my favourite dish. HELLO, it's deep fried foie gras. How can you possibly go wrong??? The tempura batter was crunchy and airy, and the foie gras was half molten inside. It was luscious. I could eat this every day.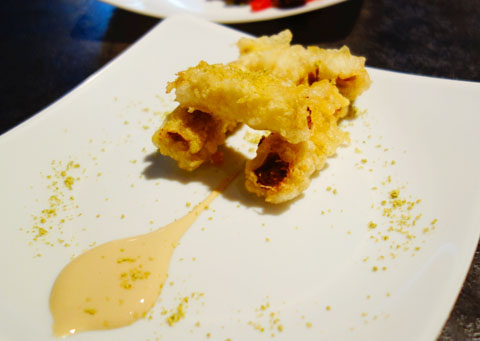 I was in heaven over The Disgrunted Chef's braised pork cheeks, miso daikon, mousseline potatoes as well. I've never had pork cheeks, and was very delighted with this version. They were meltingly tender, with a rich gravy poured on top. Gorgeous.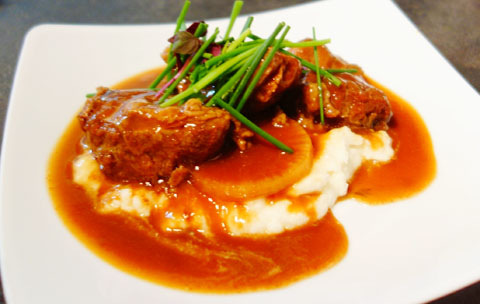 I found the Gidleigh Park Pan fried red mullet, thai puree, ferrel, dill and lime salad, tomato fondue to be the least interesting dish of the night. Pan-fried fish never excites me, so it's probably a personal thing. This was a simple pan-fried fish dish for me and, though it was well cooked and beautifully presented, it was pretty boring to me.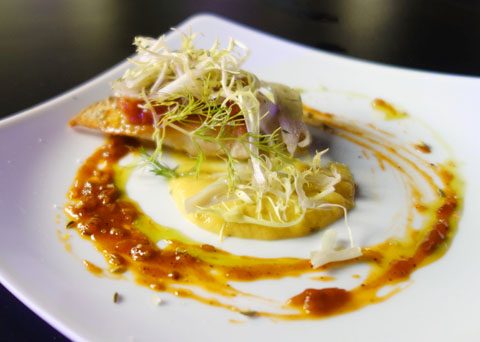 Toward the end of the night, we were running out of cash coupons, so we were treated to heavily discounted Stellar's cocktail slushies!! Happy day!!! Made with Pink Guava, Pineapple & Belvedere Vodka, they really hit the spot.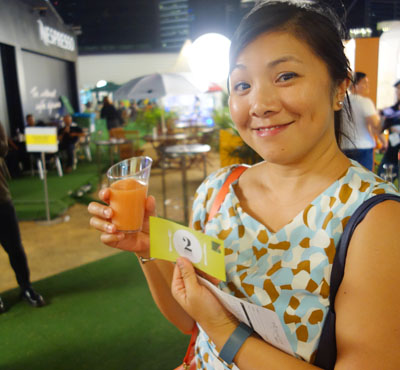 The Stellar Chocolate violette earth with strawberry blossom sorbet looked a bit odd to me – it was bright blue!! However, one taste and I was totally sold. The sorbet was so refreshing, and paired well with the chocolatey cookie 'soil'. The purple/blue colour was actually violet cream, and was smooth and creamy. It was a unique dessert that I've never seen before, and I loved it.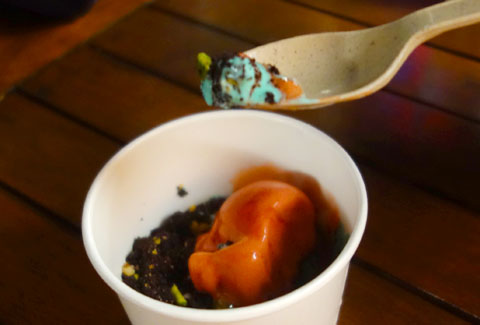 I think Savour is a bit on the pricey side, but makes a fun night out sampling various food and enjoying the cool evening breeze. Will I check it out again next year? Probably!
Let's Chat!