So I had the brilliant idea of taking the kids to Jurong Bird Park, especially since I scored them on Groupon at a 50% discount. I bought 4 adult tickets, thinking my parents could bring Hunter by themselves on one occasion, and Chris and I could bring both kids on another. Best bang for the buck since Hunter would get to go check it out twice!
Yeah.
So stupid me forgot all about it, or rather forgot the expiry date. I only realised it 2 weeks AFTER they had expired!!!! But on the phone, I really did think the customer service lady told me to just come in that day and it should be OK.
So I decided that Mum, Dad and I should go (Chris was away in San Francisco and Japan last week on business) and just forgo the 4th ticket. But when we got there, they wouldn't let us use the expired tickets after all.
SIGH.
It was entirely my fault, so I couldn't exactly make a big stink about it (though it reallllyyyyy annoyed me when Groupon put up another deal a few days later!!). So anyway, we paid for full-price adult tickets all over again since we were already there and Hunter was longingly pleading "Go innnnnn!" and I felt so guilty.
And now that I have told you that story, we shall speak no more of it because I am still super pissed off I lost so much money on these tickets, and I have no one to blame by myself *ANGRYFACE*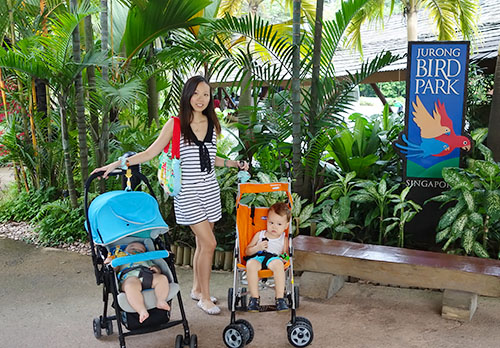 I particularly like this photo below because, as we were walking, Hunter grabbed my hand and earnestly said "Mama. Take photo of Hunter here!" and scurried across the grass to this particular spot. I realised he wanted a photo there because there was a tram there that looked like a train (his obsession), which you can see in the right of the photo. Anyway, it was meaningful to me because it was one of those times where you realise your little baby now has a mind of his own, and desires, and can express them clearly to you. It was just nice 🙂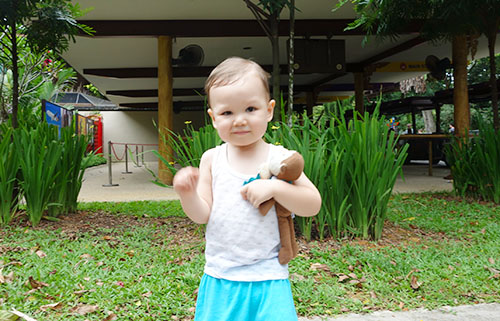 Of course, he got to go on the tram. It's $5 for unlimited rides but being a bit daft, we only got one go on it because it stopped running at 5PM, which we didn't realise! Grrrrrr. He did love it, though 🙂
We also managed to catch one bird show, which was a terrific one. It included lots of various birds, so actually, if you were lazy, you could just watch the show and get to see most of the birds and not have to walk around the park! It was interactive and fun, and Hunter and Carter had a blast 🙂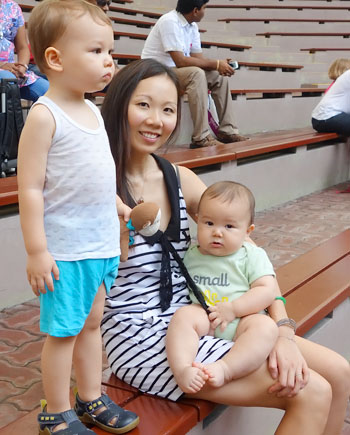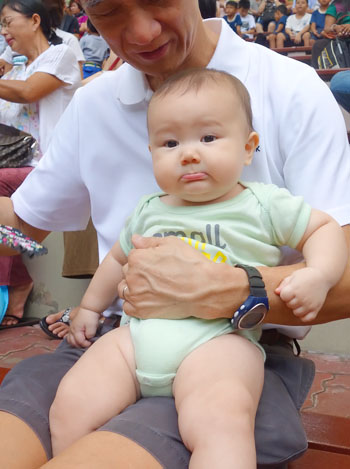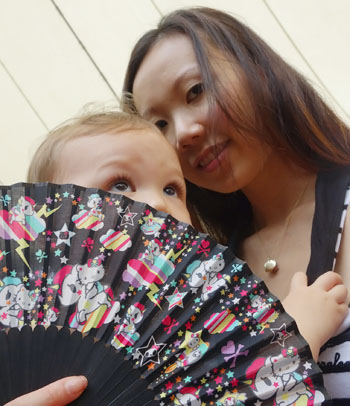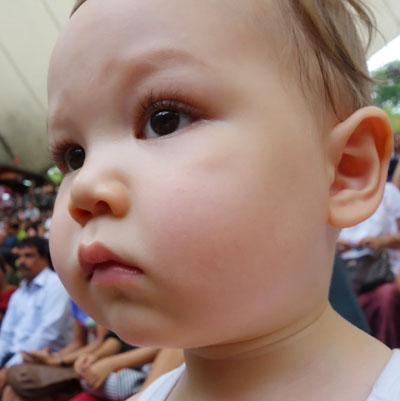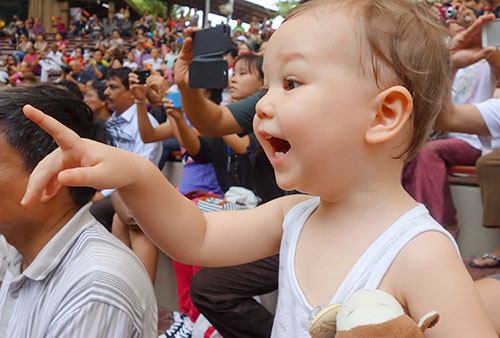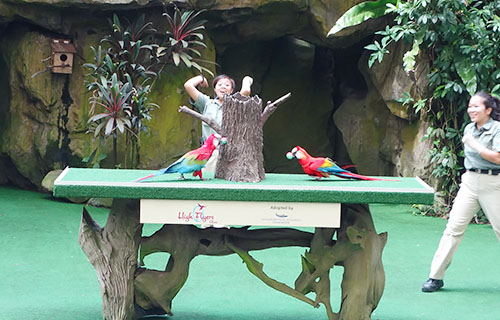 One of the parrots was trained to speak, count AND sing!
httpv://youtu.be/8oQKnLqIwno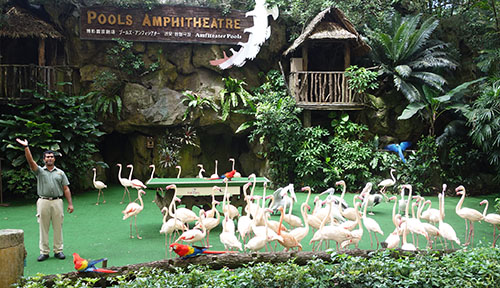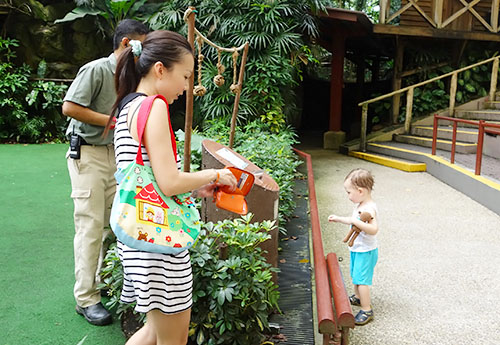 There are also quite a few enclosed air-conditioned areas… HUGELY appreciated 😉 They came in especially useful when Hunter went down for his 2-hour afternoon nap, as we could scoot from one enclosure to the other and still keep him cool and comfy.
One of the particularly fun ones was the Penguins, because they were all fat and waddly and very active! Both kids gawked and had great fun watching them swim around.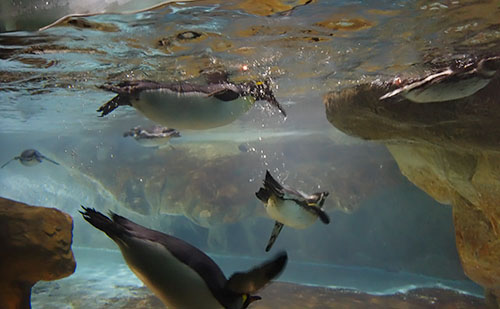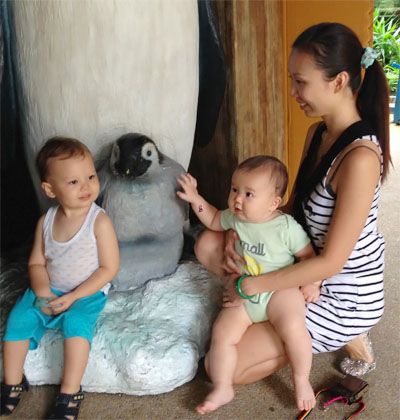 It was hot and I really hate Singapore's heat and humidity, but it didn't seem to affect the kids at all. They were very pleased and Hunter was walking/running around, not bothered to be sweating at all. Guess that's a good thing!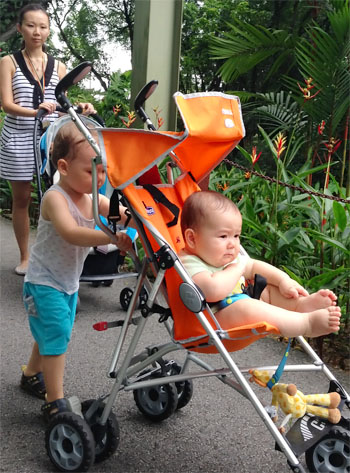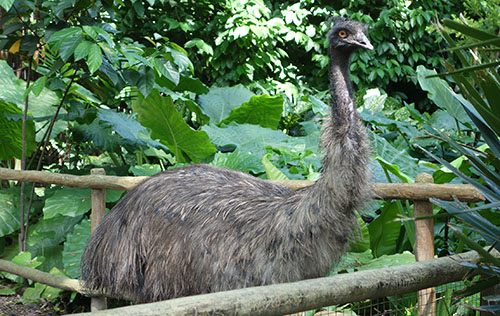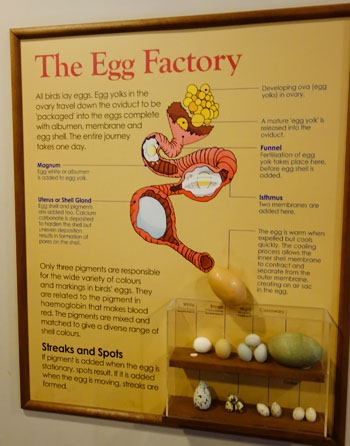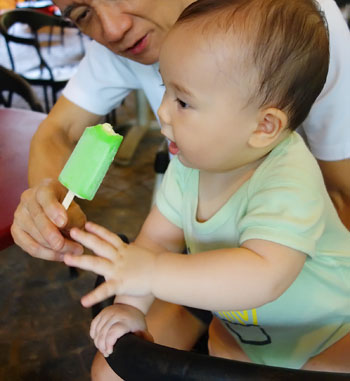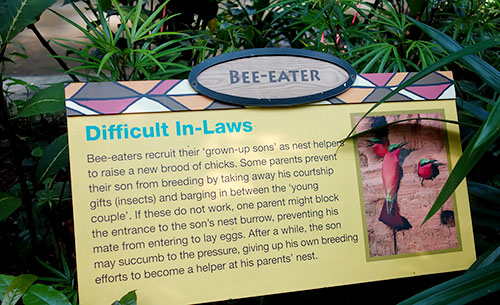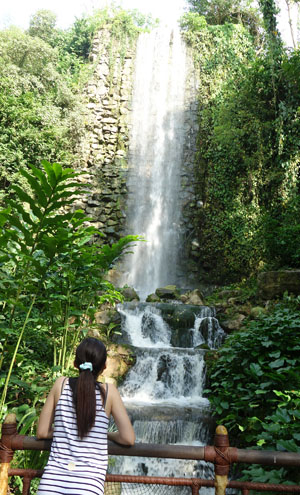 To cool off, we plonked Hunter in the water park. SUCH. A. GOOD. IDEA. Thank you Jurong Bird Park for doing this!
That said, Hunter was veeerrrryyyyyy iffy about it.
You know him – he's always so worried about his well-being! So he was SO CONCERNED about the big bucket up in the air that tipped over with water once it was filled up….. sloshing everyone below with water. Obviously kids love that sort of stuff and actually like to stand underneath to get splashed on. But not Hunter. I kept trying to drag him toward it, and he would pull me back, going "Mama CAREFUL. Water spill. Wet."
So to be honest, he didn't really get on the fun stuff at all, cos it was just too… errrr… wet, for him. He didn't even go down the slides which were so much fun!!!!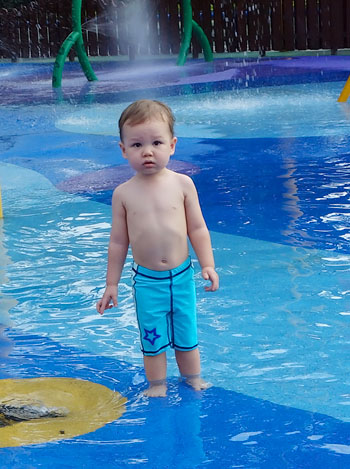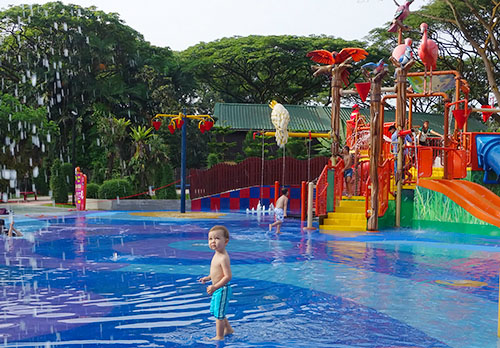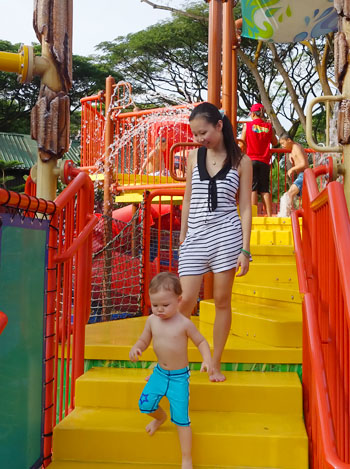 Right next to it though is the DRY playground, and he did love that. He felt much safer! We had fun on that… until we were kicked out since it was closing time.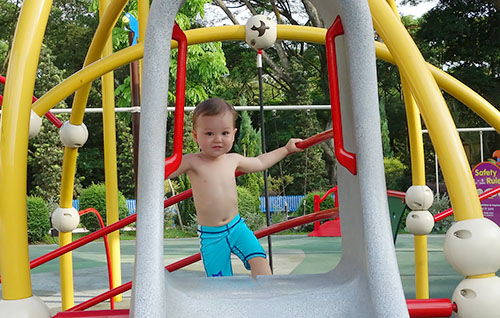 It was a fab outing for the kids and a nice activity to do together. If only tickets were half the price! I'd go there just for the big bird show, and the waterpark 🙂
Let's Chat!