How gorgeous is this?
Gardens By The Bay is one of Singapore's prettiest attractions, IMHO. And especially more so if you love flora and/or have a young family in tow.
It's a sustainable and environmentally-friendly (gigantic) garden that was built from scratch by the government and it is just W-O-W.
I don't consider myself a 'nature' person, but I still really liked pottering around in there, and seeing how fascinated the kids were with all the sights and sounds.
Hunter, of course, loved the tram ride. Except he only got to ride on it once for all of 1 minute (just to the next stop) because we didn't realise they stop running at 5PM, d'oh!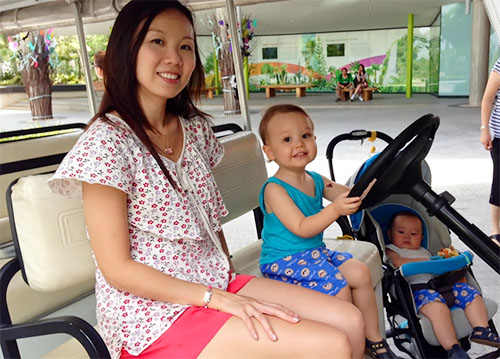 The Cloud Forest recreates a mountain with a sky-high waterfall. It is incredibly….. moist! The moment you step in, you're greeted by that giant waterfall and mist is constantly pumped into the whole area. Think damp hair and skin. It's actually pretty refreshing because it's also rather cool in there, but if you're a bit of a vainpot, don't go when you've just blowdried your hair or it'll fall flat 😉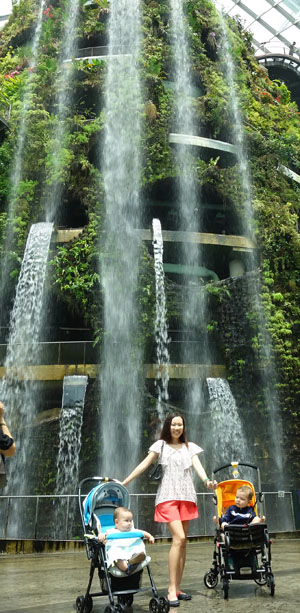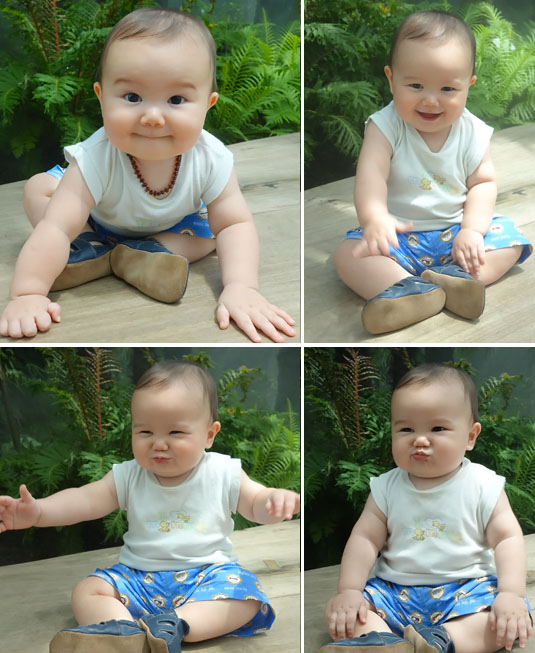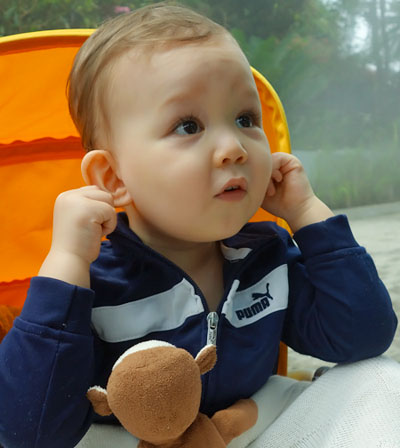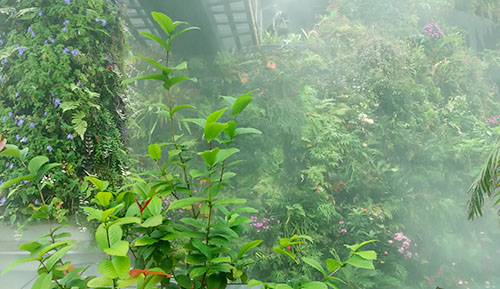 There is also, a bit randomly, a miniature town and train. I believe the trains actually run along the tracks, but were under maintenance when we were there so we could only look at them sitting stationary on the track. Didn't seem to matter to Hunter though, who was pretty overjoyed to spot "choo choo trains!!!"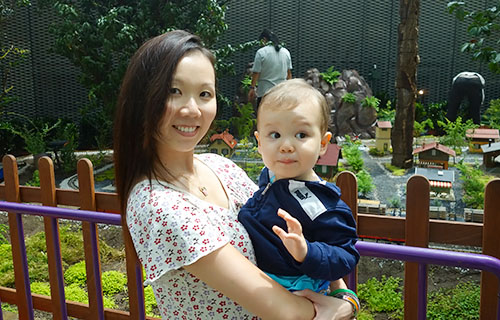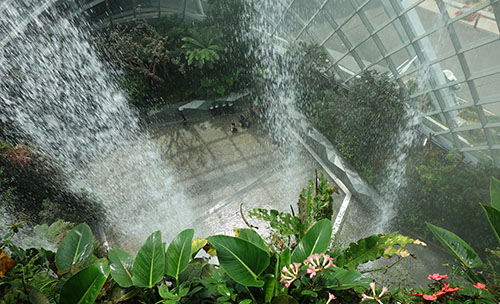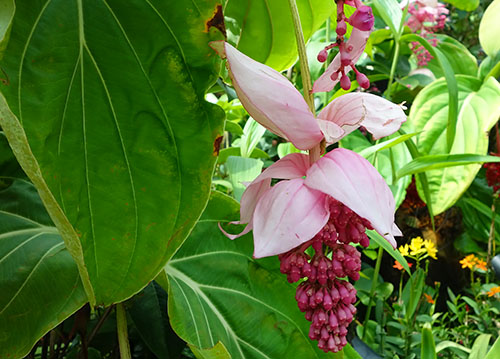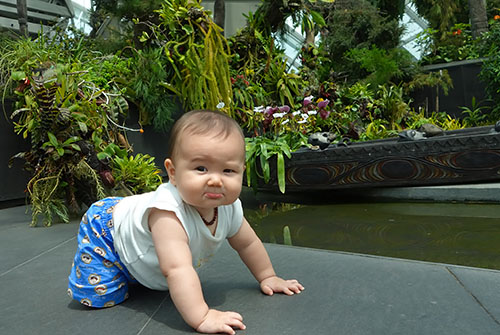 There's a sky-walk thing that circles around the 'mountain' and makes for a gorgeous little walk. If you aren't afraid of heights. One of the few times you can walk under the sun in Singapore and it's super cold, thanks to the huge glass dome!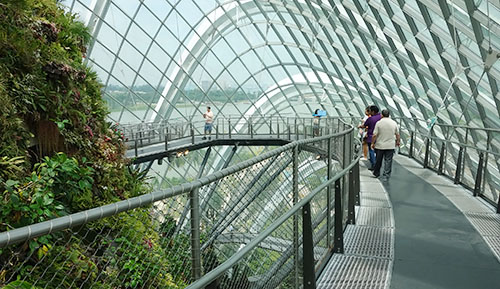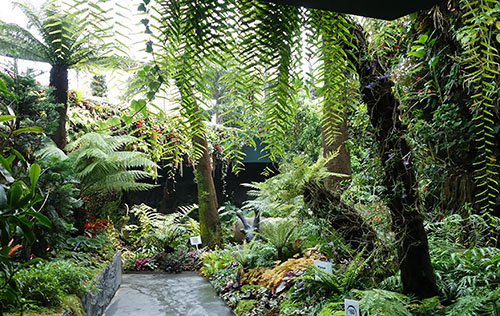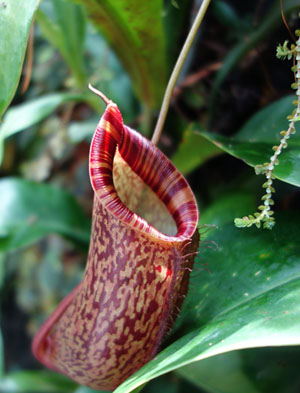 We also checked out the Flower Dome. It's an expansive area boasting plants from the Mediterranean and semi-arid subtropical regions. Think cool and dry versus the cool and moist air of the previous dome. Reminds me of Australia, actually.
Hunter did his 2-hour afternoon nap in here, and I have to say, this dome makes an awesome nap spot – cool and comfy! 😛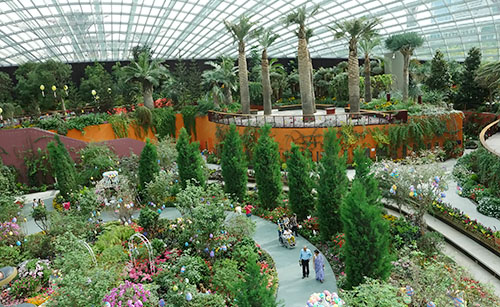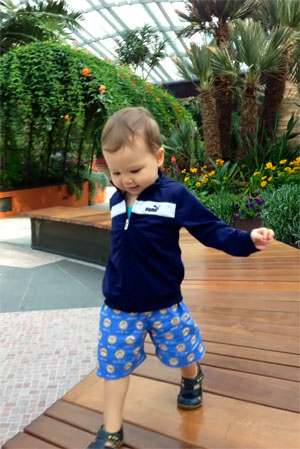 The Easter decorations were still up when we went last week. Eggs and bunnies galore! They change the theme around 4 times a year (I think?).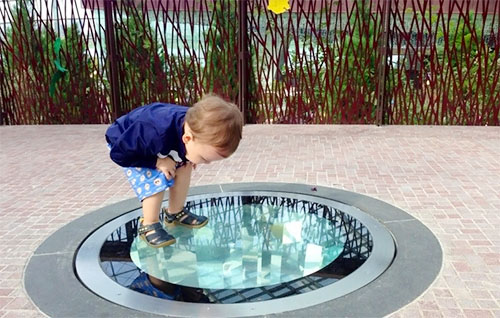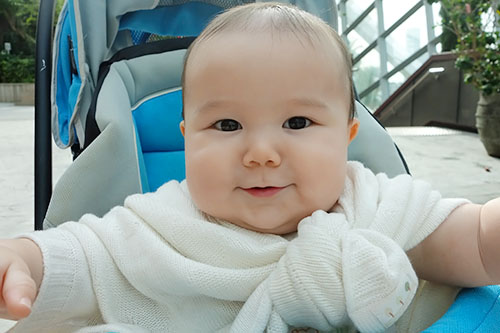 This pic below makes me smile. Hunter went up to take a photo with Carter, and dished out big hugs and kisses to his baby brother for the camera. When Carter flapped his arms in pleasure, Hunter mimicked him. And here's the photo 🙂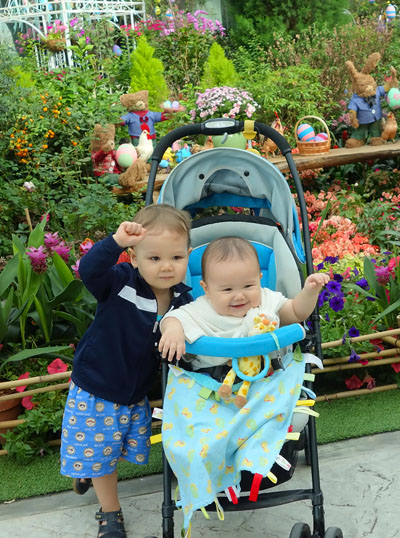 Let's Chat!