Level33
8 Marina Boulevard
#33-01 Marina Bay
Financial Centre Tower 1
Singapore
PRICE: $$$$
RATING: ????-
I personally would describe Level33 as an expensive but gorgeous micro brewery and restaurant. I'd never been before (I live under a rock and barely know any 'nice' places around Singapore) so was very keen to go check it out when a girl friend suggested it.
It's in the Marina Bay area, among the financial towers that I'd never been to before either. The area isn't exciting though, to be honest. Mostly just offices and a scattering of shops, all set in a very sleek environment.
Level33 has it's own lift that goes from Ground floor to the 33rd floor, which really impressed me. I wanted to take a photo of the lift button (which was just ONE button and simply said, "restaurant") but there was a guy next to me watching me hold my camera and I didn't want to come across like I come from some backwards village or something. So I refrained 😉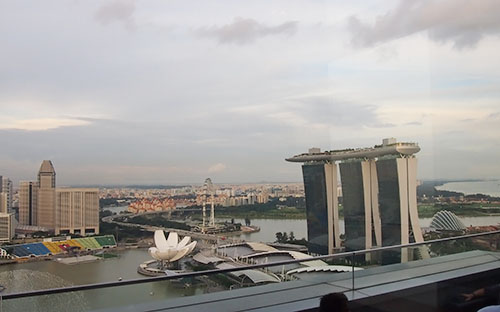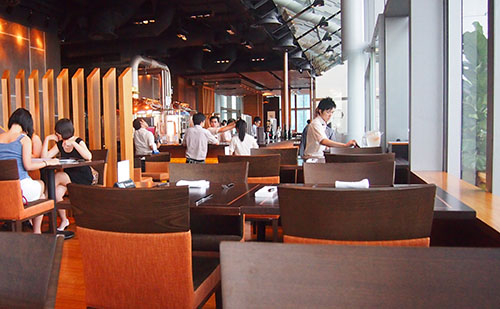 I arrived the earliest and the waiters there were really lovely and attentive. It seems a lot of people go there after work for drinks and nibbles.. and the vibe was very Shanghai. In fact, it felt like I was right back in Shanghai and dining by the Bund again. Ahhh… memories…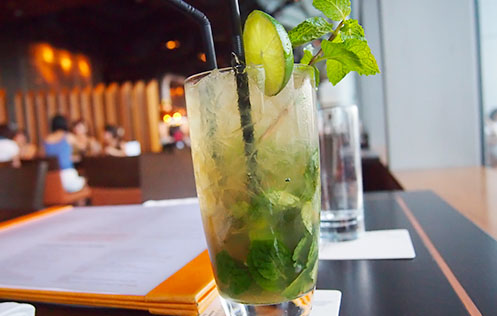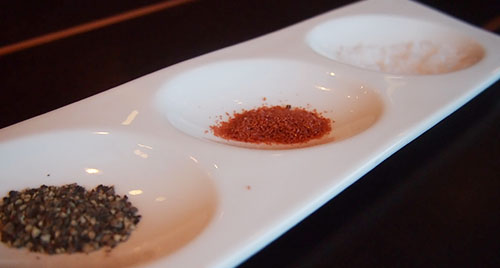 We ordered from the Bar Bites menu and Starters menu, instead of having a Main meal each. We figured that it worked out more fun that way, because we could order more dishes and have a greater selection. It was a fabulous idea because I like that so much more than getting stuck with just my one main dish!
The Hand cut fat chips and rock salt served with 33.1 Blond Lager infused ketchup was surprisingly small for the $10 price tag. I love my fries, but I do prefer them not so thick. These were the thickest fries I have EVER seen – each one was the size of a small potato 😉 I love the deep fried coating and salt on fries, so this was was more like eating… mash potato? It was OK but not spectacular, since it's not my thing.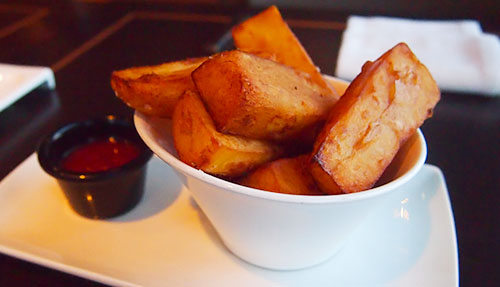 The Sizzling 120 days aged cubed Angus beef with wasabi and soy was teeny tiny but was a STUNNER. The beef was perfectly seared on the hot plate and absolutely tender and tasty. It didn't even need the dipping sauce, it was that good.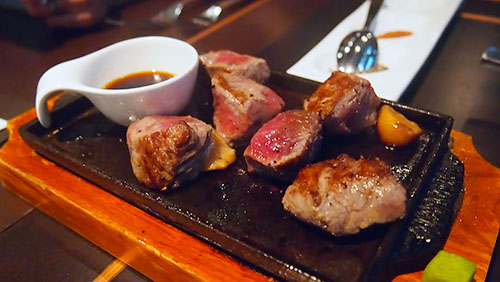 The 33.1 Blond Lager tossed whitebait, chilli rock salt and roasted garlic aioli had fish was was surprisingly big, almost like fish nuggets-sized. The batter they were coated in was light and delicious, and the aioli was creamy and mild. A lovely dish to nibble on.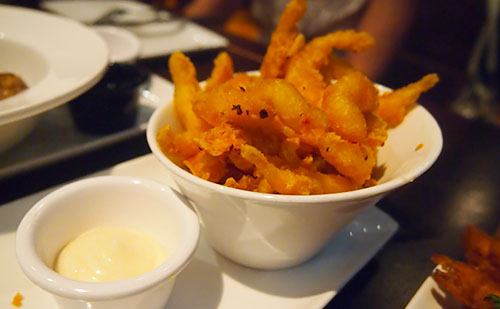 I suppose the most shockingly expensive dish was the Porcini raviolacci, watercress soup, ricotta, white truffle oil and black olive dust. It had FOUR (!!!!) gnocci type things in it. But the gravy/sauce it came in was a stunner – and we mopped it up with our bread.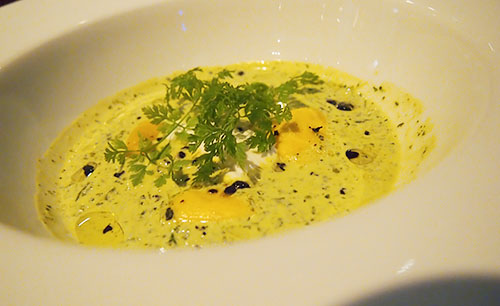 My other favourite dish was the Soft shelled tempura crab with chilli palm sugar syrup. Not much of a surprise since I love soft shelled crab. It arrived looking really deep fried, so I thought it may be tough/hard. Not so, the crab was huge and had lots of plump meat, and the batter was lovely. So good!!!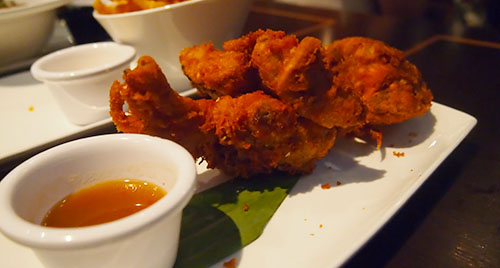 Best value of the night went to Danish style pork meatballs with pickled red cabbage, which had 6 large meatballs and were so tasty. It would have been even better served with a rich gravy, but it was still good as-is (served with some mustard).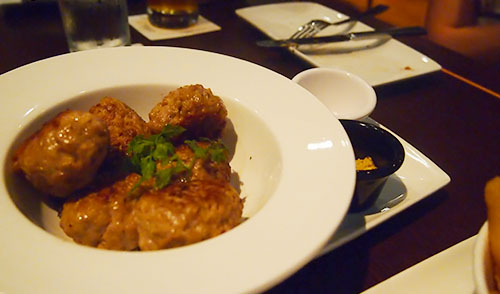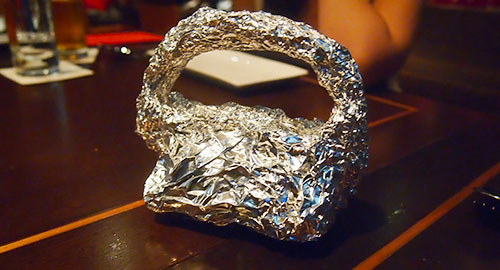 We adjourned to the el fresco balcony outside to enjoy the cool night air and the pretty city lights of Singapore. Singapore's really gorgeous at night, and we had lovely views of the water and MBS.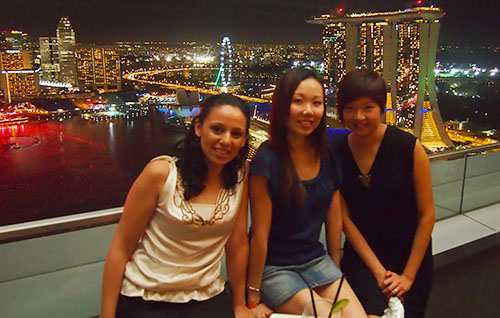 We really enjoyed the Sticky date pudding, bourbon infused caramel, macerated dates and praline ice cream, and I particularly liked the ice cream. It was a small portion but thoughtfully presented and really hit the spot.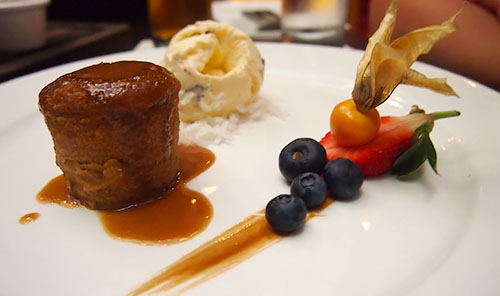 Best dessert was the DIY chocolate truffles with soft Valrhona ganache, cocoa powder, coconut flakes, crushed nuts, nougat and praline. HOW FUN IS THIS?? You stick a toothpick into a truffle and coat it with whatever you fancy. I actually had the truffles plain, because the chocolate was A-M-A-Z-I-N-G. I'd get this dessert again any day. So fun to share among friends too 🙂 Which you'll need to, unless you feel you can consume 10 (really rich) truffles by yourself 😉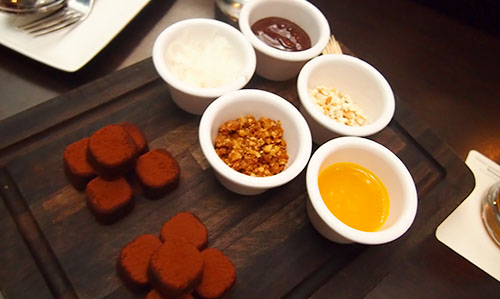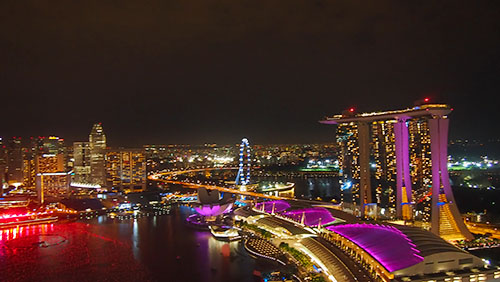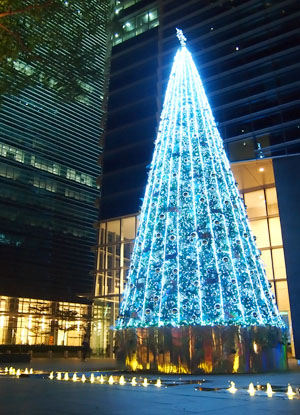 Let's Chat!