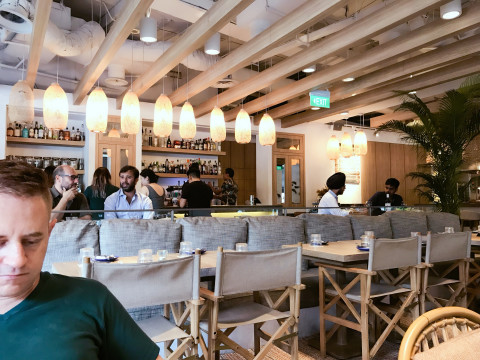 A new restaurant has opened up in our neighbourhood, taking over the space formerly occupied by Soi 60 Thai. It's called Summerlong and the name couldn't be more apt!
Summerlong is all about light wood decor, comfortable yet refined dining, and lovely soft yellow lighting. It definitely reminds me of the beach and of summer.. and is at prime time real estate along the Singapore River. It's right next to Super Loco, another one of our favourite restaurants.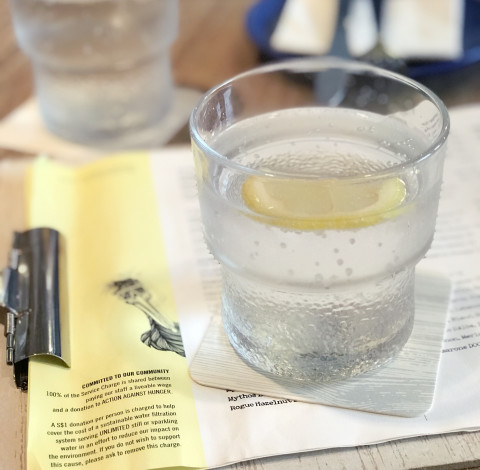 One thing to point out about Summerlong is that they serve Still or Sparkling Water, chargeable at $1 per person. Normally this infuriates me, but they do donate part of this to Action Against Hunter charity… so that, combined with the beachy holiday vibe, lulls me into paying for this 😉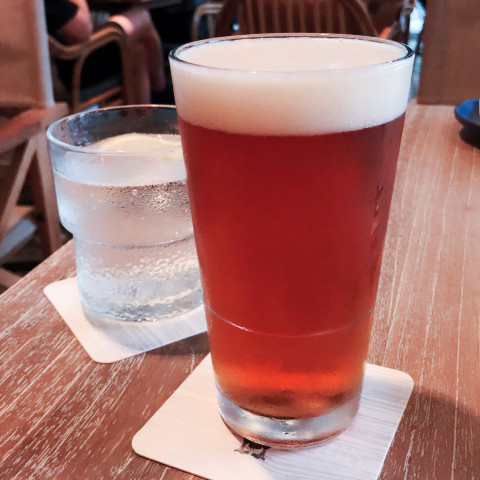 The Deschutes 'Fresh Squeezed' IPA beer ($12) isn't easily available on tap in Singapore, and it's pretty well priced here. The beer is DELICIOUS. I dislike sweet drinks, and this is refreshingly 'hoppy' and light. It's punctuated with a citrus and grapefruit flavor profile.. and really is at home with the vibe of Summerlong.
Summerlong is all about Eastern Mediterranean food, and virtually every dish on their menu delighted us. They aren't cheap, but they aren't exorbitantly priced either. That said, we would appreciate it if the meal portions were larger, they are a tad petite for us!
The Greek Style Burratina, tangerine, coriander, honey ($16) is my favourite dish here, and probably the best burrata I've ever had. Something about the combination of fluffy cold cheese and that honey/tangerine/coriander mix that is SUBLIME. Seriously sublime. This is an absolute must-order and, despite looking so simple, is an exquisite dish.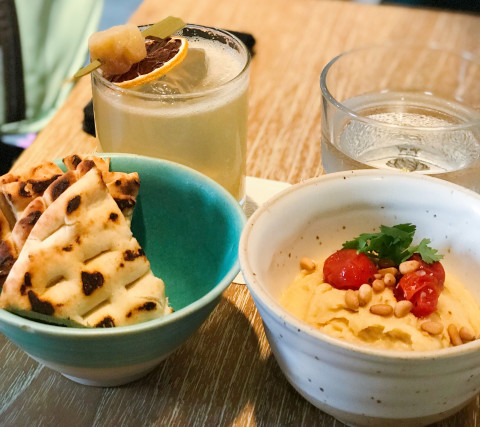 The innocuous looking Lemon & Garlic Hummus ($7) is also delicious. The hummus is creamy and studded with pine nuts and sundried tomatoes. The only odd thing is that it comes with 4 (very tiny) wedges of pita… which are sufficient for half the hummus, at most. This of course means you'll be obliged to order another serving of pita, for $3 extra. Cheeky, cheeky!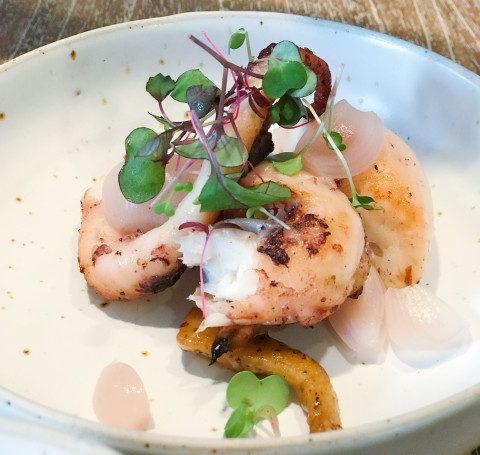 Another must-order, right here. The Chargrilled Octopus, parsnip, garlic, honey ($19) is sous vide first, before being chargrilled to smokiness. The result is an incredibly juicy and tender octopus, way better than many other restaurants'. The portion size is so so petite, though.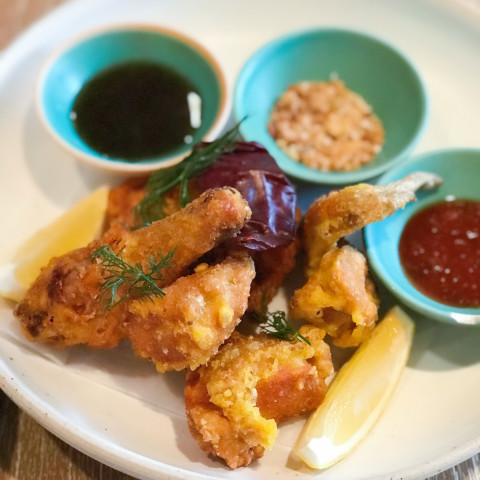 This sounded really enticing on the menu, but the Persian fried chicken with mint-honey sauce, harrisa, dukkah ($25) didn't quite live up to our expectations. As Chris put it, "considering this is fried chicken, it needs to be at least twice as good as Texas or Popeyes fried chicken, to warrant the price".
Well… it's not. The chicken pieces were rather tiny, so you get a scattering (three, to be exact) of breast meat nuggets (about the same size as McDonalds nuggets), and a chicken wing (mini drumstick + mid-joint wing + wing tip). The meat itself wasn't very juicy or tender, though the batter was delightfully crisp and well seasoned.
The 3 sauces it came with were disjointed and did not complement the fried chicken at all.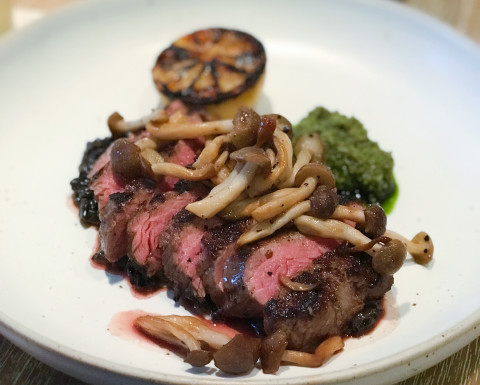 This main is a winner, and will hit the spot if you're craving a bit of red meat. The Sea Salt Crusted Striploin, mushroom duxelle, harissa is, from memory, $30-something, but I've forgotten the exact price. It's one of the highest priced items on the menu, but this is also one of the best mains.
The Striploin came out beautifully pink, yet charred on the outside. The meat was simply sublime! So tender, so flavourful, and paired so well with a simple tumble of mushrooms and harissa. LOVE.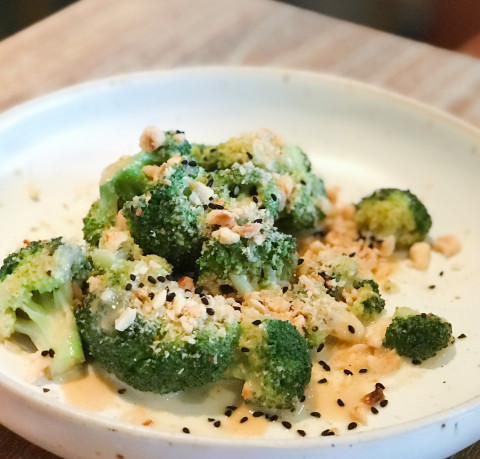 Who would've thought that Spiced broccoli, tahini, hazelnuts, seeds ($8) would be such a simple but well executed dish? The broccoli florets were small and tidy, and cooked al dente. The nutty, crunchy and creamy dressing was a surprising pairing.. and it was spot on.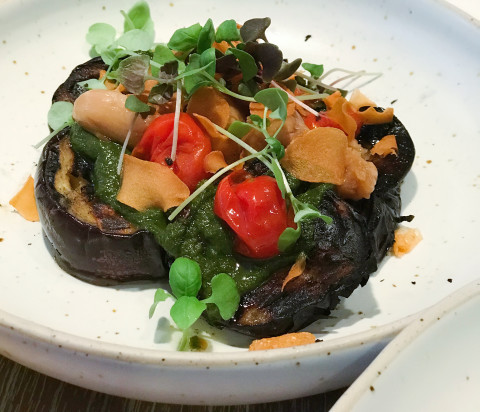 Best side dish award, however, goes to Charred Eggplant, confit garlic, tomato, young basil ($10). It's well worth it. Fat juicy chunks of eggplant was charred on high heat, giving the eggplant a smokey flavour and a soft texture. The colourful tumble of tomatoes, basil and garlic didn't just look good, they tasted good too! This was excellent!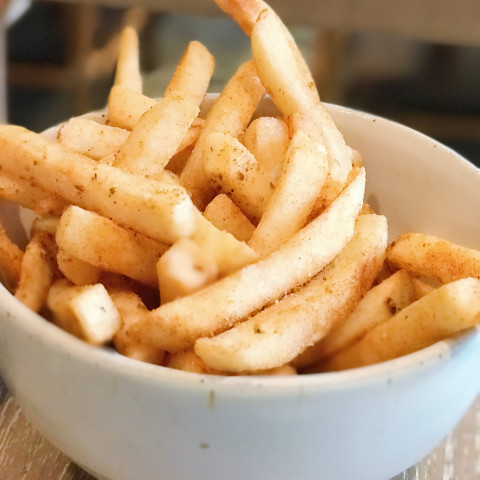 Their Harra French Fries, arabic spices ($9) comes in a portion large enough to share between two. It was almost borderline salty with the arabic spices, but was tempered with the mayonnaise (we asked for this). Even better if it came with some garlic aioli served on the side.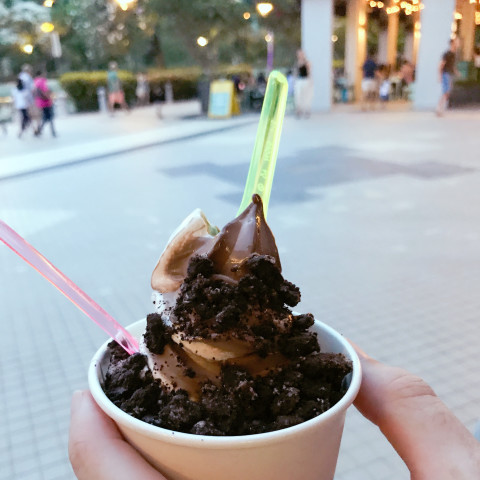 You CANNOT go to Summerlong, or even walk past the restaurant, without getting some Soft-Serve Ice cream, vanilla and chocolate mixed ($4) with Oreos ($1)! Ohhhh myyy this is too good!! It's not like any soft serve I've ever had.. the ice cream is SO rich and creamy that it made me go "whoaaa" when I took my first mouthful. It's like eating thick, chilled, cream. Amazing.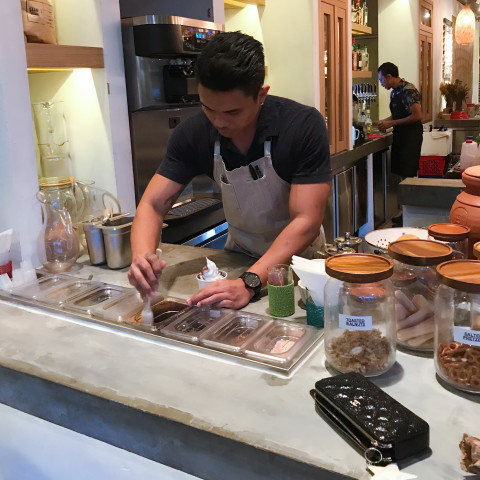 And, above, is their Ice Cream Bar. You can get takeaway, which we did, and stroll along the river eating your delicious cup of soft serve.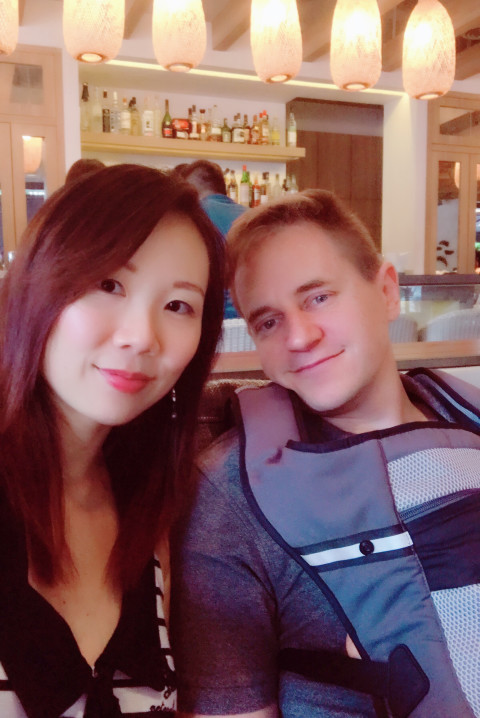 Summerlong is fast become our favourite place for date night (albeit with Chloe – you'll spot her in the baby carrier on Chris – tagging along). They have great food, a breezy comfortable ambiance, and lovely attentive staff. Can't really get any better than that!