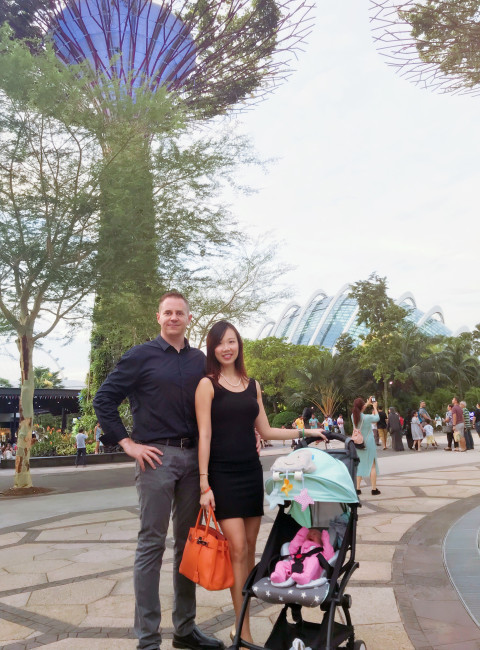 Chris and I celebrated our 8th wedding anniversary on 8 August this year (wow that's a lot of 8's lol).
Chloe had just turned one month old.. so we had to choose a nice, air-conditioned place that had easy parking and uncrowded, so Pollen @ Gardens By The Bay it was. We gave her her bath, popped her in her snuggly pjs.. and off we went!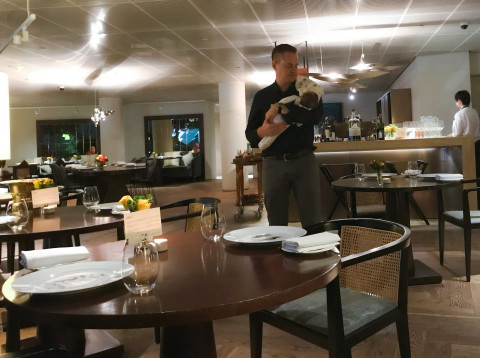 The restaurant was fairly empty since it was a weekday, which was fortunate as – remember – our lil girl is crazy high needs and needs one-on-one attention AT ALL TIMES. Bummer she didn't take after her laid back brothers when they were babies. Well, I guess she keeps us on our toes!
Pollen is located within the Flower Dome at Gardens By The Bay, but accessible via the back. You can either take a short stroll there, or take a (complimentary) buggy.
I was surprised that Pollen didn't have much of a view, since it was situated in the Flower Dome. I'd imagined the restaurant to be higher – not on the ground floor – and overlooking the Flower Dome interior. So while it has large glass windows on one side, it looks out onto the foot path.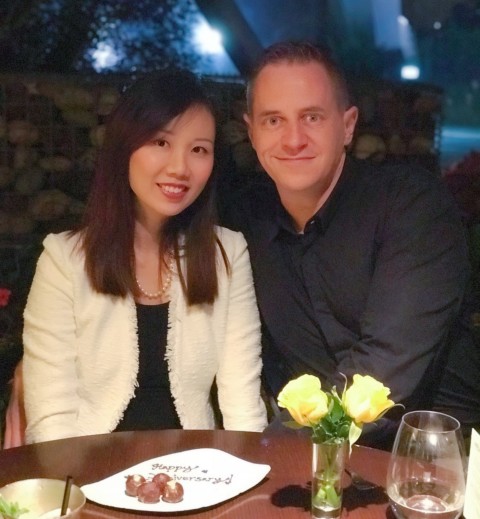 I really treasure this photo, as it's a pretty rare photo of just Chris and I (Chloe had fallen asleep at this point, whew) … and we look like we're back in our dating days before the three kids were born. Except looking a bit more worn out and older – haha.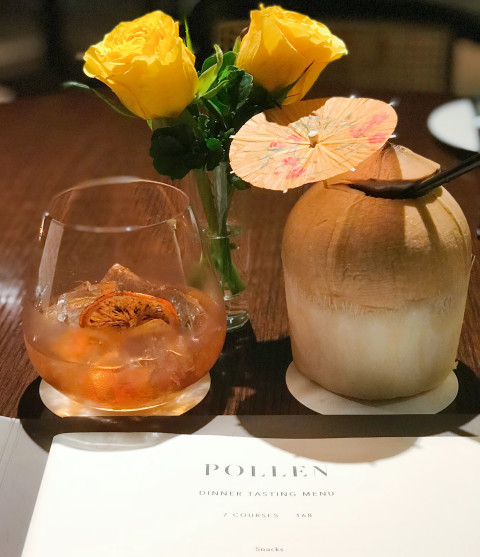 We opted for the Dinner Tasting Menu, because I'm greedy like that.
On a side note, their cocktails are fabulous!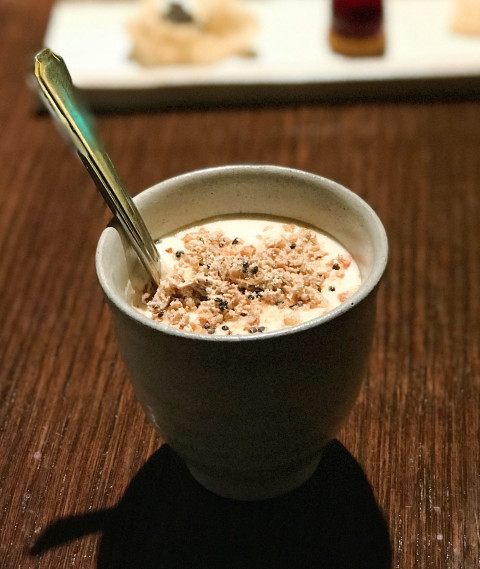 This was an amuse bouche that I've forgotten the ingredients of… too drunk on being loved up on our dinner date! It was some sort of savory mousse. Not bad.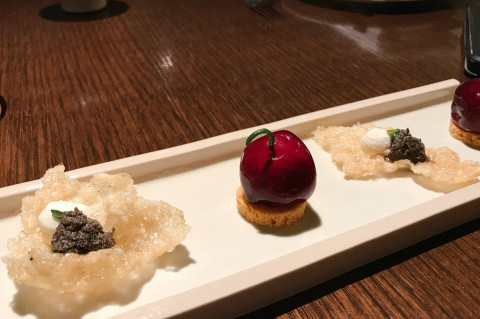 Fish skin crackers, 'cherries' of chicken liver parfait in beetroot jelly. A pretty impressive mini platter when it arrived! The bite-sized morsels were light yet flavourful, and it was pretty clever of Pollen to pair the crispy cracker with the soft 'cherries'. A totally different texture with each bite!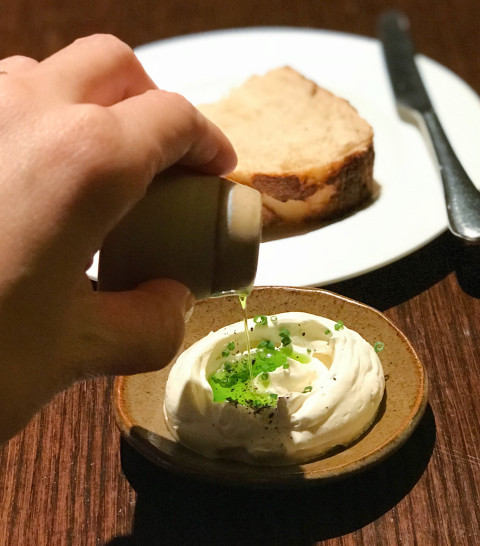 My weakness at any restaurant is BREAD. More bread! More bread! More points if it's served warm! Extra points of it's a sourdough!
Pollen's chunky slices of sourdough served with onion butter and leek oil is definitely unusual. You pour the mix from a little pot and spread it all over the sourdough. It's light and fluffy, but a little under-salted, so the flavour of the whipped butter is a little flat.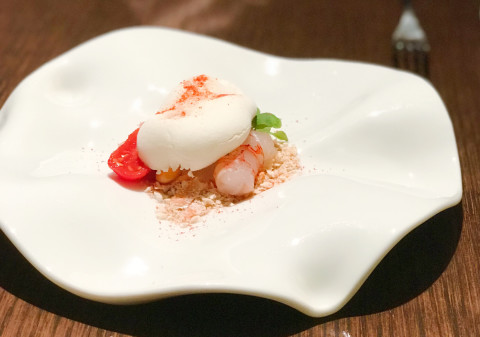 What pretty presentation and on such a lovely plate! This dish was so unique. It was a chilled dish with Red prawn tartare, though admittedly it was just one really tiny prawn. A lovely, light, dish though.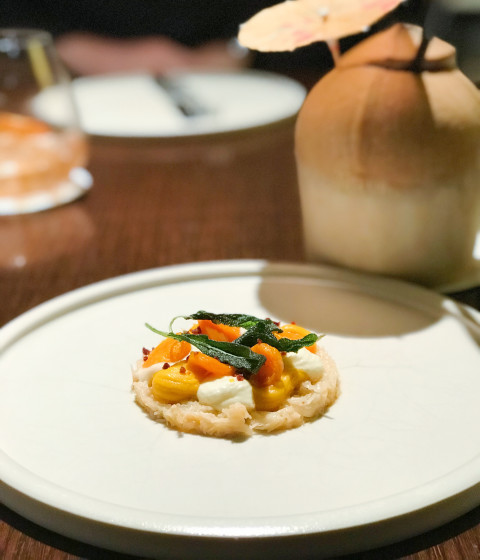 The Crab, butternut squash, pancetta, sage ricotta was visually gorgeous! It looked almost like a mini pizza. The 'base' was made of sweet crab, with dollops of squash and ricotta on top. Mixed together, the dish was light but tasty and sweet. Really exquisite.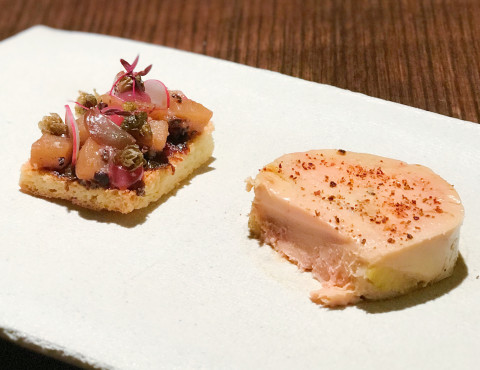 Always a favourite of mine, this foie gras dish was, not surprisingly, my pick of the night. Foie gras torchon, pear, capers, witch finger grapes, toasted brioche… but look at that big circular chunk of foie gras! It was creamy and luscious, and beyond amazing.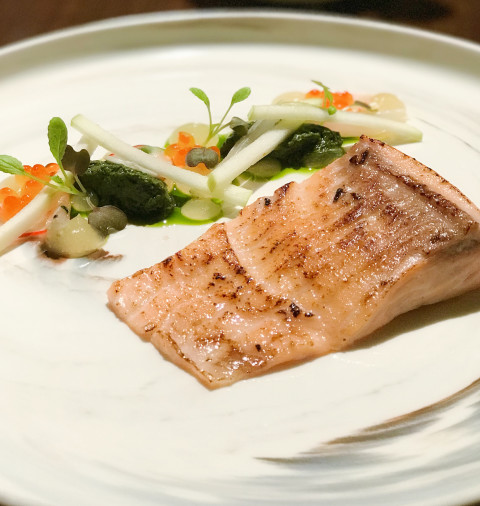 I assume their Salmon, ikura, green apple, radishes was sous vide first, before being grilled. The salmon was tender and succulent, with lots of that lovely Omega 3 fat. How pretty is the vegetable 'garden' next to the salmon?!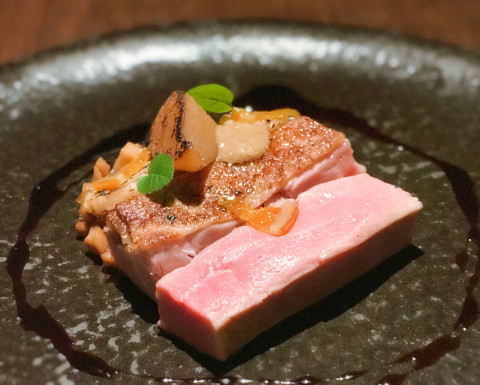 The second main was duck made two ways, Poached and roasted French duck, pear, celeriac, anise jus. The poached version was a little odd for me.. as it had a stronger gamey flavour and a squishy texture. There were also some sinews running through it, so I had to pull out bits of it that I couldn't swallow.
However, the roasted version was top notch! The skin was roasted crisp yet the duck meat was still tender. Admittedly, I still prefer Hong Kong style roast duck 😉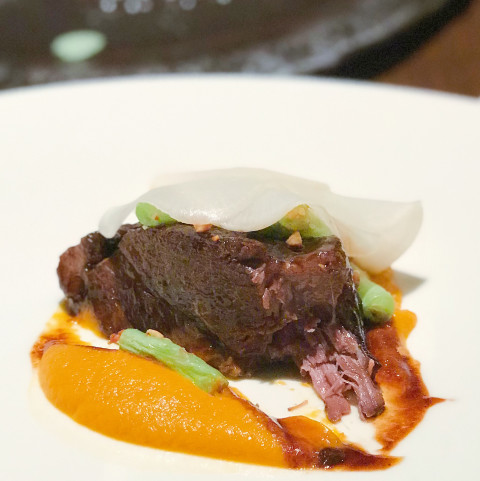 Best dish of the night award goes to Braised beef cheek, carrot and caraway puree, french beans, hazelnuts, pickled daikon. The chunk of beef cheek was so tender but not too gelatinous (really gross when some beef cheek dishes are full of that!), and with a burst of flavour. The richness of the beef was contrasted against the slices of pickled daikon, and they were perfectly matched.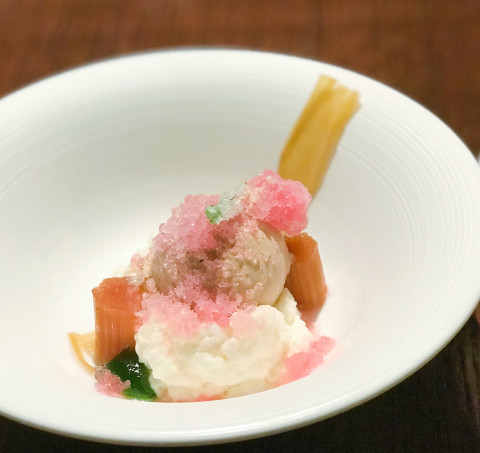 I simply don't like the texture or flavour of rhubarb, so the Rhubarb, earl grey, tarragon didn't interest me much. It was beautifully presented, though, and reminded me of a Japanese garden. Chris is pretty impartial to rhubarb so he quite enjoyed this dish. At least I enjoyed the earl grey ice cream!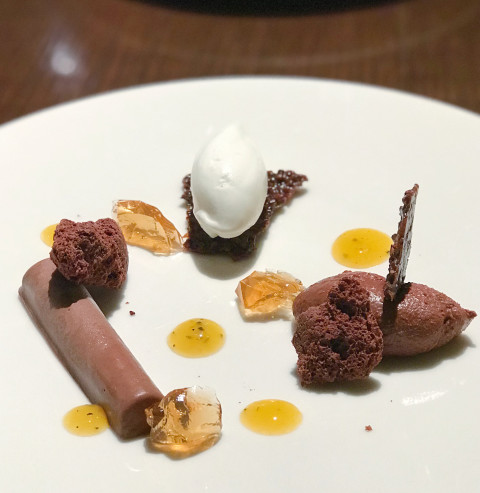 The chocolate dessert came out looking like a work of art, and oh my, chocolate overload! Valrhona 70% chocolate, scotch whiskey, passion fruit, smoked yogurt… which sounds a bit of an odd mix so you either love it or hate it.
I found the Valrhona chocolate luscious and rich (what's there not to like?!), the scotch whiskey jelly delightful and pretty strong, and the smoked yogurt pleasantly palatable. The only thing that seemed really disjointed was the scoop of chocolate on the right of the pic above, which was a chocolate mixed with passionfruit, I believe? At face value, the scoop of chocolate looked like a rich chocolate mousse.. so that's what we were expecting. But one bite and we reeled – it was SUPER sour! Too sour and too out of place when mixed with the rich chocolate.  We steered clear of it.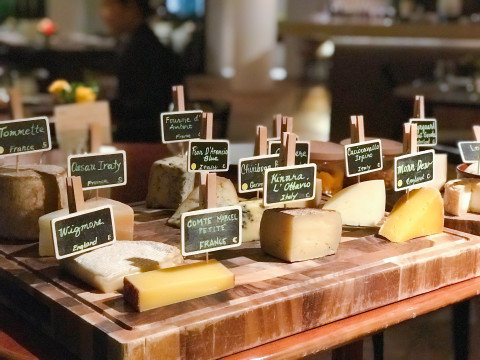 A sight for sore eyes… behold the CHEESE TROLLEY! Doesn't it look divine? Despite already being pretty full, my eyes lit up when presented with this gorgeous sight.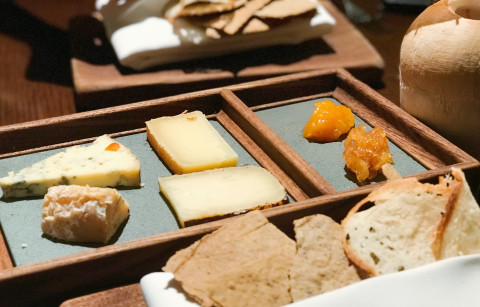 Our cheese selection, with some quince and crackers.  Gorgeous presentation. We had a blend of soft cheese, hard cheese, and blue cheese.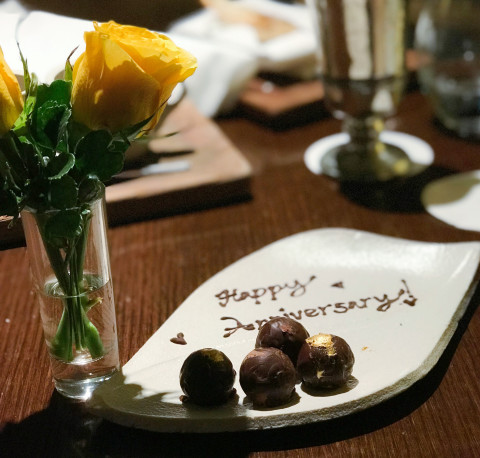 A sweet little plate with chocolate truffles, wishing us a Happy Anniversary 🙂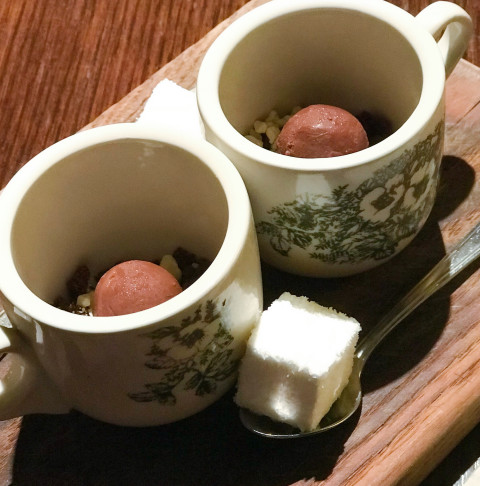 Chocolate balls, resting on chocolate soil, in old skool kopitiam mugs. Cuteness! The 'sugar cube' is actually a marshmallow. Truly a sweet and decadent way to end our meal.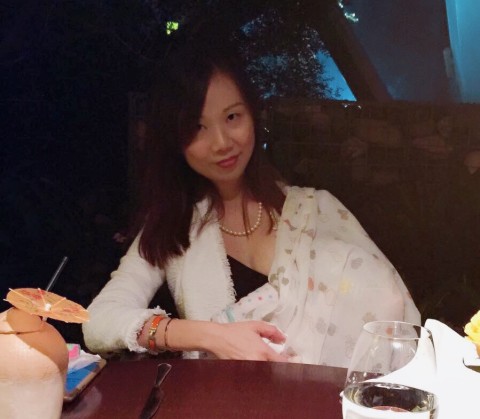 Dressed up for dinner.. but Mum duty still calls. Had to nurse this lil one to sleep so she wouldn't squawk our entire meal!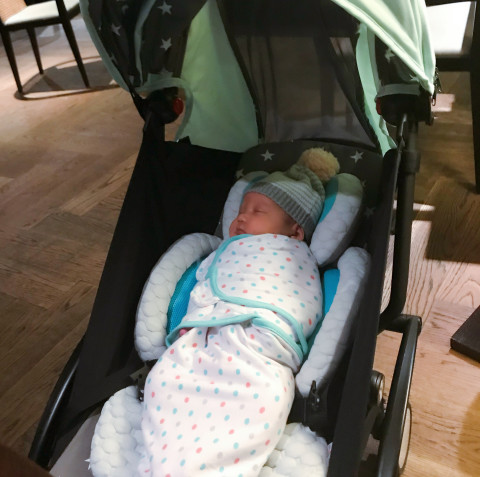 Peace and quiet during our 3-hour dinner. Phew.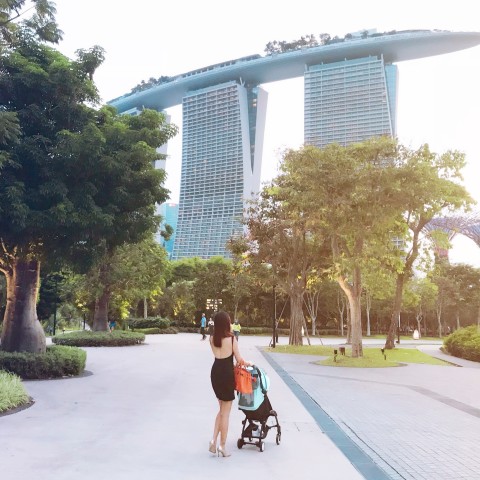 A stroll with our baby. Though we did look a tad comical as we were pretty dressed up, strolling around the gardens!
But… EIGHT years… how time flies. Couldn't imagine anyone else I'd rather grow old with!
Let's Chat!