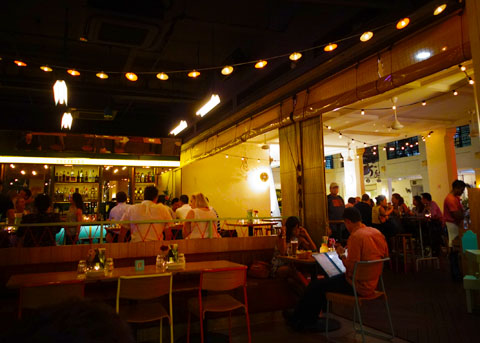 It's only been open for about four months (since Aug 2014), but Super Loco is crowded every night, even on week nights. It has the lovely riverside dining ambience of the restaurants along Clarke Quay and Boat Quay, which are walking distance away, but without the insane crowds. That's just tops in my book.
They pride themselves on serving "Mexican Street Food", and boy, they do it well. I personally don't know of any other Mexican place in Singapore that comes close (but please let me know if you do!). Only downside? They are actually really pricey for "street food", so prepare your wallets.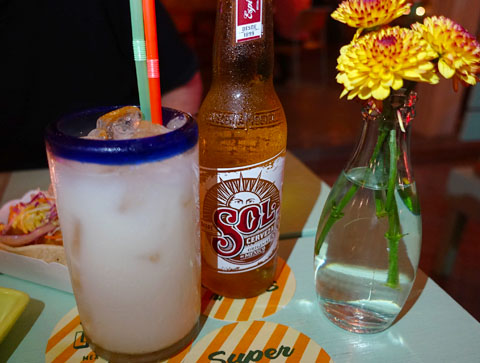 I cannot resist the Horchata ($7), which is a blend of rice and cinnamon. It's milky yet refreshing, but is a bit diluted because the glass is mostly full of ice. But, for $7, and for what amounts to about a glass filled with 1/3 drink and 2/3 ice, I wouldn't re-order.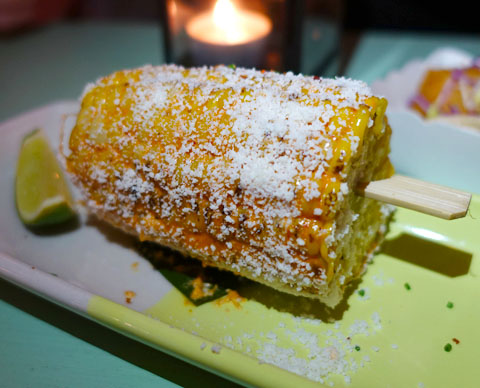 The kitchen is headed by Mario Malvaez, who was the head chef of Lucha Loco. He's from Mexico City, so you'd expect some stunners from him. He delivers.
The Elotes – mexican street style grilled corn with mayo, chili and cheese ($8) is, in one word, INSANE. As one of their signature dishes, it also comes with a do-a-double-take price tag. 8 bucks for one small piece of corn?? We felt a bit insulted, but ooooooo, one bite and you'll grudgingly be admitting that you'll still pay this price if only to eat it again. Which we have.
The corn is like no other in Singapore – less crunchy kernels but very moist and full of sweetness. It is grilled to perfection, and has a delectabe savory/creamy/slightly spicy flavour. Grit your teeth and order this one – one corn each – because it's simply AWESOME.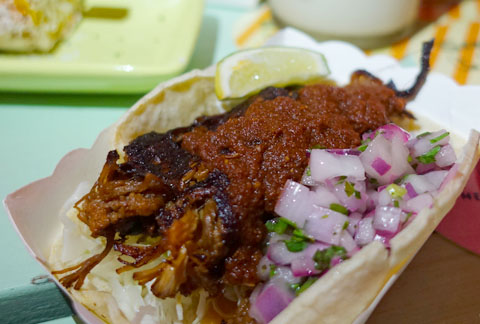 If you're after red meat and want something that's robust with flavour, the Taco de Chorizo – chorizo and braised beef brisket and chipotle salsa ($10) is for you. The portion is really tiny for the price, so think of it has perhaps 1/3 of what you'll need to order for your meal.
The meat is fork tender and easy to bite, with no sinewy bits. I love the saltiness of the chorizo popping through the tender beef, and the salsa is refreshing albeit a bit spicy from all the red onion bits.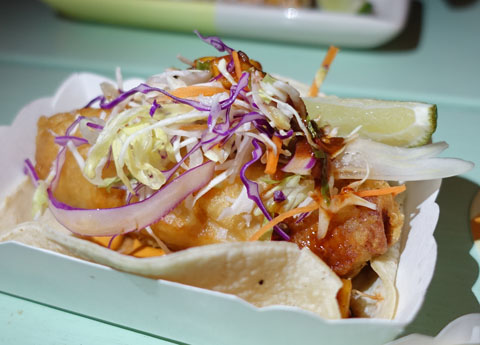 This Baja fish taco – crispy beer battered snapper, mango salsa, mint and cabbage ($11) is an excellent option if you prefer something a little lighter. Think of it as fish and chips, as it uses a juicy chunk of battered fish. It's decorated with a cabbage salad and a tasty mango salsa, though I would have preferred it with much more of that delicious mango salsa.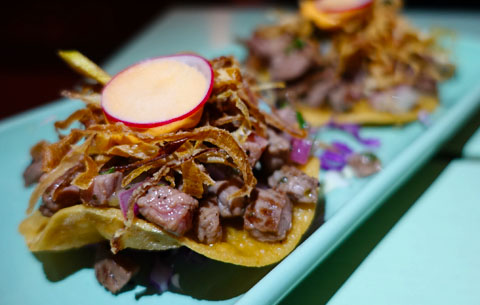 If you're after a bit of a crunch, the Tostadas de Res – Australian sirloin tostadas with green tomatillo, leek and capers ($16) is perfect. The mini discs hold diced sirloin steak (very tender!), with a layer of crisp fried leeks on top. It's a simple dish so you can really taste and appreciate the flavour of the steak.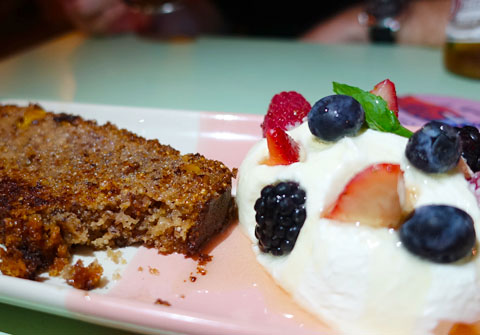 I picked the Pastel de elote azul – signature blue corn cake with agave nectar and mercal cream ($14) for dessert, because it sounded pretty unusual. In short, I thought it was pretty weak for the price point and would not get it again. The cake was a very petite slice, though I did like the grainy and moist texture of it. It's very sweet (almost reminds me of the sweetness of Indian or Turkish desserts), but tempered with the delicious cream on the side. But, overall, the taste did not wow me and I probably would not re-order even if it was half the price.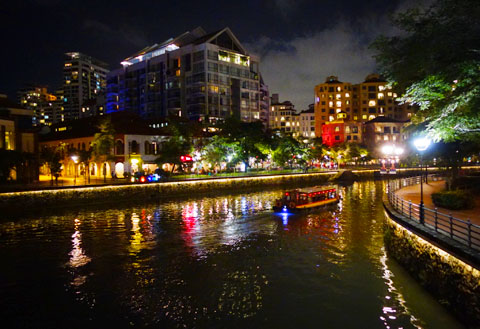 This is your gorgeous view if you choose to have a short stroll after dinner. Super Loco, in my opinion, is best visited with friends – so you can order various dishes to try. Do note that each item generally is an individual portion, unless you're OK with taking a bite and passing the other bite to someone else (yes, the portion sizes are THAT small that you eat it all in two bites!). The food is excellent, but the price point is high. Then again, if you're out having a good time with friends and enjoying the river view, that's kind of what you're also paying for, right? 🙂  
Also – note that Super Loco do not charge Service Charge. This is pretty cool of them, and even more cool considering the service is consistently awesome. So if you go, please tip accordingly. It's nice to see places that veer off the norm and we should reward them for it!
Let's Chat!