Habitat Coffee
233 Upper Thomson Road
Singapore
PRICE: $$
RATING: ????-
They say good service goes a long way in the F&B industry. I absolutely, wholeheartedly, agree. A little place that absolutely blew me away is Habitat Coffee. It's been around for a little over a year, but is far from where we live, so I never got round to checking it out til last week. I'm really glad I did.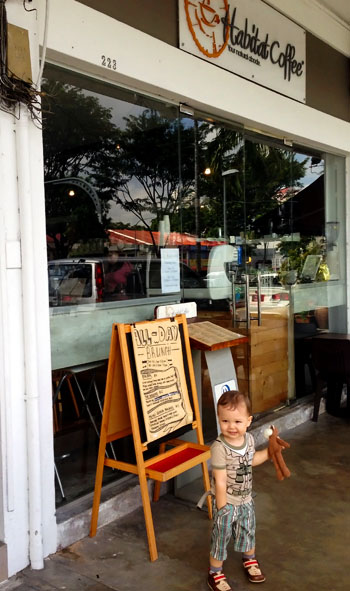 Habitat Coffee is located right near my favourite chicken rice joint Nam Kee. It's a cosy little cafe that has a comfy couch in a little nook – this section is excellent for kids by the way, so grab it if you have a kid(s) in tow! They can wander around the little area and sit back on the couch, so they don't feel as constrained as they would in a high chair. Plus, they have direct view of the coffee-making and people-watching, which might keep them quiet for awhile 😉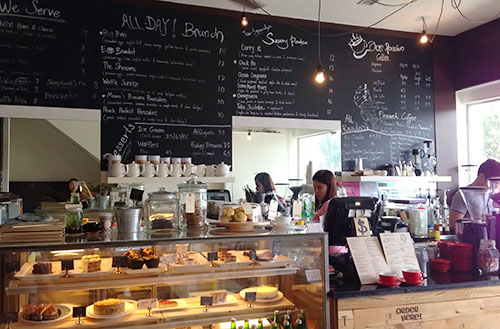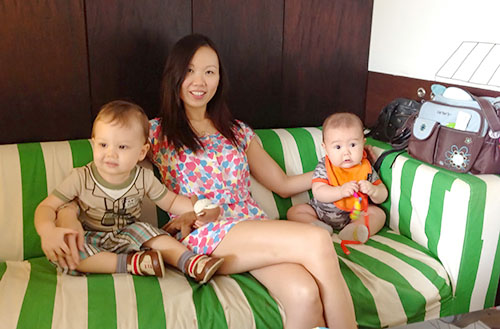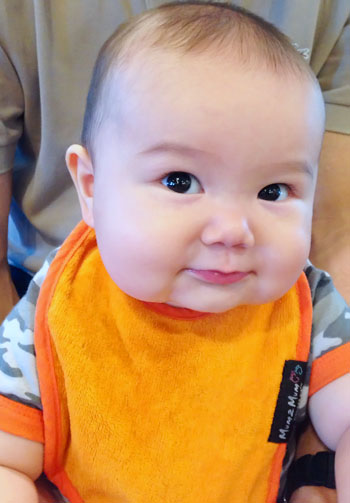 I enjoyed the food too. It was very reasonably priced, and arrived swiftly. The Shepherd's Pie arrived piping hot in a ramekin, and looked small but was actually pretty filling. I enjoyed the buttery and fluffy potato mash, though the filling is a tad salty. I also liked the bruchetta served on the side, with juicy diced tomatoes.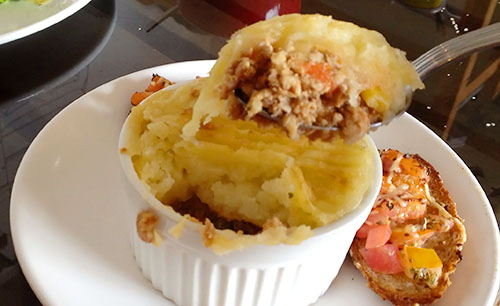 The Shrooms dish (poached eggs and sauteed mushrooms on English muffin, topped with hollandaise sauce) was superb. The eggs were perfectly poached with creamy molten yolks, and the grilled mushrooms make an excellent accompaniment. I actually think I prefer this grilled mushrooms version to the traditional smoked salmon one! On thing is that between the juicy mushrooms, sauce and egg.. you can't leave this dish standing there for long, or the muffin underneath will get soggy. Something to note if you have kids that need feeding first or require your attention so you eat slowly.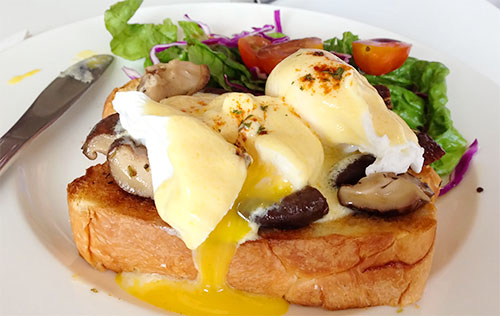 Their Cheesynara was lusciously covered in a cream sauce and dotted with lots of sliced chicken cheese sausage and bacon. And this is incredible to say, but I wish they had given more pasta because there was so much ingredients! It was delish.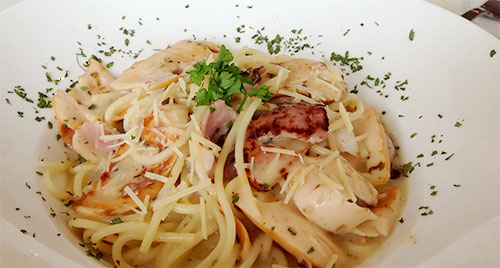 Their Latte is smooth, rich and delicious. I loved it! What else can I say?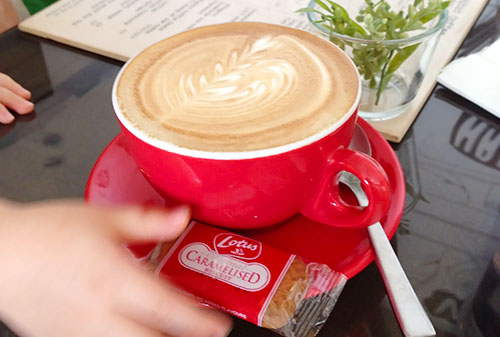 I was most impressed with their Plain waffles. At a ridiculous price of $4.50, it was 4 quarters served with a pot of chocolate and a pot of syrup. Man, these Belgium waffles were good! Crispy on the outside and soft on the inside. Perfect. I would absolutely go back and order this again.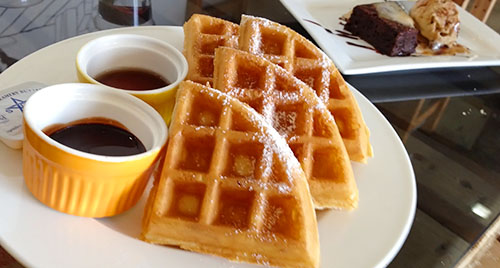 Upon recommendation, I also had their Warm brownie with salted caramel ice cream. The brownie was done very well – moist and chocolately. I actually don't remember the ice cream being stand out, but I liked that they were generous with their scoop.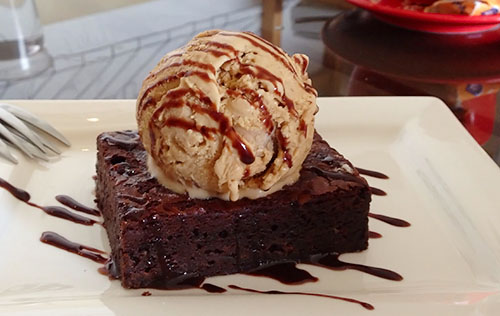 Not satisfied, I ordered yet another dessert – this time for takeaway. It was a GIGANTIC slice of Red velvet cake. It doesn't look bit in the photo, but trust me, this cake is huge. One of the nicest red velvet cakes I've had.. this one was spongey and moist, and absolutely delicious. Only downside is that they put some cherries in there, and I can't stand fruit in my dessert, but that's just me!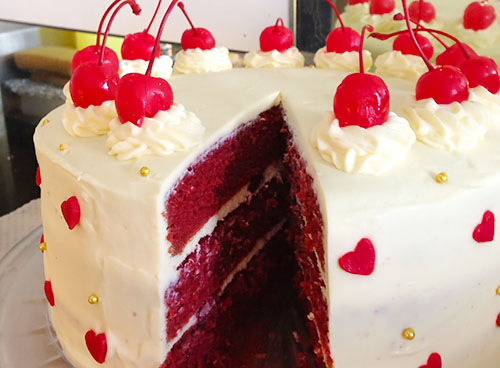 There's also a different rendition of red velvet cake, which they call Baileys black velvet. OH MY GOODNESS YOU MUST ORDER THIS.
The Bailey's gives a punch to the chocolate cake, and the icing is brilliant. It's moist and full of flavour, and Hunter absolutely loved it (here's hoping there wasn't TOO much alcohol in it, hah!).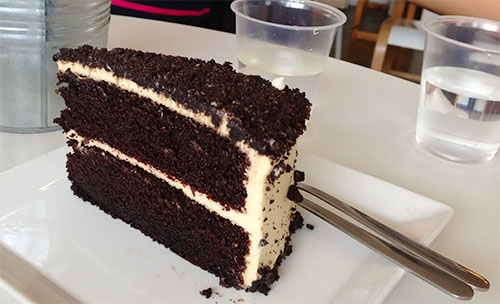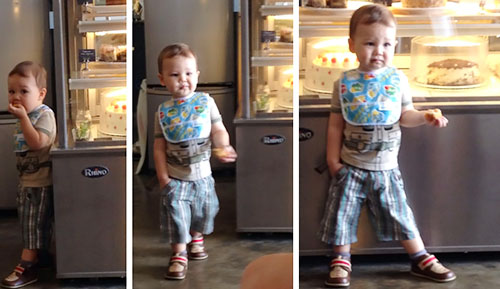 Oh yeah, and about the service. They folk working there are simply lovely! They were very good with Hunter when he was wandering around exploring their cafe.. taking the time to talk to him and amuse him. Kind behaviour and willingness to amuse kids goes a L-O-N-G way in my book. They didn't mind us parking ourselves on the couch, and the kids scrambling around on it. They were patient when cleaning up our table, and very sweet to the kids. That, in my book, is reason enough to go back. And happily, they're near where our church is, so we can go there for lunch!
Let's Chat!