The Fullerton Waterboat House
3 Fullerton Road, #03-01
Singapore
PRICE: $$$$
RATING: ????-
Remember when Chris and I celebrated our 2nd year wedding anniversary at The Fullerton Waterboat House 2 months ago? Well, the whole (extended family) gang decided to go there for lunch set during Restaurant Week.
The unfortunate thing is that because we went on a Sunday afternoon, the place was packed. So instead of classy, quiet, refined dining (which we experienced during our anniversary meal), it was pretty loud and chaotic.. with tables jammed in together and waiters looking rather frazzled. Despite this, however, they were really accommodating and friendly, so thumbs up for the great service 🙂
The restaurant seats just 40 diners normally, and serves Modern European food. We were there for their set Brunch menu which works out to be SG$35++ per person for 3-courses. Not too bad!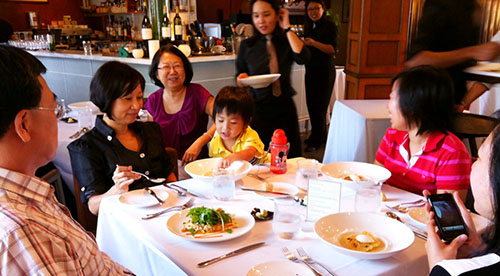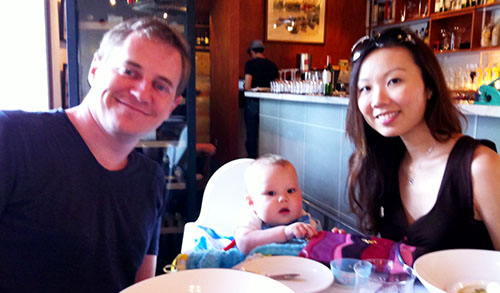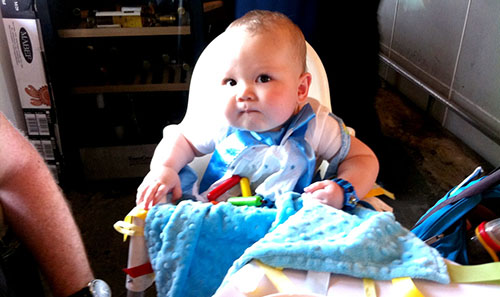 The Salad of Roasted Landes Poulet with shallot confit, sundried tomatoes had an "additional $5 surcharge" and no way I would pay extra for salad (!), but my Uncle did and said it was pretty fab 😛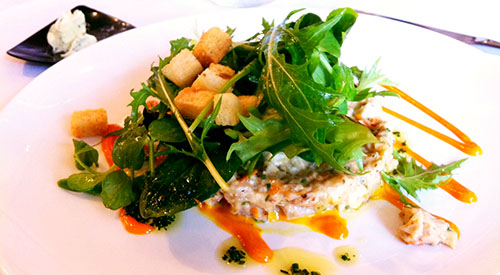 Instead, I had the Soup Vichyssoise, truffle mousseline, garlic croutons and parmesan cheese and fell in love. The soup was creamy and rich, and stunning with the dollop of thick cream stirred in. It was my first time having Vichyssoise (or, at least, I've forgotten if I've eaten it before) and now I want more 😉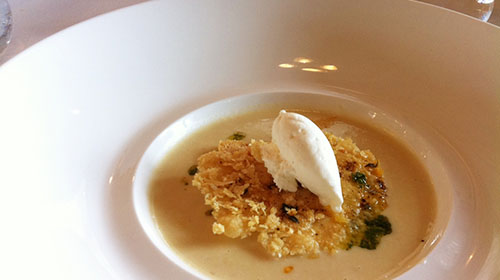 The Boathouse Platter was an array of steak, lamb chops, grilled chicken, sausages, mushrooms, tomato, and potato wedges. It sort of reminded me of a Big Breakfast, but with lamb chops. I thought it was a little random because it was just an assortment of meats thrown on a plate, but at least the meat was pretty good – in particular the grilled chicken, which surprised me because normally I like chicken the least in a restaurant. The blue cheese dressing the platter came with was the star – everything tasted good dipped in it 😉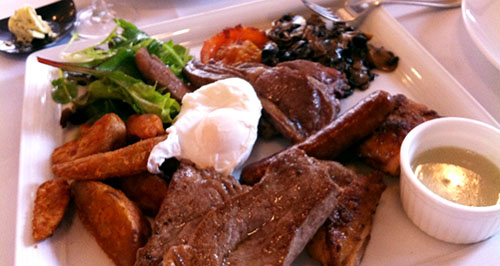 The Eggs Benedict with Iberian ham, brioche and truffle hollandaise came out looking colourful and pretty, but it was rather disappointing to see one egg perfectly poached, and the other over-cooked so it had a hard egg yolk 🙁 🙁 The brioche was a lovely accompaniment and nicer than regular English muffins, and the truffle hollandaise was smooth and creamy, though I barely detected any truffle flavour.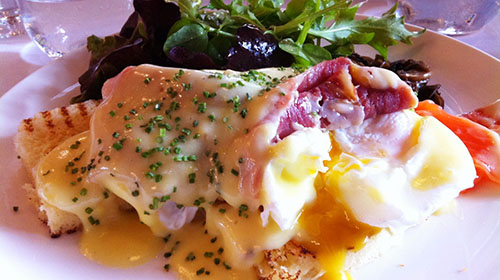 My favourite dish (surprise, surprise) was the Chocolate tart with vanilla ice cream. On the downside, the slice was more like a sliver – it was sooooo small. 3 bites and it's gone 🙁 But at least it was fantastic, gorgeously smooth and rich chocolate in a delicious buttery tart base. Really good. Needs moooooore!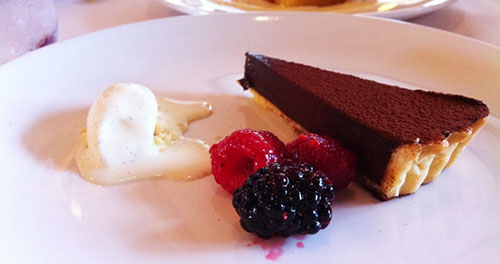 Their Brioche Pudding with berries and vanilla ice cream was good. Man! I didn't expect it to be exciting, because I figured it'd be much like bread & butter pudding which I don't find particularly interesting. But I suppose because it's brioche, it's particularly buttery and spongey, and it was delish drizzled with syrup.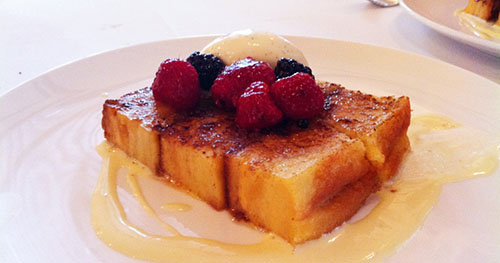 HUGE thumbs up goes to Waterboat House for letting us swap the regular coffee in the set meal for cappuccino or latte. I LOVE it when restaurants do this, since I love my lattes 🙂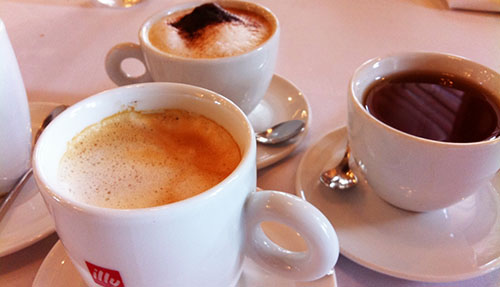 We had a fun time at the Waterboat House, and we don't often do a fancy lunch with everyone, so it was really memorable!