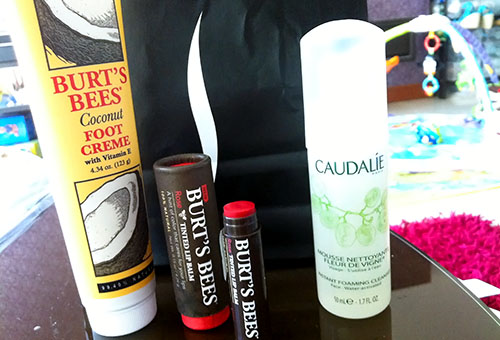 Just a mini shopping session at my favourite beauty store Sephora. All <$20 if I remember correctly, and I'm very happy with all 3 of them 🙂
Burt's Bees coconut foot creme – I've neglected my hands and feet ever since Hunter was born (the days of my weekly mani/pedi sessions seem soooo far away now). And so my poor heels have been all rough and cracked, to the point where it's uncomfortable if I rub them on fabric/carpet/etc because the dry skin kinda 'pulls' against it – ouch!! I checked online and this particular foot creme comes with great reviews. Happily, after just applying it for one night, the dry skin on my heels is about 90% gone! The scent is a nice warm coconut and it has the texture of vasaline. I whack it all over my feet before bed, and then pop on some thin cotton socks. This stuff is pretty magical, especially for my awful feet. Also works as a fantastic hair creme (used very sparingly) to tame the frizzies.
Burt's Bees tinted lip balm in Rose – I have been addicted to Fresh's sugar tinted lip balm for the longest time. But my current one is almost gone and Singapore's Sephora doesn't stock it (argh). I was looking for an alternative and I think I've found it! You see, I am so picky when it comes to my lipbalms. They need to be tinted, but also really moisturizing but without too much slip (such that I have to reapply every half hr). This one has a beautiful soft rose/red transparent tint, is waxy and moisturizing, and feels great on.
Caudalie foaming cleanser  – I adore self-forming cleansers, the sort that come out of the spout in a big squoosh of fat foam. I've always found that these type of cleansers work so much better for me, my skin feels cleaner and they are so much easier to use. Oddly, they are not that common. One of my faves is this Caudalie one, and this is the second time I've purchased it – in an adorable mini size no less! The foam is soft and spreads easily, washes off easily too, and my skin feels super duper clean but not all tight/dry afterwards. It has a lovely grape scent and the packaging is such that it's pretty unisex, IMHO. A great little cleanser to pop in your gym bag!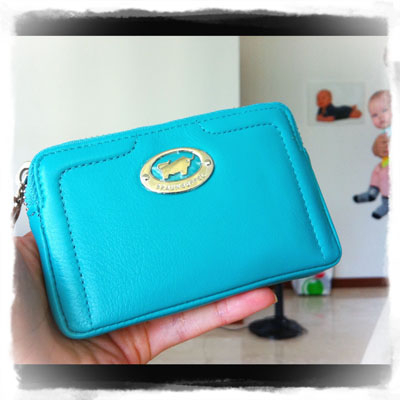 Hunter's first photobomb, LOL! I was taking a photo of the Braun Buffel leather card case I bought and after reviewing the photo, whaddya know, there he is sticking himself in the photo too 😉 Anyway, the point of the photo was to show how awesome the colour of it is. It's this divine pop of bright turquoise with a fuschia lining. Eeeeee!!! Adorable beyond belief 😛