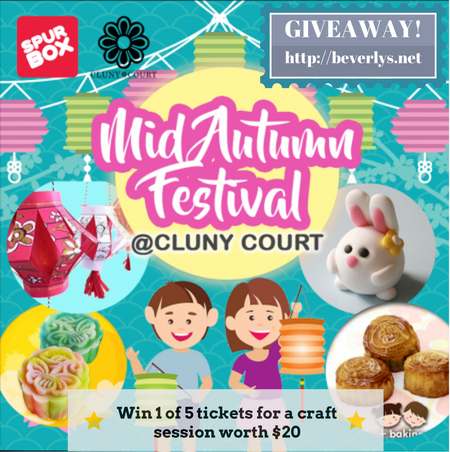 Spurbox is a cool lil company that offers holistic enrichment programs for kids across multi-disciplinary activities like baking, crafting, puppetry, etc. I am a BIG fan of anything hands-on and fun! They mostly run activities on Fri, Sat and Sun.. as well as on public holidays.
Now, it's been made even more convenient. Spurbox are partnering with Cluny Court for the upcoming Mid Autumn Festival. There will be baking, craft and storytelling activities from 15th to 30th September.
And these are all the super cute activities available: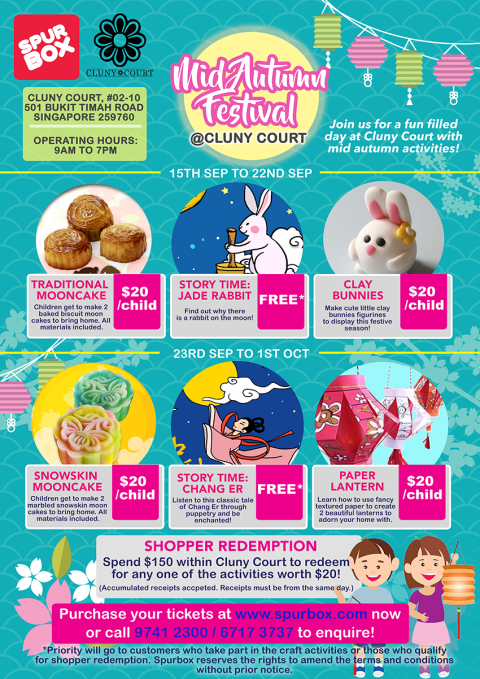 Normally, it'd cost you $20/child as you can see listed above. If you want to pay and secure your child's seat, you can do so here: http://spurbox.com/new-menu-item/spurbox-cluny-court
You can also spend $150 within Cluny Court to redeem for any one of the activities (worth $20).
But… I've got a couple to give away here!
Spurbox is giving away 5 tickets (worth $20 each)!

Giveaway will run from 13-17 September 2017 inclusive.
Entrants must perform all listed steps, which will be verified prior to contacting the winner.
The winner will be announced on Beverly's Net Facebook page.

If you win, you can select any session at Cluny Court to pre-book, or simply drop in just before it starts and give your name.
Good luck!
Let's Chat!