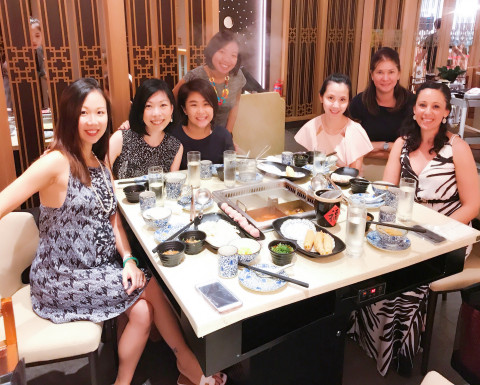 I'm not a surprise-y kind of person.
In fact, I can't even remember when I was last properly surprised. I usually suss it out because I can tell something's up, or somebody slips and lets me know 😉
[Oh actually, I remember the last time I was properly surprised. It was when Chris proposed in 2008!]
OK so apart from that, no one has pulled a fast one on me for years.
So, yeah, I was SUPER MEGA SURPRISED when Chris and I rocked up for dinner and I saw a bunch of my girl friends there!
It was supposed to be a couples-and-kids double date with another family at Beauty in the Pot. I'm a bit of a hot pot virgin, so I was very excited for our dinner.
We walked in and I was so stunned to see a table of girls seated right in front of me – all the girls I hang out with!
I think my brain short-circuited and I was a bit speechless. (I'm never speechless).
I'm a mum myself, so I know the major effort and planning/logistics required for the girls there to arrange for the kids to be looked after by their husbands – and on a Saturday night too when weekend family time is so precious to everyone. So I was more amazed that these girls managed to do all that, and also very very touched!
Wonder how many frazzled husbands there were that night 😛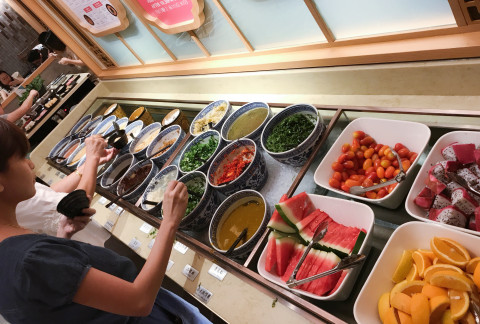 It was actually a HUGE novelty for us to sit down, sans kids, for 2-3 hours. I felt like I was in my early-20s again! So much fun!
And I thought the hot pot dinner was fantastic. I am a total hot pot convert now! It's not very baby/kid friendly, but I'd absolutely go back with friends (erm… assuming I can somehow get away from 3 kids).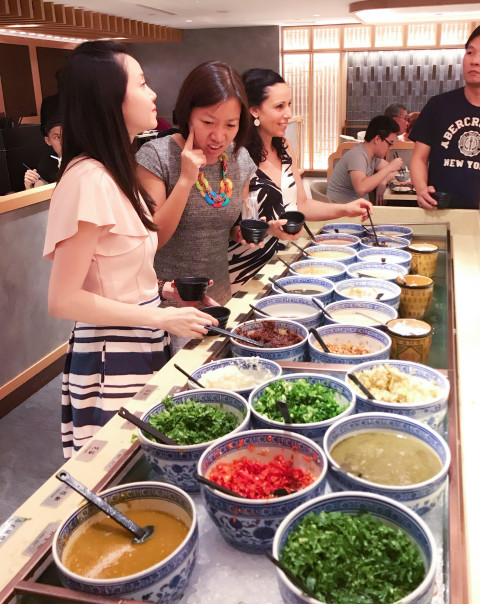 I thought the best part was the incredible array of sauces that you can mix yourself – either using their charts pasted above the sauce bowls, or by concocting your own.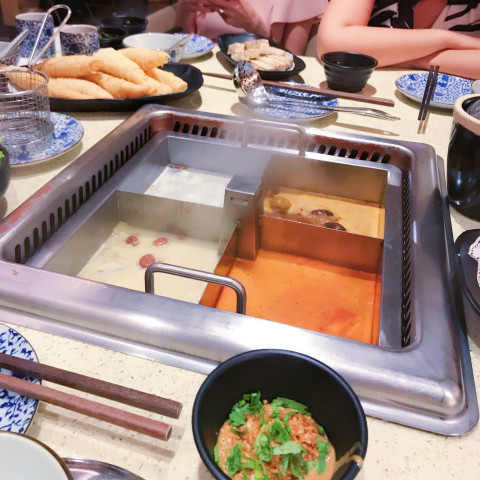 I'd always thought 'hot pot' was the same as 'steamboat', using plain water that you boil your food in…. how uninteresting!
But these hot pot places have a variety of super tasty soups that you can choose from. And they're delicious! We had:
Coconut soup – I thought this would be totally weird, but it was mild and lovely, like a light broth.
Mala spicy soup – surprisingly good and not too spicy, so I could handle it.
Shark cartilage soup – I baulked at this one because errrm… scary much?! It's quite creamy and rich, and actually tastes just like chicken soup. Very good, once you get over the freakiness.
Tomato soup – the most boring one for me, but I suppose good for kids?
Beauty In A Pot at Centrepoint also have a very nice – and clean – playroom for kids. Ours had a great time in it, before being carted off by the husbands so us girls could have a girly night 🙂
THANK YOU dear girls… you made my whole evening, and Chloe is going to be so spoiled with all the lovely gifts! 🙂
Let's Chat!