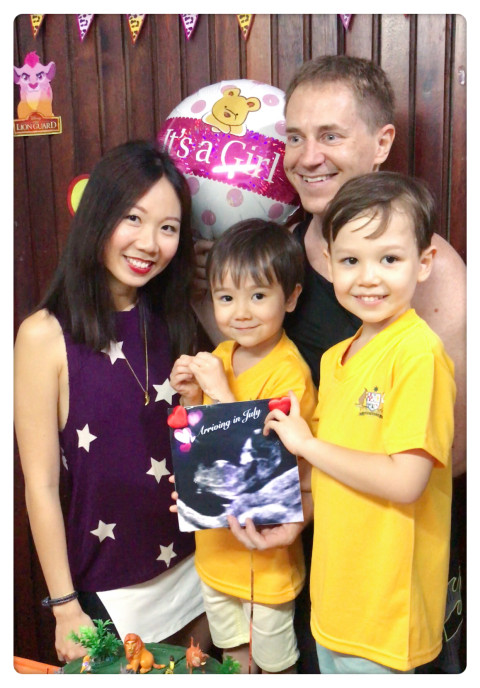 Our very first family of five photo… This kind of counts, right?!
So I'd originally planned to NOT announce I was pregnant until maybe when I was in my third trimester or after I gave birth. Partly because I was in shock my entire first trimester, and partly because we felt a bit silly as we'd declared to all our friends "we are done at two kids"!
But, as Hunter's birthday party was coming up and I'd be 15 weeks then, Chris pointed out that it'd be a nice time since we'd have our friends there and the kids would get to be part of the action.
So after Hunter did his birthday thank-you speech, we got Carter to stand up and help with the *surprise*.
Here's the video!
Watching the video makes me laugh because you'll see that when the It's a girl! balloon floats up, everyone goes "Wowwww" but they all have a pretty bewildered/blank expression on their faces. It wasn't until the ultrasound photo popped out that the penny dropped, and then you'll hear the "WOWWWW!" from everyone. Unfortunately the camera pans away so we didn't get to capture everyone's real reactions! But since we were standing in front facing the crowd, we got to see their reactions and it was hilarious 😉
I think pretty much everyone there were genuinely unprepared for the announcement, and many said later they thought we were announcing a dog or a hamster (lol wut).
It was a pretty memorable party!
My baby bump at 15.5 weeks.
Taken before lunch time.. as my belly progressively grows bigger with each meal 😉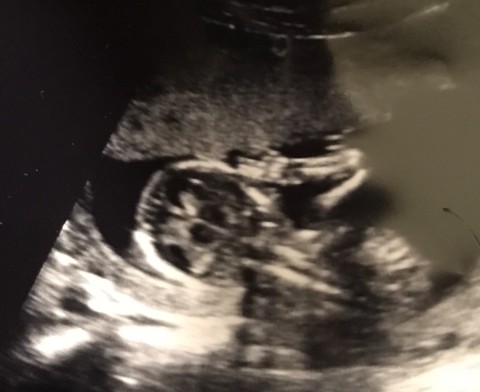 Here she is at her 15 week ultrasound… giving us the peace sign. Grow well little one, we can't wait to meet you!