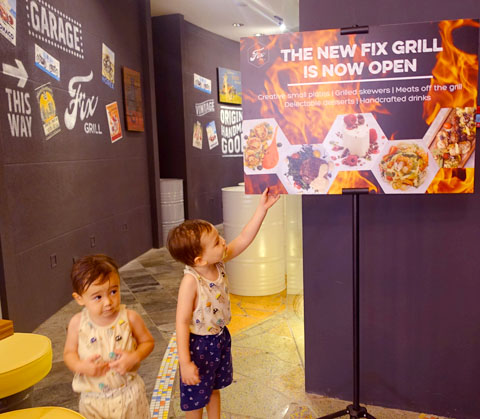 Pretty much half of Singapore (at least?) seems to know about GRUB, GRUB Noodle Bar, and FIX.
Now, they've launched yet another concept – FIX Grill!
Unlike the other restaurants, FIX Grill focuses on their pride and joy – the outdoor BBQ grill. Dine under the trees and stars, whilst enjoying delicious chargrilled food.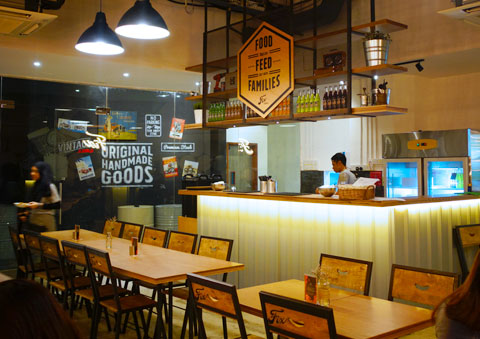 This is the interior of FIX Grill. I'd recommend eating outside (photos of that later), because it's WAY more fun to eat el fresco. There are big fans blowing and you'll see trees overhead, with the pool beside you. It reminded me of Australia where we'd just chill in the backyard, having a BBQ with friends in the evening.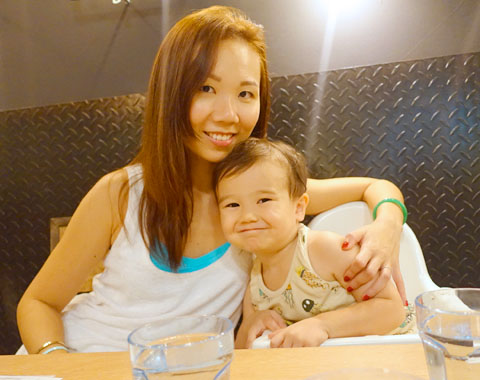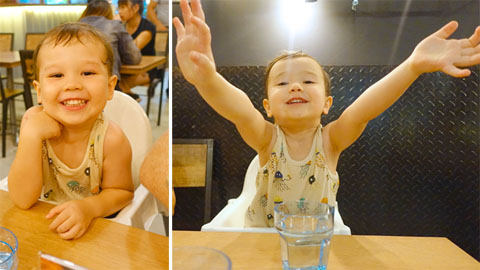 There is one thing that I just can't stand about this place, and that is their lighting. We've either sat indoors, or outdoors in the evening… so you can kiss goodbye to nice natural light. My photos all turned out with an awful green/yellow tinge, which no amount of Photoshop could save (granted I'm no PS whizz and only know how to brighten and saturate my pics!). Ugh!
It also meant all my food pics look kinda meh or even kinda unattractive. *sadface*
Note: view the current FIX Grill menu here.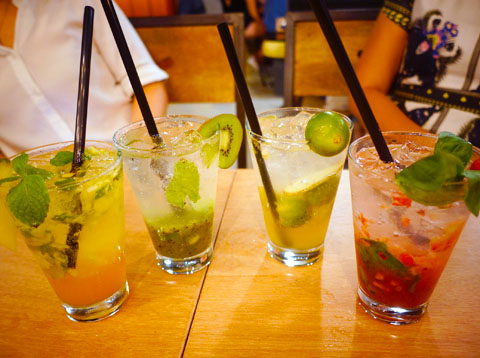 FIX Grill is a Halal cafe, like their Fix Cafe next door, so that means no alcohol. Faint!!
To compensate, they've dreamed up several very-well-executed mocktail muddled-fruit sodas to please the masses. They are a MUST ORDER if you're feeling hot, and want something fizzy and refreshing.
They are made with fresh fruits, muddled a la minute.
Enjoy  (from left to right in the pic above) Pineapple and Passionfruit Soda, Kiwi and Mint soda, Ginger and Lime soda, Strawberry and Sweet Basil soda.
My personal favourite is the Ginger and Lime soda – something that surprised me as… errrr… I don't like ginger. But somehow, this really did it for me!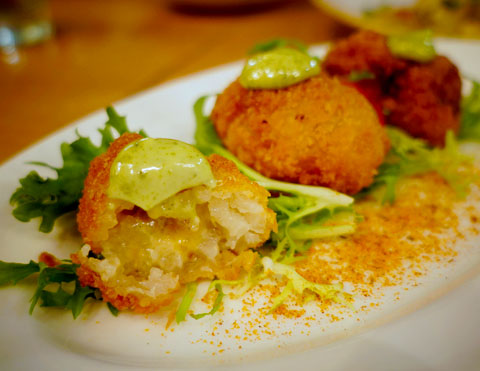 Their Smoked Duck Arancini Balls ($6) is my favourite starter. I mean – "deep fried risotto stuffed with smoked duck and mozzarella" – what's there NOT to like?! They are small, since it's only six bucks for the dish, but filling because of all that rice and cheese. It's ooey gooey goodness!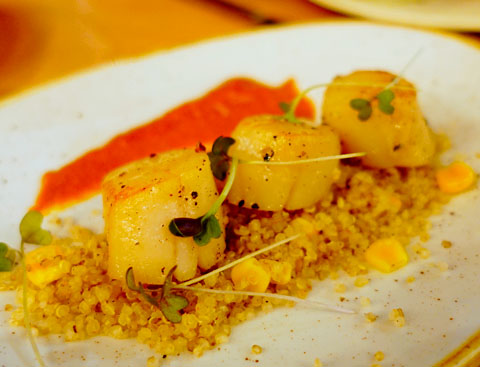 If you're after something a bit more refined and delicate, the Seared Hokkaido Scallops on quinoa, with grilled corn and romesco sauce ($11)  is going to win you over.  The scallops are fat and succulent,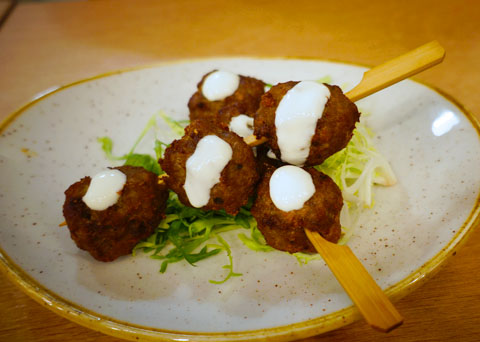 On to their Skewers selection, we opted for the Beef Keftedes skewers ($6) which is basically meatballs done Greek-style with yogurt drizzled on top. I found this alright but not exciting, though both my kids really like this – perhaps the cute factor of having meat on a stick did it for them!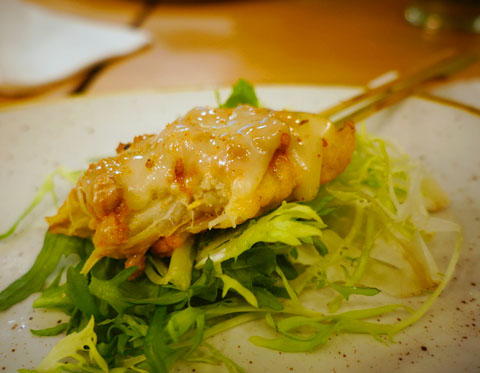 The Lamb Moussaka ($6) is a bit misleadingly named, so don't be alarmed if you order it and this (above) arrives at the table. It's two skewers of a large flat chunk of fried eggplant, topped with lamb ragout and smothered with grilled cheese. In essence, this is more of a grilled eggplant dish, which is done surprisingly well because the eggplant is juicy and tender. The lamb ragout adds a bit of bite and flavour, and you can't go wrong with grilled cheese oozing over the top. I like it!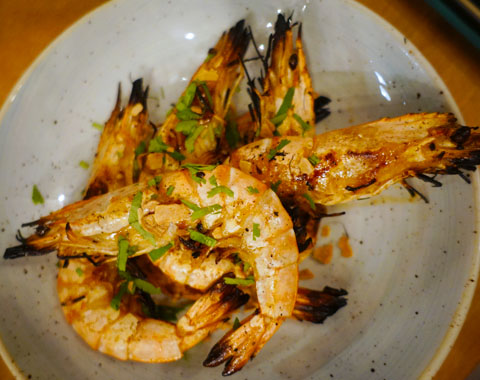 The outdoor grill is cranked up on Fri, Sat, Sun, and this is part of that menu. I HIGHLY recommend the the Madagascar Prawns with Crispy Garlic ($13.90). The smokiness of the prawns is stunning, and the shell falls off the meat easily. The prawns are large, and incredibly flavoursome. A total must order.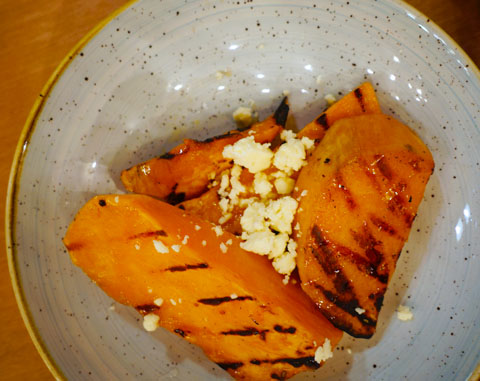 I ordered this since I figured this is a good 'filler' for the kids. It's also on their Outdoor grill weekend menu, titled Sweet Potato and Feta ($5.90). Cooking fat chunks of sweet potato is no easy feat, so I appreciated how this was done perfectly. The crumbed feta on top, coupled with a drizzle of honey, really elevated the subtle flavour of the sweet potato.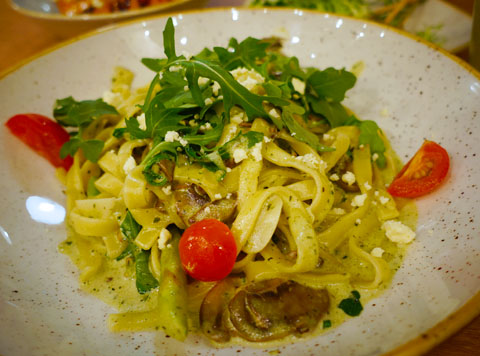 Moving onto the mains, I was surprised – no, SHOCKED – when I discovered that the Primavera Pasta ($15) was one of my favourite items on the menu. Why? Because it's vegetarian! I'd never expected a veggo dish to be so tasty and so… GOOD. It's tagliatelle tossed in pesto cream, asparagus, cherry tomatoes, arugula, mushroom and feta, and is a standout dish, plus it's a great choice for kids (mine slurped it all up).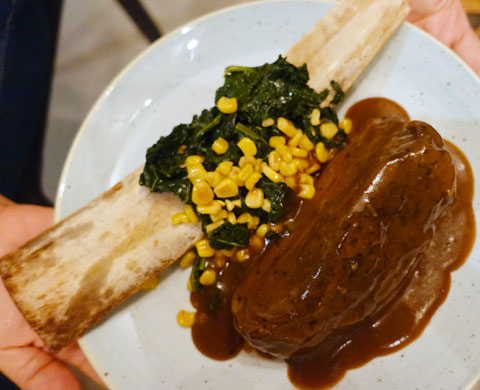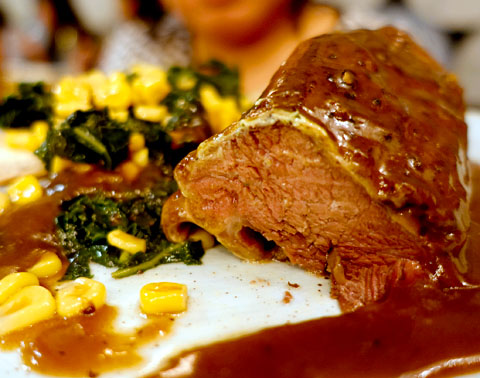 The very impressive looking Beef Shortrib ($32) is expensive, but is a HUNK of meat. Excellent for big appetites! It's bone-in grassfed beef shortrib, slow-cooked for 24 hours. This results in a ridiculously and unusually tender meat, which I cut apart with a fork. The kids ate loads of this, and they don't really eat red meat!
It's served with sauteed kale, grilled corn and potato chips. I'm not a fan of sauteed kale, so struggled through it and gave up mid-way, but I loved the grilled corn! Would love to see this dish with a garden salad or coleslaw, just for something refreshing to punch through the heartiness of the big chunk of meat.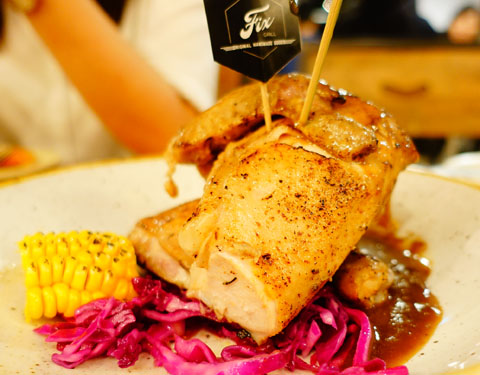 If you're after real value for money, get the Slow Roasted Chicken ($19). It's half a chicken (!!) that's brined and slow-roasted, and served with a porcini cream sauce. If you're impressed with Poulet's chicken, you'll find that FIX Grill's version is even better. I normally don't order chicken, but this one had meat so tender and moist that it was kind of unreal! Even the breast meat, normally so dry and flavourless, was amazing. Also an excellent (and healthy) choice for kids.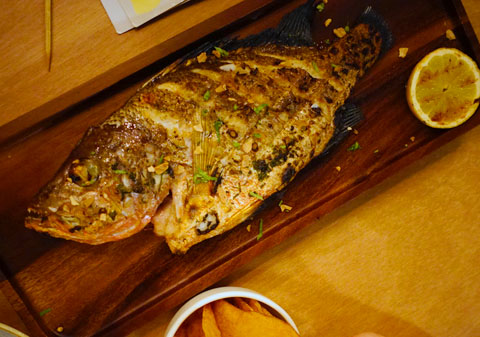 But, this. This is my #1 favourite dish at FIX Grill. The Whole Snapper with Lemon and Herbs ($24).
It's awesome beyond belief, and I have yet to find another place in Singapore that does this dish in this manner. The whole snapper is grilled on their outdoor grill, so the skin is crisp and charred. However, it's the meat inside that is……………… CRAZY!
When you order grilled fish, you're often served one with very little meat, that's a bit dry. This one is not. The meat is shining with juice, very very moist, and flakey soft. My kids share this snapper and can polish the whole thing off between them. And I can easily eat the whole thing by myself. IT'S THAT GOOD.
You haven't really experienced an utterly succulent chargrilled snapper, until you've had this one.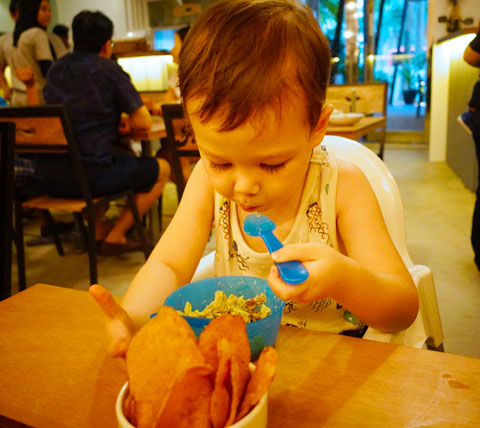 Hunter, sitting quietly with no toys, shoving pasta and snapper into his mouth 😉 Note how there's a bowl of (homemade) potato chips right in front of him – ignored for the amazing pasta and snapper!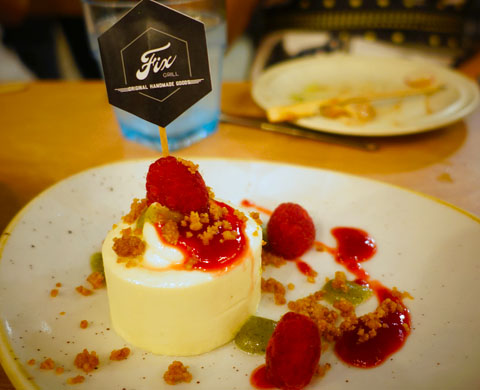 I'm not big on the desserts here. I don't really like the artfully made desserts in general, for some reason! And FIX Grill only have these three you see here (yes, we ate all three), so instead I order from FIX Cafe next door and they bring it in – I love their Salted Egg Custard Donuts!
Anyway, this above is the Bergamot White Chocolate Mousse ($6). I'm not a fan of mousse, nor white chocolate, nor berry coulis. So this was kind of a eeeek! dish for me 😉 I took a small bite of just the white stuff, and it tasted very similar to a pannacotta (which I also don't like – haha).
Sorry, totally unhelpful review here.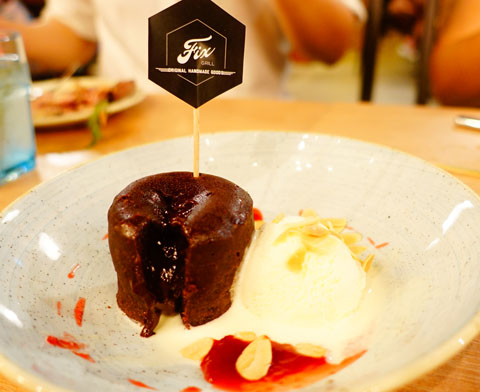 The Molten Chocolate Cake ($7) also, horror of horrors, came with berry coulis! It was nice, if I avoided the dreaded coulis, but didn't make my eyes roll back in pleasure or anything, as I'm also not really into lava cakes.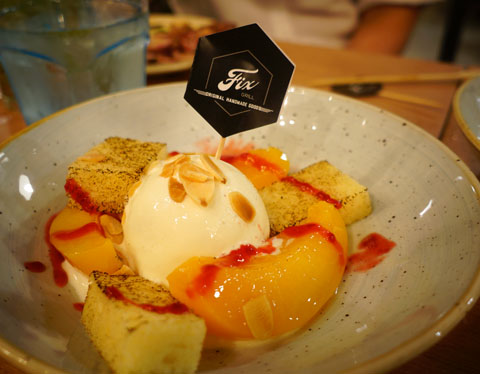 The Peach Melba ($6) was more for Chris, because I would never order this sort of dessert. I can't handle fruit in my dessert (why even bother?) and this dessert was fruit based! Chunks of peaches, served with ice cream and toasted almonds, toasted brioche, and drizzled in – YOU'LL NEVER GUESS – blimmin' berry coulis!! Boy, some chef at FIX Grill is obviously enamored with berry coulis and must lick the stuff all day long or something..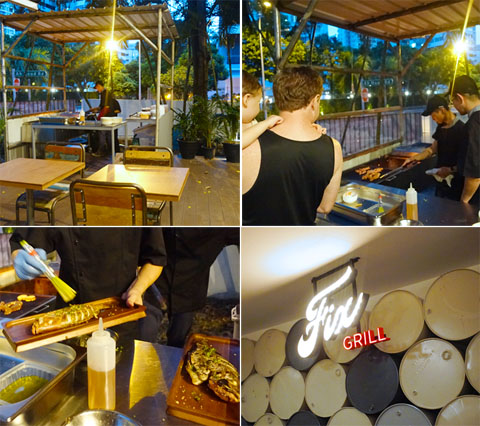 This is the outdoor area. Love the ambiance and it's a great spot of entertainment for the kids. There's cover too, should it be raining, and I hear the chairs are custom made and air-flown in.
In short – if you're at FIX Grill, get a refreshing muddled fruit soda, and get something off the grill menu. Can't go wrong with that combination!