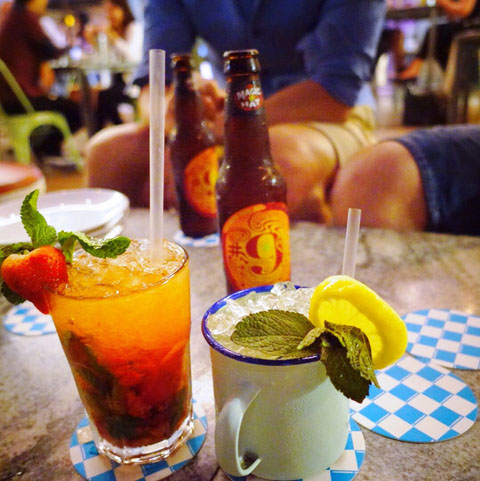 I'd always pegged the One Fullerton area as a place you go for nice dining. As in, be prepared to pay the price of sitting harbour-side, enjoying the pretty city lights that Singapore has to offer.
So I was pretty surprised (and delighted!) when I heard that OverEasy Bar and Diner were located there, but prided themselves on being a "good 'ol American diner". Casual food and drinks are right up my alley, so we popped in one evening with friends.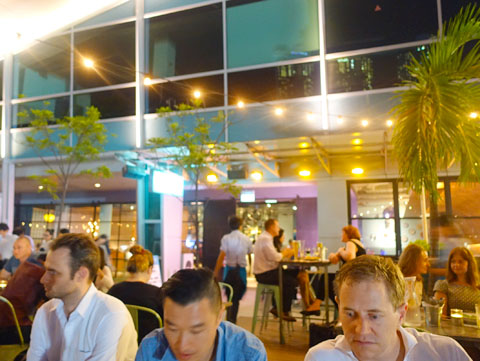 OverEasy was bustling with diners, most of whom looked like they were there after work. There is an excellent Happy Hour promotion for after-work drinks – house pouring spirits and beers are one for one from 5 – 8PM!
I thought my Mama's Special Lemonade cocktail ($16) was STELLAR and would get it again. Arriving in an old school enamel mug (too cute!), it was a refreshing but potent concoction of vodka, apricot brandy, and omemade lemonade.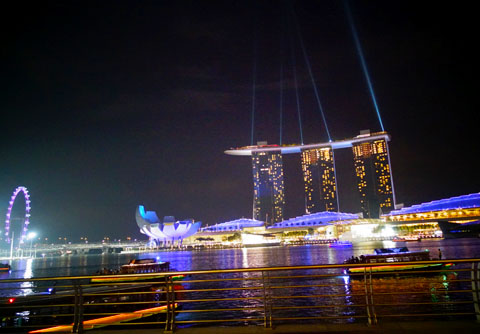 This is the view we had of Singapore's waterfront at One Fullerton, as we were seated outside. It overlooks Marina Bay as well as MBS and the Singapore flyer, with boats floating past every so often. Isn't it gorgeous?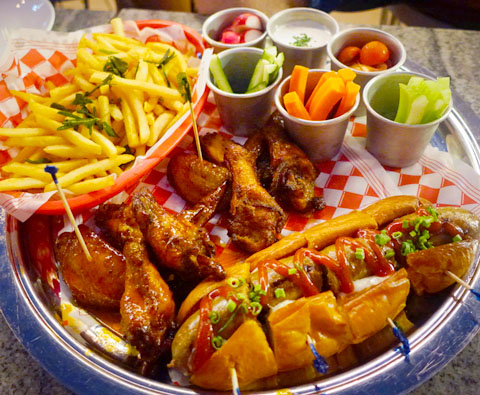 I can't recommend the Linebacker Platter ($48) enough. GET IT if you go with a few friends! It offers a selection of their best entrees, and is perfect to start off with.
We got a basket of golden fries, an all-beef hot dog sliced into four portions for easy sharing, and a bunch of buffalo wings (you choose the spice level). But what I found to be the surprising winner was the veggies and dip. It was a simple (and cheap!) addition to the platter, but was perfect in retrospect because of all the heavy fat and oil of our meal – not just what was on this platter, but also the burgers that came afterwards. It was a refreshing change to munch on some crisp clean veggies after gobbling down the rest of the food.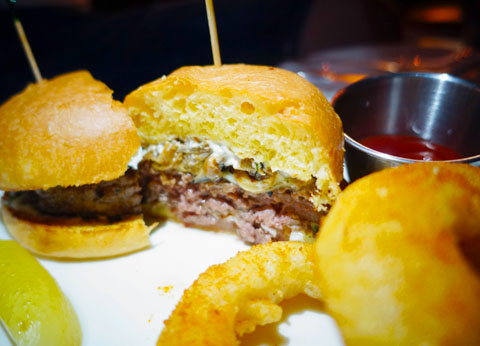 The The Truffle Burger ($28) did it for me. It absolutely NAILED what a superb burger should be like. The bun was so exceedingly soft and buttery, it melted in our mouths! The fresh beef patty was equally as soft, and really juicy. It was smothered with gooey Swiss cheese, sauteed onions and mushrooms. Oh, and then drenched in truffle mayonnaise.
*FAINT*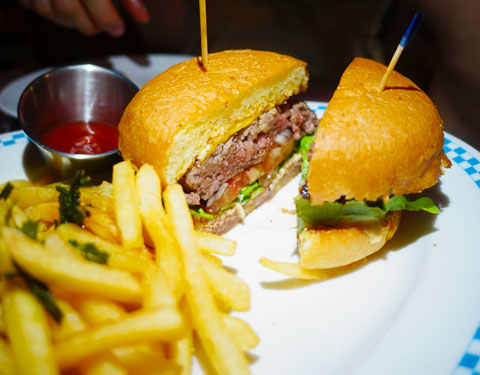 The classic The 'To Die For' ($22) boasted the same fluffy bun and super juicy beef patty. It also had cheddar, lettuce, tomato, pickles and OverEasy's special burger sauce. I suppose its vaguely healthy since it has some lettuce and tomato? 😉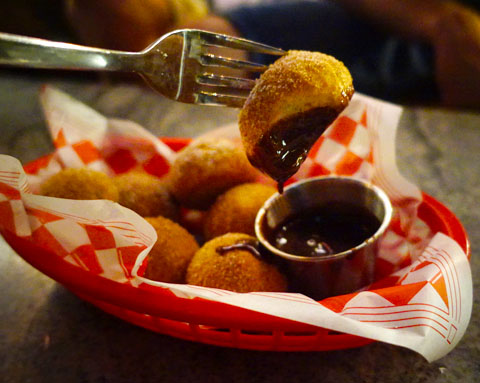 Just seeing the words Bourbon Donut Holes with Homemade Fudge ($12) on the menu and I knew I had to order it. It's actually a pretty filling dessert – 8 dense and chewy donut holes (basically little balls) dusted with cinnamon sugar, served hot and fresh.
The homemade fudge is made with 70% dark chocolate, and was delectably rich and creamy. I would have also loved a pot of fresh Chantilly cream!
I wouldn't recommend OverEasy if you're a small eater, or on a diet. It ain't no place for that. But if you're after filling grub, not counting your calories, and enjoying fab food and excellent cocktails, then THIS IS IT!
Oh, and let's not forget that gorgeous view..