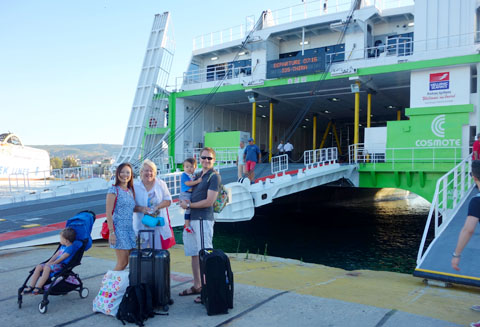 The boys' minds were officially blown the moment they spotted the GIGANTIC SHIP we were getting on to go to Santorini!
My mum-in-law decided to take all of us on a little jaunt to Santorini! She did all the organization of the travel and accommodation, so all I know is that we took the faster boat (4+hrs) from Athens->Santorini, instead of the slower one that's double the time. She got us all Business Class seats with tables – a super smart move because it allowed us to have seat numbers (ie. no rushing for 'good seats'), and it was very quiet and pretty empty there. Win!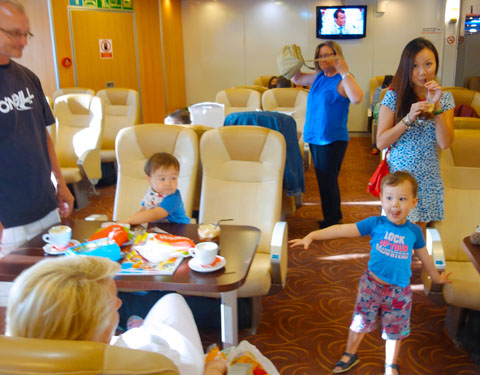 Hunter had a fabulous time wandering around the boat, wide-eyed at just about everything. He travels LIKEABOSS and was a good kid, amusing himself the whole time. Carter was super active, as usual, making us all tag-team each other following/chasing him around. And he also went into meltdown mode when it was time to nap, because the whole place was just too different for him and his brain couldn't handle it – argh.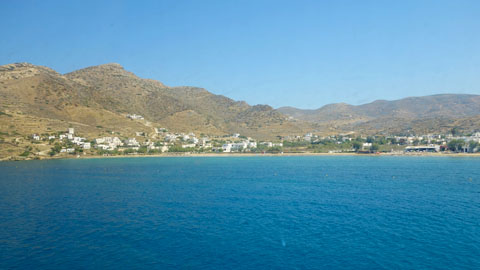 This is the view when we're approaching Santorini. It's not colour saturated or enhanced (none of my photos in Greece are), everything really is that blue and crystal clear here! We were excited!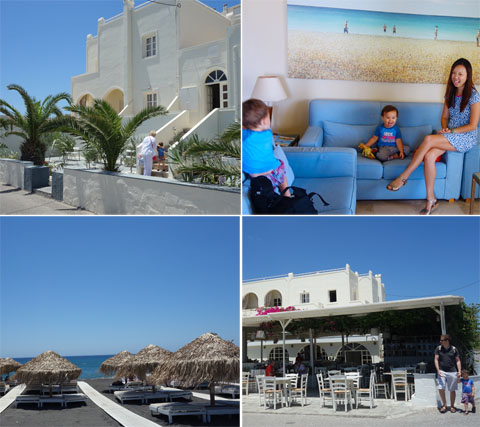 First thing we did was to check into our hotel. My mum-in-law was clever and booked us a hotel on the beach. It's called the Anemos Beach Lounge Hotel and it was a HIT with the kids! The hotel is smack bang on the beach, which is a fantastic choice if you're staying in Santorini with young kids, because they can play in the sand the moment they wake up.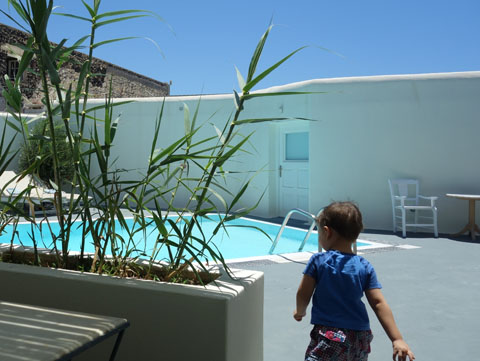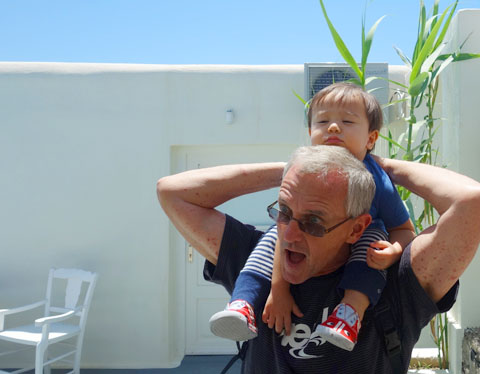 We booked out the whole "Exclusive Residence with Private Pool", which consists of a private area with 3 stand-alone bedrooms, surrounding our private pool. It was awesome how the whole area was enclosed, so the kids couldn't run out of our residence. They loved running between the 3 bedrooms and around the pool!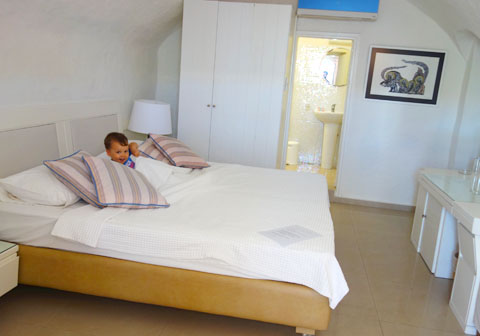 This was the kids' bedroom, the smallest one of the three. I love the white decor and simplicity of the place. Hunter immediately burrowed himself in the bed to make himself at home 😉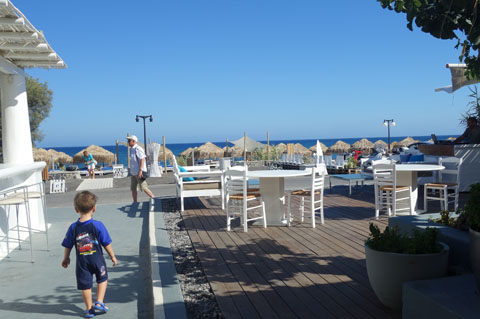 Our view the moment we stepped out of the private residence, and into the main breakfast area! It's GORGEOUS in the mornings, with perfect blue skies and a cool breeze. The kids mostly ate breakfast in their swimmers, since they dashed straight for the beach after eating (you can see the ocean just there!).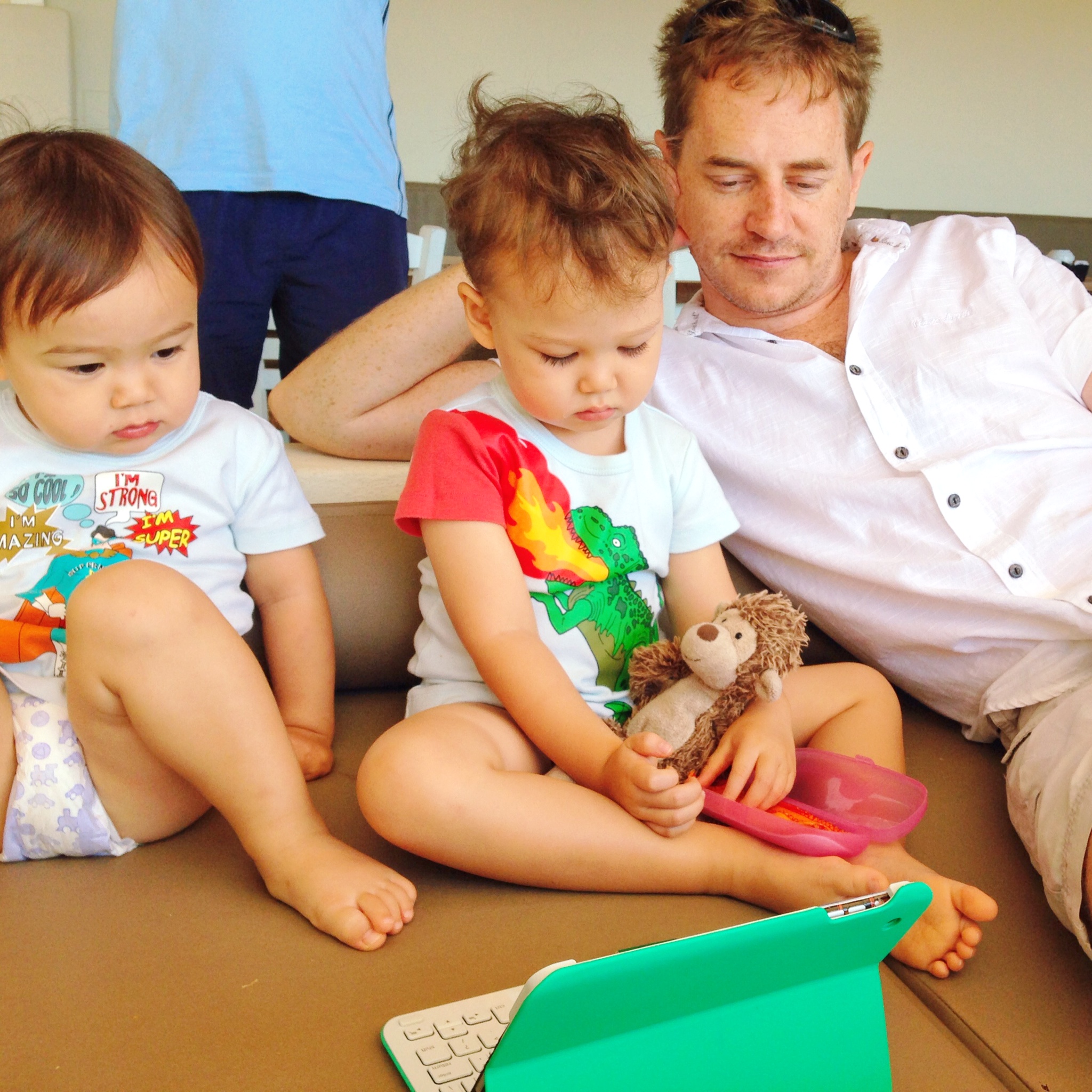 Enjoying a relaxed morning watching some cartoons on the iPad whilst eating breakfast 🙂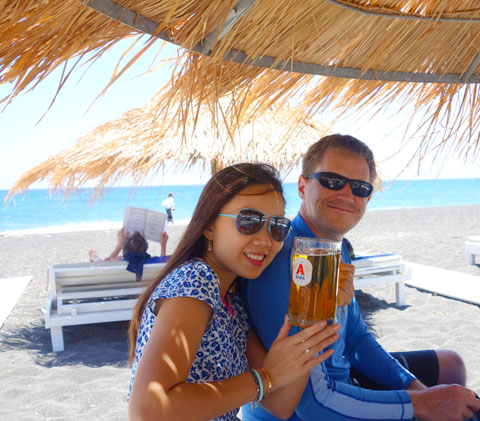 The beach was all about kicking back on the lounge chairs, seeking shade under the huts, and drinking lots of icy cold beer and white wine. Life doesn't get much better than that 🙂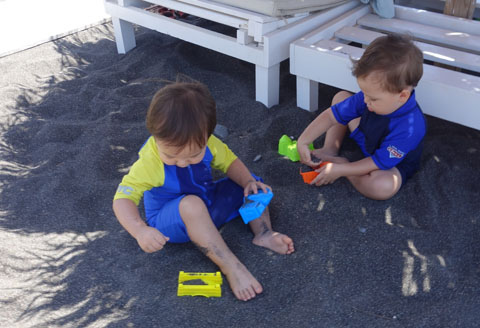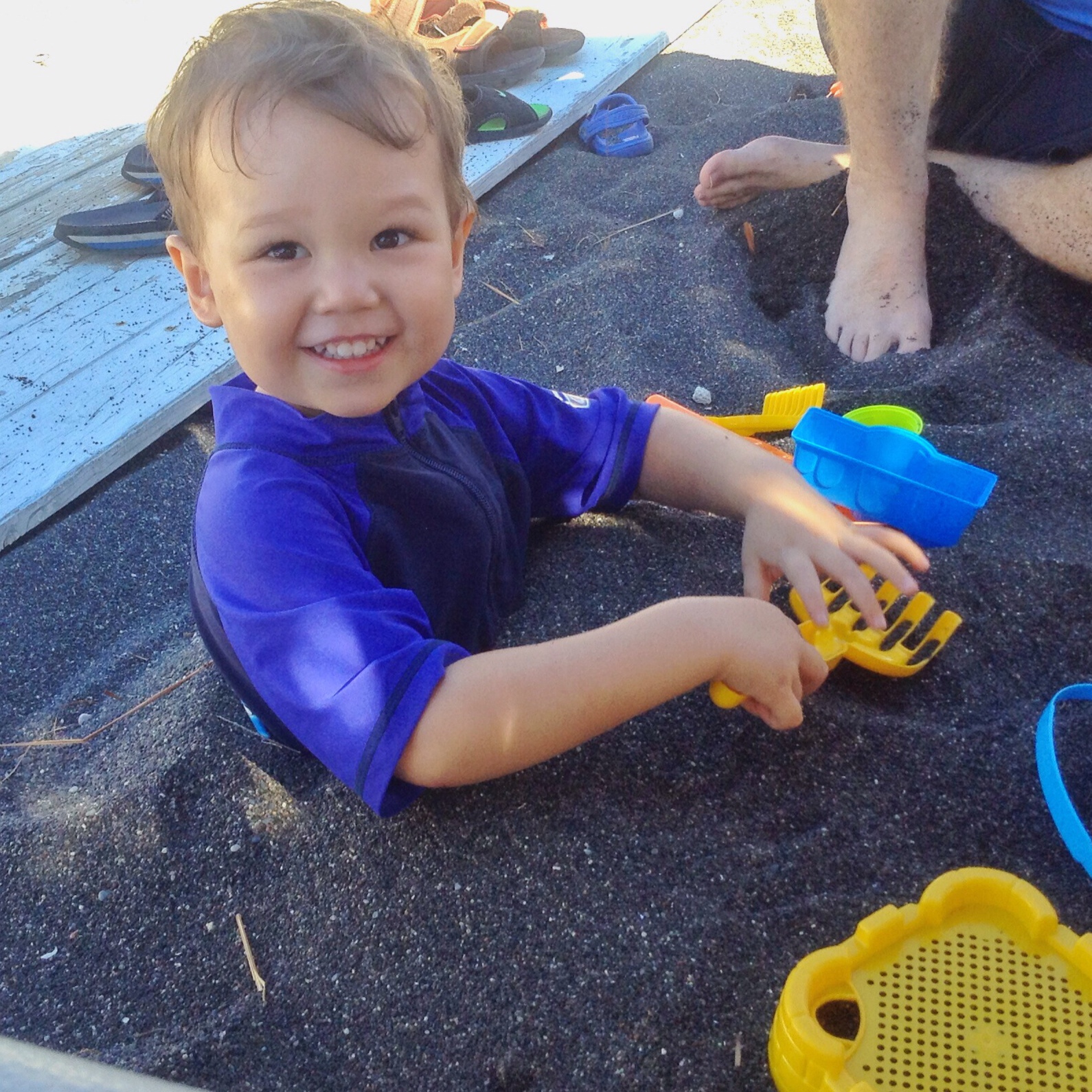 SURPRISE – it's a black sand beach!! The kids had a brilliant time playing in the sand every single morning. Hunter completely embraced sand play and didn't fuss at all. He even went into the ocean to swim! MAJOR surprise for all of us, as we'd half expected Hunter to freak out at being by the beach and sulk the whole time. So happy he loved it! And I mean, loved it. He still remembers it now and will suddenly ask to go back to the beach!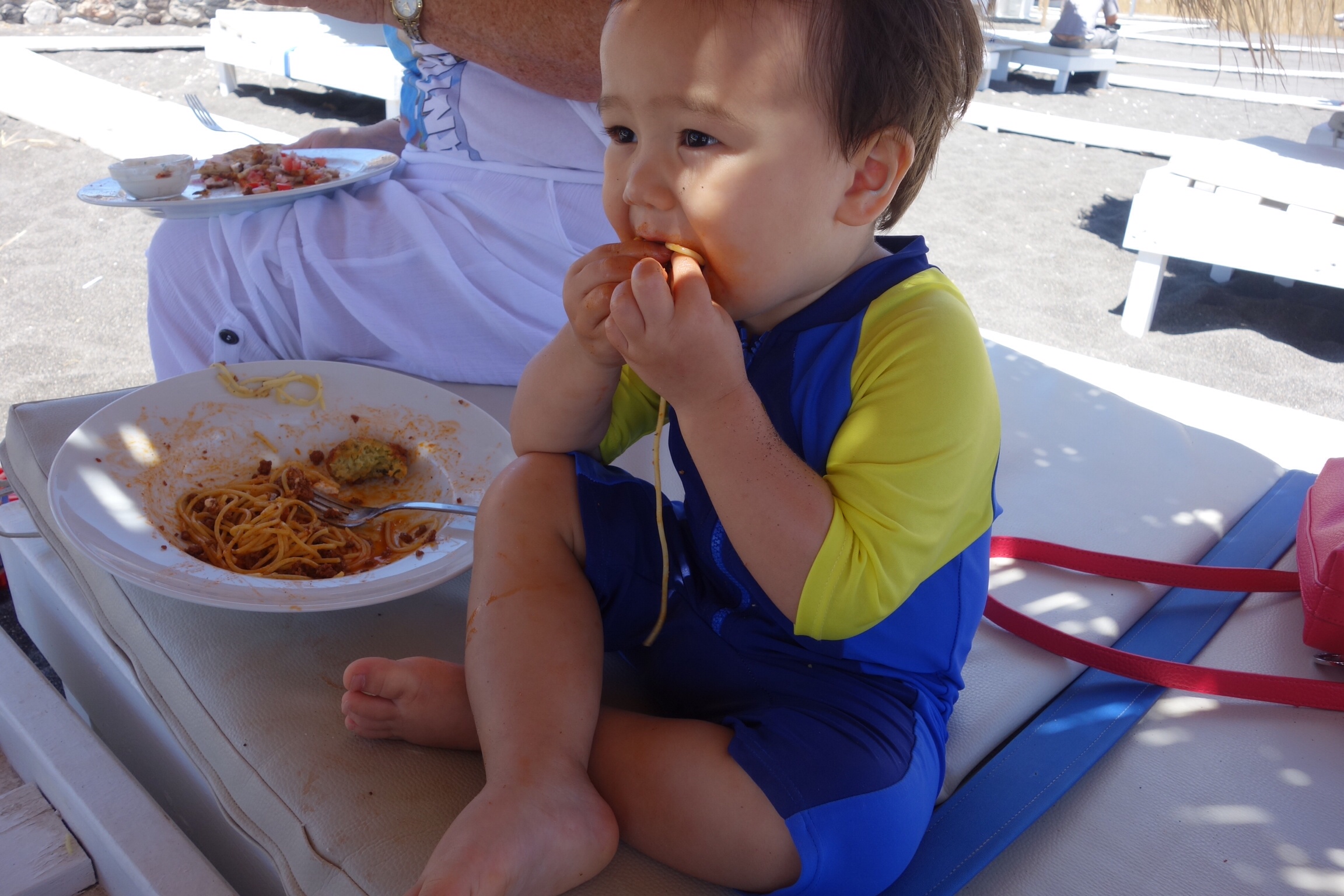 We were all too comfortable, so we got order-in food at the beach. The kids gobbled up zucchini fritters, spaghetti bolognese, and.. errrr… more pork gyros.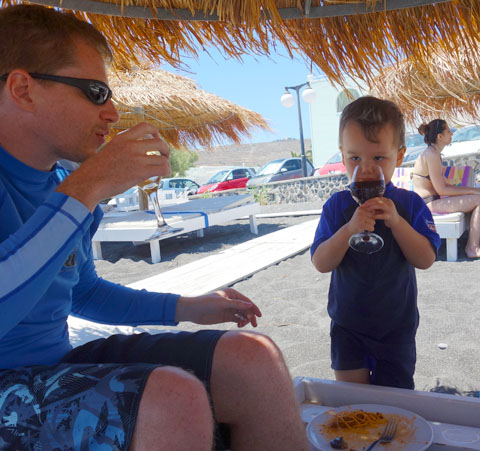 And Hunter even got his own glass of red wine! 
Just kidding. 
It's grape juice that the kids each got a glass of, since us adults were served a glass of wine.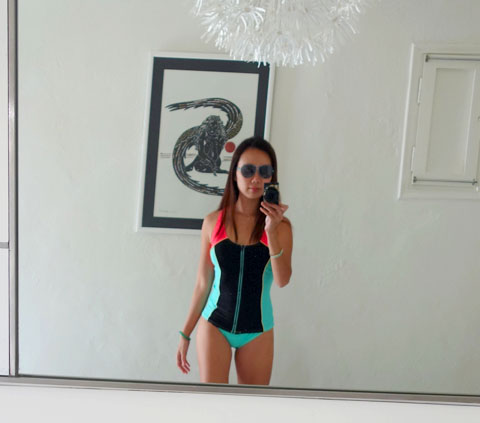 Swim time! One and only shot of me in swimmers. Now that I'm kinda old, the photos of me prancing around on the beach half-naked is getting less and less. This is a good thing.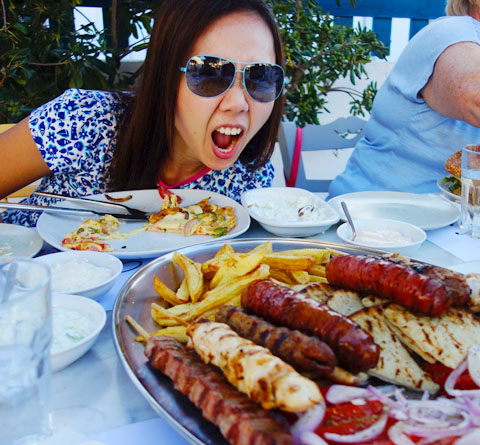 PHWOAR look at our meat platter!! It was delicious. It was supposed to be for "2 people", but I'm thinking at least 3 people can share this, considering I haven't even pictured the whole platter in this photo…
What I loved about Greece was that, at almost every single place, the portion size was substantial. And this isn't because the prices are high either – we were pleasantly surprised that dining out in Greece actually isn't that $. In fact, it works out cheaper than Singapore when you factor in the size of the dishes!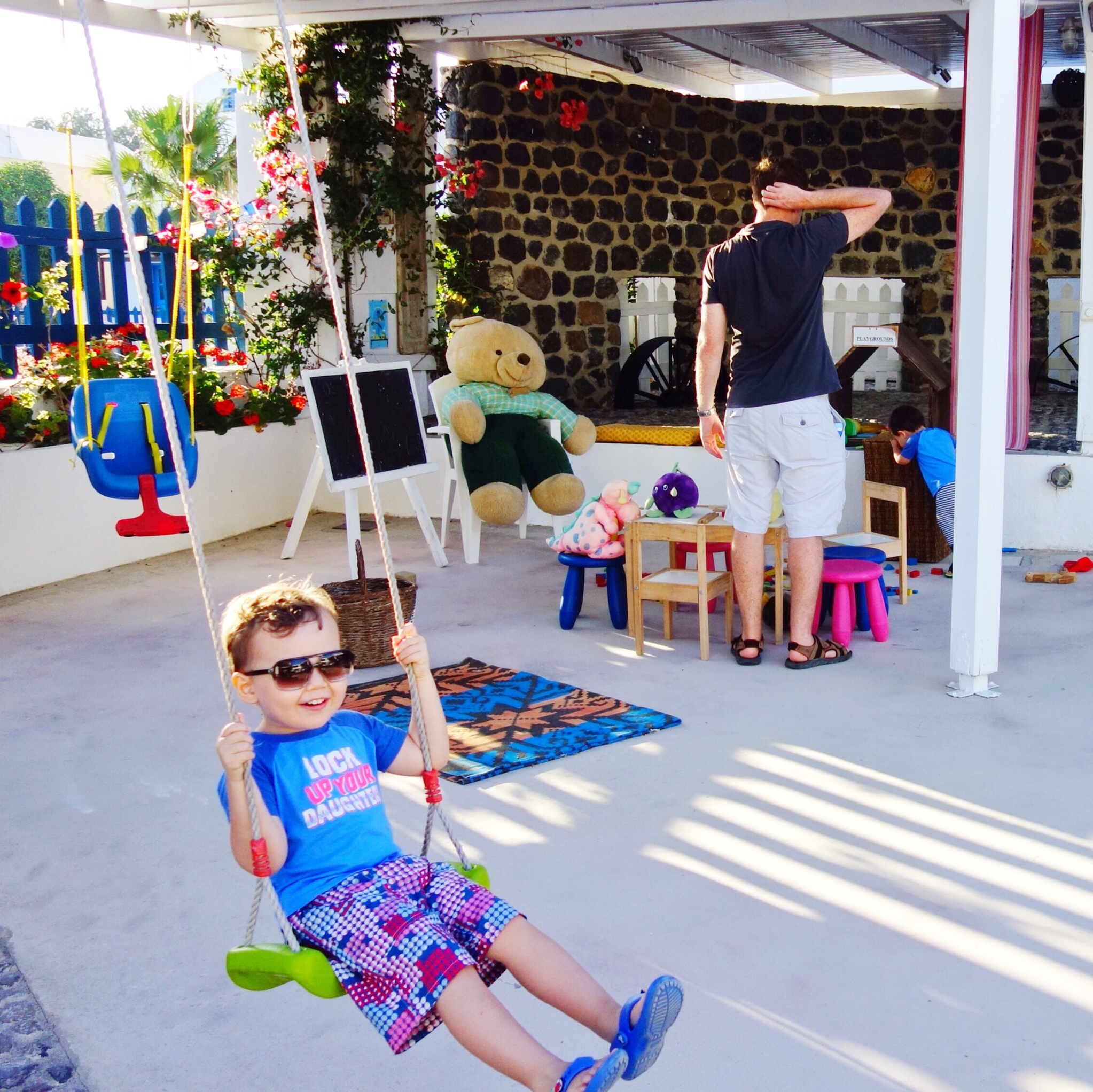 Playground for free use for restaurant diners. The kids made full use of it 😉 I simply love this shot of Hunter – so carefree and candid!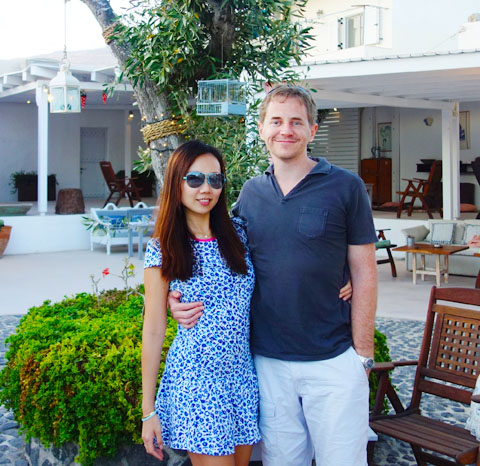 A rare shot of Chris and I 🙂 This was taken after our big dinner, so both of us had to suck in our bellies, lest we both look pregnant!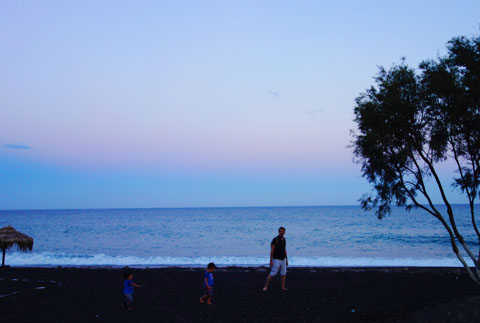 Walking by the beach at sunset, listening to the waves and feeling the cool ocean breeze. It's so pretty. It makes me wish Singapore was more outdoorsy, more spacious, more laid back, and just prettier. I do miss this sort of stuff!!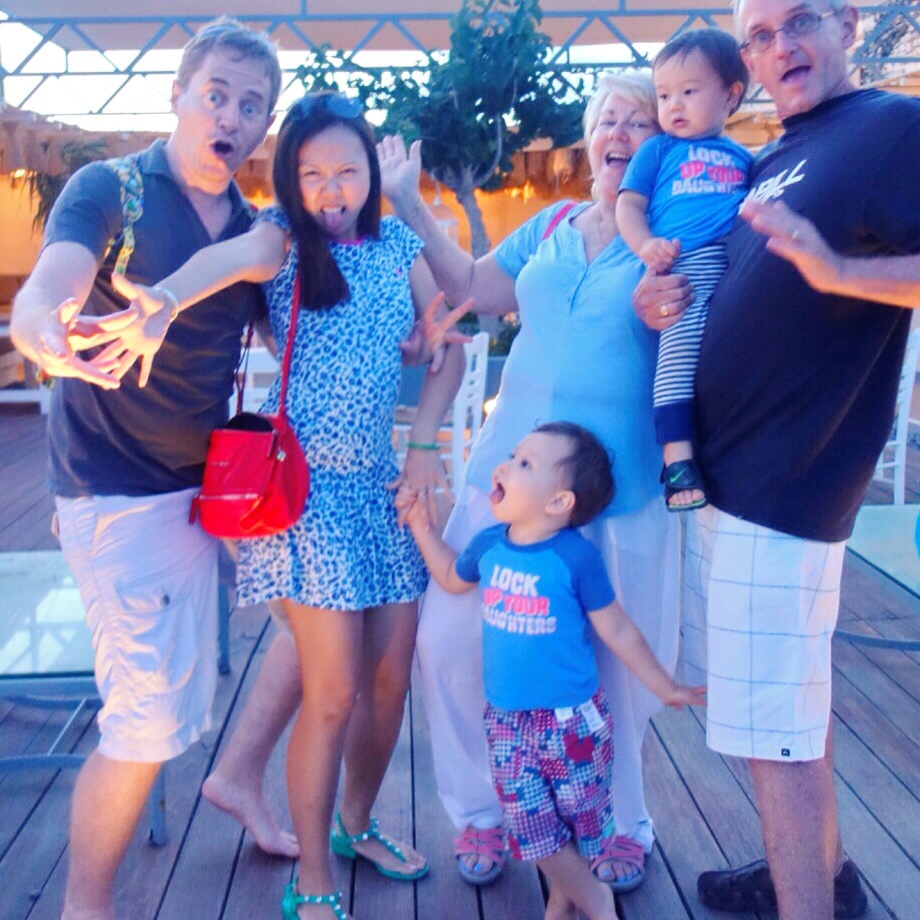 My favourite family shot of the entire trip 🙂