I was really excited when I heard about Tieks. Their tag line The ballet flat, reinvented. Designer flats you can fit in your purse and wear all day, every day totally piqued my interest!
To cut it short – I've never come across a shoe brand that is more dedicated to their cause, more interested in their customers, and more engaging, as compared to other shoe brands.
If you follow their social media threads, you'll see how interactive are with their customers, and just how much fun they inject into their brand through giving us a snap shot into their office shenanigans. It's actually really impressive and super engaging.
And, this is their packaging: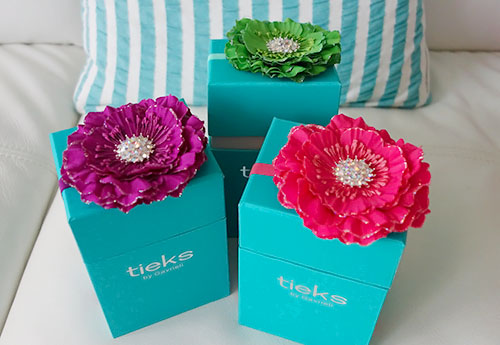 Have you come across cuter shoe packaging? I haven't. The sturdy little boxes are waaaay too pretty to throw out, and check out the cute flower elastic band that's put around the box! I do think it's largely useless (I'd never put that giant thing on my head), but it gives that eeeeek so cute!!! factor when you receive your package.
And that's not it! Check out what's inside the box. Tieks comes with a compact pouch to compress your folded Tieks when they are in your purse, and a reusable tote for your heels. And, little clips to clip up your pants for when you change from heels to these Tieks flats!
Cannot believe how much effort and thought goes into the packaging….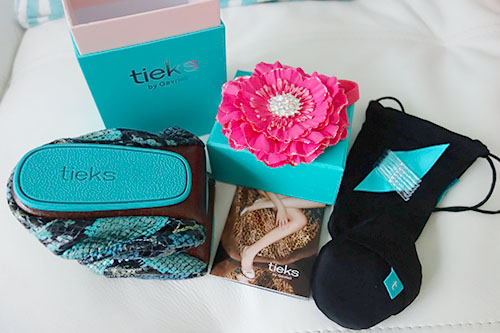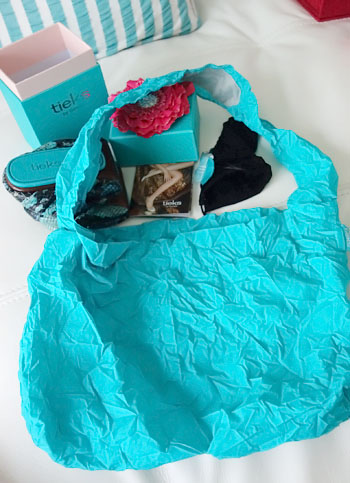 But what about the shoes??
THEY ARE RIDICULOUSLY CUTE.
Made with soft plush leather, they are really comfortable. When they arrived, I was a bit nervous as they look like those elastic bunched-up flats that usually 'bite' my heel and give me blisters. But NOPE. These are way comfy and no blisters or any sort of discomfort whatsoever. 

I also love the design – a lovely curve at the toe and the fit is lovely. If you're familar with Lanvin, well, these are pretty much identical in design. That said, Lanvin has less colour options, is 2-3 times the price (!), and actually is not as comfortable as Tieks.
I think the reason why they're so comfortable are due to the foldable split-sole design – in a terrific bright turquoise!! Plus, the back of the shoes are cushioned rather than elasticized so they don't bite.
They have the most incredible selection of prints. I took absolute ages just deciding on just one! In the end, I went for Azure Snake, which I thought is fairly versatile since it incorporates various colours and also has turquoise – my favourite 🙂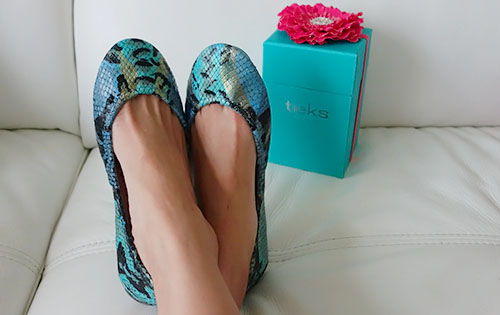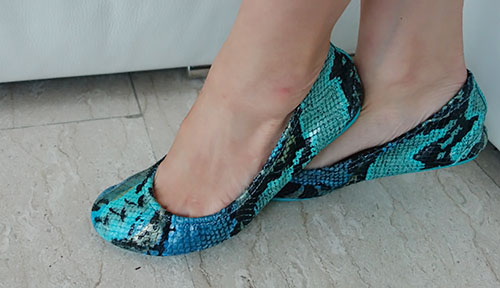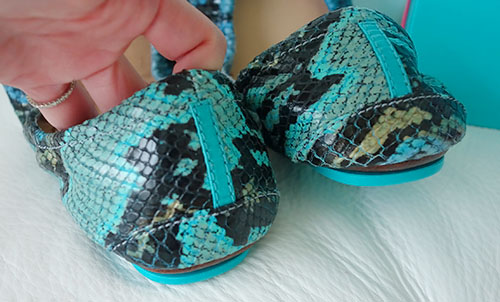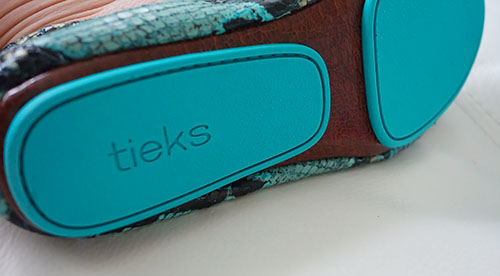 And now I'm eyeing these two prints… Decisions.. decisions…!!